Coors Field
Our guide to Coors Field in Denver includes information on events, tickets, parking, public transportation, nearby hotels and restaurants, seating and more. Read on to find out how to get the most out of your gameday experience.
* * *
Coors Field, the home of the Colorado Rockies, is a quirky ballpark that lies in a vibrant area, and those two things together always make for a more pleasant fan experience.
The act of watching a game at Coors Field, of course, is a pleasant one as well, even if the existence of humidors means you don't often see the wildly high-scoring track meets the park was known for in its early days.
The thin air and high-scoring games might have made the idea of baseball in Denver more of a novelty during that time, but the Rockies have had a loyal following since the franchise's beginnings as an expansion franchise in 1993. In turn, the team has had a few moments of glory, including an appearance in the World Series in 2007.
It seems that no matter whether the Rockies are good, bad or mediocre, they can always count on a pretty good crowd. The team remains beloved around the city of Denver and the state, and summer nights at Coors Field are always popular events.
Despite some down years for the Rockies recently, Coors Field enjoyed a turn in the spotlight when it hosted the 2021 MLB All-Star Game.
Looking for Coors Field event tickets? Search events on Ticketmaster.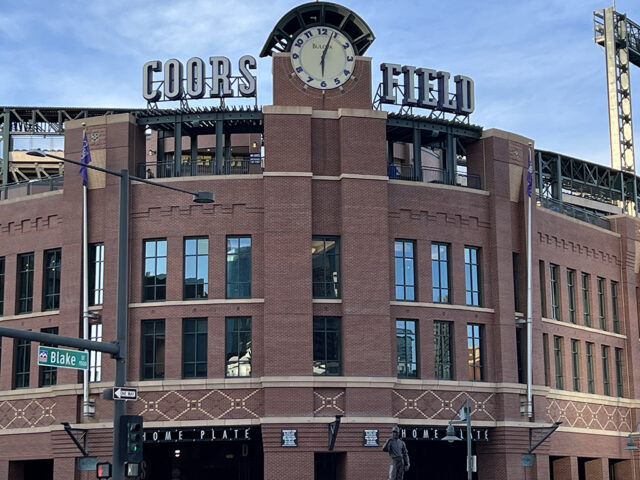 Getting to the ballpark
Downtown is where it's at for sports venues in Denver, so if you're in downtown Denver, Coors Field is highly accessible.
If you're staying in a downtown hotel, it's more likely than not that Coors Field is just a lovely stroll from where you are, and as long as it's not snowing (don't laugh — it has been known to snow even during baseball season in Denver), it should be a pleasant walk through what, for our money, is one of the most vibrant and interesting downtowns in the country.
Also, if you're downtown you can take advantage of one of its most convenient services: the free shuttle that runs up and down the 16th Street Mall.
While 16th Street is closed to vehicles, these buses stop at nearly every cross street between the Civic Center and Union Station, and run at a fairly staggering frequency.
If you reach a street corner and see that a bus has just pulled away in the direction you're going, just look the other direction and 9 times out of 10 the next bus is already within a block or two. Get off at the Market Street Station and you've got an easy four-block walk to the ballpark from there.
Parking at Coors Field
As far as parking, Coors Field's main lots are all located north of the ballpark, behind right-center field. Parking stretches for several blocks along Wazee Street, so if you want to park your car in an "official" lot you could still wind up with a fairly long walk to Coors Field.
Coors Field parking rates begin at $18 for day-of-game purchases, but advance permits are available. Follow the link to purchase Coors Field parking passes in advance.
There are also quite a few independently owned parking lots within walking distance of Coors Field, most of them in the fairly reasonable $10-15 range. If you're willing to walk more than a few blocks, you could probably snag a $10 rate or less, so if you're on a budget it pays to look around a bit.
Denver hotels near Coors Field
• Hilton Garden Inn Denver Union Station – 0.3 miles away
• Hotel Indigo Denver Downtown – 0.3 miles away
• The Ritz-Carlton Denver – 0.5 miles away
Search for more Denver hotels on Booking.com.
Map of the surrounding area
Things to do around the ballpark
Coors Field sits at the corner of 20th and Blake Streets on the edge of the district known as LoDo, short for Lower Downtown.
LoDo is widely recognized as a hip part of town, full of restaurants, bars, hotels and lofts, and when the Rockies have home games at Coors Field, this atmosphere of hip and trendy gets turned up a few notches. If you can't find something to do before the game, then you simply aren't trying very hard.
There are lots of bars in particular within a couple blocks of Coors Field's main gate, many of them with patios or rooftop decks, making it feel more and more like a party as you approach the ballpark.
If it's grub you're looking for, the better bets are along and near the 16th Street Mall, where many fine restaurants running the gamut of price ranges await.
For any game at Coors Field, it's worth checking out the scene around the ballpark. Even on a weekday, it's typically a mix of diehard Rockies fans, casual fans looking to have a good time, people getting a head start on drinking, and commuters just passing through via car, bike, foot or moped.
People really love the Rockies in Denver, and it shows just in the energy surrounding the ballpark. Nearby restaurants and bars fill up in the hours before first pitch and stay full even after the game has begun, suggesting that plenty of people come out just to soak up the atmosphere.
For more on visiting Denver, check out our Denver sports travel guide.
Denver restaurants near Coors Field
• Ian's Pizza Denver – pizza, 0.1 miles away
• Jackson's All-American Sports – pub, 0.1 miles away
• Breckenridge Ball Park Brew Pub – pub, 0.2 miles away
Search for more Denver restaurants on Tripadvisor.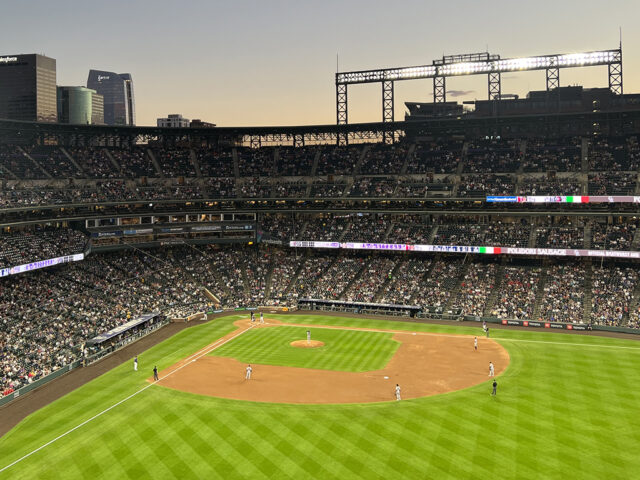 Watching a game at Coors Field
When you arrive at Coors Field, especially if you're walking from a hotel or some other business downtown, you'll quickly find that the home plate gate at the corner of 20th and Blake is full of activity, from street vendors to fans.
As such, the lines to get into the ballpark here can get long as first pitch approaches, but a short walk up either 20th or Blake to another gate will almost certainly reveal shorter lines.
Meanwhile, Denver never misses easy chances to remind visitors that it's the Mile High City, and that holds true at Coors Field as well.
Look closely at a few of the pillars on the upper concourse and you'll notice signs that read "1 mile high." In the seating area of Coors Field's upper deck, there's a row of purple seats about six rows from the top amid all the green seats — those are also 1-mile markers. So sit in a purple seat if you want to be able to say, "I watched a baseball game from EXACTLY one mile above sea level!"
There are other, less obvious nods to your Rocky Mountain locale. First of all, there's that terrific view of the Rockies (the mountains, not the team) beyond left field — if you're in Coors Field's upper-deck seating along the right-field line for a night game in the summer, you'll be treated to the sight of the sun setting behind the mountains at some point in the middle innings.
Second, Coors Field is BIG, both in width (the dimensions of the field are enormous due to the whole high-altitude-leading-to-cheap-homers thing) and in height (take one of the very tall escalators to the upper deck seating area, then as you approach the top, look behind you and down, and you'll see what I mean).
Third, there's a nice craggy-rock-and-wilderness motif behind the center-field wall serving as a cool reminder that you're in Colorado.
Fourth, the ballpark's main videoboard in left field is shaped to incorporate the mountain peak from the Rockies' logo, with the team's wordmark lit up just above it.
Fifth, walk too fast and you might find yourself unusually out of breath. Yup, that's the altitude.
Also in the running for most well-known feature of Coors Field is the Rockpile, that seating area in faraway center field that seems extremely popular among Rockies fans, probably because they're the cheapest tickets in the house.
There are good reasons to frequent the cheap seats, as the highest rows of the upper deck in right field were torn out in favor of a party section called The Rooftop, featuring suites, bars and social gathering spots. If you're looking for a communal place to enjoy the ballgame, this is the place to do it.
Food and drink at Coors Field
Coors Field's fan-friendly creature comforts extend to the concessions, where you can find a pretty good variety of options. Quite an array of stadium eats can be found here, from burgers sold out of a stand named after Rockies great Todd Helton to barbecue from Famous Dave's, burritos, hand-carved sandwiches, specialty sausages, pizza and more.
Salads and gluten-free items are also available — for the latter, go to the "Gluten-Friendly Cart" near section 143.
Yes, Coors is in plentiful supply at Coors Field, but so are many of the macrobrews such as Miller and Bud, and a handful of Colorado-based craft beer companies are represented as well.
Don't miss the Sandlot Brewery located on the main concourse in right field — yes, it is a fully working brewery that serves a rotation of specialty beers, and it is here that Blue Moon was born.
Original publish date: February 4, 2016
Most recent update: September 29, 2023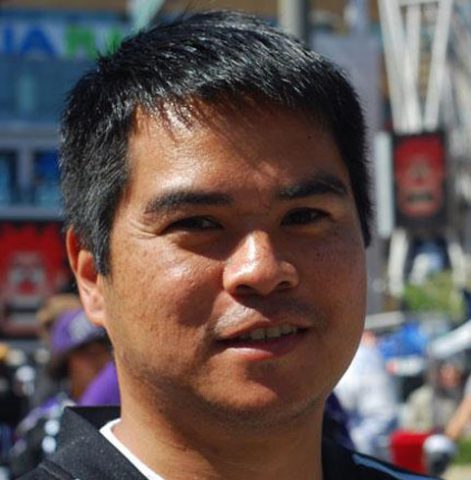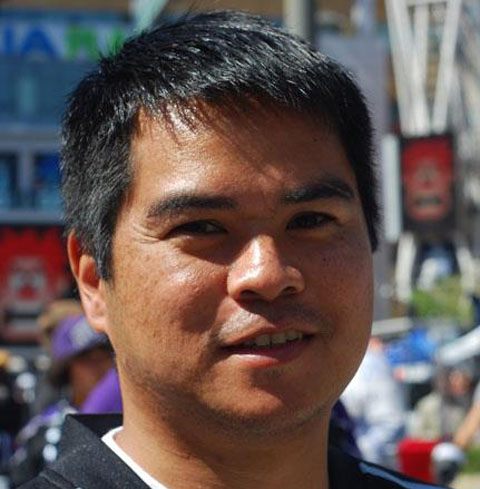 Edward de la Fuente | Itinerant Fan
I live for sports, and I love to travel. My biggest thrill is combining the two. I've been blogging about sports travel for more than a decade, and traveling for sports for twice as long.
About me | FAQ | Buy me a beer 🍺
Affiliate Disclosure
Please note that some of the links above are affiliate links, and at no additional cost to you, we earn a commission if you make a purchase. These recommendations are only for companies that we've used and have proven to enhance our sports travel experiences. To find out more about our affiliate partnerships, please read our Affiliate Disclaimer.
The Particulars
Home Teams
Colorado Rockies
Address
2001 Blake St.
Denver, CO 80205
Year Opened
1995
Capacity
50,398
Upcoming Events
All times local
Colorado Rockies
Monday, December 25, 2023
6:40 pm
Get tickets at Ticketmaster »

Colorado Rockies
Thursday, January 25, 2024
6:40 pm
Get tickets at Ticketmaster »

Colorado Rockies
Sunday, February 25, 2024
6:40 pm
Get tickets at Ticketmaster »

Colorado Rockies
Monday, March 25, 2024
6:40 pm
Get tickets at Ticketmaster »

Kane Brown
Friday, September 6, 2024
6:30 pm
Get tickets at Ticketmaster »