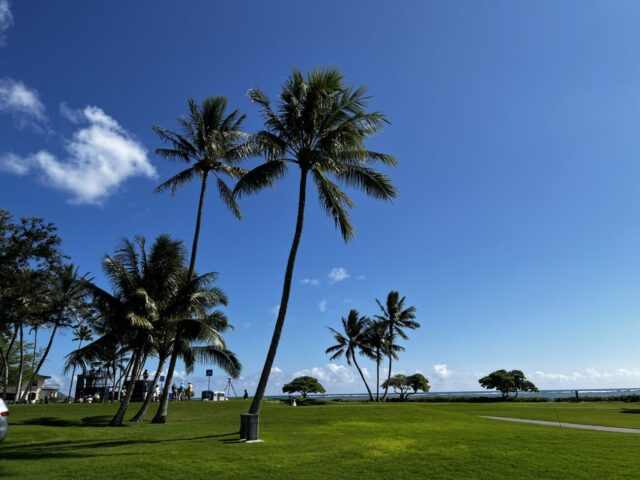 When I arrived in Hawaii earlier this month for a weeklong getaway, I did so with no plans to indulge in any live sports. But that's before I found out the Sony Open in Hawaii was going on.
What is the Sony Open? It's a prestigious golf tournament, part of the PGA Tour, held every January at Honolulu's Waialae Country Club. Having been staged every year since 1965 (and known as the Sony Open since 1999), it's become a big deal around these parts.
Admittedly, I am not a huge golf fan. But when I arrived in Honolulu and started seeing signs and advertisements for the tourney, how could I resist? I'd only attended one golf tournament previously, some 20 years ago, and it was in a working capacity, so it's hard to say I "attended" it.
Plus, I had come to Hawaii for leisure, but I can't think of too many more activities more leisurely than hanging out on a golf course with palm trees and a gorgeous view of the Pacific Ocean.
So here's my experience watching some of the world's best golfers gather in one of the most spectacular sports settings I've ever been a part of.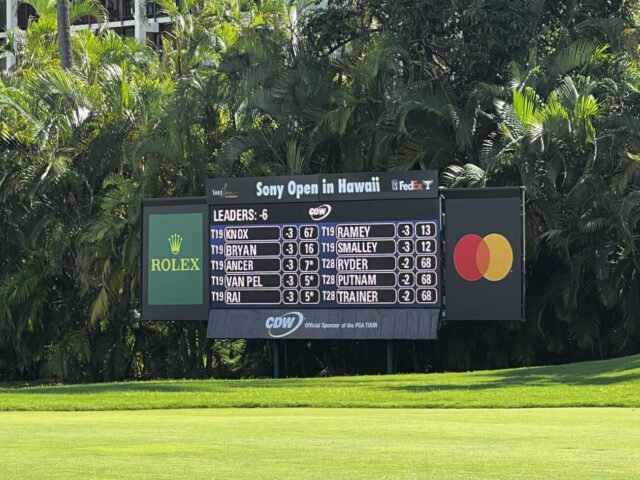 Finding my way to the Sony Open
Waialae Country Club is located several miles east of Honolulu's tourist district, which includes the famed Waikiki Beach, and on the other side of Diamond Head crater. So unless you have a car, it figures to not be an easy place to get to if you're a visitor.
Luckily, there was an alternative, and this is how I found out in the first place that the tournament was happening that week: The Waikiki Trolley, a tourist-geared bus system, offered discount tourney tickets for customers who purchased fares for their Blue Line, which traveled to the eastern end of Oahu.
My first full day in Honolulu was a Thursday, coinciding with the first round of the Sony Open. From my hotel in Waikiki, I ventured over to the Waikiki Trolley info booth inside the Waikiki Shopping Plaza, where I waited behind two parties of fans purchasing the combined trolley/golf ticket package.
The combo was a pretty good deal: If you purchased a 1-day trolley fare for $25, you received a $5 discount off the daily Sony Open ticket price of $25. And while the golf fans who boarded the trolley with me at around 10 a.m. were clearly using it strictly as a means to get to the country club, I figured I might as well get my money's worth out of both ends of the deal.
Riding the entire circuit of the Blue Line takes about 90 minutes and gives you a chance to see a few points of interest around Oahu, including the Halona Blowhole, and is also a jumping-off point for folks who want to hike up Diamond Head. The views of the Pacific from along the route are worth the price of admission alone, in my opinion.
I finally disembarked the trolley at the designated Sony Open stop about 11:45 a.m., and immediately boarded another trolley that took riders about half a mile to the country club's doorstep.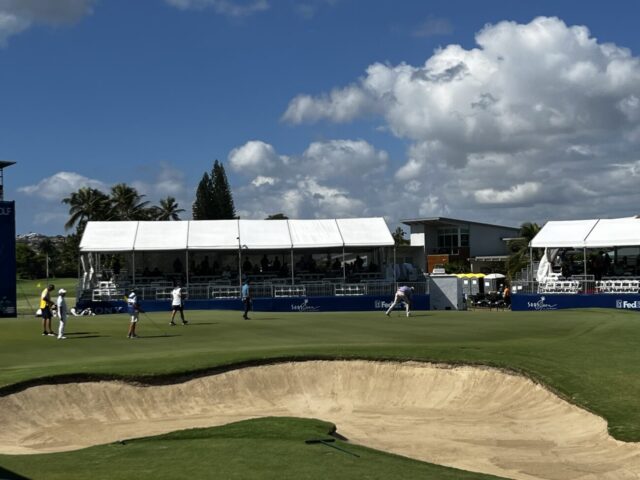 Watching the action at the Sony Open
I should preface this section by saying that I make no bones about my naïveté when it comes to attending golf tournaments, since this after all was the first time I've ever bought a ticket for one. So if you're a veteran live golf fan, you can dismiss some of my (likely) less astute observations — or you can add to it in the comments below!
Once you get through admission at Waialae, you wind up near the pro shop, and in my case I was unaware that the No. 10 tee was right there. At this time of the day, several groups were just starting their rounds, and someone was there introducing each golfer before his first shot of the day. It was here that I joined in on my first of many "golf claps" after watching a group of three tee off their rounds.
Right near the No. 10 tee was the green for No. 18, which (I assume, anyway) you can always tell because it has the largest sets of bleachers erected around it. On Sundays during the final round, these are usually packed but on a Thursday afternoon during the first round, it was mostly fans stopping by sporadically to take a break from walking around.
I spent about 15 minutes sitting in the bleachers, watching a couple groups finish out their rounds (or, more likely, their front nines) before setting out again, walking along the pathway between holes 10 and 18 and enjoying the sunshine and scenery.
I must not have been paying attention for a time, because suddenly I was startled by a ball bouncing about 10 feet in front of me and coming to a rest nearby, about 30 feet off the fairway for the 10th hole.
Myself and a few people around me were confused about where the ball came from, since it appeared to bounce in the opposite direction from the 10th tee. Meanwhile, a tournament steward quickly came and stood over the ball to ensure it remained undisturbed until the golfer came over to play it.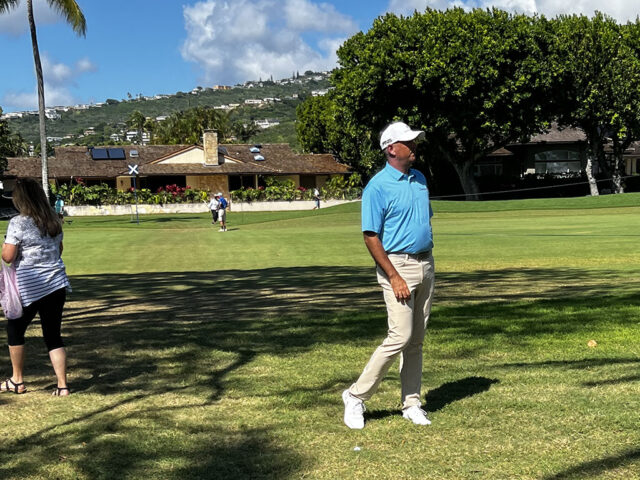 Turned out, the player in question was veteran Stewart Cink, and I stood less than 10 feet away while he played his shot to the edge of the green. From there, I and most of the nearby fans walked behind Cink and his caddy to the green, where we watched him complete a bogey on the hole.
That interaction revealed one of several things I didn't know about attending golf tournaments before this day: That you can really get close to the golfer while they're playing, and for the most part they don't mind it as long as you aren't interrupting or distracting them.
In one instance, I stood right next to a temporary barrier as a group of golfers and their caddies walked by on their way to the next tee box — close enough to hear the conversation between two of the players. I didn't catch the whole thing, obviously, but it sounded like they were discussing their favorite restaurants or watering holes in Honolulu. "It's right on Waikiki Beach" was definitely uttered.
A few other observations that you might want to keep in mind if you attend a pro golf tournament:
• You're more or less free to walk wherever you want — as long as you don't wind up in the area of play, of course, but those areas are always cordoned off in some fashion anyway. The point is, you don't have to worry too much about paying attention.
The only caveat to this is if you're in the vicinity of a green, at which point you should make sure you aren't moving while in the sight line of a player trying to putt. Stewards will usually let you know if you are doing that.
• Golf courses, if you didn't know, are big places, and it's sort of easy to get lost in the maze of holes. If you're really into following action in sequential order, or want to find certain holes easily, get a copy of the map or program (in the Sony Open's case, they made that available digitally, obtainable by scanning a QR code that was visible in numerous places around the course).
• Worried about food and/or refreshments while out on the course? There are plenty of booths set up to get food or water, and yes, beer is plentiful. Out on the course at Waialae I saw an area between holes basically set up as an oasis of sorts for fans, where you could purchase food — and sit and eat it, too — while taking a break from the action.
I did not observe any restrictions over taking food out to viewing areas elsewhere on the course, but I also didn't really see anyone chowing down in the galleries, either.
• The most laid-back place to take in the action is at the practice putting greens, where golfers go to practice before or after rounds. If you really want to get close to your favorite golfer without guilt, this is probably the place to do it.
However, if you're an autograph seeker (which I am most definitely not), you'll have to pine for them in designated areas nearby, which is perfectly understandable.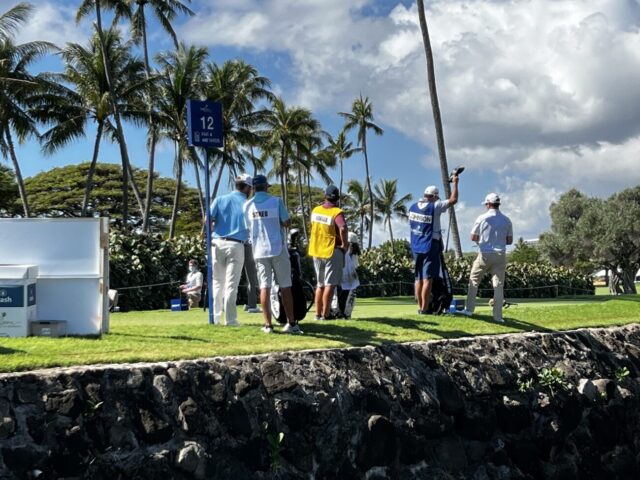 OK, so my prevailing thought when I left for the day was, I should go to more golf tournaments.
And I'm sure the vibe is a lot different attending the first round of a tournament versus the final round, so I'll definitely have to see some final rounds soon.
Anyway, I'm glad to finally add some golf to the list of sporting events attended, and I promise the next time I hit the links (as an observer) again won't be so far removed from the previous time as before.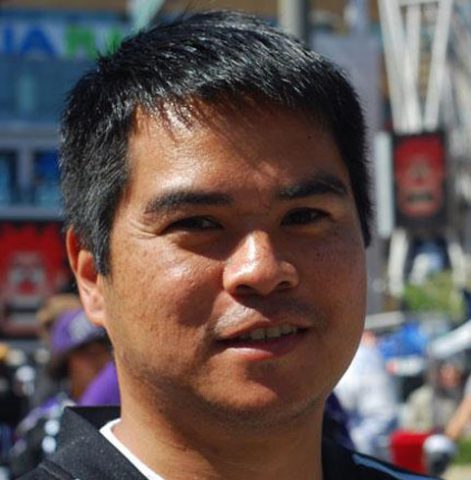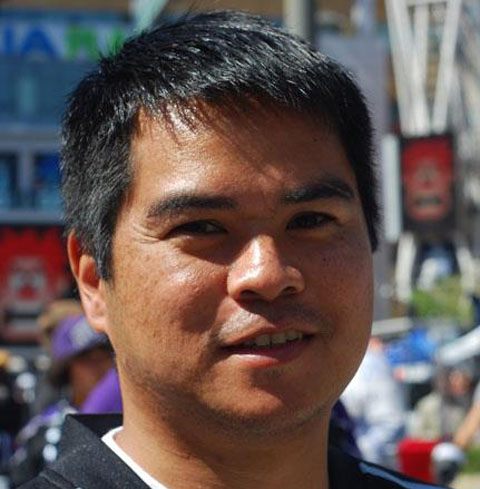 Edward de la Fuente | Itinerant Fan
I live for sports, and I love to travel. My biggest thrill is combining the two. I've been blogging about sports travel for more than a decade, and traveling for sports for twice as long.
About me | FAQ | Buy me a beer 🍺
Affiliate Disclosure
Please note that some of the links above are affiliate links, and at no additional cost to you, we earn a commission if you make a purchase. These recommendations are only for companies that we've used and have proven to enhance our sports travel experiences. To find out more about our affiliate partnerships, please read our Affiliate Disclaimer.