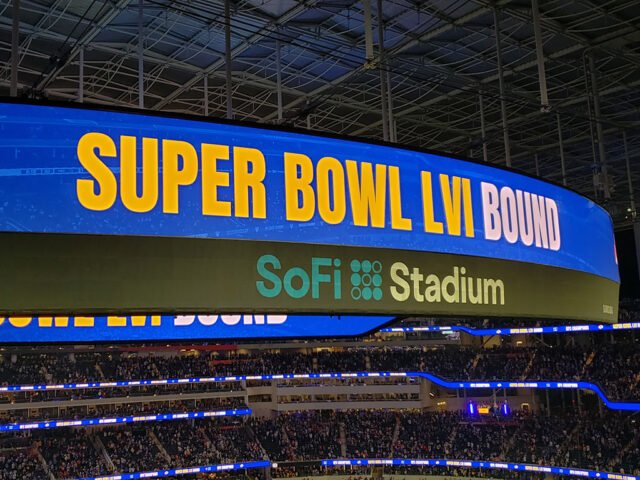 When you ask a sports travel fan about his or her bucket-list events, it's likely that the Super Bowl will be on it.
And why not? Whether your team reaches the big game or you just want to see the spectacle of it all first-hand, attending the NFL's marquee event can be a once-in-a-lifetime experience.
This year's Super Bowl matchup is now set, with the Los Angeles Rams and the Cincinnati Bengals meeting at SoFi Stadium on Feb. 13.
If you're looking for ways to help plan that trip to the Super Bowl, we can help. We've put together a handy Super Bowl LVI travel guide for everything related to attending the big game, from traveling to the Los Angeles area to enjoying yourself during Super Bowl week.
The Los Angeles area is hosting its first Super Bowl since 1993 and its eighth overall. And thanks to SoFi, you can expect L.A. to be part of the Super Bowl rotation for years to come.
For some starting resources, check out our guide to SoFi Stadium, home of the Rams and Chargers, as well as our Los Angeles sports travel guide.
Looking for tickets to the big game? Check out the Super Bowl ticket inventory on Ticketmaster.
Getting to the Los Angeles area
Los Angeles International Airport (LAX) is of course the main gateway to the region. The good news from a logistical standpoint is that the airport is a mere four miles from SoFi Stadium.
The bad news, though, is it's pretty far from just about anything else a fan would likely want to do during Super Bowl week, unless you plan on traveling just to attend the game and flying out afterward (which we know plenty of fans do). We'll expand on that below.
If you're staying over at least a couple nights and would like to find more budget options, it's worth checking out flights to the following airports:
Long Beach Airport (LGB) is located about 21 miles from SoFi Stadium. It has become a Southwest hub in recent years and is a good option for flight deals from destinations throughout the country.
Hollywood Burbank Airport (BUR) is 30 miles from SoFi Stadium and about 15 from downtown Los Angeles. It's a popular airport for flights within California but does serve other destinations throughout the country. Southwest also has a big presence here but all major airlines do operate out of Burbank.
John Wayne Airport (SNA) is more than 40 miles from SoFi, while Ontario Airport (ONT) is about 55 miles away. Neither are likely to offer greater budget options than Long Beach or Burbank, but if you're truly trying to save on airfare for Super Bowl week, it wouldn't hurt to consider your options to either of these airports depending on your starting point.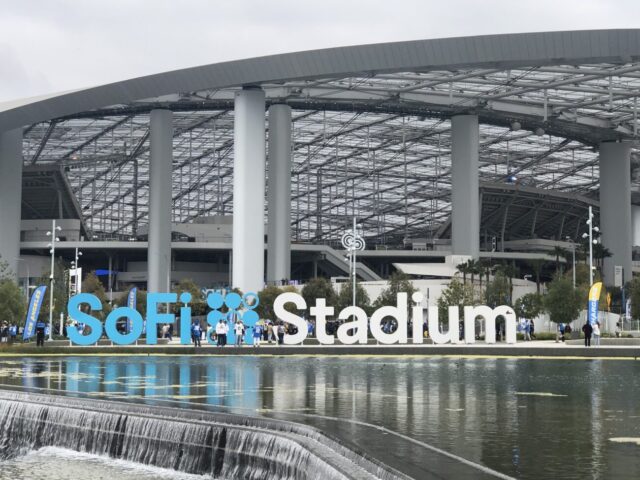 The layout of Super Bowl activities and lodging
Most things you'll read about Super Bowl LVI will say it's taking place in Los Angeles. But SoFi Stadium itself is not in Los Angeles proper but in the suburb of Inglewood. Knowing that is important to helping you get around town during your stay.
Downtown Los Angeles, where many Super Bowl-related activities will be taking place, is about a 20-mile drive from SoFi via Interstates 105 and 110 (aka the Century and Harbor Freeways, respectively). Downtown L.A. will also contain the highest inventory of hotel rooms, but if you don't already have a room reserved at this point, it's not likely you'll find one for Super Bowl week — at least not without a hefty premium.
From a proximity standpoint, the hotels that serve LAX are the closest name-brand lodging options you'll find close to SoFi Stadium. But the same problem as downtown will likely exist.
If your priority is being part of the glitz and glamour scene that the L.A. offers, which surely will be ramped up during Super Bowl week, try Hollywood or Santa Monica.
For budget options, many within reasonable driving distance to SoFi, search some of the many suburbs in the South Bay region such as Torrance and Redondo Beach, or Long Beach and its surrounding communities. You can search hotel options in the Los Angeles area via Booking.com by viewing the module below.
Parking and transportation
Most people assume it's a bad idea to try getting around Southern California without a car, and they're largely right. From a convenience standpoint, it's best to have one to best maximize your time when traveling around the region.
But there is an option for fans who'd rather not brave L.A.'s notorious traffic and parking: The Metro rail system will get you to most places you'd want to visit during Super Bowl week — provided you can get to a station without too much trouble.
It serves downtown, of course, and is a viable option to get to SoFi Stadium on game day. Take the C (Green) Line (note: it will require a transfer if you're coming from downtown) and get off at the Lennox/Hawthorne station, from which free shuttles can take fans the final two miles to the venue.
In addition, the nearby city of Gardena runs shuttles direct from the Harbor Gateway Transportation Center, some 11 miles away, and is a viable park-and-ride option. Fare is $4 round-trip.
This method is popular with fans for Rams and Chargers games as well as other events, so plan for an extra crush for the Super Bowl and allow yourself plenty of time to get to the game.
If you intend to drive, SoFi Stadium parking passes can be purchased at parksuperbowl.com beginning Monday, Jan. 31. Prices start at $120 for a "standard-size" automobile. Permits must be obtained prior to arrival on gameday.
Things to do during Super Bowl week
The NFL's official Super Bowl Experience is open Feb. 5-6 and Feb. 10-12 at the Los Angeles Convention Center, located downtown. Tickets are $20 for adults on the first weekend and $40 on the second; children 12 and under can get in for free. Passes can be purchased in advance via Ticketmaster.
Unfortunately, other typical Super Bowl events won't be happening this year because the teams won't arrive in town until the Thursday before the game — a departure from the usual all-week stay. That includes the open-to-the-public Super Bowl Media Day, usually held the Monday of Super Bowl week.
If it's your first visit to the L.A. area, don't pass up a chance to see some of the famous sights in the area, from Hollywood's Walk of Fame to the Griffith Observatory to its beach cities to its amusement parks. Our Los Angeles sports travel guide has more details on what to experience in the area.
Here are more sporting events that you can check out while in Southern California for Super Bowl week:
• The Los Angeles Lakers host the defending NBA champion Milwaukee Bucks on Tuesday, Feb. 8 at Crypto.com Arena (recently renamed from Staples Center). L.A.'s other NBA team, the Clippers, also hosts the Bucks two days earlier (Sunday, Feb. 6), also at Crypto.com Arena.
• The NHL's Anaheim Ducks will be home on Friday, Feb. 11, against the Seattle Kraken. Their home arena, Honda Center, is located about 35 miles from downtown Los Angeles. The Ducks' local rivals, the Los Angeles Kings, are idle throughout Super Bowl week.
• The city's two big-time college programs, USC and UCLA, clash in men's basketball on Saturday, Feb. 12, the night before the Super Bowl. The game will be held at Galen Center, located on the USC campus about three miles south of the L.A. Convention Center.
• Are you a race fan? Then check out the Clash at the Coliseum, a NASCAR Cup Series exhibition race taking place Sunday, Feb. 6 at the historic Los Angeles Memorial Coliseum. The stadium is located near the USC campus, a few miles south of the Convention Center.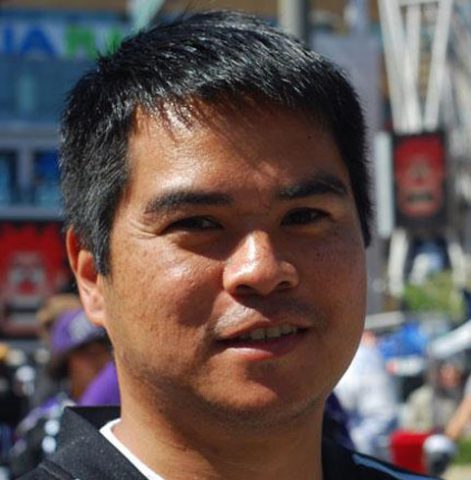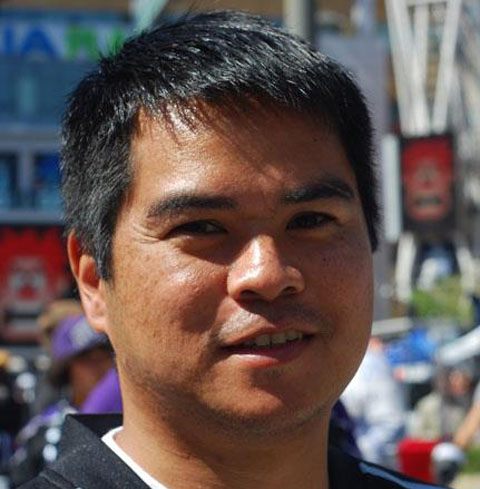 Edward de la Fuente | Itinerant Fan
I live for sports, and I love to travel. My biggest thrill is combining the two. I've been blogging about sports travel for more than a decade, and traveling for sports for twice as long.
About me | FAQ | Buy me a beer 🍺
Affiliate Disclosure
Please note that some of the links above are affiliate links, and at no additional cost to you, we earn a commission if you make a purchase. These recommendations are only for companies that we've used and have proven to enhance our sports travel experiences. To find out more about our affiliate partnerships, please read our Affiliate Disclaimer.