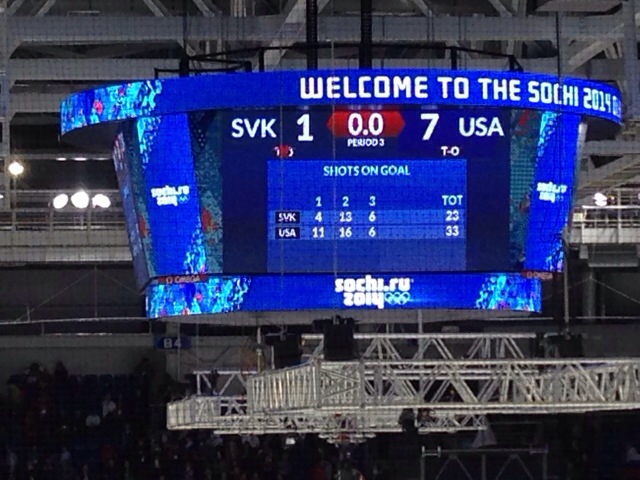 For Mrs. Fan and I, Thursday's experience at the 2014 Winter Olympics began before the sun came up. The biggest reason for that was that sunrise in Sochi didn't happen until close to 8:30 a.m. (!), but still, it was rather eerie walking out of our cruise-ship hotel while it was still dark, with nobody around but stern-looking security guards and the like to keep us company. I guess there weren't many curling fans on the ship, 'cause the 9 a.m. start we were trying to catch was what roused us out of bed so early.
The curling kicked off what turned out to be a 14-hour day at the Olympic Park — with the long walk to the train station and the equally long walk from the park entrance to the Ice Cube Curling Center, we arrived just after the three women's matches had begun, and for the next 2 1/2 hours Mrs. Fan, a recreational league curler, threw terms like double takeout and bonspiel at me while I began again my every-four-years routine of trying to pick up the game's rules.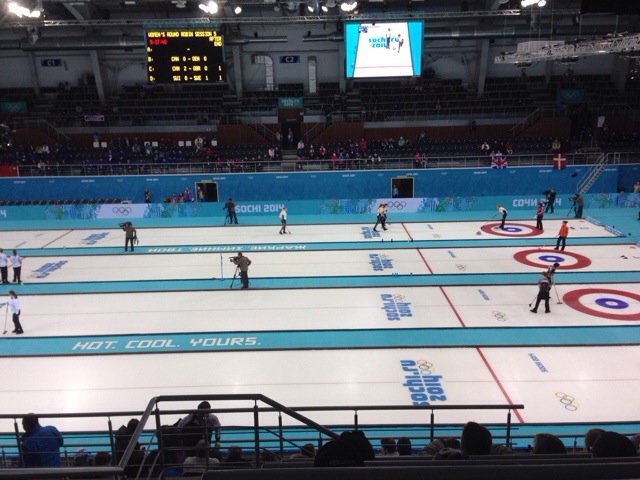 Seriously, though, curling is a fascinating sport to watch, a sort of golf on ice with similar gentlemanly customs. Among the truths I found: Canadians are really good at curling (Duh! The women's team smoked Denmark and moved to 4-0); Swiss and Swedish fans are loud, particularly when their teams are playing each other (and those same fans posed for a no-hard-feelings pic with each other when their match was over); and it's really hard to follow three matches going on in front of you at once (so I picked the Canada-Denmark match, mainly because it was closest to me).
With four hours to kill between the end of curling and the U.S.-Slovakia hockey game at 4:30 p.m., we mostly wandered around the park, taking in the exhibit for Pyeongchang, Korea (site of the 2018 Olympics and presenters of another coastal-and-mountain-cluster venue concept much like Sochi), watching the afternoon curling session on the medal stand big screen, and eating baked potatoes.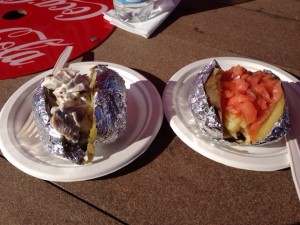 An aside: Baked potatoes probably sounds like a weird thing to be eating at a sporting event, but I've been on a bit of a mission here at the 2014 Winter Olympics to experience as much Russian food as possible during this trip.
Now, I don't think Russian cuisine is necessarily renowned, at least in my part of the world, but I find it interesting — blinis, dumplings and the like. The baked potato I had for lunch had smoked salmon and cheese in it, and it was pretty good.
I've already had a blini — the stands' English signage says "pancake" so people will have a better idea of what it is — stuffed with ham and mushrooms, and cabbage rolls, dumplings and kebabs remain on my to-eat list. OK, it's concession-stand food so it's probably not the highest-quality representation of Russian cuisine I can find in this city, but it's cheap for the most part, less than $10 U.S. in most cases. And yes, borscht is also available, but most likely I'm going to steer clear of that while I'm here. Sorry, I'm not much of a beet guy.
Anyway, the U.S.-Slovakia game was attended, in order of quantity, by Russians who couldn't get into their own team's game next door (one was watching that game on his tablet), then by boisterous Slovaks armed with flags and painted faces, and then by small pockets of Americans like us.
Then the U.S. scored six goals in the second period and won going away, and after a while I started to feel sorry for the huge groups of Slovaks sitting quietly as the game finished up. For us, diehard L.A. Kings fans, it was pretty darn cool seeing Jonathan Quick in net, Dustin Brown scoring a goal and the Kings' regular organist playing most of the same tunes (in the same situations, no less) that we were familiar with. It was very much like Staples Center half a world away.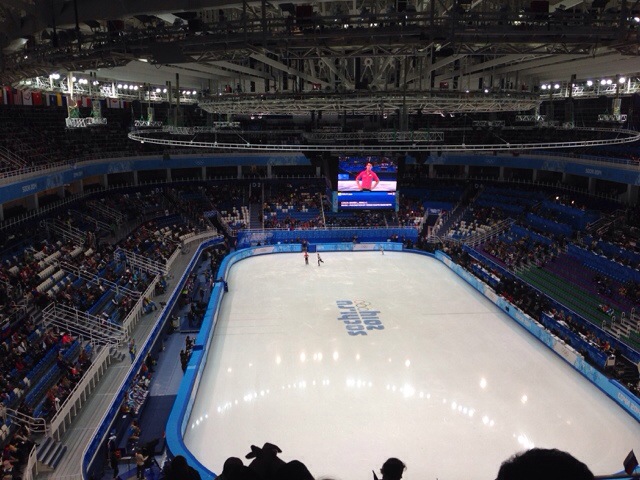 We moved on very quickly to figure skating at the Iceberg Skating Palace, clear across the park from Shayba Arena, making it to our seats just as the first skater for the men's short program was taking his place for the start of his routine.
That first guy, a Canadian whose name I forget, had a performance just as forgettable. But the skaters picked it up from there, and some of the medal contenders had jaw-dropping performances. I'm not much of a figure skating fan, but as a rec hockey player whose skating level is barely intermediate, I can appreciate good skating when I see it.
On Friday, we'll be watching another sport I can only wish to be good at: skiing. We're seeing skeleton as well as we venture into the mountain cluster. I've got my beanie and gloves all ready to go.
For more on our trip to the 2014 Winter Olympics in Sochi, Russia, click here.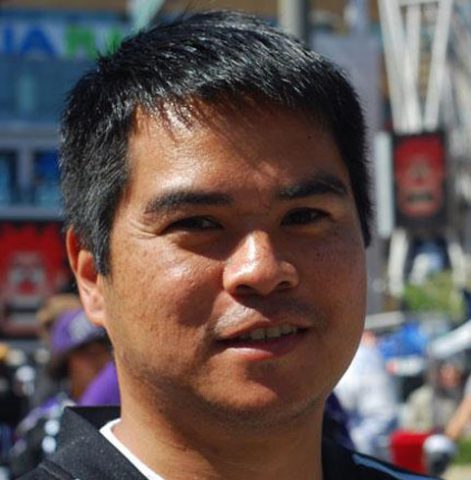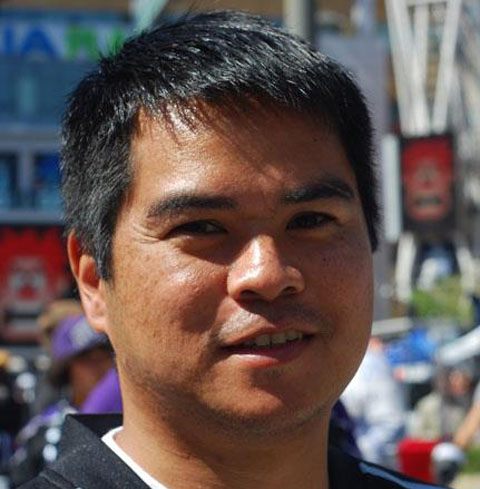 Edward de la Fuente | Itinerant Fan
I live for sports, and I love to travel. My biggest thrill is combining the two. I've been blogging about sports travel for more than a decade, and traveling for sports for twice as long.
About me | FAQ | Buy me a beer 🍺
Affiliate Disclosure
Please note that some of the links above are affiliate links, and at no additional cost to you, we earn a commission if you make a purchase. These recommendations are only for companies that we've used and have proven to enhance our sports travel experiences. To find out more about our affiliate partnerships, please read our Affiliate Disclaimer.