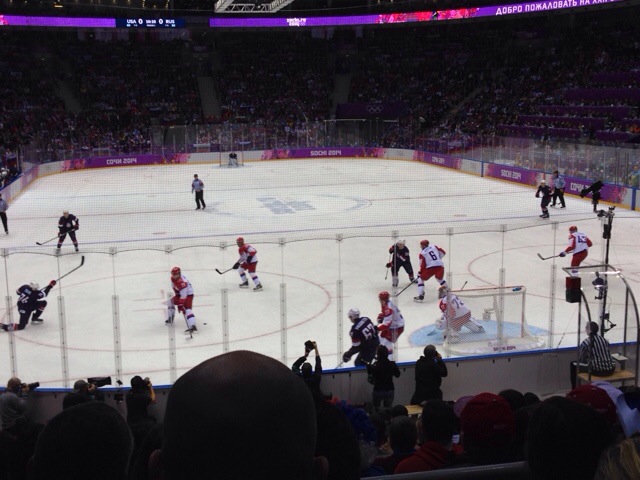 Only two words needed to sum up this day: USA-Russia. (OK, "USA" is an acronym, so I don't know if that counts as one word or a representation of three, but you get the picture.) Anyway, holy cow. The rest of this trip to Sochi and the 2014 Winter Olympics has been full of incredible sights and sounds, but those three hours made the entire halfway-around-the-world journey worth it within itself.
Something felt different from this day from the moment Mrs. Fan and I set off for the Olympic Park. We took our sweet time getting there since we had no tickets for any events prior to USA-Russia at 4:30 p.m., so we left our cruise-ship hotel at about 2. Half an hour later, we boarded a train that was jam-packed — I mean New-York-subway-at-rush-hour crowded. We chalked it up to it being the weekend, figuring more people would be attending events on a Saturday.
Then we reached the park and, immediately after leaving the platform, I was approached, one at a time, by three different Russian guys who vainly tried to ask me if I had a ticket to USA-Russia to sell but didn't know enough English to articulate that to me. And in turn, I know less than 10 words of Russian so I couldn't tell them I didn't have any extras. So each conversation was a comedy of forced smiles and nos and nyets.
One guy went so far as to pull out his phone and try to convey what he wanted through Google Translate, only the app crapped out on him before it translated to English and we had our window to escape.
(No doubt I was approached because I had a Team USA jersey on, but wouldn't the fact I was American and probably didn't speak the same language actually make me a bad candidate to approach? Oh well, I guess if you want to get into the game that badly, you'll try anything.)
We reached the Bolshoy Ice Dome at 3, an hour and a half before puck drop. It would be our first time entering this venue in our 2014 Winter Olympics experience, and it was a mob scene — chaotic, but festive. Russians were out in force, of course, waving their flags and chanting their chants, but they were posing with the most garishly dressed Americans for photos and communicating with them as best they could. (Somehow I don't think this was the scene before the Miracle On Ice game in 1980, but who knows.)
Once inside the arena, it was even more frenzied, with the cacophony reaching a fever pitch right before the game started. Our seats were behind the net at which the U.S. shot twice, and though we had some very loud Russian fans directly behind us, we wound up sitting near a lot of Americans — two dudes to our right from New York, a couple to our left from San Diego, and a guy in front of us who had the bright idea, just like Mrs. Fan, to wear a Jonathan Quick L.A. Kings jersey.
The game, of course, was a thriller in itself. But along the way I feel like I got a nice crash course in Russian sports fandom. They kept saying the same things over and over, and I tried to deduce what they meant (I'm just guessing how these words are spelled so if you'd like to correct me, please drop me a line):
• Shai boo!: Seems like a "let's go!" chant; the whole arena joined in chanting this, I'd say, about 30 times. (Turns out the word is shaybu, based on the Russian word for puck, shayba — hence the name for the Olympic Park's other hockey venue, Shayba Arena — and is used specifically for cheering on hockey teams. I love learning new things.)
• Ya vai ya vai ya vai!: Different fans would exclaim this from time to time, most often when the Russians were on the rush; I think it's similar to "go go go go!"
• USA kapoot!: Yelled out several times by the guy behind me, usually in response to a "U-S-A!" chant. I can only conclude that it basically means "USA sucks!"
• RUSS-EE-YAH!: How Russians say "Russia." Who knew that it's actually three syllables in the native tongue? Anyway, we heard this chant more than any other, naturally.
So it was pretty obvious that, despite it being "only" a prelim game, the Russians wanted this one bad. (I was told later on that Vladimir Putin was at the game, and that fans were crowded in the medals plaza outside watching it on the big screens there.) The crowd went eerily quiet at one point, when the U.S. took the lead in the third period, and then exploded when Russia tied it a few minutes later.
They got even louder when they thought they had taken the lead, but the goal was disallowed, leading to a cascade of whistles (whistles being the European fans' equivalent of booing). Then, through overtime and the shootout, the atmosphere stayed crazy, but when the U.S. finally nailed down the victory thanks to T.J. Oshie's shootout magic, the Russians just filed out, still loud though clearly disappointed.
That was the best part of all this — while it was intense and both sides rooted hard, it never felt mean-spirited. But man, there's nothing like rooting for your country in the opposing team's homeland. I can now speak from experience and say, if you ever get the chance to watch your country in an international sporting event, DO IT. The experience is unlike anything else.
For more on our trip to the 2014 Winter Olympics in Sochi, Russia, click here.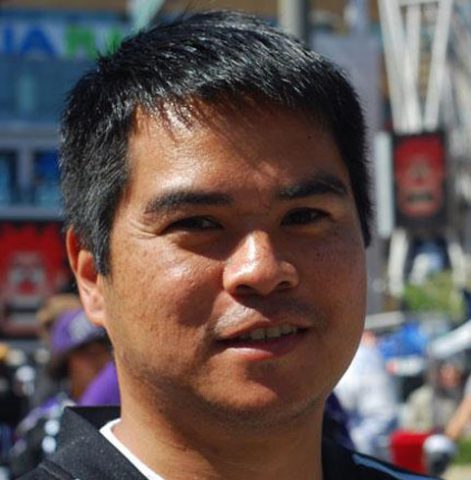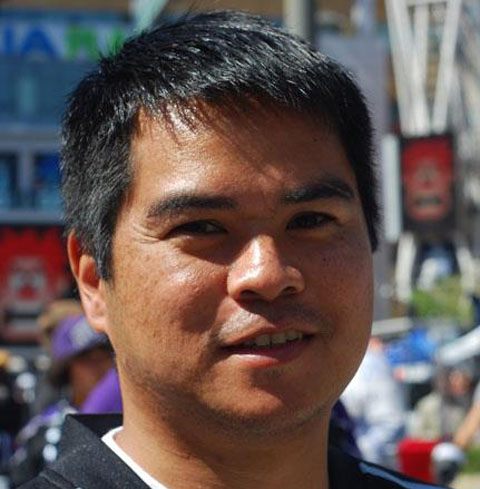 Edward de la Fuente | Itinerant Fan
I live for sports, and I love to travel. My biggest thrill is combining the two. I've been blogging about sports travel for more than a decade, and traveling for sports for twice as long.
About me | FAQ | Buy me a beer 🍺
Affiliate Disclosure
Please note that some of the links above are affiliate links, and at no additional cost to you, we earn a commission if you make a purchase. These recommendations are only for companies that we've used and have proven to enhance our sports travel experiences. To find out more about our affiliate partnerships, please read our Affiliate Disclaimer.