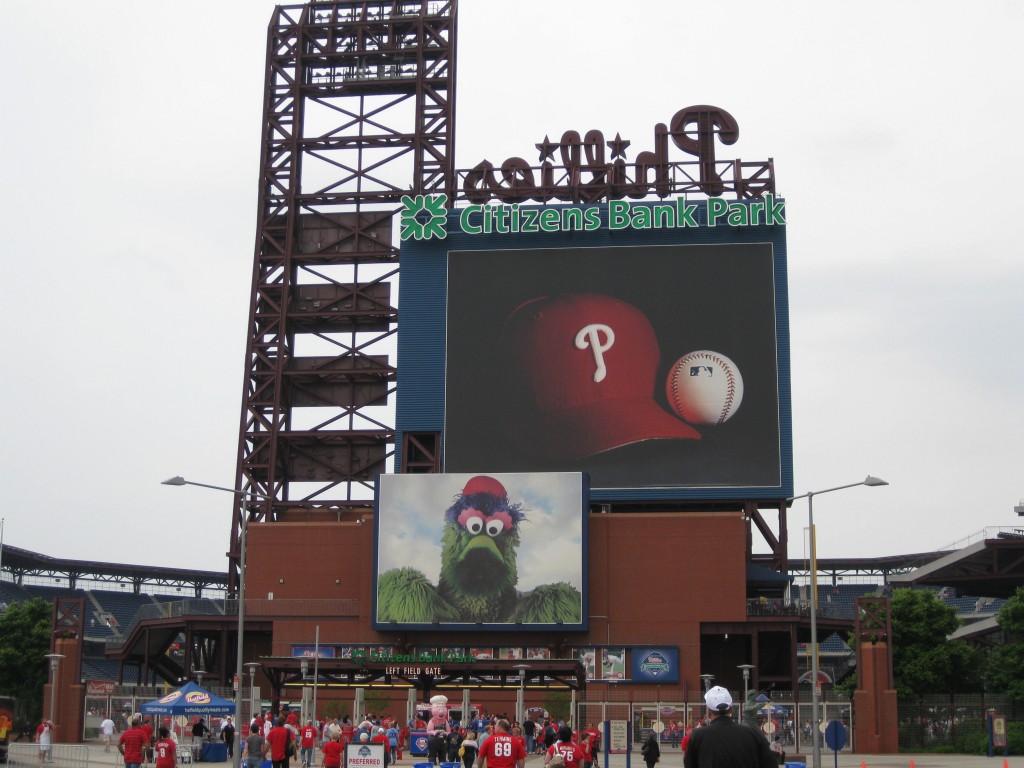 It may seem a little early for a post looking at MLB ballpark road trip ideas for the 2021 season.
After all, the abbreviated 2020 season is still in progress, and baseball — not to mention the sports world in general — is still in the early stages of recovery from the pause brought on by the COVID-19 pandemic.
However, Major League Baseball offered us a ray of hope for returning to ballparks by releasing the 2021 schedule at a very early date — July 9, to be exact. Normally the following season's schedule comes out in late August or early September.
Though we still don't know if things will return to normal by the time Opening Day 2021 rolls around, we can remain optimistic that fans will be back at MLB ballparks in some fashion next season.
And while we're being optimistic, why not put a few MLB ballpark road trip ideas out there so that we can imagine the possibilities of sports travel once again?
Longtime readers of this blog will probably notice that, unlike the NFL, NBA and NHL, we don't usually offer specific MLB ballpark road trip suggestions each season. Our reasoning is that, unlike the other leagues, it's much easier to find good road trip itineraries in baseball because of the fact that the teams play nearly every day.
But we can't think of too many better ways to quench our wanderlust than to formulate road trip ideas. Maybe we'll start doing this every season going forward.
Before diving in, check out our standing guide to putting together a good MLB ballpark road trip.
Like the other leagues, we try to apply a few ground rules to these itineraries:
We looked to pack as many games into as small a timeframe as possible, at least considering typical travel times by car (we won't suggest you travel cross-country for games on back-to-back days, for instance).
We try to look only at trips where you're traveling in the same general direction as you go from city to city (so no zig-zagging around).
We tried to limit the number of times you see a particular team to twice.
We looked only at minimum four-city trips, because longer trips are always more fun.
Because starting times have not yet been announced and can fluctuate, it's possible that scheduled day games can impact travel. However, in nearly all of the below cases, itineraries can be stretched out by a day or two to allow for a less hectic travel schedule.
Here are our MLB ballpark road ideas for 2021.
1) Opening Day on the East Coast
Thursday, April 1: Mets at Nationals
Saturday, April 3: Braves at Phillies
Sunday, April 4: Blue Jays at Yankees
Monday, April 5: Rays at Red Sox
The first day of the 2021 MLB season is April 1, so start this ballpark-hopping road trip at Washington's Nationals Park for Opening Day against the Mets. From there, head north with stops at Citizens Bank Park in Philadelphia, Yankee Stadium in New York and Fenway Park in Boston.
Note: If you've got more time to spare, hang out on the East Coast until Thursday, April 8, when you can check off the other New York ballpark as the Mets host the Marlins at Citi Field.
2) The epic Midwestern tour
Friday, April 30: Royals at Twins
Saturday, May 1: Dodgers at Brewers
Sunday, May 2: Indians at White Sox
Monday, May 3: Dodgers at Cubs
Tuesday, May 4: Mets at Cardinals
Wednesday, May 5: Indians at Royals
Ready for six ballgames in six days, with stops in some of the Midwest's finest cities? This itinerary begins at Target Field in Minneapolis, home of the Twins, and then winds southward through three more states.
You'll have stops at Miller Park in Milwaukee (scheduled to be renamed American Family Field in 2021), Guaranteed Rate Field and Wrigley Field over two days in Chicago, Busch Stadium in St. Louis and Kauffman Stadium in Kansas City.
3) The California ballpark road trip
Sunday, May 30: Angels at Athletics
Monday, May 31: Angels at Giants
Wednesday, June 2: Cardinals at Dodgers
Thursday, June 3: Mariners at Angels
Friday, June 4: Mets at Padres
Visit all five MLB ballparks in California over a weeklong road trip that begins in the Bay Area, with the Athletics hosting the Angels at the Oakland Coliseum and then the Giants welcoming the Halos at Oracle Park the next day.
After a day off to travel to Southern California, pick things up at Dodger Stadium in Los Angeles and work your way southward, stopping at Angel Stadium of Anaheim before finishing at San Diego's Petco Park.
Note: Yes, we broke one of our rules by including three games involving the Angels. But finding an opportunity to see all five California ballparks in one linear trip is not easy, and for our money, getting to see Mike Trout in action three times isn't the worst thing in the world.

4) The Midsummer Classic tour
Saturday, July 10: Braves at Marlins
Sunday, July 11: Blue Jays at Rays
Monday, July 12: MLB All-Star Home Run Derby in Atlanta
Tuesday, July 13: MLB All-Star Game in Atlanta
Friday, July 16: Brewers at Reds
Saturday, July 17: Twins at Tigers
This MLB ballpark road trip has lots of off-days and quite a bit of distance between stops, but it also has the All-Star Game built in.
The itinerary begins at Miami's Marlins Park and works its way through Florida with a stop at Tropicana Field in St. Petersburg. Then, arrive in Atlanta in time for the Home Run Derby and the All-Star Game at Atlanta's Truist Park.
When the All-Star festivities are over, take your time traveling north on I-75 and pick up the second half of the season at Cincinnati's Great American Ball Park, then finish up the week at Comerica Park in Detroit.
5) Dog days back East
Friday, August 6: Red Sox at Blue Jays
Sunday, August 8: Tigers at Indians
Tuesday, August 10: Cardinals at Pirates
Wednesday, August 11: Tigers at Orioles
Thursday, August 12: Dodgers at Phillies
Friday, August 13: Dodgers at Mets
Saturday, August 14: Orioles at Red Sox
Wind your way around the Midwest and East Coast ballparks, and even cross the border on this MLB road trip that begins at Toronto's Rogers Centre (assuming the Blue Jays are back home after spending the 2020 season playing home games in Buffalo).
You can spend an entire week on the road from there, stopping at Cleveland's Progressive Field, Pittsburgh's PNC Park, Baltimore's Oriole Park at Camden Yards and Philadelphia's Citizens Bank Park. Then the weekend brings games at Citi Field in New York and Fenway Park in Boston.
6) The stretch run road trip
Sunday, September 26: Giants at Rockies
Tuesday, September 28: Indians at Royals
Wednesday, September 29: Brewers at Cardinals
Friday, October 1: Tigers at White Sox
Saturday, October 2: Cubs at Cardinals
For the final week of the 2021 regular season, span the Plains and Midwest looking for good pennant-race excitement on this MLB ballpark road trip.
After catching the Rockies and Giants at Denver's Coors Field, head east on Interstate 70 to Kansas City's Kauffman Stadium and then St. Louis' Busch Stadium. Then, see the White Sox and Tigers at Guaranteed Rate Field before reversing course (yes, we know that's a rule-breaker) back to St. Louis to catch the Cubs and Cards clash to finish off the season.
Got an MLB ballpark road trip idea for the 2021 season that we didn't cover? Or want to share tales of your ballpark travels? Hit us up at hi@itinerantfan.com.
Affiliate Disclosure
Please note that some of the links above are affiliate links, and at no additional cost to you, we earn a commission if you make a purchase. These recommendations are only for companies that we've used and have proven to enhance our sports travel experiences. To find out more about our affiliate partnerships, please read our Affiliate Disclaimer.