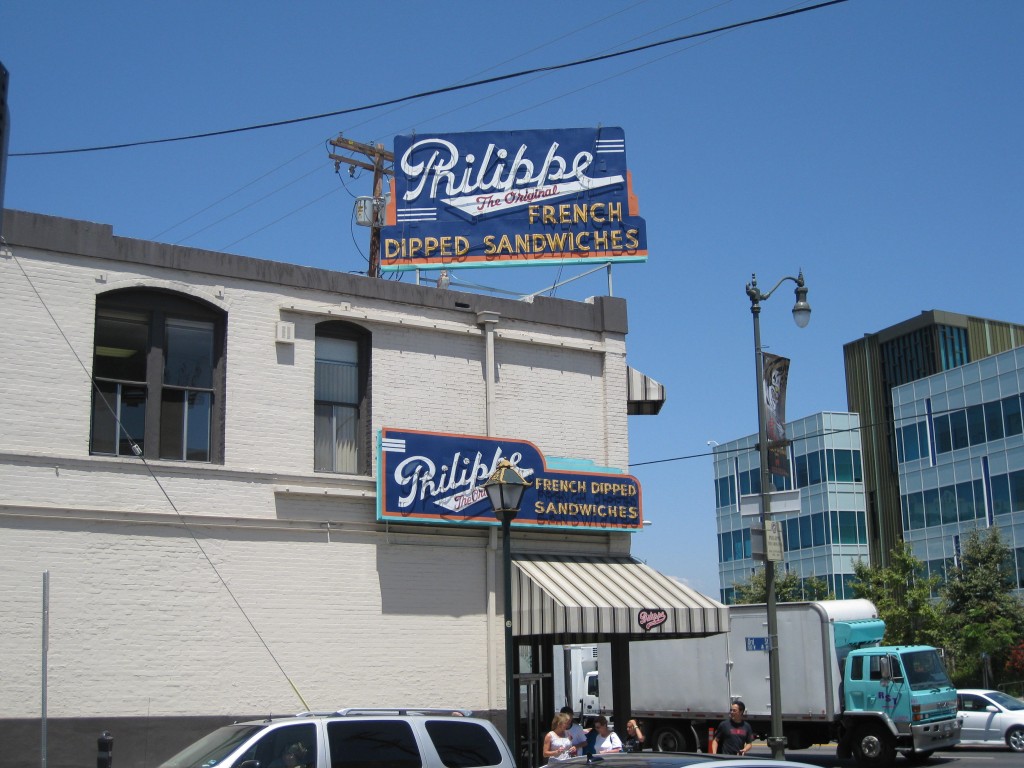 In a place as large and as diverse as Los Angeles, you can bet that there are restaurants that can satisfy just about every taste or situation. One good way to find out where the great food is? Just follow any Dodgers fan — because there are many great places to eat before a Dodger game in L.A. 
Ask enough sports fans in L.A., and you're bound to hear some of the same establishments again and again. Indeed, there are quite a few favorites among the sports-fan set, and most are within an easy drive of either Dodger Stadium — not to mention Staples Center or the Los Angeles Memorial Coliseum.
So whether you're planning to see the Dodgers, Lakers, Kings, Clippers or USC football, the establishments I've compiled below are in play. On summer days and nights during Dodgers homestands, though, you can bet that these places will be overflowing with Dodger blue.
We at I-Fan have the added benefit of calling Southern California home, and we've tried each of the places listed — in most cases, more than once. From simply liking the food to enjoying the game-day atmosphere, we can attest that each of these joints is a great place to eat before a Dodgers game, and that you'll be far from alone when you try it because they're that popular.
These eateries are listed in no particular order. You can find out more about visiting Los Angeles in our Los Angeles/Anaheim sports travel guide.
Philippe the Original (1001 N. Alameda St.)
It's more than a century old, it claims to have invented the French dip sandwich, and it's conveniently located from a sports-fan perspective. What's not to love about Philippe's? 
Philippe's beloved French dip sandwich comes with your choice of meat and is dipped in au jus (aka meat juices) upon request. The restaurant also makes its own mustard, which is a must-try in my eyes if you're into mustard, as well as pie.
Not only is Philippe's just down the hill from Dodger Stadium in the Chinatown district, it's also just three blocks away from Union Station, where many Dodger fans catch the L.A. Metro's Dodgers Express bus to the game. So it's no surprise that the restaurant can be plenty busy before Dodger games.
Distance from Dodger Stadium: 1.4 miles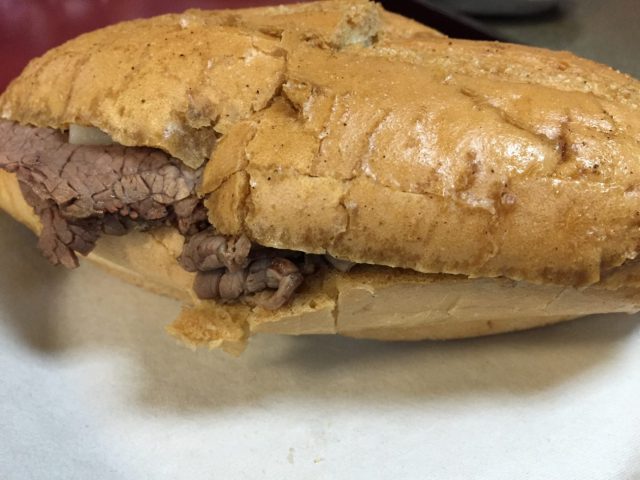 Cielito Lindo (E-23 Olvera St.)
The little stand at the end of historic Olvera Street is just two blocks from Philippe's and even closer to Union Station. It's a Mexican food stalwart in a city filled with great Mexican food, and with good reason.
Cielito Lindo serves burritos, tamales and chile rellenos, but the most popular item offered is their beef taquitos (think tacos but with the tortilla shell rolled into a flute-like shape). Be sure to try it with their avocado sauce, and if your appetite calls for it, get a combo that comes with beans and cheese.
Distance from Dodger Stadium: 1.6 miles
Eggslut (317 S. Broadway)
Located at the east end of the bustling Grand Central Market in downtown L.A., you'll usually be able to identify Eggslut by the long line of patrons waiting to order. The stand, which now has several locations around the Los Angeles area, has grown wildly popular ever since chef Alvin Cailan opened it in 2013, on the heels of a successful food truck venture.
As the name would suggest, nearly all of Eggslut's menu offerings include eggs, from breakfast sandwiches to a burger topped with a fried egg to the dish simply known as "The Slut": A coddled egg on top of a potato puree, served with bread for dipping.
If you're headed to Eggslut before a nighttime Dodger game, get there early — the stand closes at 4 p.m.
Distance from Dodger Stadium: 2.2 miles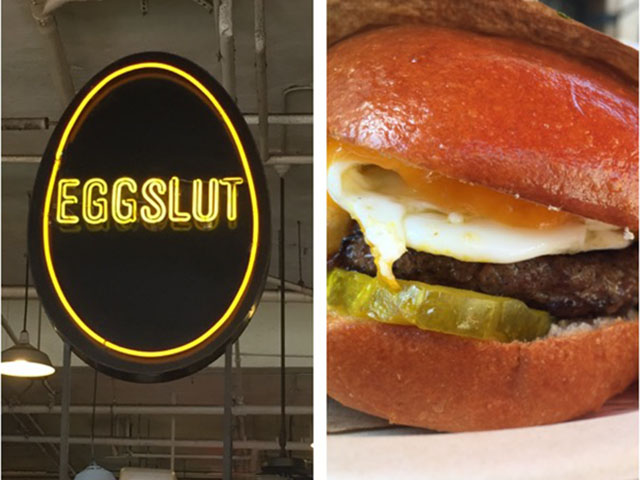 Howlin' Ray's (727 N. Broadway)
Another restaurant success that can trace its origins to a food truck, Howlin' Ray's brought to L.A. that Nashville favorite, hot chicken. Proprietor Johnny Ray Zone launched a brick-and-mortar outlet in Chinatown, just down the hill from Dodger Stadium, in 2016, and Howlin' Ray's already large following grew to massive proportions.
If you've never had Nashville-style hot chicken, or are sensitive to spicy food, take caution when asked how hot you want your order — even medium can be tough to handle.
Just like Eggslut, expect long lines to order and get there early — the outlet is known to close early if it runs out of food for the day, which it does frequently.
Distance from Dodger Stadium: 1.2 miles
Guisados (1261 Sunset Blvd.)
With a location just steps away from Vin Scully Avenue, the road that leads up the hill into the Dodger Stadium parking lot, Guisados is another fine pregame Mexican food option.
While Cielito Lindo has the market cornered on rolled tacos, traditional tacos are the star attraction at Guisados. Choose from filling options such as chicharron, chorizo or camarones.
Then, wash them down with an agua fresca or horchata — the latter, a cinnamon-tinged rice drink, is dyed blue and called the Dodgerata, and served on Dodgers game nights. 
Distance from Dodger Stadium: 0.4 miles
Langer's (704 S. Alvarado St.)
To deli fans in Southern California, the words "Number 19" are music to their ears. That's Langer's signature pastrami sandwich topped with cole slaw, and it's one of the most popular single dishes across the city.
There's a LOT more on Langer's menu, but the No. 19's legendary status makes it hard to ignore if it's your first time visiting. Note that the deli, in the Westlake district west of downtown, is only open until 4 p.m. and closed on Sundays.
Distance from Dodger Stadium: 2.8 miles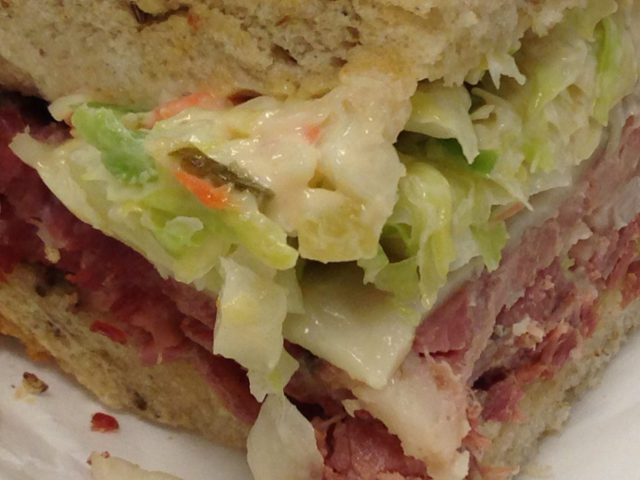 Mohawk Bend (2141 Sunset Blvd.)
Stop by this gastropub on Sunset Boulevard for a wide range of bar bites made from locally sourced ingredients, as well as a terrific selection of craft beers and wine.
And if you decide you'd rather stay there and not go to the game, the many TVs around the dining room should help you keep abreast of the game — though I would humbly suggest going to the game, then returning to the bar afterward. 
Mohawk Bend is just one of several bars within a short distance of Dodger Stadium — check out this list to see where you can get your drink on before the ballgame.
Distance from Dodger Stadium: 1.2 miles
Tommy's (2575 W. Beverly Blvd.)
In the region that sparked so many fast-food chains, Tommy's remains one of the most beloved in Southern California — just look at all the knockoffs around town trying to capitalize on the "Original Tommy's" fame. They put their signature chili on everything on their menu, from hamburgers to hot dogs to fries.
Its original location, at the corner of Beverly and Rampart Boulevards, is nothing more than a couple takeout windows and outdoor tables, but because it's open 24 hours is ever-popular with the late-night set. That, of course, includes sports fans, so it's common to see fans of the Dodgers as well as the Lakers, Clippers, Kings and USC flocking to Tommy's in the hours after a game.
Distance from Dodger Stadium: 2.4 miles
Do you want to recommend places to eat before a Dodgers game that you think should be added to this list? Drop us a line and let us know!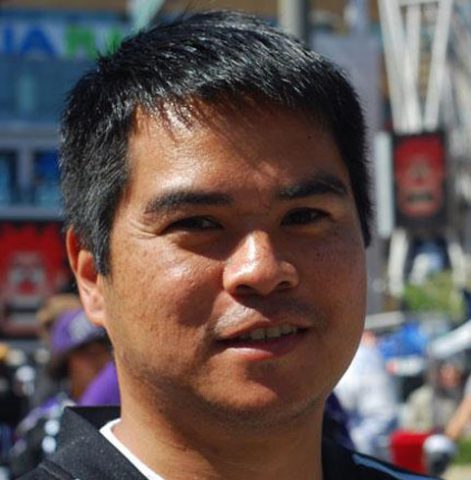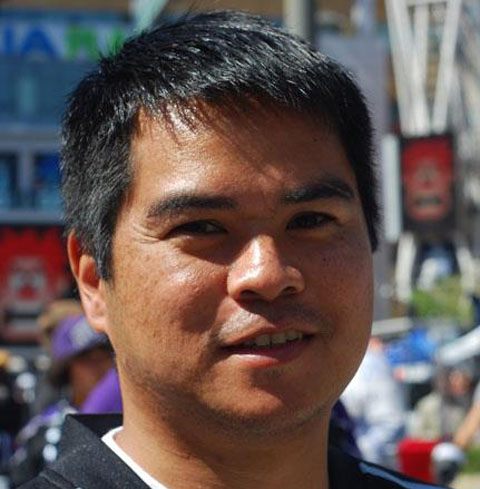 Edward de la Fuente | Itinerant Fan
I live for sports, and I love to travel. My biggest thrill is combining the two. I've been blogging about sports travel for more than a decade, and traveling for sports for twice as long.
About me | FAQ | Buy me a beer 🍺
Affiliate Disclosure
Please note that some of the links above are affiliate links, and at no additional cost to you, we earn a commission if you make a purchase. These recommendations are only for companies that we've used and have proven to enhance our sports travel experiences. To find out more about our affiliate partnerships, please read our Affiliate Disclaimer.