Crypto.com Arena
Our guide to Crypto.com Arena in Los Angeles includes information on events, tickets, parking, public transportation, nearby hotels and restaurants, seating and more. Read on to find out how to get the most out of your gameday experience.
* * *
Crypto.com Arena in Los Angeles is one of the busiest arenas in the U.S., as one look at parking and seating situations on an event night can often attest.
It's the only building in the country that is home to three teams in the NBA and NHL — the Lakers, Clippers and LA Kings — and nearly annual home to such big events as the Grammys.
In other words, there's almost always something big going on at Crypto.com Arena, and whenever there is, downtown Los Angeles is usually hopping along with it. Thanks to the nearby LA Live entertainment complex, the area comes alive on game nights, with the crowds getting larger depending on the importance of the event.
Despite its name change from Staples Center a few years back causing controversy — and sadness — among sports fans, the mega-sponsorship deal that precipitated the switch promises to bring much-needed improvements to the building in the near future.
Crypto.com Arena, operated by entertainment giant AEG, has seen a lot in its two decades of holding marquee events. NBA titles and Stanley Cups have been won within its walls — the Lakers have won five of the former there, while the Kings won two of the latter — and All-Star Games in both leagues have been staged there.
The Lakers, Clippers and Kings continue to bring capacity crowds to Crypto.com Arena, no matter how each team is doing, while the WNBA's Sparks keep the arena busy during the summer months (and have hung a few banners of their own on the walls).
Even though the Clippers are working on building their own arena in nearby Inglewood and moving out from beneath the shadow of the Lakers, there will be plenty of other events to keep "The Crypt" busy after their departure. 
As Crypto.com Arena continues to mature, it remains popular as ever and a great place to watch events of any type.
For more on visiting Los Angeles, check out our Los Angeles sports travel guide.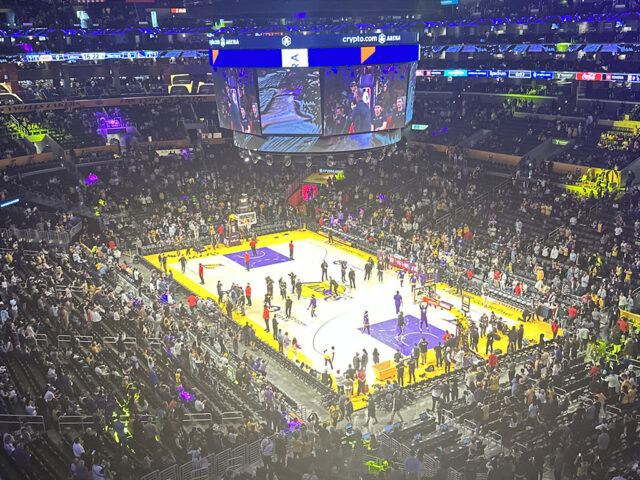 Getting to the arena
Crypto.com Arena is a hard building to miss, even amid the tall buildings of downtown. The distinctive glass facade, sloped roof and purple hue are easily distinguishable in the night sky, and it occupies some prime real estate near the intersection of Interstates 10 and 110 (more commonly known locally as the Santa Monica and Harbor freeways, or simply "the 10" and "the 110").
With the L.A. Convention Center, the downtown core and more and more attractions popping up nearby, the South Park neighborhood in which the arena is located is a popular place. And with popularity comes traffic — well, that's true just about anywhere in the Southland, but especially downtown on the night of an event at Crypto.com Arena, as parking can be at a premium.
So if you don't want to miss tipoff or puck drop, leave early and bring your patience. The most popular approaches are the downtown exits off the 110 and northbound on Figueroa Street, which runs along the east side of the arena.
If the idea of parking at Crypto.com Arena seems daunting to you, an underrated, but ever-popular, approach is by using Metro, L.A.'s slowly expanding subway system. The Pico station, serving the A and E lines (recently rebranded from the Blue and Expo lines, respectively), is one block away from the arena, but the station platform can get uncomfortably crowded during big events.
If you don't mind the walk and if you happen to be using the B Line (formerly Red Line) anyway, just exit the system at 7th Street/MetroCenter and walk four blocks south. You'll still run into crowds, but at least that station is large enough to handle them.
Popular parking spots for Crypto.com Arena are in the L.A. Live complex just north of the arena ($26 to park there), in the Convention Center structures and in private structures two or three blocks east — you'll find the biggest bargains the farther east you go.
A handful of small parking lots operate just west of the 110 Freeway, on the other side from where Crypto.com Arena is located, as well.
Looking for parking at Crypto.com Arena? Buy parking on SpotHero.
• E Central Hotel Downtown Los Angeles – 0.1 miles away
• JW Marriott Los Angeles L.A. Live – 0.1 miles away
• Residence Inn by Marriott Los Angeles L.A. Live – 0.2 miles away
Search for more Los Angeles hotels on Booking.com.
Map of the surrounding area
Things to do around the arena
A large number of sports fans spend their pregame time at L.A. Live, the complex with the huge outdoor TV screens on the other side of 11th Street/Chick Hearn Way from the arena. In fact, the pedestrian traffic is usually so large that 11th Street is closed to traffic in the hours before most games.
Also, note that the L.A. Live area tends to host a lot of events itself, particularly at the Microsoft Theater, which usually explains why huge crowds can form along 11th Street even if Crypto.com Arena's capacity crowd has mostly made its way inside. You'll sometimes have to be mindful of security barriers set up to help with pedestrian traffic flow.
Whether you're there to eat, drink or just people-watch, there are plenty of restaurant and bar options, from casual (Tom's Urban, Yard House) to upscale (Wolfgang Puck, Katsuya).
There's also a JW Marriott within this complex in which fans tend to congregate postgame (and, occasionally, players and other sports personalities as well). Your options are plentiful, but this being L.A., don't expect any of them to be cheap.
If you're looking for a bargain or to keep it simple, try heading a few blocks north or east, where you'll find more fast food or at least casual options.
• Tom's Watch Bar – pub, 0.1 miles away
• Wolfgang Puck Bar & Grill – bar, 0.2 miles away
• Shaquille's – American, 0.1 miles away
Search for more Los Angeles restaurants on Tripadvisor.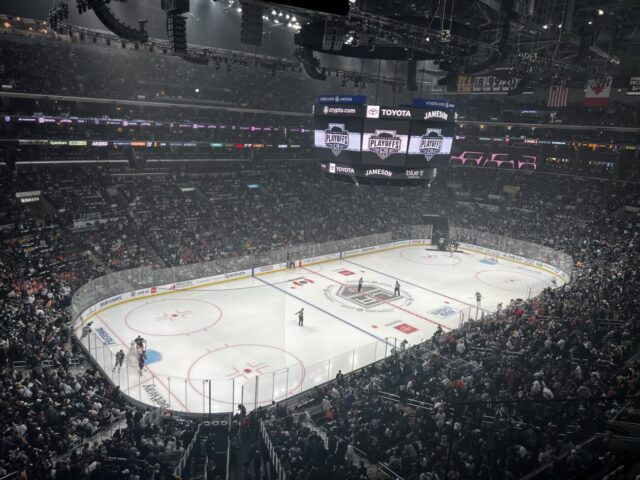 Perhaps befitting an events venue in L.A., Crypto.com Arena is quite flashy on the outside. If it's your first visit, be sure to visit "Star Plaza" on the arena's north side, with its ever-growing collection of statues — Magic Johnson, Wayne Gretzky and Oscar de la Hoya, among others, are represented there. However, note that this also tends to be the most popular entrance, meaning it can get jammed up as gametime draws closer.
Once inside, there's not a whole lot flashy about the arena — but management seems to be trying to change that. Expect plenty of changes in the years as Crypto.com Arena embarks on a refresh spurred by its 20th anniversary and the name change.
If your seat is on the 300 (upper) level and it feels high compared to other arenas, you're probably right. One of the more distinctive features of Crypto.com Arena's seating bowl is its three levels of luxury suites, but the trade-off is that the upper deck is pretty high. Your first clue to that is the two sets of escalators you have to ascend to reach the 300 level, and you can get a glimpse of the club seating level (known at Crypto.com Arena as the Premier level) on your way up.
The good news is that it's not too far back — in fact, if it's your first visit to Crypto.com Arena and you're in the lower rows of the 300 seating level, it might feel to you as though you're right on top of the ice/court.
Though the Lakers have been the marquee tenant since the arena opened, the Kings and Clippers have been making inroads into making the place their own as well.
The Kings are farther along, having won two Stanley Cups in a three-year span and building on their loyal fan base, and they've made one side of the Crypto.com Arena seating bowl their own by hanging their championship banners and retired numbers from the rafters, away from the Lakers banners that dominate the wall on the other side.
Meanwhile, the Clippers add their own touch by covering the Lakers banners with custom-made decorations for their games.
Interested in a suite at Crypto.com Arena? Buy suite tickets on SuiteHop.
The arena has added more adventurous concessions options over the years and has begun to phase out some of the more bland options, which in the past included McDonald's and California Pizza Kitchen. For example, the Ludo Bird fried chicken stand, operated by celebrity chef Ludo Lefebvre, is an upscale take on chicken tenders.
Local chains Blaze Pizza and Wahoo's Fish Taco have also moved in over the last few years, adding some variety to the typical hot dogs-and-popcorn arena fare.
Southern California brewery Golden Road also operates a stand on the main concourse level, and their beers are on draft at stands throughout the arena.
Original publish date: February 4, 2016
Most recent update: September 19, 2023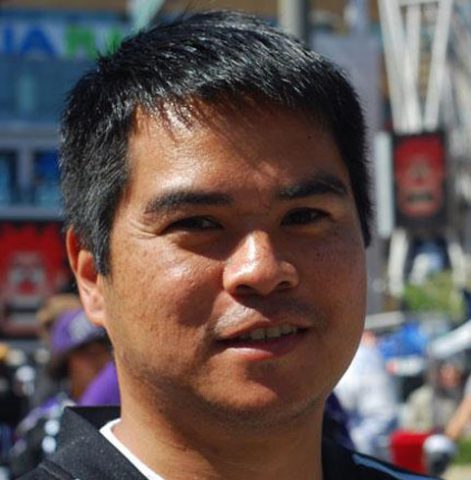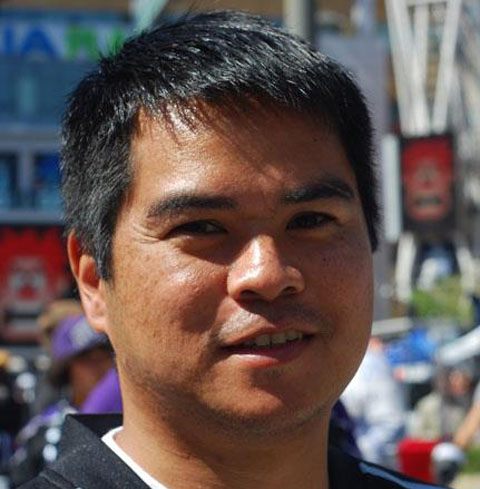 Edward de la Fuente | Itinerant Fan
I live for sports, and I love to travel. My biggest thrill is combining the two. I've been blogging about sports travel for more than a decade, and traveling for sports for twice as long.
About me | FAQ | Buy me a beer 🍺
Affiliate Disclosure
Please note that some of the links above are affiliate links, and at no additional cost to you, we earn a commission if you make a purchase. These recommendations are only for companies that we've used and have proven to enhance our sports travel experiences. To find out more about our affiliate partnerships, please read our Affiliate Disclaimer.
The Particulars
Home Teams
Los Angeles Clippers
Los Angeles Kings
Los Angeles Lakers
Los Angeles Sparks
Address
1111 S. Figueroa St.
Los Angeles, CA 90015
Year Opened
1999
Capacity
19,079 (basketball)
18,118 (hockey)
Upcoming Events
All times local
Los Angeles Kings vs. Anaheim Ducks
Tuesday, October 3, 2023
7:00 pm
Get tickets at Ticketmaster »

Joji
Friday, October 6, 2023
8:00 pm
Get tickets at Ticketmaster »

Los Angeles Kings vs. Vegas Golden Knights
Saturday, October 7, 2023
1:00 pm
Get tickets at Ticketmaster »

Los Angeles Kings vs. Colorado Avalanche
Wednesday, October 11, 2023
7:00 pm
Get tickets at Ticketmaster »

Preseason: Lakers v Golden State Warriors
Friday, October 13, 2023
7:00 pm
Get tickets at Ticketmaster »