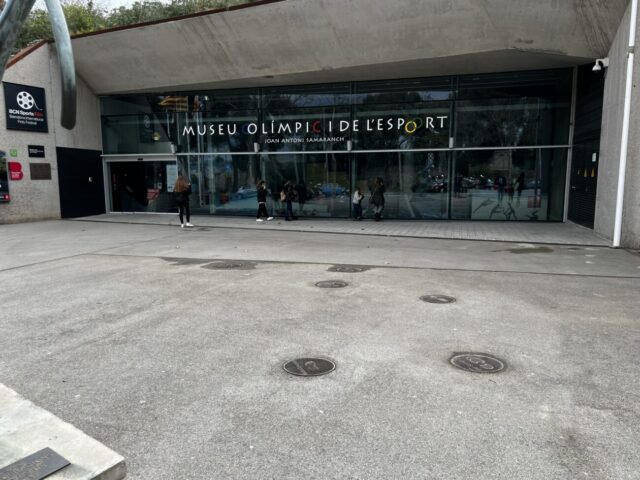 As a fan of the Olympics, I always enjoy visiting sites of past Games no matter how long ago they were held. But I have to admit that exploring the venues and sites of the 1992 Summer Olympics in Barcelona was a special treat.
That's because those were the first Games I can remember watching with vested interest, knowing who the athletes worth watching were and which storylines were worth following.
And the city of Barcelona itself was covered with great detail by the media coverage that I can remember consuming — it was through these Olympics that I learned about La Rambla and the Sagrada Familia. I wasn't that much into travel at that stage in my childhood, but I did know from that point forward that I wanted to visit Barcelona someday.
Well, almost 30 years after the Olympics came to Spain, I finally made it to Barcelona. I spent four days there, attending an FC Barcelona match at Camp Nou and seeing those sights that I had learned about on TV so many years ago.
Though it was a pretty short period of time to explore what is truly one of the world's great cities — now that I've experienced how much Barcelona truly has to offer, I'd recommend budgeting for an entire week — I made it a point to spend some time exploring some of the Olympic sites around town.
Luckily, it's pretty easy to do in Barcelona, and most of what I'll cover here, you can do in one morning like I did.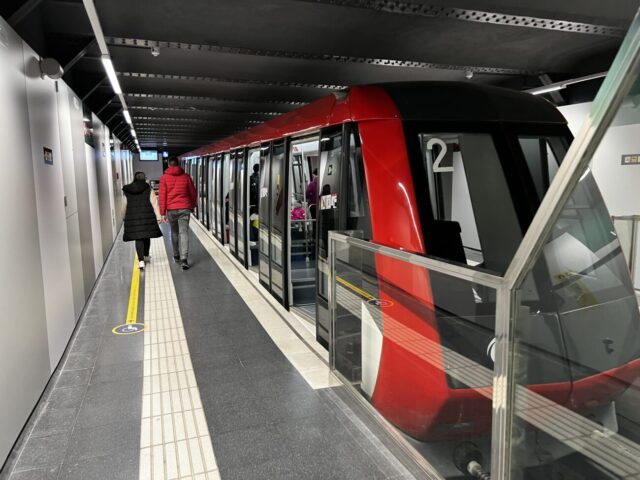 Visiting Olympic sites on Montjuic
The starting point for any exploration of 1992 Summer Olympics sites in Barcelona is Montjuic, a small mountain located just a few kilometers away from the center city. It's mostly made up of parkland and historic sites, but several major venues also lie in this area, all of which were used for the Games.
Getting to Montjuic can be a treat in itself for the visitor. First, you can use the Barcelona Metro to get to the Paral-lel station, at which you can board the Montjuic Funicular Railway — a train that climbs the hill to get to where the park and attractions are.
(A small word of warning: The funicular boarding platform is a bit of a walk away from the subway station, and the signage isn't great. Whatever you do, don't go up to street level; the funicular station is underground as well.)
The ride costs as much as a single-fare ride on the Metro (if you have a day pass, it covers the funicular) and lasts about two minutes. You won't see a whole lot, as most of it is through tunnels, but it's still fun having the experience of riding on an incline railway.
The funicular takes you to one of the main roads through Montjuic, Avinguda Miramar, which is the best path for strolling through the park.
A short distance away is the entrance to another transport mode worth considering: The Montjuic Cable Car, an aerial tram that gives you overhead views of the park and of the city at large from a distance. Sadly, the tram had just closed for a month of maintenance on the day I chose to visit, so I couldn't experience it for myself.
However, a short walk in the other direction takes you to the first venue worth checking out: The Piscina Municipal, aka swimming pool.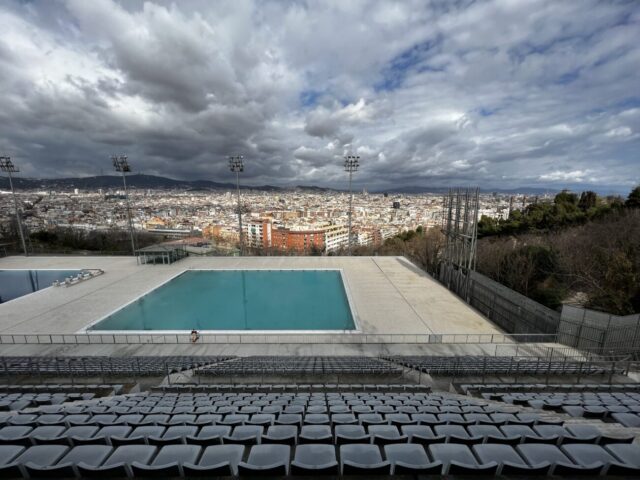 This venue was used for diving and water polo during the 1992 Olympics (swimming events were held across the park, at another outdoor venue).
While memorable to American audiences in part because a Team USA diver, Mark Lenzi, won gold in the 3-meter springboard event, it's more known for the sprawling view of Barcelona beyond the pool, as seen above.
For me, a kid watching on TV, this was my intro to Barcelona, as the scenery was brought up often during event coverage. 
What's nice is that today, the public can enjoy it at any time. The pools are typically open for public use — though it wasn't on the day I visited. In addition, a small restaurant and bar is stationed at the street-level entrance to the venue, with seating at the top of the bleachers so patrons can take in the view as they enjoy their lunch or coffee.
I didn't buy anything to eat or drink, but I did waltz right on in and spend about five minutes looking around.
Now that I've been there, I can attest that the view is even more breathtaking than it seems in the photo. Especially because if you look off in the distance — or zoom in with your camera — you can see the majestic Sagrada Familia right there.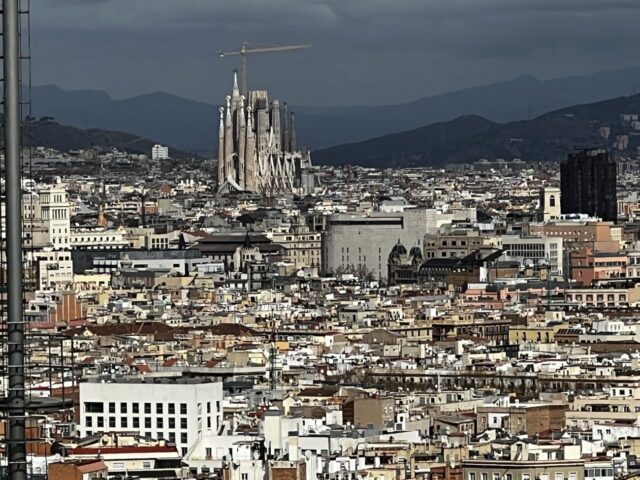 Heading to Barcelona's Olympic Stadium
From the Piscina Municipal, I walked westward along Avinguda Miramar, past several other attractions, including a museum for famed Catalan artist Joan Miró.
Eventually I came across another museum devoted to the Olympic movement and named after former International Olympic Committee president Juan Antonio Samaranch, a Spaniard. While it certainly looked worth a visit – indeed, there are plenty of artifacts and exhibits reflecting what occurred during the Barcelona Olympics inside — I decided not to go inside.
Instead, I focused on checking out the building just a short walk away: The Olympic Stadium.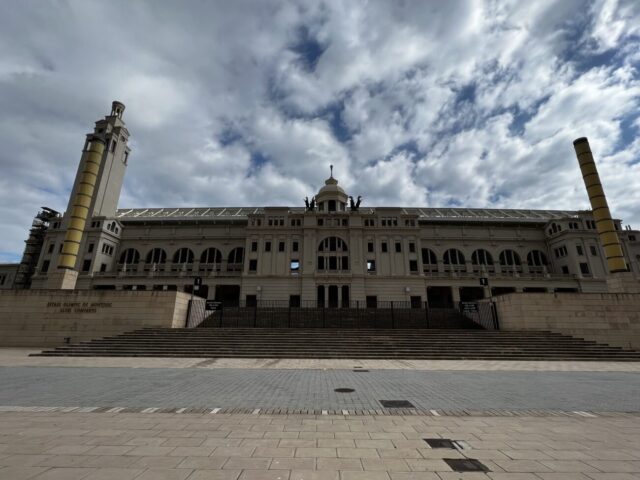 It's very clear from first glance that this venue wasn't built just for the Olympics. In fact, it is much older than that, having been constructed in 1927.
It's been used for plenty of high-profile events, including football (it served as the home for top-flight club RCD Espanyol for a 12-year stretch), rugby and even American football (home to the Barcelona Dragons of the World League of American Football in the 1990s).
As far as its Olympic history, you may remember several notable track and field moments from the 1992 Games, from British runner Derek Redmond's in-race injury and subsequent limping to the finish line with his father's assistance to American sprinter Gail Devers' stumble at the end of the 100-meter hurdles.
For me, though, the indelible moment at this stadium was the Opening Ceremony, which culminated in an archer shooting a flaming arrow over the stands and toward the cauldron where the Olympic flame would be held.
Today, you can see the torch still in its position, mounted to the stadium facade. The main street is right there, but beyond it is a woodsy area, which is likely where the arrow landed after passing over the torch — if not on the street itself.
The amount of preparation and engineering to pull off such a feat with the world watching has to be astonishing, and just seeing where things are positioned even today was pretty eye-opening to me.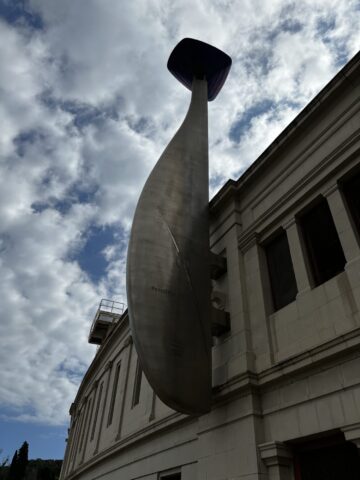 Beyond the torch is a gate where you can take a peek inside, even when there's nothing going on — and to be honest, it's rare when something's happening there. 
However, the stadium will host FC Barcelona for at least one season starting in the summer of 2023, as Camp Nou will be undergoing extensive renovations.
You can still see that the stadium has a running track, and the interior grass remains well-kept.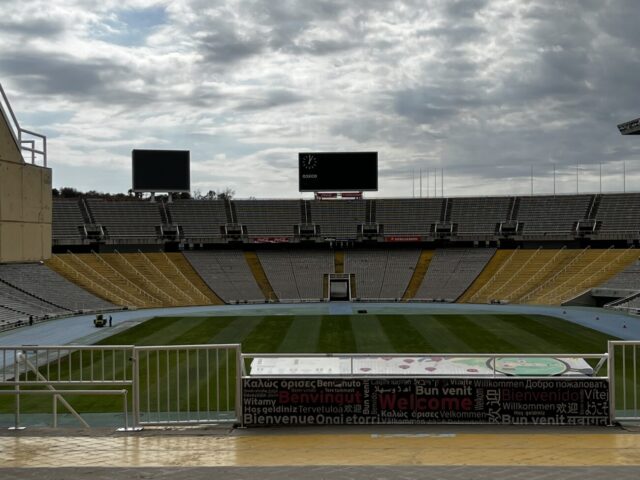 Entering the Olympic Ring
I kept walking around the perimeter of the Olympic Stadium until I came across a large plaza, accessible by descending a fairly large series of steps.
This is what's known as the Olympic Ring, which served as the central meeting area of the Montjuic set of venues. From this vantage point you can see several other buildings that were in use during the '92 Games, including the Palau Sant Jordi — an indoor arena that hosted gymnastics and volleyball and is now primarily a concert venue.
The swimming stadium, the Piscines Bernat Picornell, is on the other side of the plaza. And just down the hill, a baseball stadium, as 1992 was the first year that baseball became a full Olympic sport.
Also worth looking at is a large communications tower with a distinctive look. It was designed and built for the Games and is positioned almost at the center of the plaza. People can sit under it and take a break, as it takes a lot of walking to explore the large Olympic ring.
Though the plaza — and the park as a whole — can be pretty quiet on weekdays when nothing is going on, there are plenty of food stands around where you can stop and get a bite during your exploration of Barcelona's Olympic sites. I managed to get a bottle of water from one, while speaking Spanish the whole way!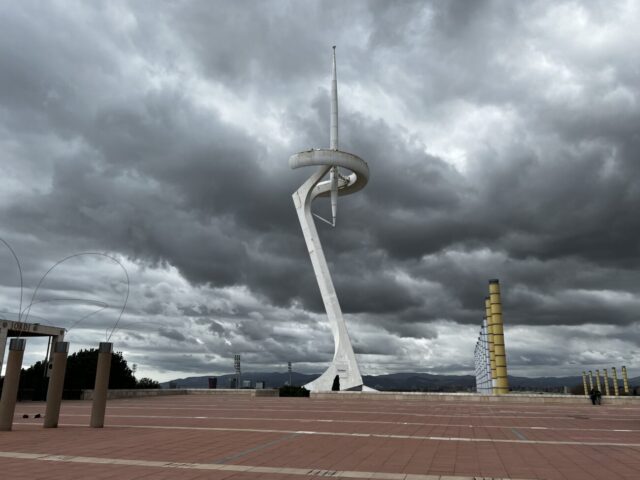 Other Olympic sites around Barcelona
Though Montjuic was clearly the hub of activity for the 1992 Olympics, there are several other areas around Barcelona worth seeing.
Camp Nou, the top sporting attraction in Barcelona for obvious reasons, hosted just one event during the Games, the football final. But the club's adjacent arena, the Palau Blaugrana, was used for judo events as well as the demonstration sports of roller hockey and taekwondo.
If you're visiting Barcelona for the first time, you might want to take some time to visit the city's waterfront, which was built up in preparation for the Games and is now known as the Olympic Port. Sailing events took place starting at this marina, and nearby is a building topped with a distinctive golden sculpture made to look like a fish.
Designed by Frank Gehry, this was the centerpiece of what served as the Olympic Village during the Barcelona Games and is now a vibrant neighborhood full of shops, restaurants and residences. It's accessible via the Ciutadella Villa Olimpica station on the Barcelona Metro.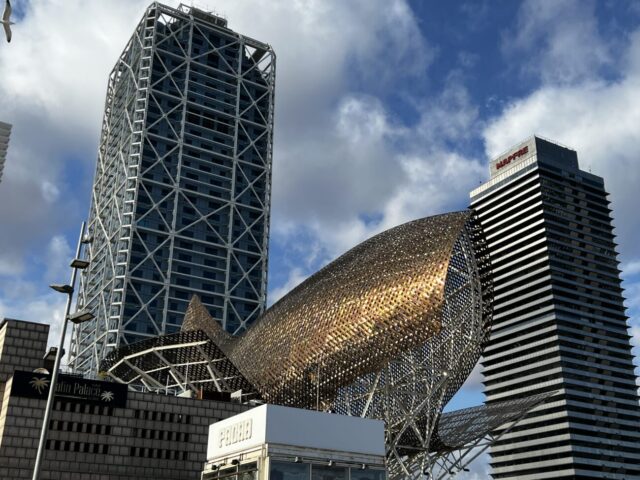 By this point, you might be wondering: What about the Dream Team? Where did they play?
Well, the venue where the famed U.S. men's basketball team, led by Michael Jordan, Magic Johnson and so many other NBA stars of the day, dominated the Olympic tournament on their way to gold is well outside the center of Barcelona.
Known today as the Palau Municipal d'Esports de Badalona, it is located in the city of Badalona and is home to Spanish professional basketball club Joventut Badalona. It also hosts plenty of concerts and other sporting events, getting about as much use as any sports venue in the region.
During my short visit to Barcelona, I found that the time involved in getting to the arena was prohibitive, so despite my best intentions, I chose to skip it. It'll have to wait for a future — and definitely longer — trip to Barcelona and a deeper exploration of its 1992 Olympics heritage.
More posts about past Olympic sites:
• Sochi, Russia (2014 Winter Games)
• Salt Lake City (2002 Winter Games)
• Vancouver and Calgary (2010 and 1988 Winter Games)
• Munich (1972 Summer Games)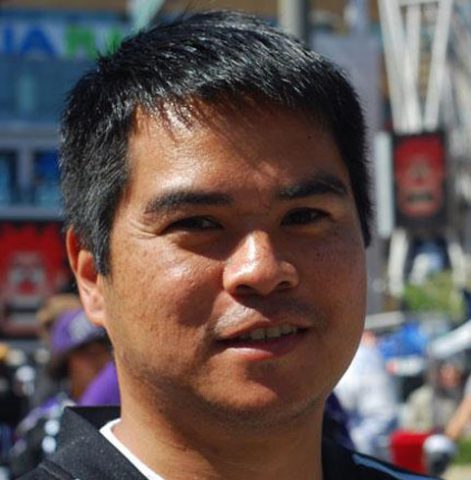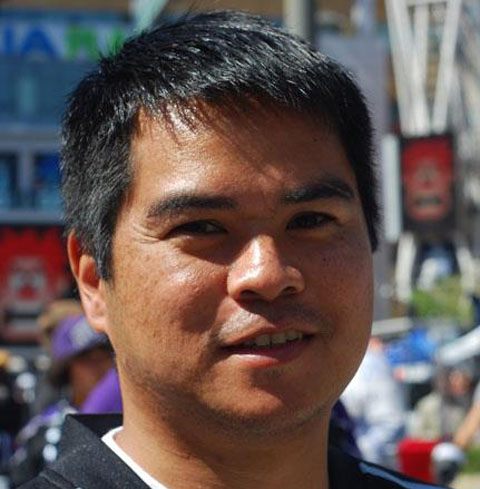 Edward de la Fuente | Itinerant Fan
I live for sports, and I love to travel. My biggest thrill is combining the two. I've been blogging about sports travel for more than a decade, and traveling for sports for twice as long.
About me | FAQ | Buy me a beer 🍺
Affiliate Disclosure
Please note that some of the links above are affiliate links, and at no additional cost to you, we earn a commission if you make a purchase. These recommendations are only for companies that we've used and have proven to enhance our sports travel experiences. To find out more about our affiliate partnerships, please read our Affiliate Disclaimer.