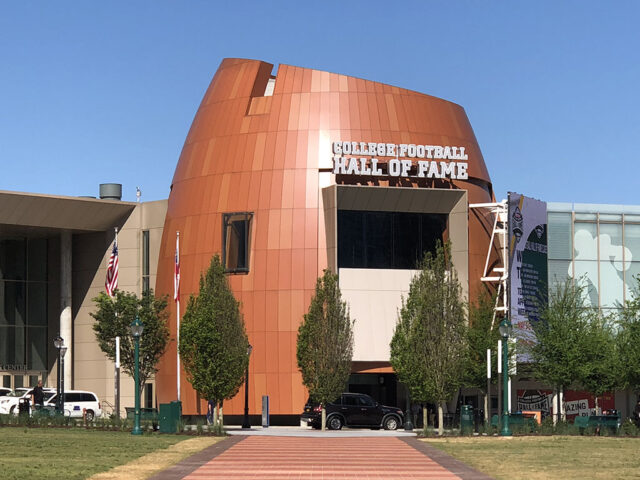 There's no shortage of attractions to visit in downtown Atlanta, and yet the College Football Hall of Fame manages to stand out as one worth buying tickets for.
Its dramatic entrance — meant to resemble a football — is hard to miss even amid the other buildings on busy Marietta Street. The new facility opened in 2014, replacing the Hall of Fame's previous spot in South Bend, Indiana, and offers up a modern facility with technologically advanced exhibits.
Not to mention its location, in the heart of SEC/ACC country with the nearest Division I football programs, Georgia State and Georgia Tech, just up the road.
Each Saturday during the college football season, the Hall of Fame hosts a gameday tailgate where visitors can immerse themselves in the day's action while also getting a sense of the sport's history.
Even if your day in Atlanta calls for visiting a number of its attractions, it's not difficult to carve out a little bit of time to check out the shrine to college football.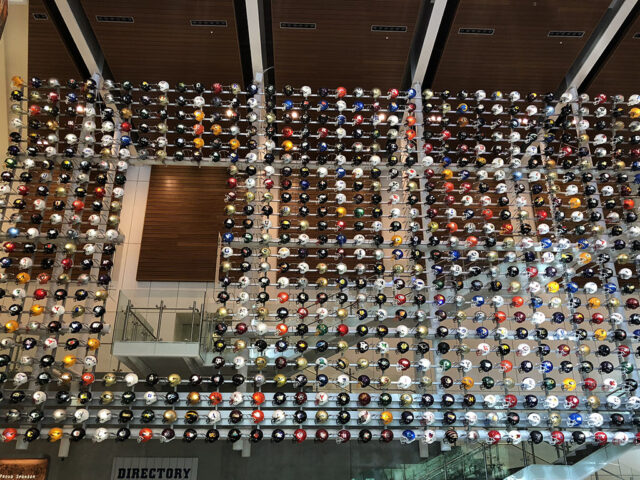 Getting to the College Football Hall of Fame
The College Football Hall of Fame is centrally located, in the heart of Atlanta's tourism district.
Centennial Olympic Park is just across the street, the Georgia World Congress Center (Atlanta's mammoth convention center) is adjacent to it, and a laundry list of the city's most popular destinations — CNN Center, the Georgia Aquarium, World of Coca-Cola, the National Center for Civil and Human Rights, Children's Museum of Atlanta, the SkyView Atlanta ferris wheel — are within a short walking distance.
Two of the city's major sports venues, Mercedes-Benz Stadium and State Farm Arena, are nearby as well. If you've got tickets to a game, especially a college football game such as the SEC championship or the Peach Bowl, stopping off at the College Football Hall of Fame isn't a bad way to spend your pregame time.
If you're visiting Atlanta and staying in a downtown hotel, the Hall of Fame is an easy stroll from most of them. One, the Omni Atlanta at CNN Center, is right next door.
But for points farther out, using MARTA, Atlanta's rail service, is a viable option. The station that serves the tourism district has the catch-all name of Dome/GWCC/Philips Arena/CNN Center. Riders can emerge from the station next to State Farm Arena (formerly Philips Arena), where the NBA's Atlanta Hawks play, and from there it's a two-block walk north around CNN Center to get to the Hall of Fame.
Check out our Atlanta sports travel guide for more tips on visiting the city.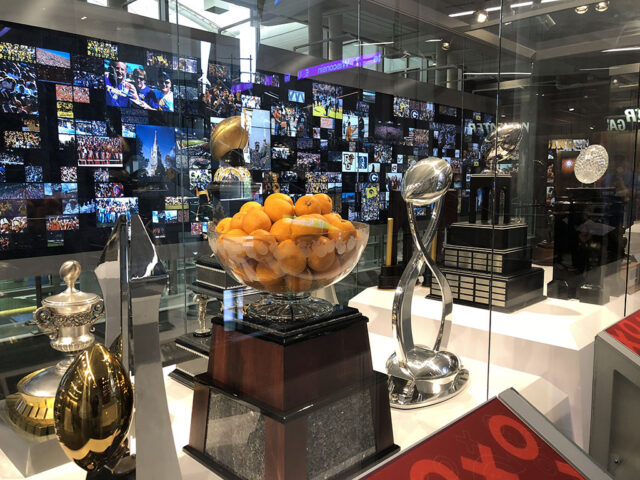 Buying tickets for the College Football Hall of Fame
As of 2023, tickets for the College Football Hall of Fame cost $30.25 for adults and $23.75 for children 12 and under, with discounts available for seniors and students (active and retired military members can visit for free).
You can also get tickets to the College Football Hall of Fame via the Atlanta CityPass, which allows visitors to the city to gain admission to a number of attractions for one fee. Two nearby attractions, the World of Coca-Cola and Georgia Aquarium, are automatically included, while customers can select the Hall of Fame as an additional attraction under the same rate.
Note that the Hall of Fame is only open six days a week and is regularly closed on Tuesdays. Also, the museum is occasionally closed for special events. Be sure to check the Hall of Fame's website or social media channels to ensure it will be open on the day you plan to visit.
On regular operating days, the College Football Hall of Fame is open from 10 a.m. to 5 p.m.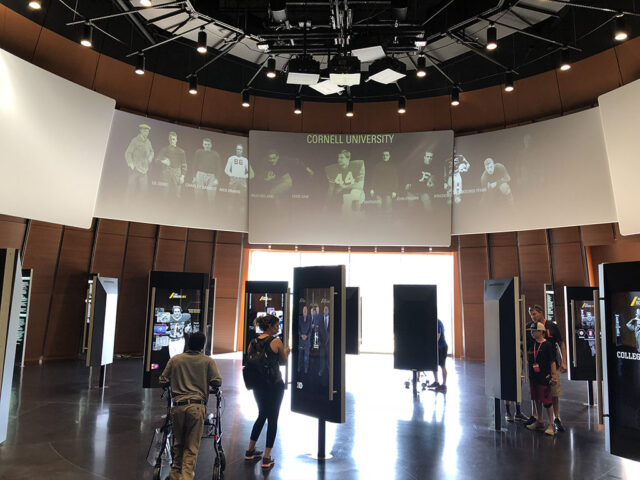 Things to see at the College Football Hall of Fame
No matter which ticket you buy, once you walk into the lobby of the College Football Hall of Fame, you'll get a sense of the interactivity right away.
You'll immediately be asked which school you represent. Then the person helping you will direct your attention to a huge display of helmets from programs across the country — the Helmet Wall, as it's called, is three stories tall and has more than 700 helmets across all levels of the college game. The helmet from the school you chose will light up.
Visitors then make their way to the second and third floors, where most of the exhibits reside. The actual Hall of Fame that commemorates enshrined players, coaches and others is housed underneath the football-shaped atrium seen at the entrance.
Rather than individual plaques as seen at most sports halls of fame, enshrinees can be looked up on numerous interactive screens. Considering there are more than 1,200 inductees, you can spend a lot of time in this area looking at details on your favorite figures.
There are other interesting exhibits to check out, including one that shows the various rivalry and bowl trophies around the game, as well as displays devoted to tailgating, marching bands and athlete nutrition.
Don't forget to stop by the "Game Day Theater," which shows the college football experience in 4K HD fashion.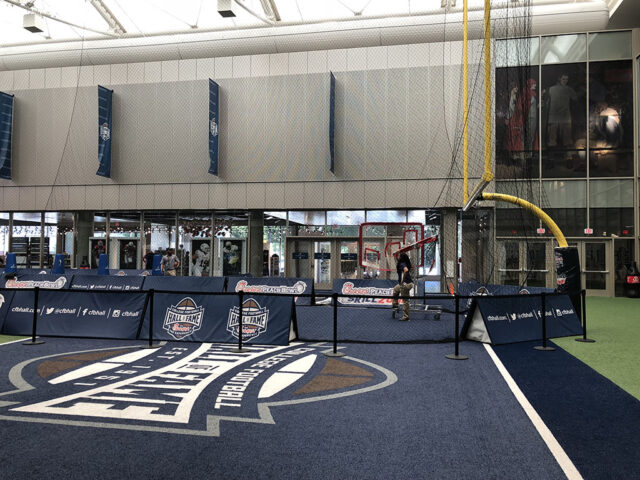 If you're into pitting your skills against the best of college football — or, at least, your fellow museum patrons — that part is saved for last.
Back on the first floor of the facility, the Indoor Playing Field allows visitors to test themselves in such skills as throwing an accurate pass, running through tackling dummies and kicking a field goal (the latter being much harder than it sounds).
Even if you just wanted to know how artificial turf feels under your feet, this is a good place to experience that.
On your way out, you can also pass through the Hall of Fame's gift shop, which contains some team apparel but mostly books and souvenirs devoted to the game in general.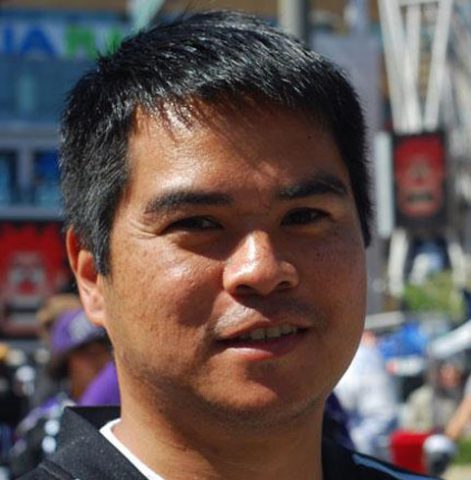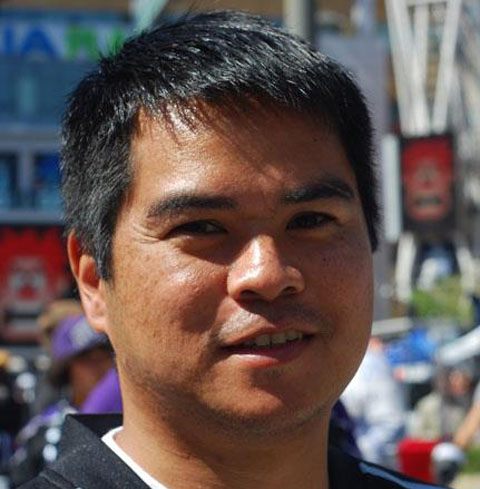 Edward de la Fuente | Itinerant Fan
I live for sports, and I love to travel. My biggest thrill is combining the two. I've been blogging about sports travel for more than a decade, and traveling for sports for twice as long.
About me | FAQ | Buy me a beer 🍺
Affiliate Disclosure
Please note that some of the links above are affiliate links, and at no additional cost to you, we earn a commission if you make a purchase. These recommendations are only for companies that we've used and have proven to enhance our sports travel experiences. To find out more about our affiliate partnerships, please read our Affiliate Disclaimer.