Lumen Field
Our guide to Lumen Field in Seattle includes information on events, tickets, parking, public transportation, nearby hotels and restaurants, seating and more. Read on to find out how to get the most out of your gameday experience.
* * *
Lumen Field is a beautiful football stadium in a beautiful city, serving faithful Seahawks fans and the event-goers of Seattle with all the seating, parking and amenities expected of a modern NFL stadium.
Located in the SoDo (South of Downtown) section of Seattle, Lumen Field (formerly known as CenturyLink Field) home to a Seahawks team that has always boasted one of the NFL's most passionate fan bases even before it was finally rewarded with a championship after the 2013 season. All of that alone is reason enough to check out pro football in the Pacific Northwest.
But if you've paid attention, all of that stuff is likely not the most prominent thing you've heard about Lumen Field. No, the thing that tends to put the stadium front and center is the noise.
The 12th Man has a way about bringing the noise, sometimes at record-breaking levels. and if you're planning your first trip there, you may find yourself wondering: Does it really get that loud there? At least, that's what went through my mind for a while as I contemplated making a trip there.
Finally, the opportunity presented itself in the form of a free fall weekend and low airfares, so I made plans to check out a Seahawks home game with friend and Seattle resident Vagabond Designer. I brought a raincoat but not earplugs, and only time would tell whether that was a mistake.
Even if you aren't able to visit for a Seahawks game, you can also watch Seattle Sounders FC of Major League Soccer. While their supporters don't fill up Lumen Field the way the 12th Man does — the upper-level seating areas are typically covered for Sounders events — they can be just as boisterous, and in fact their fan base is considered one of the most fervent in the league.
For more on visiting Seattle, check out our Seattle sports travel guide.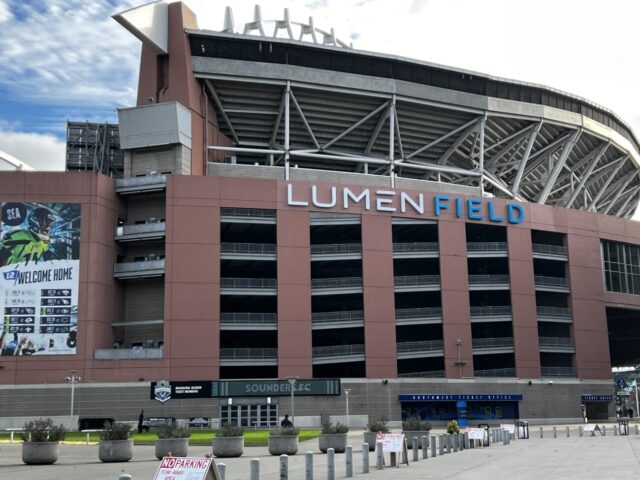 Getting to the stadium
As mentioned above, Lumen Field is located south of downtown (and south of the Pioneer Square section of town as well), right next to T-Mobile Park. I don't know this for sure, but it looks from ground level and to the naked eye as though T-Mobile is actually larger than Lumen Field because of its behemoth retractable roof, and in what other city can you say the baseball stadium looks more imposing than the football stadium?
The stadium's location means it's easily accessible from a number of directions, including the always-trafficky Interstate 5 and I-90 that approaches from the east. There are parking lots scattered all around Lumen Field, including a pretty big parking structure just south of the stadium, but you can expect the usual heavy traffic if you're driving in.
However, there is an alternative in SoundTransit, which operates the region's Link light-rail service. The main light-rail line travels between downtown Seattle and the airport and runs right by the stadium. I took light rail straight from the airport and, despite an expected influx of passengers decked out in Seahawks gear as we got closer to the stadium, it was very hassle-free.
One thing to consider, though: When looking at a system map, you may see the "Stadium" stop and automatically assume that's the station you need — and you would not be wrong. But that stop is closer to the ballpark than it is to Lumen Field, and you'll likely find it super-crowded as the start of your event approaches.
As it turns out, my friend told me to meet him one stop north, at the International District station, and from there he led me through a plaza and across a pedestrian bridge that led straight into the stadium parking lot, a walk of no more than a quarter-mile. So it seems clear to me that the International District stop is the better one to use.
If you're using the Sounder, the region's commuter train service, or even Amtrak, your arrival is made even more convenient by the fact the King Street Station is right there, just northeast of the stadium. A walk up the staircase to the aforementioned pedestrian bridge, then a descent to the Lumen Field parking lot, and you're there.
Seattle hotels near Lumen Field
• Silver Cloud Hotel – Seattle Stadium – 0.2 miles away
• Embassy Suites by Hilton Seattle Downtown Pioneer Square – 0.2 miles away
• Courtyard Seattle Downtown/Pioneer Square – 0.3 miles away
Search for more Seattle hotels on Booking.com.
Map of the surrounding area
Things to do around the stadium
Just look around — there's plenty to do nearby, and not just the usual pre-NFL game tailgate scene that fills the Lumen Field parking lots. The alleyways around the district — at least those that have heavy pedestrian traffic — are usually dotted with food trucks and street vendors selling snacks, beverages and souvenirs. It makes for a pretty lively atmosphere that you can experience just by walking to the game.
If you're looking for something more traditional, sports bars and brewpubs proliferate on First Avenue South, which runs along the west side of the stadium, and in the blocks just north near Pioneer Square.
Or, if you follow the handy tip listed above and take light rail to the International District station, you can find all sorts of restaurants within walking distance of the stadium — some of them Asian, owing to the district, and some not.
If you're attending a Sounders match at Lumen Field, join the club's faithful (known as the Emerald City Supporters) on their pregame "March to the Match," which begins at nearby Occidental Park about 90 minutes before kickoff.
Seattle restaurants near Lumen Field
• Jimmy's on First – American, 0.2 miles away
• Hawk's Nest – pub, 0.3 miles away
• Slugger's Sports Bar – pub, 0.3 miles away
Search for more Seattle restaurants on Tripadvisor.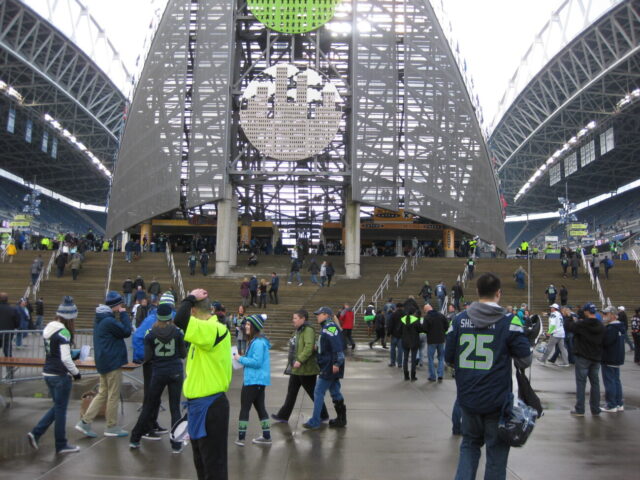 Watching a game at Lumen Field
Definitely give Lumen Field this: It is one of the most unique-looking stadiums in the NFL. It's a horseshoe-shaped venue with an open end that allows people inside to view the downtown skyline to the north.
If you're watching an event at Lumen Field, there's another reason to look at that open end, though: The Hawks Nest, the triangle-shaped seating section that's topped by a vertical videoboard. You just don't see features like that in many stadiums, and it's one of those things that you immediately identify with Seattle.
Meanwhile, Lumen Field's seating areas along each sideline are covered by a distinctive arched overhang that covers most of the upper deck from the rain (though not us, since our seats were in the corner and just out from under the overhang). I'm no architecture expert, but I'm willing to bet it's this feature that helps amplify the crowd noise for Lumen Field events.
Ah yes, the noise. It's understandable to be skeptical about the claims of "world's loudest stadium" and such. But there really is no questioning the passion of the fan base that's known collectively as the 12th Man, and the Seahawks go to great lengths to make sure the fans know they're appreciated — banners and flags with the number 12 on them are everywhere (12 is actually retired by the team in tribute to the fans), and an eventful pregame ritual involves the raising of a 12th Man flag at the stadium's southern end by a person of prominence.
Maybe that's why it's so easy for the fans to get loud. Before the game, Vagabond Designer, whose love of rock concerts is another reason he and I are friends, told me that he found his ears ringing after only one live event in his life — a Seahawks game at Lumen Field. When he said that, I really started thinking this whole loud thing was no joke.
Before the game, though, you can get your throat ready for some screaming by checking out all the stadium has to offer. We took a stroll through the main concourse on the stadium's west side, which had plenty of cool displays — including a giant Super Bowl XLVIII display (popular among the picture-takers) and a mural containing the helmet of every high school football team in the state of Washington.
Our seats were in the corner of the 300 level — not prime seats by any means, but you could see everything, including the videoboards at the north end and that nice view of the skyline. As mentioned, our seating area was not protected from the rain, so the raincoat I brought really got a workout, especially in the second half when the rain picked up and drenched Lumen Field.
Oh, and that happened to be when the noise picked up as well. Seattle was mostly sluggish in the first half and went into the break trailing, then turned it up to win the game going away.
It got noticeably loud for me at two points: Right before the opening kickoff and after the Seahawks took the lead in the second half. I don't think it was record-breaking, and my ears weren't ringing, but I can legitimately say it was about as loud as any sporting event I've been to. And hearing that for myself was definitely worth the experience.
Interested in a suite at Lumen Field? Buy suite tickets on SuiteHop.
Food and drink at Lumen Field
If you don't mind walking around, take the time to explore the varied food options at Lumen Field, which do a good job of representing local cuisine.
Local seafood favorite Ivar's serves its fish and chips and clam chowder here, while Taiwanese star Din Tai Fung offers its pork buns and wontons, as well as boba tea drinks. The Best of Pioneer Square and Chinatown International District stand dishes up banh mi sandwiches and kimchi dogs.
There are also multiple beer halls and taverns for fans to try the best of Puget Sound beer. Elysian Brewing, which got its start in Seattle before being sold to Anheuser-Busch, has its own bar space on the 300 level.
Original publish date: February 4, 2016
Most recent update: May 18, 2022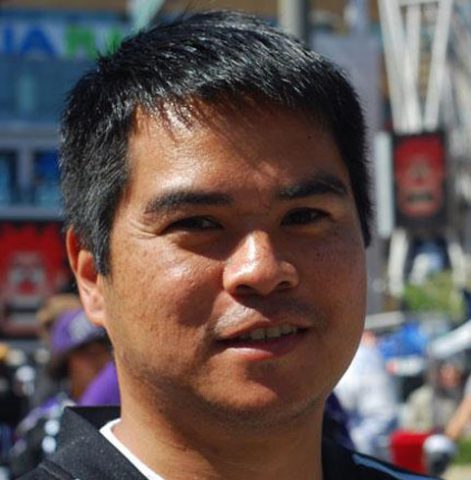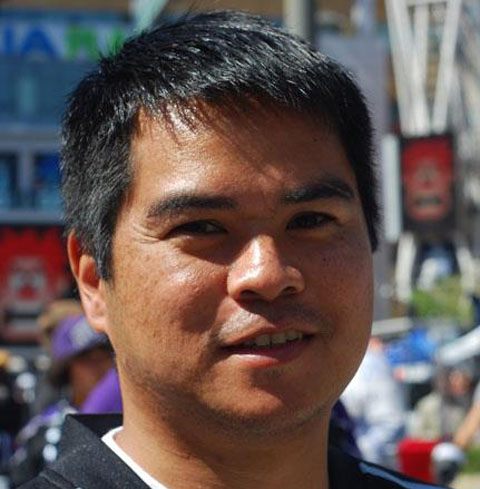 About Edward de la Fuente | Itinerant Fan
I live for sports, and I love to travel. My biggest thrill is combining the two. I've been blogging about sports travel for more than a decade, and traveling for sports for twice as long. To find out more, check out our About page.
Affiliate Disclosure
Please note that some of the links above are affiliate links, and at no additional cost to you, we earn a commission if you make a purchase. These recommendations are only for companies that we've used and have proven to enhance our sports travel experiences. To find out more about our affiliate partnerships, please read our Affiliate Disclaimer.
The Particulars
Home Teams
Seattle Seahawks
Seattle Sounders FC
Address
800 Occidental Ave. South
Seattle, WA 98134
Year Opened
2002
Capacity
67,000
Upcoming Events
All times local
OL Reign vs. Orlando Pride
Saturday, October 1, 2022
7:00 pm
Get tickets at Ticketmaster »

Seattle Sounders FC vs. San Jose Earthquakes
Sunday, October 9, 2022
2:00 pm
Get tickets at Ticketmaster »

$75 Value Tickets: Seattle Seahawks vs Arizona Cardinals
Sunday, October 16, 2022
1:05 pm
Get tickets at Ticketmaster »

Seattle Seahawks vs. Arizona Cardinals
Sunday, October 16, 2022
1:05 pm
Get tickets at Ticketmaster »

$75 Value Tickets: Seattle Seahawks vs New York Giants
Sunday, October 30, 2022
1:25 pm
Get tickets at Ticketmaster »