State Farm Stadium
Our guide to State Farm Stadium in Glendale, Arizona, includes information on events, tickets, parking, public transportation, nearby hotels and restaurants, seating and more. Read on to find out how to get the most out of your gameday experience.
* * *
Ever since the Arizona Cardinals erected what looks like a big ol' spaceship in the desert in 2006, State Farm Stadium has been the site of big games and memorable moments in both the pro and college game, and serves as a prime events center for the region with ample seating, parking and entertainment.
The stadium — known for the first 12 years of its existence as University of Phoenix Stadium before a sponsorship change in 2018 — has already hosted two Super Bowls, which happen to have been two of the most exciting games in recent NFL history.
In fact, the building has shown a remarkable knack for being home of high-stakes thrills: Every NFL playoff game held at State Farm Stadium in its history, including the aforementioned Super Bowls, was decided by seven points or less.
Another Super Bowl is coming after the 2022 season, giving the stadium another chance to shine in the national spotlight.
Don't forget college football — the annual Fiesta Bowl is also held at the stadium and has been the site of several recent memorable college football moments.
The stadium has some drawbacks, mainly its location, but that doesn't diminish the fact that State Farm Stadium has quickly become a must-visit events destination for football fans — pro and college alike.
Looking for State Farm Stadium event tickets? Search events on Ticketmaster.
Getting to the stadium
State Farm Stadium is not in Phoenix itself but in the western suburb of Glendale, and for the first-time visitor it helps to have a little bit of knowledge of the layout of the Valley of the Sun.
Generally, it's Phoenix's eastern suburbs (Scottsdale, Tempe, Mesa and the like) that are more well-populated and well-known to outsiders, so if that's your starting point, know that getting over to Glendale can be a bit of a challenge — one that locals who live in the East Valley are often reluctant to take on.
The biggest challenge in getting to the stadium is that only one freeway runs near it: Loop 101. Not surprisingly, this route gets super-crowded on gamedays, especially traveling north the seven or so miles from Interstate 10 — you can see the stadium in the distance from the interchange from I-10 but the crawl of traffic can make it seem much farther away.
If you don't have a car, your only other options are taking a taxi or rideshare. The Phoenix area's Valley Light Rail doesn't run to Glendale; the official taxi and rideshare pickup point is south of the stadium and Cardinals Way, but cars can also be hailed at the Westgate as well as the handful of hotels nearby.
Parking at State Farm Stadium
Your best bets if you're looking for a cash lot are to exit at either Camelback Road or Glendale Avenue. The closest exit to the stadium, Cardinals Way (recently renamed from Bethany Home Road), provides access mainly to permit lots for season-ticket holders.
The most popular cash parking option for State Farm Stadium is the adjacent Westgate Entertainment District, located just north of the venue, where spaces are available for as little as $10.
Looking for parking at State Farm Stadium? Buy parking on SpotHero.
Glendale hotels near State Farm Stadium
• Home2 Suites by Hilton Glendale Westgate – 0.3 miles away
• Hampton Inn & Suites Phoenix Glendale-Westgate – 0.4 miles away
• Renaissance Phoenix Glendale Hotel & Spa – 0.4 miles away
Search for more Glendale hotels on Booking.com.
Map of the surrounding area
Things to do around the stadium
If you haven't come to State Farm Stadium prepared to hang out in the parking lots and tailgate, then your best option is to hang out at the Westgate center, where a sizable number of food and entertainment options await.
A lot of fans do this, of course, which means many of the restaurants and shops can reach jam-packed status hours before gametime. You can see a restaurant guide here.
There are also outlet stores adjacent to Westgate, and more shopping across Glendale Avenue. A little farther north is the Desert Diamond Casino, a complex that includes restaurants and, of course, gambling, and is undergoing expansion.
Also nearby is Desert Diamond Arena, the former home of the NHL's Arizona Coyotes and a major event venue for the West Valley. While it's rare for the arena to schedule an event on the same day as a Cardinals or college football game, it's worth checking out the schedule to see what might be happening there.
The Cardinals make several spaces around State Farm Stadium available for pregame enjoyment. Check out the south lawn for the "Cardinals Preflight Party," featuring food stands and TVs showing early NFL games in a shaded picnic area, or the west lawn for live bands performing up to three hours before game time.
In addition, the Big Red Brew Haus inside the stadium opens early to host fans, and is open to anyone holding a game ticket.
For more on visiting Glendale, Arizona, check out our Phoenix sports travel guide.
Glendale restaurants near State Farm Stadium
• Whiskey Rose – American, 0.4 miles away
• Saddle Ranch Chop House – steakhouse, 0.4 miles away
• Yard House – American, 0.5 miles away
Search for more Glendale restaurants on Tripadvisor.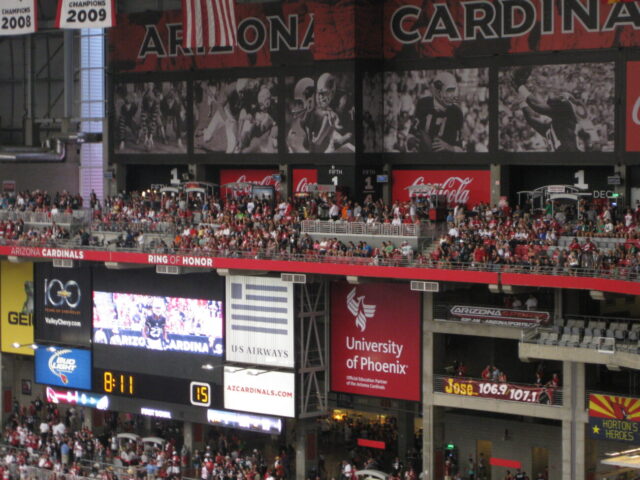 Watching a game at State Farm Stadium
Once upon a time, the Arizona Cardinals played their home games at Sun Devil Stadium, a perfectly serviceable football venue on the Arizona State University campus that had only one notable handicap — not having a roof, a giant mister, a Montgomery Burns-style sun blocker or any other means of keeping the temperature inside the bowl below 100 degrees.
This meant that the Cardinals could not host games in September unless they were played after dark, and since there were only two available slots for night games in the NFL each week at the time, it meant the Cardinals began nearly every season having to play at least three of their first four games on the road.
That was surely blamed for why the Cardinals couldn't put together winning seasons, though other factors received some blame, too, and the franchise's losing ways were never an Arizona-specific problem anyway.
Walk into State Farm Stadium and you'll feel immediately why it has been such a boon to the Cardinals, not to mention other large-scale events that pass through the Phoenix area. Yes, I'm talking about that blast of air conditioning that hits you when you pass through the doors, and if you don't think it's all that great, then you must've been lucky enough to attend a late-season game.
The thing is, you have to work to get to that point — unless you're a VIP parking in the closest lots, you're looking at a bit of a walk to get to the outer perimeter of the stadium. If you get there within an hour of game time, you're waiting 10 minutes or longer to get through the security check, which is all the outer perimeter is for. Once you're in, you still have to find a gate, and there wasn't one anywhere near the security check we passed through.
Then, when you go through the turnstiles and within the stadium walls (surprisingly enough, the metal exterior that you see from a distance is, for all intents and purposes, just decoration because all it really gives you is shade), you're still not greeted by air conditioning until you reach the double sets of doors leading into the concourse.
And if you're headed to upper-deck seating, you're still looking at a 5-minute trip up the escalators before you can experience the joy of State Farm Stadium's air conditioning.
OK, enough about the heat — once you get inside, the stadium is quite impressive, and quite beautiful. Even if you didn't know that the roof was retractable and the playing field can slide in and out of the stadium, you'd still have to marvel at the engineering.
The sight lines are tremendous wherever you are, and you don't even have to be in your seating area to appreciate what State Farm Stadium has to offer. You can see it while standing on the upper concourse (and that's where a surprisingly large number of people take in the game anyway — there are plenty of prime SRO spots behind both end zones).
The best compliment we can give to State Farm Stadium is that it's huge, but its seating bowl doesn't feel huge. Certainly not 70,000-plus huge. It actually feels more like a large convention hall, the best of which feel vibrant when there's a great number of people but never crammed.
The aforementioned SRO space in the end zones means a great majority of State Farm Stadium's seats are along the sidelines. Ladies and gentlemen, they did a terrific job with this stadium.
Interested in a suite at State Farm Stadium? Buy suite tickets on SuiteHop.
Food and drink at State Farm Stadium
The concessions offerings feel pretty standard for a football stadium, though there are a decidedly large number of stands around — particularly ones that offer barbecue.
Like many venues, State Farm Stadium has worked to diversify its culinary offerings in recent years, offering items such as chicken and waffles, churro donuts and giant burgers.
Original publish date: February 4, 2016
Most recent update: August 18, 2023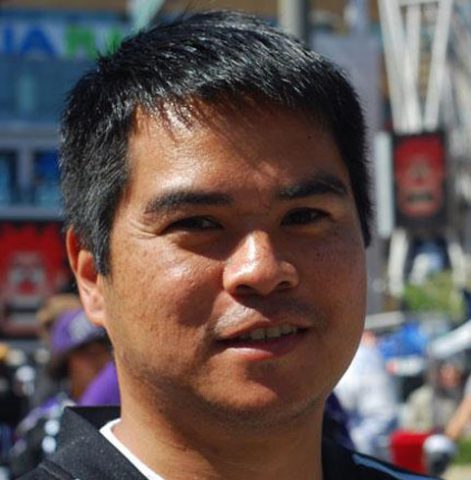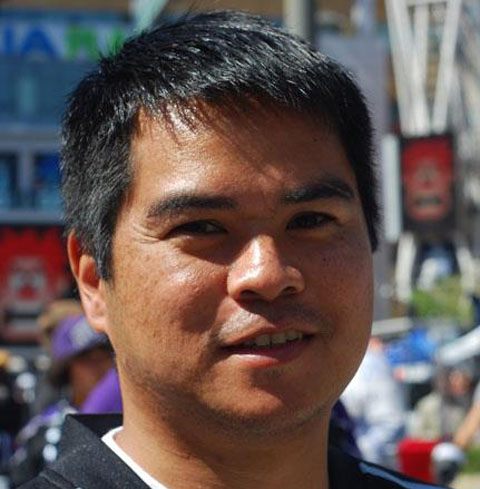 Edward de la Fuente | Itinerant Fan
I live for sports, and I love to travel. My biggest thrill is combining the two. I've been blogging about sports travel for more than a decade, and traveling for sports for twice as long.
About me | FAQ | Buy me a beer 🍺
Affiliate Disclosure
Please note that some of the links above are affiliate links, and at no additional cost to you, we earn a commission if you make a purchase. These recommendations are only for companies that we've used and have proven to enhance our sports travel experiences. To find out more about our affiliate partnerships, please read our Affiliate Disclaimer.
The Particulars
Home Teams
Arizona Cardinals
Address
1 West Cardinals Drive
Glendale, AZ 85305
Year Opened
2006
Capacity
63,400
Upcoming Events
All times local
Arizona Cardinals Vs San Francisco 49ers
Sunday, December 17, 2023
2:05 pm
Get tickets at Ticketmaster »

Fiesta Bowl
Monday, January 1, 2024
11:00 am
Get tickets at Ticketmaster »

Monster Energy AMA Supercross Championship
Saturday, February 10, 2024
6:00 pm
Get tickets at Ticketmaster »

2024 NCAA Men's Basketball Championship - Final Four - Semi Finals
Saturday, April 6, 2024
12:00 am
Get tickets at Ticketmaster »

2024 NCAA Men's Basketball Championship - Final Four - Final
Monday, April 8, 2024
12:00 am
Get tickets at Ticketmaster »