FedExForum
Our guide to FedExForum in Memphis includes information on events, tickets, parking, public transportation, nearby hotels and restaurants, seating and more. Read on to find out how to get the most out of your gameday experience.
* * *
When you think of Memphis, chances are you think of two things: the blues and barbecue. Sports might not always be at the forefront among visitors to the city, but there are many reasons to check out the city's lone major professional sports team, the NBA's Memphis Grizzlies, at FedExForum.
One of those reasons is that they play in a beautiful facility which is just steps from the famed Beale Street and many other attractions in the downtown area. FedExForum is also home to the University of Memphis' basketball team, a local favorite in its own right.
In large part because they're Memphis' most visible entry in the pro sports scene, the Grizzlies are beloved locally and their familiar two-tone blue color scheme can be found in many, many spots throughout town.
On game nights, folks in downtown Memphis are heading to one of two areas — the music clubs on Beale or the game at FedExForum, so just follow along to get a taste of the Grizzlies experience.
And don't forget that FedExForum is a quality venue for concerts and other events, so it's not just basketball that breathes life into the downtown arena.
Looking for FedExForum event tickets? Search events on Ticketmaster.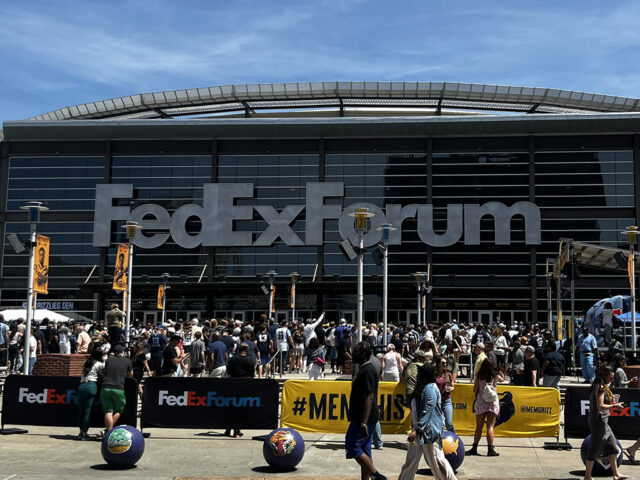 Getting to the arena
Just about everything a tourist would want to see and do in Memphis is located downtown — at least, with the notable exception of Graceland, the former home of Elvis Presley, located some 10 miles south.
That makes FedExForum mighty convenient to visitors. And it's easy to spot, not far from the hustle and bustle and neon lights of the blues clubs, bars and eateries of Beale Street.
Note: even though the arena lists its address as 191 Beale Street, it's actually separated from Beale Street by a row of restaurants and bars and a small alley.
If you'd prefer not to walk long distances, you can take advantage of the Memphis downtown trolley system, which consists of three lines. Single-ride trolley fares cost $1, while day passes go for $3.50. The nearest trolley stop to FedExForum is at Beale and Main streets, two blocks away.
Downtown Memphis is quite easy to access via Interstate 40 to the north or I-55 to the south. Pay attention when the downtown exit on either route is approaching, though, lest you wind up missing it and driving across the Mississippi River into Arkansas, where you'll have to find a spot to exit and turn around.
Parking at FedExForum
If you're not staying downtown and are driving in for a FedExForum event, there's lots of parking around. Most of the major lots are just south of the arena, including a five-story parking garage that's attached to the building.
For Grizzlies games, this structure is largely reserved for season-ticket permits, though limited single-game parking for FedExForum events is available for purchase in advance.
Numerous independent parking lots and structures are available in the blocks surrounding FedExForum, including several surface lots along Martin Luther King Jr. Boulevard.
The farther south you get from FedExForum, the more residential the area becomes and the more limited the parking options. Sometimes free street parking can be found in these areas, but be aware of rules and regulations for those particular streets.
Memphis hotels near FedExForum
If you're staying in central Memphis, FedExForum is within reasonable walking distance (within a mile, that is) of nearly every major hotel in the downtown area.
That includes the historic Peabody Hotel, three blocks north, which is known for the "Peabody Ducks" that live at the hotel and are seen daily marching through the lobby.
• The Westin Memphis Beale Street – 0.1 miles away
• Hampton Inn & Suites Memphis-Beale Street – 0.2 miles away
• Holiday Inn – Memphis Downtown – Beale St. – 0.3 miles away
Search for more Memphis hotels on Booking.com.
Map of the surrounding area
Things to do around the arena
Well, it's hard NOT to find a place to hang out and eat, drink and/or people-watch before an event at FedExForum, what with so many different night spots around.
The three neon-lit blocks of Beale Street just west of the arena, toward the Mississippi River, are the most active for nightlife. Chances are if you've read a tourbook or watched a TV show about visiting Memphis, the images you've seen include shots of this district.
Most nights, Beale Street is closed to vehicular traffic starting at 2nd Street and heading east. So as the sun goes down, you'll see a lively scene with plenty of foot traffic. For Grizzlies games, drumlines, sponsor booths and other attractions serve as lures for basketball fans and non-eventgoers alike.
Yes, Memphis is the home of the blues, and live music abounds at many of them, but you'd be surprised how many establishments also cater to a more mainstream crowd.
If you're interested in checking out a quick taste of the city's music culture, the Memphis Rock n Soul Museum is attached to the arena in a building just to the side of the main entrance on the west side, facing B.B. King Boulevard.
Memphis has just as solid a food scene as it does a music scene, so by all means sample some of the local fare if you have an opportunity to do so before the game. Some well-known restaurants within a nice stroll of FedExForum worth trying out include:
And that doesn't count some of the many lesser-known fine establishments close by the arena.
Memphis restaurants near FedExForum
• Alfred's on Beale – pub, 0.1 miles away
• Dyer's Burgers – diner, 0.1 miles away
• Rum Boogie Cafe – Cajun/Creole, 0.1 miles away
Search for more Memphis restaurants on Tripadvisor.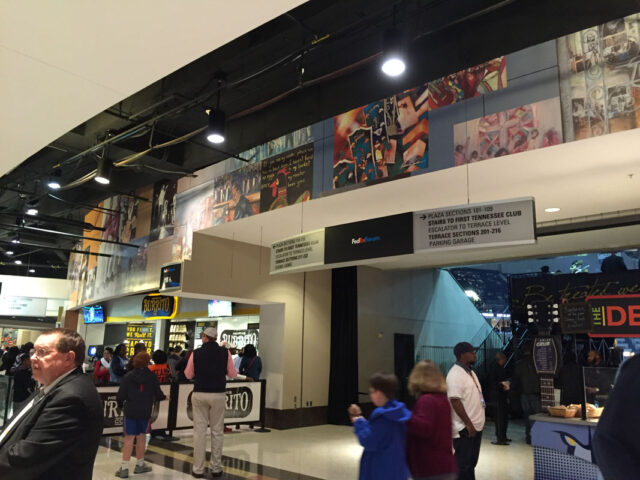 Watching a game at FedExForum
FedExForum looks like most other arenas on the outside but it can feel surprisingly big within the seating bowl. There's a lot of room to roam about on the concourses, and the seating bowl stretches pretty high up across three levels.
So if you're sitting in the upper deck, the basketball court might seem a little far away. Considering that basketball games (Grizzlies and Tigers) are the primary type of event the facility is used for, it's worth taking into consideration when you're choosing a seating level for an event at FedExForum.
If you walk around, though, you can get a nice feel for the music theme that is prevalent throughout the arena. You'll see music notes, old album posters and the like decorating the walls — yes, you will see Elvis images in a few spots.
Interestingly enough, there's also an entire section of the concourse devoted to FedEx, the arena's naming sponsor that's based in Memphis, complete with a career recruitment desk — come for the basketball, stay to get a new job!
When you arrive at FedExForum, be sure to go in through the main entrance plaza on the west side, which features a marquee advertising the night's event the way a good concert hall would. And if you look to the right, you'll get a glimpse at the Grizzlies' practice court through a very large window.
The fans here do get into their Grizz, who have rewarded them in recent years with several playoff runs, including a trip to the conference finals in 2013. So capacity seating at FedExForum is no surprise for NBA games.
The Tigers are also exceedingly popular and are often quite relevant on the college basketball landscape, so their games at FedExForum can be popular events with filled seating areas.
Interested in a suite at FedExForum? Buy suite tickets on SuiteHop.
Food and drink at FedExForum
The concession stands at FedExForum do a good job representing the cuisine — not to mention the culture — of Memphis. Rendezvous is the most recognizable name among the food options at FedExForum, with stands at each seating level featuring their pork sandwich.
Meanwhile, the hot dogs are made by local favorite King Cotton. Fried chicken sandwiches, burritos and grilled cheese sandwiches are readily available.
Memphis-based Ghost River Brewing operates its own stand on the main concourse, where you'll be able to find their Grindhouse ale, among other selections. Wiseacre Brewing, another local outfit, offers its beers at stands around FedExForum as well.
Original publish date: February 4, 2016
Most recent update: November 3, 2023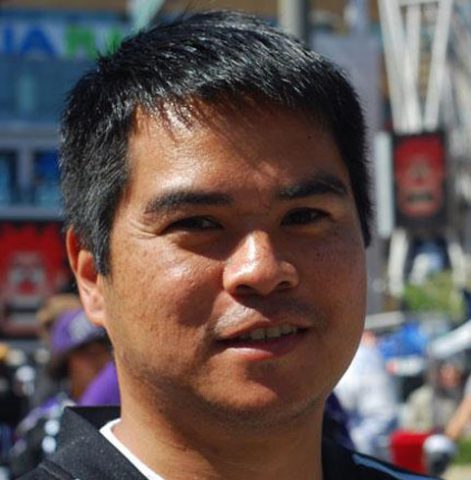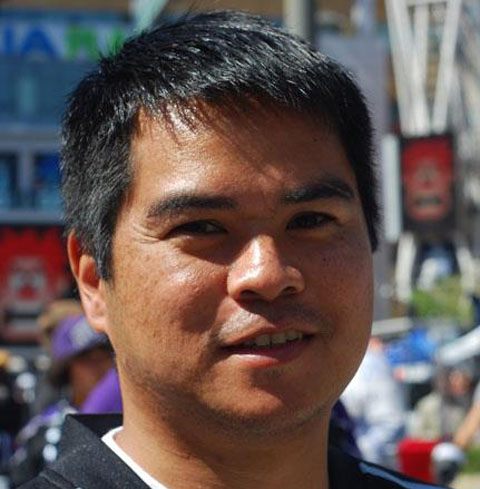 Edward de la Fuente | Itinerant Fan
I live for sports, and I love to travel. My biggest thrill is combining the two. I've been blogging about sports travel for more than a decade, and traveling for sports for twice as long.
About me | FAQ | Buy me a beer 🍺
Affiliate Disclosure
Please note that some of the links above are affiliate links, and at no additional cost to you, we earn a commission if you make a purchase. These recommendations are only for companies that we've used and have proven to enhance our sports travel experiences. To find out more about our affiliate partnerships, please read our Affiliate Disclaimer.
The Particulars
Home Teams
Memphis Grizzlies
Memphis Tigers
Address
191 Beale Street
Memphis, TN 38103
Year Opened
2004
Capacity
18,119
Upcoming Events
All times local
Memphis Grizzlies vs. Minnesota Timberwolves
Friday, December 8, 2023
7:00 pm
Get tickets at Ticketmaster »

Memphis Grizzlies vs. Dallas Mavericks
Monday, December 11, 2023
7:00 pm
Get tickets at Ticketmaster »

Trans-Siberian Orchestra- The Ghosts Of Christmas Eve
Thursday, December 14, 2023
7:00 pm
Get tickets at Ticketmaster »

The Blues Room: Trans-siberian Orchestra
Thursday, December 14, 2023
7:00 pm
Get tickets at Ticketmaster »

Memphis Grizzlies vs. Houston Rockets
Friday, December 15, 2023
7:00 pm
Get tickets at Ticketmaster »