T-Mobile Park
Our guide to T-Mobile Park in Seattle includes information on events, tickets, parking, public transportation, nearby hotels and restaurants, seating and more. Read on to find out how to get the most out of your gameday experience.
* * *
In Seattle, there's a special place in sports fans' hearts for the local baseball club, the Mariners, and games at their home ballpark, T-Mobile Park, can often be celebrated events.
The Pacific Northwest may not have quite the reputation for fervent fandom that other parts of the country do, but fans get behind the professional sports teams with as much zeal as any other large city.
The Mariners have not often rewarded the fans' faith, as they don't have a championship to their name, and in fact are now the only major-league team to have never reached the World Series (their previous partner in this infamy, the Washington Nationals, won their first championship in 2019).
But what iconic franchise moments they do have are celebrated roundly — such as the 1995 Division Series victory over the New York Yankees, the record-breaking 116-win regular season of 2001 or longtime ace Felix Hernandez's perfect game in 2012.
And despite their futility, they have managed to become an integral part of the community in Seattle, with summer nights filled with game action showing on barroom TVs and play-by-play on radios.
T-Mobile Park opened in 1999 as Safeco Field, and the retractable-roof facility in Seattle's SoDo neighborhood has become a big part of the Mariners' identity. It's worth a visit to check out the features and quirks of the park, while within, the home team continues their long pursuit of franchise success.
For more on visiting Seattle, check out our Seattle sports travel guide.
Top photo credit: Sung Shin/Unsplash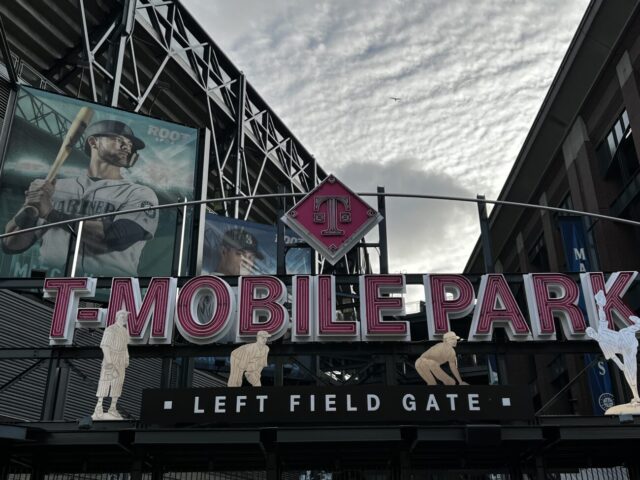 Getting to the ballpark
T-Mobile Park, as well as neighboring Lumen Field (the Seattle Seahawks' home stadium), reside in an area of Seattle known to locals as SoDo (shorthand for "South of Downtown"). If you're visiting Seattle and staying downtown, the ballpark isn't difficult to reach, though it might be a little farther away than you might have first thought.
That's true especially if you plan to walk. It's doable but be forewarned that downtown Seattle and its surrounding neighborhoods can be quite hilly and, depending on where you're coming from, you could have a few inclines to deal with along the way (or on the way back).
Seattle's expanding light-rail system, known as Link and run by a transit authority called Sound Transit, serves as a viable connection between downtown, the ballpark, and points south (including Seattle-Tacoma International Airport). The Stadium station offers the closest access to T-Mobile Park via a pedestrian bridge.
Parking at T-Mobile Park
For drivers, the ballpark is adjacent to Interstate 5 as it runs north-south through the downtown area. I-90, the major east-west route, intersects with I-5 just a few blocks east of the ballpark. Follow signs to T-Mobile Park and/or Edgar Martinez Drive.
From there, parking options include a large structure just south of the park, known as the Mariners Garage, and one adjacent to Lumen Field. Parking rates begin at $25 for Mariners games and $10 for other T-Mobile Park events; follow the link to purchase parking in advance.
Seattle hotels near T-Mobile Park
• Silver Cloud Hotel – Seattle Stadium – 0.1 miles away
• Embassy Suites by Hilton Seattle Downtown Pioneer Square – 0.4 miles away
• Courtyard Seattle Downtown/Pioneer Square – 0.8 miles away
Search for more Seattle hotels on Booking.com.
Map of the surrounding area
Things to do around the ballpark
Over the years, more businesses catering to sports fans have sprung up in what was once a largely industrial area; these days, there are plenty of options in the immediate vicinity for pregame eating and drinking.
Look along 1st Street/Dave Niehaus Way, on the west side of the ballpark, for choices that include a restaurant operated by the local Pyramid Brewery.
Also popular for sports fans are two neighborhoods just north of Lumen Field, Pioneer Square (dotted with sports bars, restaurants and clubs) and the International District (filled with Asian eateries as well as bars). You can find a list (not necessarily comprehensive but a good starting point) of nearby bars here.
As you can imagine, many of these restaurants fill up before events at T-Mobile Park and Lumen Field, so plan on arriving well before game time if you'd like to secure a table.
There's a quick and easy alternative if you're looking for pregame grub. In the alleyways surrounding the ballpark, you'll find an array of food vendors selling cheap eats and drinks — from hot dogs and bottles of water to more sophisticated options such as gourmet food trucks. The operations look chaotic at times but they're certainly an option for fans visiting the park on a budget.
Seattle restaurants near T-Mobile Park
• Jimmy's on First – American, 0.1 miles away
• Pyramid Alehouse Restaurant – pub, 0.1 miles away
• Henry's Tavern – pub, 0.1 miles away
Search for more Seattle restaurants on Tripadvisor.
Watching a game at T-Mobile Park
T-Mobile Park doesn't really have the same cozy feel of a lot of other major-league parks — after all, it does have a huge movable roof attached to it (more on that later) — but that's OK in this case, because it does have a character that's pretty unique among its MLB brethren.
Adding to it is the name change prior to the 2019 season, as new title sponsor T-Mobile set about adding pink hues throughout the park in keeping with its brand, so don't be surprised to see a lot of pink as you're walking around during a T-Mobile Park event.
You can feel the venue's size inside, where you'll find really wide concourses and a seating bowl that seems pretty massive, especially if you're sitting in the uppermost rows. The Mariners added to that ambiance a few years back by installing what was then the largest scoreboard in the majors, hanging above center field.
The roof — unique in that it stays in one piece and merely shifts into place rather than nesting into itself like most other retractable-roof venues — typically remains in place just beyond the right-field bleachers, hanging over adjacent railroad tracks.
It's meant to be a shield from Seattle's famous rain, rather than the final piece of an enclosed building. But Seattle's summers tend to be beautiful and mostly rain-free, and thus you won't see the roof often employed at a T-Mobile Park event.
If you're looking for a party atmosphere, head to the bullpens in left field, where you'll find an area called "The Pen" (it's somewhat hidden, accessible from the main concourse via a flight of steps). You don't need a password, but it does take on a speakeasy-type atmosphere, with an open bar, gourmet food options that you won't find anywhere else in the park, views of both team's bullpens and even a fire pit.
Access to The Pen opens up a half-hour earlier than the rest of the park and includes a happy hour with discounted drink prices.
Also in left field is Edgar's Cantina, named after franchise great Edgar Martinez, which offers another standing-room social space with good views of the field.
Food and drink at T-Mobile Park
The ballpark's food options are something to behold and worth taking some extra time to examine as you stroll around the park. Even the standard-issue stands are worth perusing, and many of them have delightfully punny baseball names such as Hit It Here, Frozen Rope and High Cheese.
Local favorite Ivar's offers its seafood at the park, and world-renowned Taiwanese restaurant Din Tai Fung even has a stand here (they don't sell their famous soup dumplings, though).
One ballpark favorite that isn't for the squeamish: Fried grasshoppers. Introduced at T-Mobile Park in 2017, the grasshoppers have become one of the most popular items sold there.
The wide array of beer options at T-Mobile Park include Pacific Northwest breweries such as Hop Valley and Mac & Jack's. The ballpark also has a "value beer" menu with 12-ounce cans served for no more than $6, and there are a few microbrew selections on it.
Original publish date: February 4, 2016
Most recent update: June 30, 2023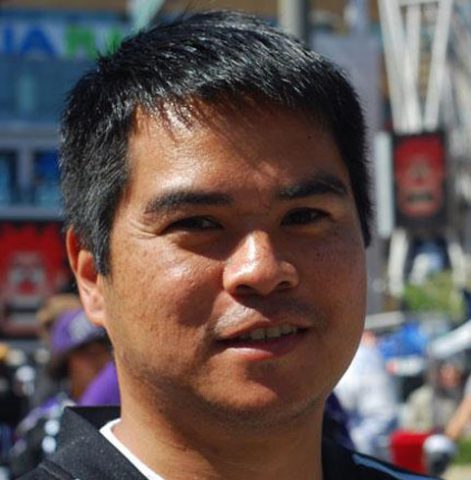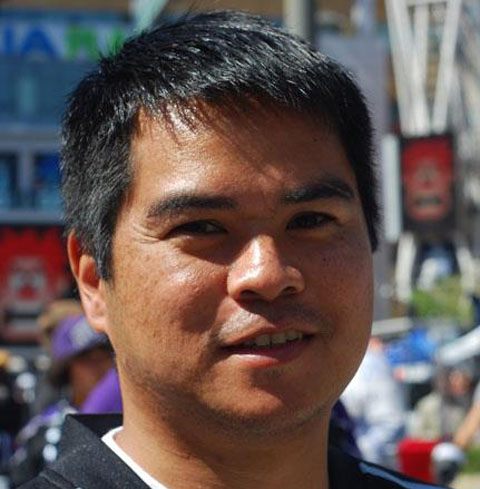 Edward de la Fuente | Itinerant Fan
I live for sports, and I love to travel. My biggest thrill is combining the two. I've been blogging about sports travel for more than a decade, and traveling for sports for twice as long.
About me | FAQ | Buy me a beer 🍺
Affiliate Disclosure
Please note that some of the links above are affiliate links, and at no additional cost to you, we earn a commission if you make a purchase. These recommendations are only for companies that we've used and have proven to enhance our sports travel experiences. To find out more about our affiliate partnerships, please read our Affiliate Disclaimer.
The Particulars
Home Teams
Seattle Mariners
Address
1250 1st Ave. South
Seattle, WA 98134
Year Opened
1999
Capacity
47,943
Upcoming Events
All times local
2024 Discover NHL Winter Classic - Golden Knights v Kraken
Monday, January 1, 2024
12:00 pm
Get tickets at Ticketmaster »

Seattle Mariners vs. Boston Red Sox
Thursday, March 28, 2024
7:10 pm
Get tickets at Ticketmaster »

Seattle Mariners vs. Boston Red Sox
Friday, March 29, 2024
6:40 pm
Get tickets at Ticketmaster »

Seattle Mariners Pregame Tour
Friday, March 29, 2024
6:40 pm
Get tickets at Ticketmaster »

Seattle Mariners vs. Boston Red Sox
Saturday, March 30, 2024
6:40 pm
Get tickets at Ticketmaster »