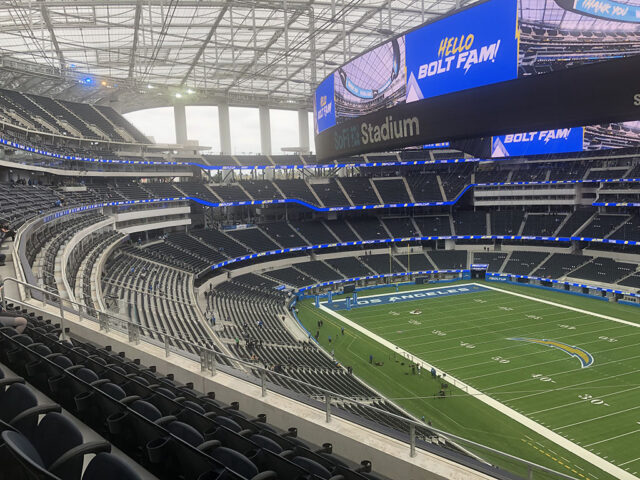 There was a lot of anticipation around Southern California about the opening of SoFi Stadium, the $5 billion football palace for the Rams and Chargers, but both teams played the entire 2020 season without any fans being allowed inside.
All that did, of course, was to build up the excitement even further.
At this point it appears probable that by the fall 0f 2021, NFL games will be played in the new building with plenty of fans in the stands — maybe even capacity crowds. But why wait that long?
Fortunately, the Rams and Chargers were responsive to the demand. Last month, each team held SoFi Stadium viewing days for their season ticket members, giving them all the chance to go inside, check out the seats they purchased and get a feel for the place.
I am part of the Chargers season ticket member group, and other than being given a chance to visit the team store last fall, I too had mostly just admired the place from afar, and from what I could see on TV.
But when the opportunity arose to visit SoFi Stadium again, and to actually go inside, of course I jumped at it. How could I not? Whether I was a fan of the two home teams or not, I live in SoCal and have heard so much about the stadium. 
So I made the trek to Inglewood (OK, it was a half-hour drive), and for an hour, I got to imagine what life as a sports fan would be like once things get close to normal again and SoFi Stadium would be brimming with fans inside.
All I can say is, if you haven't had the chance to see it yet, I can't wait for you to get the chance.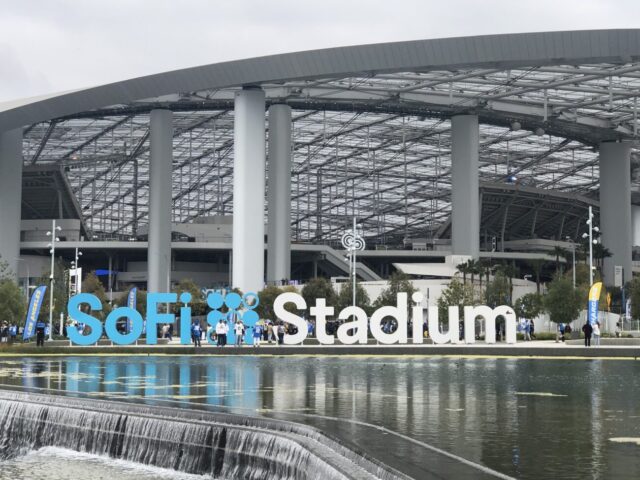 Let's start with the question I often heard about SoFi Stadium as it was being constructed: Why, in a place like Los Angeles with optimal weather, would you want to build a football stadium with a roof on it?
Of course, the true answer is that this 1) allows them to hold major indoor events like the Final Four, popular concerts and so on, and 2) allows for that giant oculus board to be part of the experience. But for the fan, does it take away from the experience to have a roof?
I can't give a true answer until I actually see a game, of course. But after my first impression of going inside SoFi Stadium, I can say this: I didn't notice the roof as much as I thought I would.
Here's what I mean by this: It wasn't a clear day — in fact, it was overcast, and pretty cold by SoCal-in-the-springtime standards. The roof, as most people know, is made of the clear-but-strong ETFE material, which allows you to look through it and for rays of sun to come through.
And, perhaps most importantly, the roof is actually more of a canopy — it doesn't enclose the stadium, and large caps on either side meant any wind that passes through will sweep through the seating bowl. It's that detail, more than anything, that can actually make you feel like you're sitting outside even if you are sheltered from any rain that might pass by.
I could certainly feel that as I sat in my season seat in Section 329, but maybe I didn't notice that much. I was too awed by that oculus board, which really is as much of a marvel as everyone says it is. How engineers get that giant thing to hang from a clear roof is beyond my levels of understanding.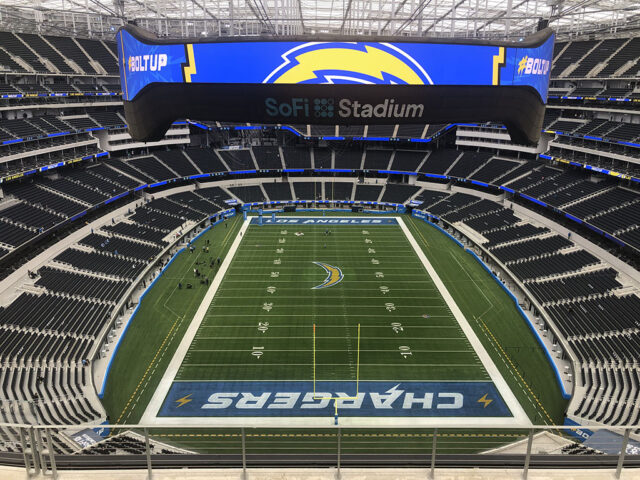 A few other thoughts I had during my hour of walking around inside SoFi Stadium:
• You can't get a sense of how big this place really is until you step inside. A lot of that has to do with the fact the stadium is sunk lower into the ground than normal because its in the flight path of planes on approach to nearby Los Angeles International Airport. 
So when you walk in, you're already above the 200 level, almost halfway up.
• There sure are a lot of premium spaces in this stadium, which I guess is to be expected. That's the way most sports venues are trending these days, and for a place that cost $5 billion to build, you can be there will be playgrounds for the rich scattered everywhere.
On the day of my tour, most of these places were open to at least pass through, since they weren't operational. But if you come to a game holding a regular-joe ticket, there will be a surprising amount of space that is inaccessible to you.
• There were, however, quite a few bar spaces, too. That should really be fun … at least until late in a game that the home team is losing. Or, as it were, a game with a popular visiting team that is losing.
• If you can control where you enter when you visit for a game, do so via the south side, facing Century Boulevard. That's where you'll find a small park and man-made lake, a giant SoFi Stadium sign that's perfect for selfie opportunities, and a plaza just inside the gate where you'll likely find plenty of pregame festivities on gamedays.
• Oh, and spend plenty of time admiring that oculus board. It really is pretty damn impressive.
Want to see more? Check out this short video I made chronicling the experience of going inside SoFi Stadium:
 

 

View this post on Instagram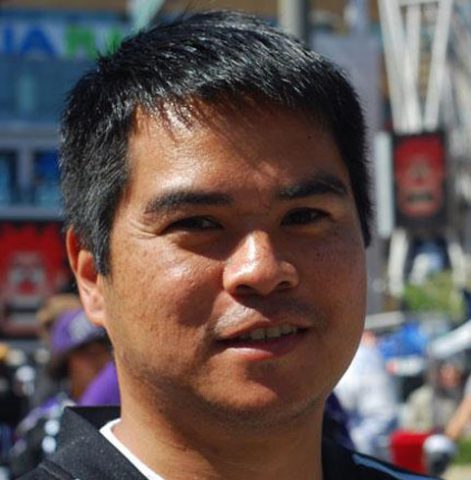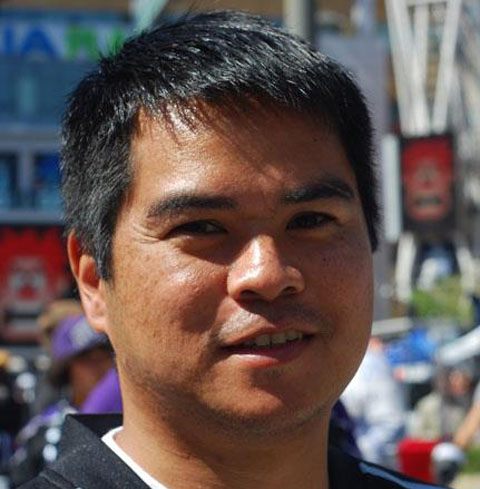 Edward de la Fuente | Itinerant Fan
I live for sports, and I love to travel. My biggest thrill is combining the two. I've been blogging about sports travel for more than a decade, and traveling for sports for twice as long.
About me | FAQ | Buy me a beer 🍺
Affiliate Disclosure
Please note that some of the links above are affiliate links, and at no additional cost to you, we earn a commission if you make a purchase. These recommendations are only for companies that we've used and have proven to enhance our sports travel experiences. To find out more about our affiliate partnerships, please read our Affiliate Disclaimer.