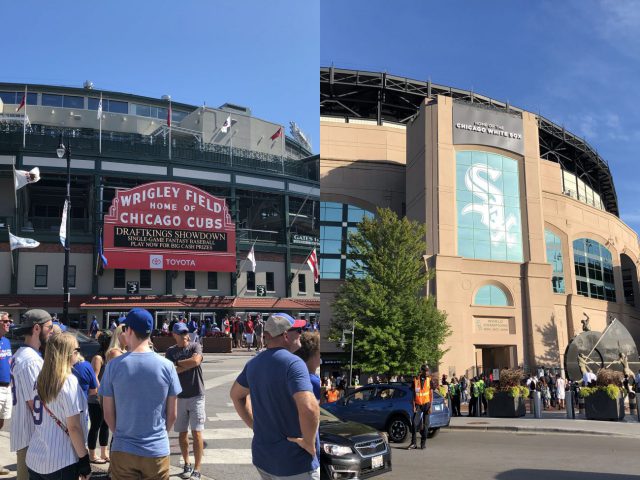 In 2019 I was fortunate to embark on what was, for me, a new kind of sports road trip: The MLB Daily Double. That's my name for seeing two games in two different ballparks on one day.
This trip took me to Chicago, where I got to see the Cubs at Wrigley Field on a Saturday afternoon, then the White Sox at Guaranteed Rate Field in the evening.
It was a long day for sure, and I was pretty tired at the end of it, but I knew that I wanted to do this again sometime.
The thing about this type of trip, though, is that there are only a handful of places where you can realistically do it: New York City, Chicago, the Los Angeles area, the San Francisco Bay Area and the Baltimore/Washington area. Of course, that's because each of those markets have two MLB teams with ballparks within close proximity, so that you can reasonably get from one to the other and not miss any of the action at either place.
So at least you only have to travel to one place, unlike some of the other vacation ideas we've suggested here that typically involve hopping from city to city. But then there's the matter of the schedule.
It's rare that both teams in each of the markets mentioned above are playing at home on the same day, because Major League Baseball understandably doesn't want them to have to compete with each other very often for casual fans. Even rarer is when two teams in the same market are not only home on a particular day, but playing games at different times of the day.
So frankly, you're lucky to get more than a handful of opportunities each season to pull off this MLB Daily Double.
But when you find them, well, I hope you at least find yourself salivating at the chance. I know I do.
After MLB played nearly its entire (shortened) 2020 season without fans, 2021 offers a renewed opportunity to plan road trips like the Daily Double. So I've scoured the schedules to find them, and here's what I found for each market.
(Note: All times are local to the market; click on the link for each game to check out tickets via Ticketmaster. Some games for later in the season do not have tickets on sale yet; links will be added as on-sale dates are finalized.)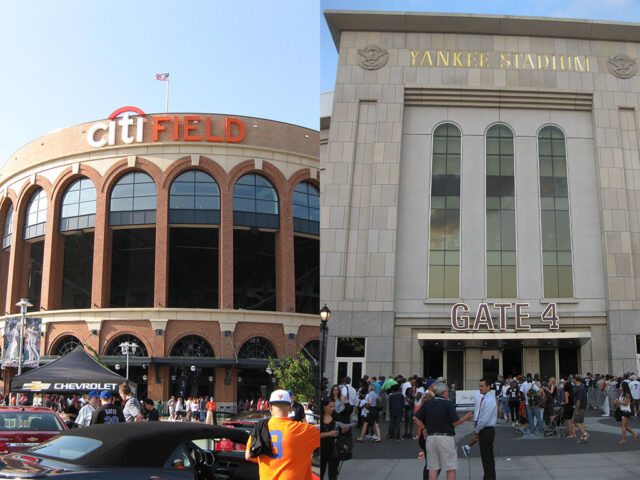 New York City
• Saturday, May 8: Yankees vs. Nationals, 1:05 p.m.; Mets vs. Diamondbacks, 7:10 p.m.
• Thursday, May 27: Mets vs. Rockies, 12:10 p.m.; Yankees vs. Blue Jays, 7:05 p.m.
• Saturday, Sept. 18: Yankees vs. Indians, 1:05 p.m.; Mets vs. Phillies, 7:10 p.m.
There are three opportunities to do an MLB Daily Double involving the Mets and Yankees, including two in May if you're able to get to NYC easily (ie. while some travel restrictions are still in place).
Note that while the NYC subway is by far the cheapest way to get from Yankee Stadium to Citi Field, or vice-versa, there's no direct route between the two ballparks; you'll have to travel into Manhattan and transfer lines — likely at Grand Central Terminal, where the 7 line that goes to Citi Field intersects with the 4 train to Yankee Stadium.
Plan on spending at least an hour traveling on the subway, so keep that in mind as you map out your plans for the day.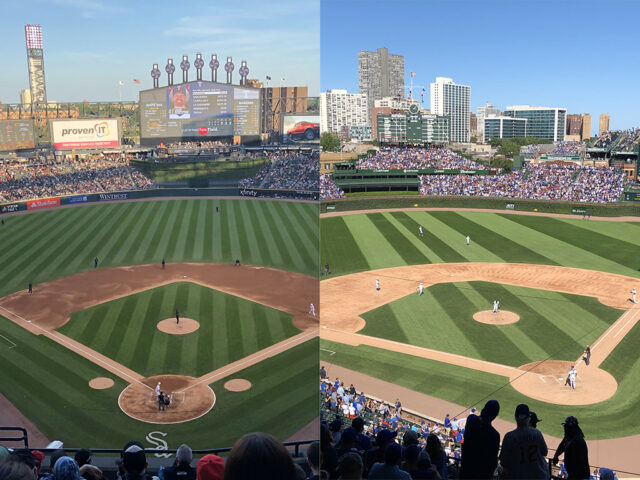 Chicago
• Friday, May 28 and Saturday, May 29: Cubs vs. Reds, 1:20 p.m.; White Sox vs. Orioles, 7:10 p.m.
• Friday, Sept. 10: Cubs vs. Giants, 1:20 p.m.; White Sox vs. Red Sox, 7:10 p.m.
• Saturday, Sept. 11: Cubs vs. Giants, 1:20 p.m.; White Sox vs. Red Sox, 6:10 p.m.
Thanks to the larger number of day games at Wrigley Field than most other MLB ballparks, Daily Doubles are typically more common in Chicago than any other market.
That's true in 2021 too, as my schedule-searching yielded four opportunities for two games in one day — including two on back-to-back-days just before Memorial Day weekend — and a fifth (on Saturday, April 24) that sadly just passed. I promise I'll remember to do this post before the season starts next year!
Jumping between Wrigley and Guaranteed Rate Field is easy thanks to the Red Line of the "L" (aka the CTA subway). Get off at Addison for Wrigley and Sox/35th for Guaranteed Rate; the journey in either direction typically takes about 20-30 minutes depending on volume of passengers.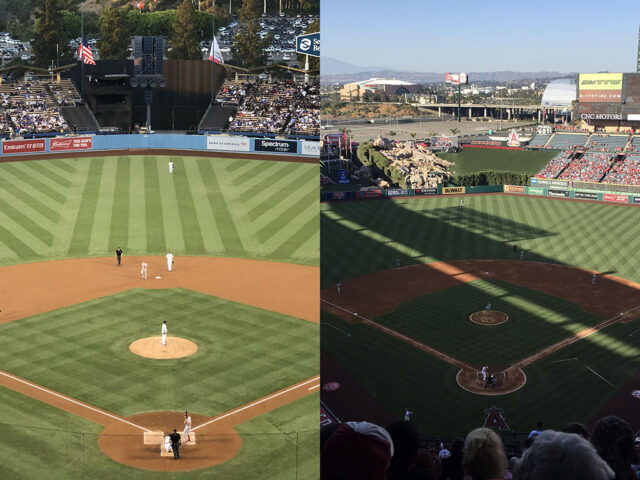 Los Angeles/Anaheim
• Wednesday, Sept. 1: Angels vs. Yankees, 1:07 p.m.; Dodgers vs. Braves, 7:10 p.m.
Just one chance to do a Daily Double with Southern California's MLB parks, and it comes just before Labor Day, with the Angels playing at Angel Stadium in the afternoon and the Dodgers in action at Dodger Stadium in the evening.
If you're not familiar with the L.A. area, you might think the only way to get from ballpark to ballpark is to drive, but there is an alternative: The Metrolink commuter rail system, which generally operates regular daytime service between Anaheim and Los Angeles on weekdays. (The service also has an Angels Express train for home games, but it is not being run in 2021 because of the pandemic.)
Once you get to L.A.'s Union Station, you can use the L.A. Metro's Dodger Stadium Express bus to beat the traffic and get to the ballpark without having to navigate its notoriously confusing parking lot.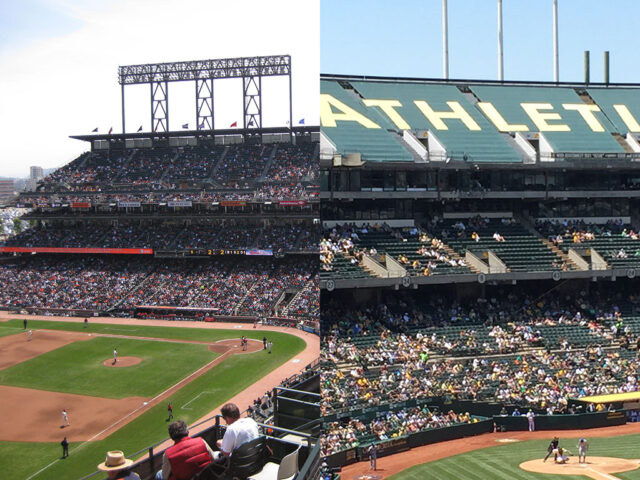 San Francisco/Oakland
• Wednesday, June 16: A's vs. Angels, 12:37 p.m.; Giants vs. Diamondbacks, 6:45 p.m.
Like SoCal, the 2021 schedule offers only one opportunity for an MLB Daily Double in the Bay Area, too. The A's host a getaway-day affair against the Angels at the Oakland Coliseum, then the Giants play in the evening across the Bay at Oracle Park.
While the BART system is well-known and often used by visitors, note that it doesn't run by Oracle Park. The closest BART stations in San Francisco (Embarcadero, Montgomery Street or Powell Street) are all more than a mile away.
If you want to take public transit to Oracle Park's doorstep, use S.F.'s Muni rail system, which has a line running along the Embarcadero from the famous Ferry Building to the ballpark.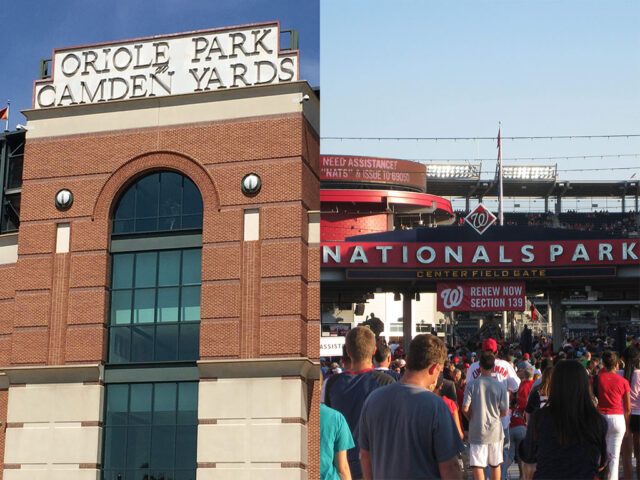 Baltimore/Washington
• Wednesday, Sept. 15: Nationals vs. Marlins, 1:05 p.m.; Orioles vs. Yankees, 7:05 p.m.
I hadn't previously considered this as a prime spot for an MLB Daily Double, but thanks to Instagram friend Mark Darden (@buckeyemuscle), I'm not overlooking it anymore. Though these two cities have their own distinct identities, they're only a half-hour drive apart and definitely prime territory for a trip like this.
In 2021, there's one opportunity to do a Beltway double: The Nats host the Marlins at Nationals Park in a Wednesday matinee, and the Orioles take on the Yankees at Camden Yards that evening.
While the two ballparks are, for the most part, connected in a straight shot via the Baltimore-Washington Parkway, you can also consider traveling via train. Use the Washington Metro subway to get from Nationals Park to Union Station, and then ride either Amtrak or MARC (Maryland's commuter rail service) to Baltimore's Penn Station. From there, take the MTA light rail to Camden station.
The number of transfers involved might make train travel less than desirable on such a short timeframe, but it might be doable if you pay close attention to the schedules. This is a trip I'll have to try sometime!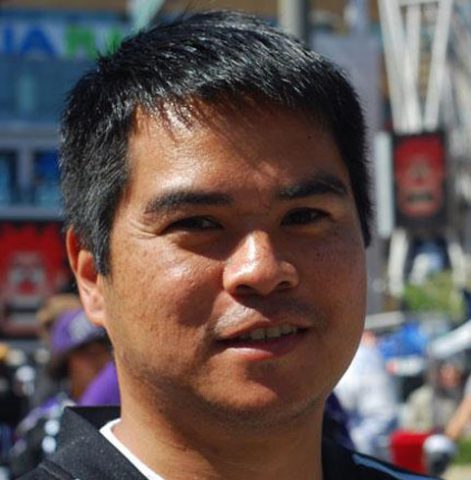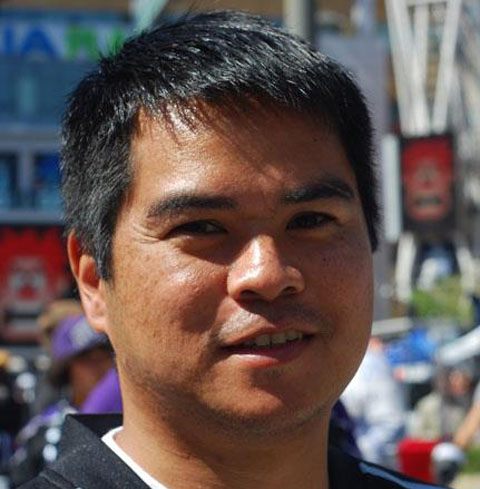 Edward de la Fuente | Itinerant Fan
I live for sports, and I love to travel. My biggest thrill is combining the two. I've been blogging about sports travel for more than a decade, and traveling for sports for twice as long.
About me | FAQ | Buy me a beer 🍺
Affiliate Disclosure
Please note that some of the links above are affiliate links, and at no additional cost to you, we earn a commission if you make a purchase. These recommendations are only for companies that we've used and have proven to enhance our sports travel experiences. To find out more about our affiliate partnerships, please read our Affiliate Disclaimer.