Houston sports travel guide
Our city guides are meant to showcase the best of a metropolitan area from the perspective of a sports fan visiting Houston to watch their favorite teams in a game or two. Here's our guide to the best of Houston sports travel.
* * *
Home to five professional teams, Houston has a significant place in the nation's sports scene — and its profile is ever-growing.
Just consider this stretch for Space City (or Clutch City, if you're a hoops fan): It played host to the 2016 NCAA Final Four and, 10 months later, hosted Super Bowl LI — the third time the big game was played in Houston. Then in 2017, the Astros brought an MLB championship to Houston for the first time.
And it's happening again for Houston, as the Astros won another title in 2022, the Final Four is returning in 2023, and the College Football Playoff national championship will be held here in 2024.
Put the sports teams aside for a second, and Houston still presents itself as a fascinating place to visit. From surprisingly diverse neighborhoods to interesting attractions, the city's tourist profile continues to grow.
There are plenty of reasons for a fan to plan a Houston sports travel vacation. There are also plenty of things to do when the games aren't going on. Read on for a travel guide to exploring all the happenings in Houston when not watching the teams in action.
Map of Houston sports venues and attractions
Click placemark in index to find on map | View Houston sports travel guide in a larger map
Where to watch sports in Houston
Houston is a spread-out city, but its sporting landscape isn't quite so spread out, as most of its sports teams play in or near downtown. Toyota Center and Minute Maid Park are both in the central city area.
Shell Energy Stadium, the soccer-specific venue that hosts the Dynamo of Major League Soccer and the Houston Dash of the National Women's Soccer League, is not far away (all three venues are within reasonable walking distance of each other).
About seven miles south of downtown is NRG Stadium, the city's behemoth football venue. You'll get a sense of how large it is when you spot the Astrodome, the one-time "Eighth Wonder of the World," next to it, looking completely dwarfed.
For some more Houston sports history, head a few miles west of downtown along the Southwest Freeway (U.S. 59), where you'll see a large but rather nondescript-looking building called the Lakewood Church straddling the north side.
This building was once known as the Summit, and it was the home of the Rockets before Toyota Center was built and hosted the franchise's two NBA championship years, 1994 and '95.
Primary sports venues in Houston
• Minute Maid Park: Home of the Astros. Located at 501 Crawford Street downtown.
• NRG Stadium: Recently renamed from Reliant Stadium; home of the Texans. Located at One Reliant Park.
• Shell Energy Stadium: Home of the Dynamo and Dash. Located at 2200 Texas Avenue in East Downtown.
• Toyota Center: Home of the Rockets. Located at 1510 Polk Street downtown.
Arriving and getting around Houston
Getting in
Houston has two major airports. George Bush Intercontinental (IAH) lies about 20 miles north of downtown and is a United Airlines hub, while Houston Hobby (HOU) lies about 10 miles southeast and is largely served by Southwest. Buses, shared-ride vans and taxis are available from both airports for those who don't have access to cars.
The city is served by Amtrak, with a station just outside the downtown area at 902 Washington Avenue. One route runs through the city, the Sunset Limited that travels between New Orleans and Los Angeles.
Bus service to and from Houston is offered by Greyhound (its station is at 2121 Main Street), and by Megabus, which has three departure/arrival points around the region, depending on the route. Both companies offer service to major Texas cities and beyond.
For drivers, the major routes into Houston are Interstate 10, which leads west to San Antonio and east to New Orleans, and I-45, which offers a direct link to Dallas about 3 1/2 hours to the northwest.
Where to stay
Houston is a spread-out city with several popular hubs of activity, so where in the region you choose to stay can be as much a function of where you plan to spend your time as it is price.
Downtown is a convenient spot for Toyota Center, Minute Maid Park and Shell Energy Stadium, but for NRG Stadium, a better bet is the Medical Center area of town just north of the venue.
Another section of the city worth exploring for hotels is near the Galleria, an upscale shopping mall that has many familiar brand-name hotels nearby.
Getting around
For Houston sports travel, know that it is a fairly car-centric city, but its network of streets and highways isn't difficult to guide through. The downtown area is surrounded on all sides by freeways, and nearly all points of interest are within a few miles of a freeway exit.
The city also has a light rail system known as METRORail, which consists of three lines. All of Houston's sports venues can be accessed via light rail — get off at Bell (Red Line) for Toyota Center, Convention District (Green and Purple lines) for Minute Maid Park, EaDo/Stadium (Green and Purple lines) for Shell Energy Stadium and Reliant Park (Red Line) for NRG Stadium.
Gameday parking
Because they're located downtown, the parking options for Minute Maid Park, Shell Energy Stadium and Toyota Center consist of venue/team-owned lots and private lots and structures.
Minute Maid Park and Shell Energy Stadium share two large parking lots that sit between the two venues. Toyota Center operates its own parking garage that is connected to the arena by a pedestrian skybridge.
At NRG Stadium, there is a wide expanse of parking as part of NRG Park, the complex that also houses the Astrodome and other buildings. You'll also find other lots west of the stadium, across Kirby Drive.
Things to see and do in Houston
Even if your reason for coming to Houston is sports travel, the region has so much more to offer. Here are just some of the things to see in Houston when the sports teams aren't in action:
Local attractions
As befitting the largest city in Texas, Houston is home to the world's largest livestock show. The Houston Livestock Show and Rodeo takes place every March at NRG Park, and it's more than just horses and cattle — there's a concert series that runs the length of the festival as well.
Houston has an extensive museum scene, with most of them concentrated in the Museum District southwest of downtown. The most popular ones include the Museum of Fine Arts, the Houston Museum of Natural Science and the Houston Zoo.
To get a better sense of the character of the city, include some not-in-the-travel-guide neighborhoods in your Houston trip. Districts worth visiting include:
• Midtown, home to hip restaurants as well as a large Vietnamese-American community.
• EaDo, short for "East Downtown," which includes a number of neighborhood bars and breweries.
• Montrose, which is home to a large artist community and is the center of LGBTQ+ culture in Houston.
• The Galleria District, also known as Uptown, which boasts the giant Galleria mall as its centerpiece and is a popular spot for shopping and entertainment.
Explore space

The Johnson Space Center is one of Houston's top visitor attractions, drawing nearly 1 million visitors to the adjacent Space Center Houston, from which tours of the NASA complex begin.
Explore the history of the U.S. space program at the two facilities, view the mission control room (why astronauts always refer to "Houston"), see a replica Space Shuttle and more.
The only drawback for visitors is that the Space Center is not close to central Houston and options for getting there via public transit are limited.
Houston's eats
From Texas BBQ to Tex-Mex to Gulf seafood to Chinese and Vietnamese food, Houston offers a wide array of food choices. It has been called the "Dining Out Capital of the Nation" for its residents' propensity for eating out — something Houston sports travel vacationers can take full advantage of.
Here are a few of the city's more well-known eateries worth checking out:
• The Breakfast Klub (3711 Travis St.): Known primarily for that soul-food favorite, chicken and waffles, it's open only during breakfast and lunch hours (as its name suggests). Not long after signing with the Rockets, Dwight Howard picked up the tab for the entire restaurant one morning in July 2013.
• Brennan's of Houston (3300 Smith St.): This sister restaurant of a New Orleans institution offers up Creole specialties.
• Goode Company BBQ (several locations; original at 5109 Kirby Dr.): Brisket, ribs, sausages and more — this chain is one of the most well-known purveyors of Texas BBQ in the city.
• Hugo's (1600 Westheimer Road): A good spot to sample Mexican fare and margaritas.
• Taste of Texas (10505 Katy Freeway): Giant steaks are the norm at this restaurant that houses its own butcher shop.
More sports
Houston is home to two universities with major athletic programs, the University of Houston and Rice University.
The Houston football program, which competes in the American Athletic Conference, is occasionally a threat to break into the "New Year's Six" bowl games (as it did in 2015), and its basketball program is known for the "Phi Slamma Jamma" days of the early 1980s, when Hakeem Olajuwon and Clyde Drexler played for them.
College Station, home of the Texas A&M Aggies, is about a two-hour drive to the northwest.
Original publish date: May 4, 2016
Most recent update: March 2, 2023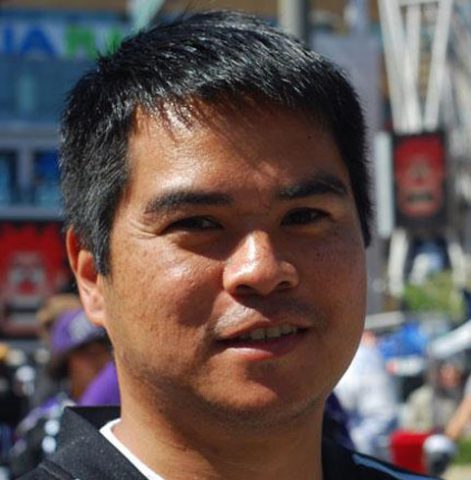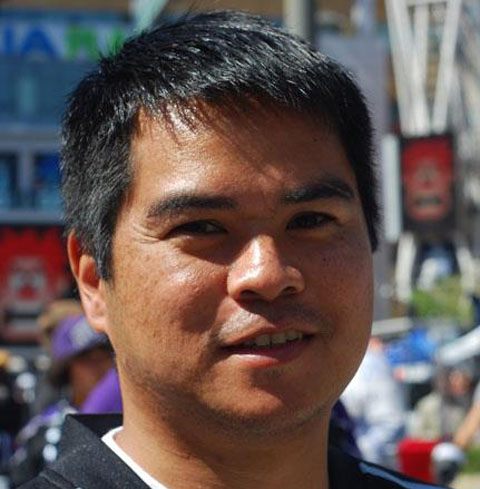 Edward de la Fuente | Itinerant Fan
I live for sports, and I love to travel. My biggest thrill is combining the two. I've been blogging about sports travel for more than a decade, and traveling for sports for twice as long.
About me | FAQ | Buy me a beer 🍺
Affiliate Disclosure
Please note that some of the links above are affiliate links, and at no additional cost to you, we earn a commission if you make a purchase. These recommendations are only for companies that we've used and have proven to enhance our sports travel experiences. To find out more about our affiliate partnerships, please read our Affiliate Disclaimer.