Minute Maid Park
Our guide to Minute Maid Park in Houston includes information on events, tickets, parking, public transportation, nearby hotels and restaurants, seating and more. Read on to find out how to get the most out of your gameday experience.
* * *
In Major League Baseball there are traditional ballparks and quirky ones; old-timey ones and modern ones; ones that embrace the great outdoors and ones with retractable roofs.
Houston's Minute Maid Park, home of the Astros, seems to fit the second of each of those pairs — it certainly fits the last one, since it undoubtedly has a retractable roof. But none of this is to say that any of those things are bad.
Baseball fans and ballpark enthusiasts tend to romanticize the old-timey and traditional, but Minute Maid Park fits Houston and its team just fine. Remember, the Astros are a team that used to play in the majors' (and the world's) first domed stadium and helped usher in the era of artificial turf.
Nowadays, the Astros play in a park that is quite unique and quite quirky — perhaps, in retrospect, the designers tried a little too hard to make it so — but for the fan offers plenty in the way of an enjoyable day at the ballpark. So it's an A-OK place to see baseball as far as we're concerned.
These days the Astros are one of baseball's more entertaining clubs to watch, with four trips to the World Series and two championships since 2017 (though not without plenty of controversy involved). Between the action on the field and the venue, taking in an Astros game promises to be a fine experience all around.
For more on visiting Houston, check out our Houston sports travel guide.
Top photo credit: Ty Welch/Unsplash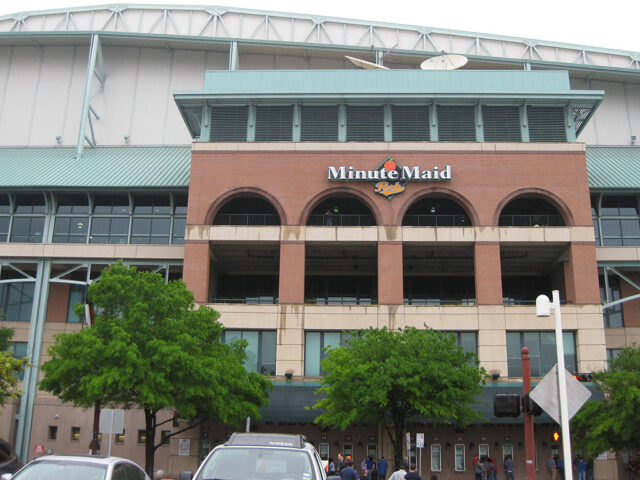 Getting to the ballpark
Minute Maid Park sits on the edge of downtown, with a freeway (U.S. 59, or the Eastex Freeway) running right by it, and occupies a prominent piece of land in an up-and-coming part of town — there are several apartment and loft complexes within walking distance, built around the same time the ballpark was or afterward.
Despite Minute Maid Park's downtown location, driving and parking is the best way to get there. There is an alternative, though, in the form of Houston's METRORail light rail system. Expanded in recent years, it now has a station that serves Minute Maid Park.
If you're using the Red Line that cuts through downtown, transfer at Central Station to either the green or purple lines and take it one stop to Convention District, and from the station you can walk one block to the ballpark. Or you can just walk from Central Station, a stroll of about six blocks and 15 minutes or so.
If you're visiting Houston, there are a number of brand-name hotels within easy walking distance of Minute Maid Park as well as the numerous other attractions in the area.
Parking at Minute Maid Park
There's quite a bit of parking around Minute Maid Park, which is no surprise in car-centric Texas. Also of no surprise is that there are several rather large parking lots in the surrounding area, all along Texas Street south of Minute Maid Park.
The most prime spaces are reserved for season-ticket holders and prepaid permits. Follow the link for Minute Maid Park parking information, including a map and a portal to purchase parking passees.
If you'd like to find a cheaper parking option that isn't too far from Minute Maid Park, you can try the blocks northwest or northeast of the stadium. The deeper into Houston's downtown core you get, the more parking structures you'll find, many offering ballgame rates under $10.
Houston hotels near Minute Maid Park
• The Westin Houston Downtown – 0.2 miles away
• Hampton Inn Houston Downtown – 0.2 miles away
• Homewood Suites by Hilton Houston Downtown – 0.3 miles away
Search for more Houston hotels on Booking.com.
Map of the surrounding area
Things to do around the ballpark
The range of things to do near Minute Maid Park has increased over the last decade or so thanks to an influx of development near the ballpark as well as attractions such as Shell Energy Stadium, home of the Houston Dynamo of MLS, and a little farther away, the George R. Brown Convention Center and Toyota Center, where the NBA's Rockets play.
The intersection of Texas and Crawford streets, adjacent to Minute Maid Park, is itself teeming with things to do, from the Westin hotel to a number of restaurants. This is a good starting point to finding a place for pregame merriment, and a walk of three or four blocks in any direction should yield a lot more options.
As the ballpark is on the edge of downtown, you'll find that the restaurant and bar options become more sophisticated the deeper you get into the downtown core. More typical sports-fan fare exists next to the ballpark, though. If you're walking from a downtown hotel to Minute Maid Park, you're bound to find an eatery or bar to your liking.
But for a little bit more of a hometown feel, try crossing under the highway toward Shell Energy Stadium. This neighborhood, known locally as EaDo (East of Downtown), has a bit more artsy feel to it, and it's reflected in the establishments that you can find here.
Houston restaurants near Minute Maid Park
• Vic & Anthony's Steakhouse – steakhouse, 0.1 miles away
• Irma's Southwest – Mexican, 0.1 miles away
• Osso & Kristalla – Italian, 0.1 miles away
Search for more Houston restaurants on Tripadvisor.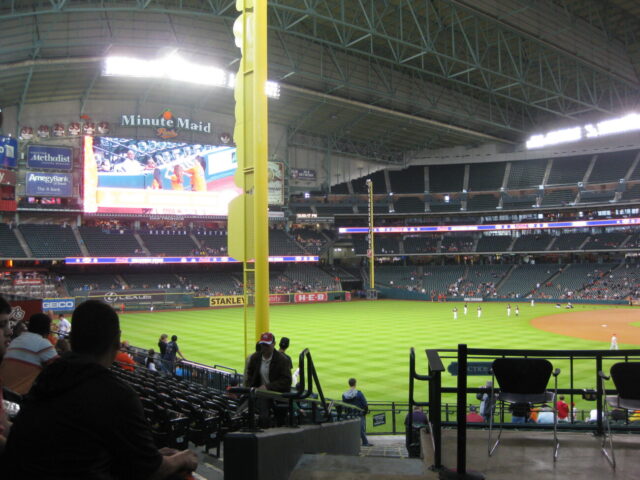 Watching a game at Minute Maid Park
If you're making your first visit to Minute Maid Park, do yourself a favor and go inside through the left-field gate at the corner of Crawford and Texas regardless of where your seating area is.
At first it'll appear as though you're entering an office building, but once you've gone through the ticket scanners, you'll get your first glimpse of the left-field patio that was fashioned to resemble a train depot — a tribute to the former Union Station that stood at the site (the building is now part of the ballpark).
The arches, the other side of which are visible from inside whenever you look toward left field, are perhaps the most distinctive thing about the ballpark, so it's a nice intro to the experience to be able to walk under them.
As you do so, you'll get your first glimpse of Minute Maid Park's diamond as you stand before what's known as the Crawford Boxes — the short-porch seating area in left field. Just above you will be the orange-filled train that rolls along its tracks whenever an Astros player hits a home run.
And off to the left are a couple good platforms for standing-room viewing, including one that juts out slightly over the playing field (look for the large white gas pump that keeps track of Astros home runs).
The ballpark used to be known for the hill in center field that was in the field of play — and had a flagpole jutting out of it, also in play. Those features were removed in 2016, which allowed for more standing-room space on the concourse, above the center-field batter's eye.
Minute Maid Park's seating bowl is pretty big, and feels big, especially if your ticket is for the upper deck. At least if you're up top you can get a good glimpse of the giant roof that covers the ballpark for most games, or if you're lucky and the weather is nice on the day that you attend, you can feel the breeze from the open roof.
Be sure to stay in your seating area for the seventh-inning stretch, as the Astros and Minute Maid Park always follow "Take Me Out to the Ballgame" with the playing of a Texas tradition, "Deep in the Heart of Texas" — a song you'll hear at more than one Houston venue.
Food and drink at Minute Maid Park
Take some time to survey your food options while you're walking the concourses. There are a few good ones as ballpark food goes, including plenty of stands serving brisket and pulled pork. Tex-Mex options like quesadillas and nachos are easy to find as well. Look out for the Frito Pie corn dog, served at the Texas Legends stand (where you can also find burgers from Astros legend Nolan Ryan's beef company).
National burger chain Shake Shack, pizza chain Papa John's and Houston taco favorite Torchy's Tacos all operate stands at Minute Maid Park.
The craft beer scene is strong here as well, with local breweries Karbach and Saint Arnold represented. Karbach, in fact, operates its own taproom on the 300 level, where it serves a ballpark-specific beer called Crawford Bock.
Original publish date: February 4, 2016
Most recent update: March 19, 2023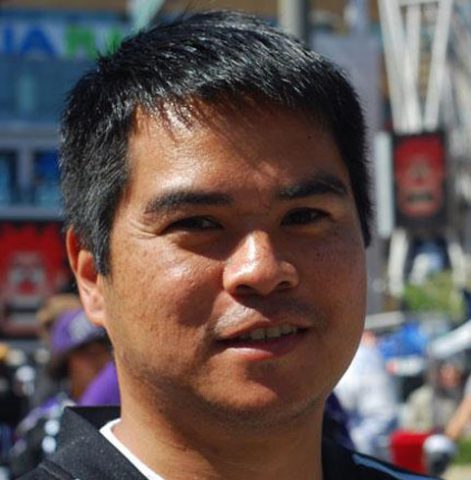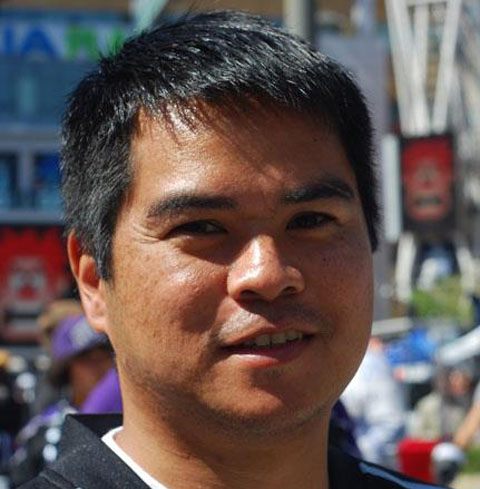 Edward de la Fuente | Itinerant Fan
I live for sports, and I love to travel. My biggest thrill is combining the two. I've been blogging about sports travel for more than a decade, and traveling for sports for twice as long.
About me | FAQ | Buy me a beer 🍺
Affiliate Disclosure
Please note that some of the links above are affiliate links, and at no additional cost to you, we earn a commission if you make a purchase. These recommendations are only for companies that we've used and have proven to enhance our sports travel experiences. To find out more about our affiliate partnerships, please read our Affiliate Disclaimer.
The Particulars
Home Teams
Houston Astros
Address
501 Crawford St.
Houston, TX 77002
Year Opened
2000
Capacity
40,963
Upcoming Events
All times local
Houston Astros vs. Sugar Land Space Cowboys
Monday, March 25, 2024
12:00 am
Get tickets at Ticketmaster »

Houston Astros vs. Sugar Land Space Cowboys
Tuesday, March 26, 2024
12:00 am
Get tickets at Ticketmaster »

Houston Astros vs. New York Yankees
Thursday, March 28, 2024
12:00 am
Get tickets at Ticketmaster »

Houston Astros vs. New York Yankees
Friday, March 29, 2024
12:00 am
Get tickets at Ticketmaster »

Houston Astros vs. New York Yankees
Saturday, March 30, 2024
12:00 am
Get tickets at Ticketmaster »