Toyota Center
Our guide to Toyota Center in Houston, home arena of the Rockets, includes information on events, tickets, parking, public transportation, nearby hotels and restaurants, seating and more. Read on to find out how to get the most out of your gameday experience.
* * *
Houston is as spread-out and car-reliant as any city you'll find in a nation full of spread-out, car-reliant cities, but its downtown is surprisingly walkable and beautiful. It can owe some of that to Toyota Center, the home arena of the Houston Rockets.
Toyota Center is a pleasant-looking arena that, to its credit, blends into its surroundings rather than sticks out as some behemoth on the downtown landscape.
On Rockets game days the arena certainly stands out as a hub of activity in downtown Houston, but more in the community-gathering sense than the huge-event-with-masses-of-fans sense.
Thus, Toyota Center just feels welcoming — to the casual fan and die-hard Rockets nut alike. It's also a hub for major events such as MMA, concerts and other family shows.
For the first decade of its existence, Toyota Center was home to a minor-league hockey team. The arena's readiness for hockey is part of the reason why Houston is on the short list of candidates to receive a relocated or expansion NHL team in the future, joining the Rockets on the Houston sports landscape.
Looking for Toyota Center event tickets? Search events on Ticketmaster.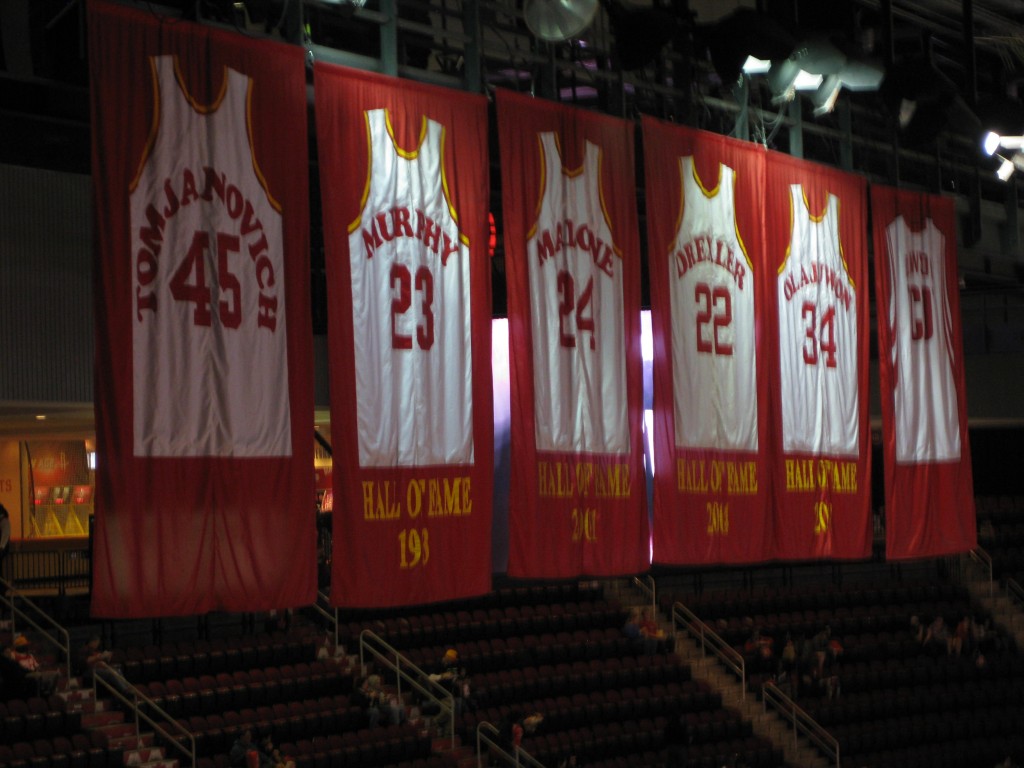 Getting to the arena
Toyota Center, as mentioned above, doesn't really stick out amid all the tall buildings of downtown. That's OK, because it's still rather easy to find, nestled next to a big Hilton hotel and down the street from Houston's massive George R. Brown Convention Center, as well as Discovery Green, a beautiful urban park with a pond in the middle.
One option for getting to the arena is light rail. The Red Line of Houston's MetroRail system cuts through downtown and stops several blocks away — get off at the Bell station, then walk five blocks southeast down Bell Street.
The recently added Green and Purple lines pass north of Toyota Center, closer to where Minute Maid Park, home of MLB's Houston Astros, is located. Disembark at the Convention District station and then walk about five blocks southwest along Lamar Street, past the convention center, to reach the arena.
For drivers, downtown itself is literally surrounded by freeways. However, the downtown exits off the Eastex Freeway (U.S. Route 59) or Interstate 45 aren't close to Toyota Center; you'll have to work your way through the surface streets of downtown to get there. You can follow the link for detailed directions to Toyota Center depending on your route.
Parking at Toyota Center
There's a seven-story parking structure across Bell Street called the Toyota Tundra Garage, that offers skyway access directly into Toyota Center. However, this structure is limited to passholders for Rockets games.
Many more parking lots can be found a little farther out that also serve the nearby convention center as well as Minute Maid Park. Several surface parking lots exist in the blocks between Toyota Center and the Eastex Freeway. Advance parking can be purchased on ParkWhiz.
Expect to pay $15 and up for lots within a couple blocks of the arena, but cheaper rates ($10 or less) can be found west of Caroline Street, if you're willing to walk five or more blocks.
Houston hotels near Toyota Center
• Hilton Americas – Houston – 0.1 miles away
• Holiday Inn Express Hotel & Suites Houston-Downtown Convention Center – 0.1 miles away
• Embassy Suites Houston – Downtown – 0.2 miles away
Search for more Houston hotels on Booking.com.
Map of the surrounding area
Things to do around the arena
Although the immediate vicinity of Toyota Center is largely surrounded by parking lots, much of downtown Houston's restaurants and nightlife are within a short stroll and easily accessible on event nights.
The Hilton Americas hotel across the street houses a couple popular restaurants, and its lobby often is a meeting point for fans or patrons of events at Toyota Center.
In addition, Discovery Green and the convention center are surrounded by a number of restaurants, some of the sports-bar variety, others leaning more toward fine dining.
A little farther way, on the other side of the convention center and Eastex Freeway, is an emerging neighborhood known as EaDo (East of Downtown). Home to the venue for the Houston Dynamo of Major League Soccer, this area takes on an artsy feel, and its neighborhood cafes and eateries take on the same feel.
Or, head a few blocks southwest to Midtown, home of some of the city's favorite Asian eateries as well as a growing number of pubs. It's easily accessible via light rail, which also allows fans a convenient way to get back to Toyota Center for their event.
For more on visiting Houston, check out our Houston sports travel guide.
Houston restaurants near Toyota Center
• Pappasito's Downtown – Mexican, 0.1 miles away
• Hearsay on the Green – American, 0.1 miles away
• The Grove – American, 0.1 miles away
Search for more Houston restaurants on Tripadvisor.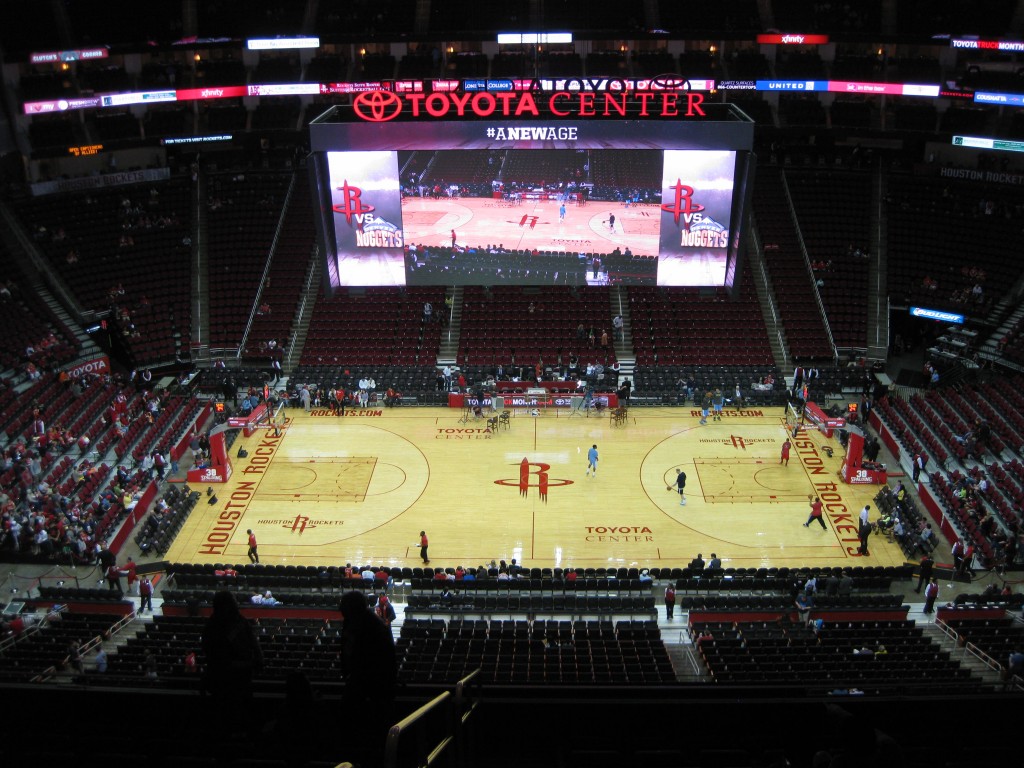 Watching a game at Toyota Center
The entrance plaza at the corner of Polk and LaBranch streets serves as the primary entry into Toyota Center and is usually filled with sponsor booths and entertainment before Rockets games. However, note that this entryway can get crowded as tipoff approaches. To avoid a long wait getting in, try walking around the arena to the entrance on Jackson Street, which typically isn't nearly as busy.
It's worth a walk around the main concourse of Toyota Center to see what's there, but you'll quickly find a good number of areas that are inaccessible to the common fan — the seating areas on both sidelines are designated as premium-access, each with a club that has a guarded entrance.
Otherwise, Toyota Center is quite beautiful inside, with several glass atria and tributes to Rockets past and present in a few different spots around the concourses and seating bowl.
The Legend Lockers area on the 400-level (upper concourse) is the most prominent tribute in the arena to the team's greats, including players on the Houston Rockets teams that won back-to-back NBA titles in 1994 and '95.
It's also quite family-friendly, as evidenced by the presence of the large arcade and play area, called the Memorial Hermann Sky Court on the upper concourse. If you're looking for the Rockets' mascot, Clutch, prior to tipoff, it's likely that he can be found in this area.
Your eyes aren't deceiving you if it looks to you like there's much more seating in Toyota Center's lower bowl than in the upper deck. The design of Toyota Center pays off if you're in the cheap seats, as you feel like you're right on top of the action, and the upper seating sections don't extend for rows and rows — just 10 in some sections.
Besides, Toyota Center's huge four-paneled center videoboard, which extends from free-throw line to free-throw line, has you covered if you find your sight line isn't the best for a certain part of the court or event floor.
Food and drink at Toyota Center
Save for a few novelty items, the concessions menu at Toyota Center is fairly standard stadium fare. Texas-style barbecue is prevalent, primarily at the Hou BBQ stands, while burgers, Tex-Mex and pizza are available throughout the concourses.
The Saltgrass Steakhouse stand on the 100 level, a relatively new addition, might be your best bet for higher-class arena food, with items like Nashville hot chicken tenders and brisket nachos on sale.
Beer lovers can head to the Corona Beach House near Section 113 to survey the selection at Toyota Center, though craft beer and cocktail carts are sprinkled throughout the concourses. Houston-based Karbach Brewing has a major presence here, and local breweries Eureka Heights and Saint Arnold also have their beers available.
Original publish date: February 4, 2016
Most recent update: October 20, 2023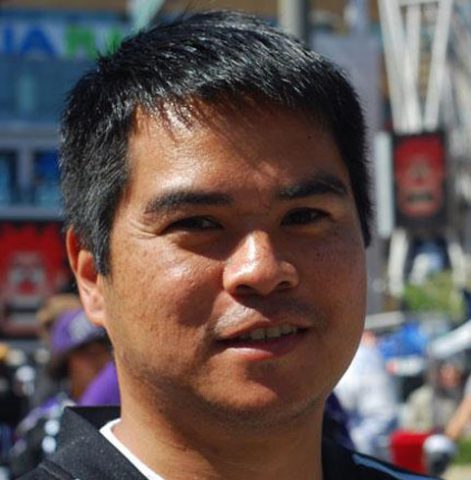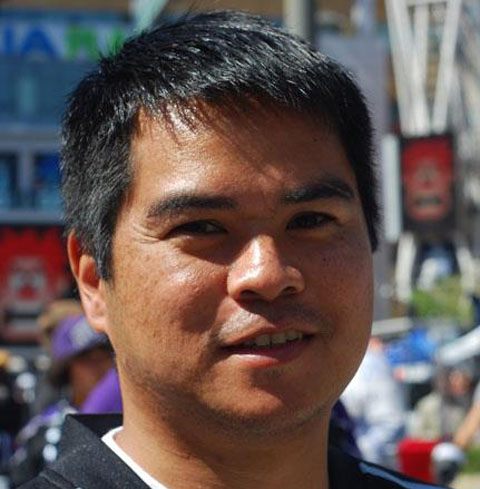 Edward de la Fuente | Itinerant Fan
I live for sports, and I love to travel. My biggest thrill is combining the two. I've been blogging about sports travel for more than a decade, and traveling for sports for twice as long.
About me | FAQ | Buy me a beer 🍺
Affiliate Disclosure
Please note that some of the links above are affiliate links, and at no additional cost to you, we earn a commission if you make a purchase. These recommendations are only for companies that we've used and have proven to enhance our sports travel experiences. To find out more about our affiliate partnerships, please read our Affiliate Disclaimer.
The Particulars
Home Teams
Houston Rockets
Address
1510 Polk St.
Houston, TX 77002
Year Opened
2003
Capacity
18,055
Upcoming Events
All times local
Houston Rockets vs. Oklahoma City Thunder
Wednesday, December 6, 2023
7:00 pm
Get tickets at Ticketmaster »

Rod Wave
Thursday, December 7, 2023
8:00 pm
Get tickets at Ticketmaster »

Trans-Siberian Orchestra-The Ghosts Of Christmas Eve
Sunday, December 10, 2023
2:30 pm
Get tickets at Ticketmaster »

Trans-Siberian Orchestra-The Ghosts Of Christmas Eve
Sunday, December 10, 2023
2:30 pm
Get tickets at Ticketmaster »

Trans-Siberian Orchestra-The Ghosts Of Christmas Eve
Sunday, December 10, 2023
7:00 pm
Get tickets at Ticketmaster »