Milwaukee sports travel guide
Our city guides are meant to showcase the best of a metropolitan area from the perspective of a sports fan visiting Milwaukee to watch their favorite teams in a game or two. Here's our guide to the best of Milwaukee sports travel.
* * *
In the land of beer, brats and cheese, there's still plenty of room for sports fandom in Wisconsin. And the centerpiece for sports in the state is Milwaukee, Wisconsin's largest city, which is home to two teams in the major professional sports.
While the NBA's Bucks and MLB's Brewers call Milwaukee home, the sporting allegiances of the city's residents fan out throughout the state, particularly toward the Green Bay Packers and University of Wisconsin athletics. (Among major sports, only the NHL isn't represented in Wisconsin; Milwaukee hockey fans tend to gravitate toward the Chicago Blackhawks).
The strong sense of regional pride can be found if you walk into just about any sports bar in Milwaukee, where you'll often see the Packers' "G" and the Wisconsin "W" represented along with the Bucks and Brewers team logos.
So if you're considering a sports travel vacation to Wisconsin, consider Milwaukee the starting point for an exploration of a sports-mad state. This travel guide will show you how to traverse the state to watch the sports teams in action, while also getting the most of your time in Milwaukee.
Map of Milwaukee sports venues and attractions
Click placemark in index to find on map | View Milwaukee sports travel guide in a larger map
Where to watch sports in Milwaukee
Fiserv Forum, home of the Bucks, is Milwaukee's newest sports team venue (opened in 2018) and is located downtown, next to the site of the since-demolished Bradley Center. The popular Marquette Golden Eagles men's basketball team also plays its games here; Marquette's campus is about a mile away.
Meanwhile, American Family Field, the home of the Brewers that was formerly known as Miller Park, is a few miles west of downtown along Interstate 94. It was also built next to the site of the venue that it replaced, Milwaukee County Stadium.
If you were to use Milwaukee as a base for a trip to Green Bay to see the Packers at Lambeau Field, you wouldn't be alone; thousands of Packers fans make the approximately 120-mile drive north on game days as well.
Likewise, on a college football Saturday it's not uncommon to see hordes of fans driving west on I-94 from Milwaukee to Madison, where the University of Wisconsin campus and the football team's Camp Randall Stadium are located.
For more than 60 years (until 1994), the Packers played at least one game every season at Milwaukee County Stadium, discontinuing the tradition after renovations to Lambeau Field were completed for the 1995 season.
County Stadium was demolished after American Family Field's opening; the site of it is now Helfaer Field, which sits in the shadow of American Family Field and is used primarily for Little League games.
Primary sports venues in Milwaukee
• American Family Field: Home of the Brewers. Located at 1 Brewers Way west of downtown.
• Fiserv Forum: Home of the Bucks and Marquette Golden Eagles. Located at 1111 Vel R. Phillips Avenue in downtown Milwaukee.
Arriving and getting around Milwaukee
Getting in
Milwaukee's General Mitchell International Airport (MKE) is located some 10 miles south of downtown. It's served by nearly all the major U.S. carriers and offers a small selection of flights from international destinations.
If you're flying into MKE, you can catch a taxi, rideshare or private shuttle, but there is a public transit alternative in the Milwaukee Country Transit System's GreenLine bus, which runs north to downtown and other points around the city. Single-ride cash fare for the GreenLine is $2.25, the same as any MCTS bus.
Sports travel vacationers to Milwaukee looking to choose from a much wider (and in all likelihood cheaper) selection of flights could opt to fly instead into Chicago's O'Hare International Airport and then take a bus to Milwaukee — a journey of about 80 miles.
The CoachUSA Airport Express takes riders from O'Hare into Wisconsin, going as far north as Green Bay. From O'Hare to Milwaukee's Downtown Intermodal Station, expect the ride to take just under two hours; one-way fare is $31.
The Intermodal Station is also the embarkation point for Amtrak, which operates the Hiawatha Line from Chicago's Union Station with multiple trains daily.
Drivers can reach Milwaukee by taking Interstate 94 north from Chicago or south (actually southeast) from Minneapolis. From Chicago, expect the drive to take about 90 minutes without traffic.
Where to stay
Milwaukee's downtown area has the city's largest concentration of large hotels, both brand-name and independent. They are located on both sides of the Milwaukee River that splits the downtown area, but if your primary reason for visiting is to see the Bucks or Marquette at Fiserv Forum, try choosing a spot west of the river to get a bit closer to the arena.
If you're on a budget and have a car at your disposal, look near General Mitchell Airport or along the Interstate 41 corridor about 10 miles west of downtown for a selection of motels and budget lodging options.
Getting around
Downtown Milwaukee is quite walkable (at least, depending on the weather) and not difficult to decipher on a map. If you're headed to Fiserv Forum, it lies just west of the Milwaukee River and is reasonable walking distance from most downtown hotels. Otherwise, you'll need a car or you can hire a rideshare to venture outside the downtown area.
Milwaukee also recently opened a streetcar line called The Hop, which runs through the East Town part of downtown. While it can be used to reach a number of points of interest downtown, it does not go to Fiserv Forum.
Gameday parking
American Family Field is surrounded by more than 10,000 parking spaces, contained within a series of lots named after Brewers greats. Parking rates begin at $15 for day-of-game purchases, but the cost fluctuates depending on how close the selected lot is to the ballpark and the day of the week. Discounts can be had by purchasing in advance. For updated rates, click here.
Parking around Fiserv Forum is more limited because of the density of its neighborhood, but there are two parking structures adjacent to the arena, the 5th Street and Highland structures.
A number of private downtown structures a short walk away can also be used to park for games. Advance purchase parking is available as well. Click here for more information.
Things to see and do in Milwaukee
Even if your reason for coming to Milwaukee is sports travel, the region has so much more to offer, so here's a guide to some of the things to see and do when you're not watching the teams in action:
City of Festivals
Why does Milwaukee have this nickname? Just look at an events calendar for a given year. The summer is filled with festivals — perhaps due to residents wanting so much to enjoy the nice weather.
Two in particular gain special attention: The Wisconsin State Fair, held every August in the Milwaukee suburb of West Allis, and Summerfest, a music festival held at Henry Maier Festival Park along Lake Michigan.
Summerfest especially draws throngs to Milwaukee each summer. It bills itself as the world's largest music festival, and with somewhere around 800,000 attendees each year for an event that lasts more than a week, it's hard to argue.
Taste the best of Wisconsin
The German influence and Wisconsin's status as "America's Dairyland" are on full display in Milwaukee, and you don't need to leave downtown to experience it.
Here's a guide to food items to experience during your travels through Milwaukee and Wisconsin:
Cheese curds
One of the most popular representations of Wisconsin cheese to be had, it's sold at restaurants and groceries alike around Milwaukee.
The restaurant version is usually deep fried and served with dipping sauces, but to get them in their raw state, check out the Wisconsin Cheese Mart (215 W. Highland Ave.), located a block from Fiserv Forum, or the West Allis Cheese & Sausage Mart stand in the popular Milwaukee Public Market (400 N. Water Street).
Bratwurst
In a town known for its German sausages, the bratwurst stands out. You'll be able to get one at both American Family Field and Fiserv Forum, but if you're downtown you might as well head to Old World Third Street, where popular restaurants such as Milwaukee Brat House and Old German Beer Hall are located.
Across the street from those two restaurants is the factory and store of Usinger's Famous Sausage, which makes the bratwurst sold in many locations around town.
Butter burgers
They are exactly what the name suggests: Burgers practically drenched in butter. Wisconsin fast-food chain Culver's, which has locations throughout the Milwaukee area, is a good place to try it.
But if you're venturing outside downtown anyway, head north on I-43 to Solly's Grille (4629 N. Port Washington Road), which consistently ranks highly on "Best Burger in Wisconsin" lists.
Fish fry
A Friday night custom in Wisconsin, the fish fry is not much different from the standard fish and chips, only with local fish such as walleye and lake perch typically used. It's best enjoyed in a large dining hall-type setting. If you're looking for a downtown spot on a Friday night, check out Old German Beer Hall or Swingin' Door Exchange (219 E. Michigan Street).
Frozen custard
Found all around the Midwest, frozen custard is of course available all throughout Wisconsin. And don't call it ice cream! Frozen custard is richer and denser.
The metro area is dotted with frozen custard stands. Check out Kopp's Frozen Custard, which has three locations, including one at 5373 N. Port Washington Blvd., or Leon's Frozen Custard (3131 S. 27th Street), which has a stand that harkens back to olden times.
Kringle
Especially popular around the holidays, this danish-like pastry can be found at the Wisconsin Cheese Mart in downtown Milwaukee. If you're really serious about Kringle, though, make a pilgrimage about 30 miles south to the city of Racine, where numerous bakeries in town offer the treat.
Don't forget to wash it all down with a cold one! Even in the birthplace of Miller, Pabst and Schlitz, there are numerous independent breweries for beer fans to visit. For a full list of local breweries, click here.
Milwaukee's arts and culture scene
From the Milwaukee Art Museum (on the waterfront at the foot of downtown) to the Harley-Davidson Museum (just south of the Intermodal Station), Milwaukee has a number of cultural sites worth checking out during your sports vacation that will be prominent in any travel guide.
Also near the Art Museum are the Betty Brinn Children's Museum and the Discovery World science museum. The Milwaukee County Zoo is located about 10 miles west of downtown next to the interchange between Interstates 41 and 94.
If you remember the 1970s TV show "Happy Days," which was set in Milwaukee, a prominent tribute to the show can be found along the downtown Riverwalk. The "Bronze Fonz" statue is on the east side of the Milwaukee River just south of Wells Street.
More sports
Though Marquette's sports teams get far more attention on the national scene, there's another Division I college basketball program worth checking out in the Milwaukee Panthers, who have reached the men's NCAA tournament four times.
Their home arena, UWM Panther Arena, is located downtown, just two blocks south of Fiserv Forum. Longtime NBA fans might remember it as the MECCA, the former home of the Bucks.
UWM Panther Arena is also home to two minor-league teams, the Milwaukee Admirals of the American Hockey League and the Milwaukee Wave of Major Arena Soccer.
Original publish date: June 3, 2020
Most recent update: March 2, 2023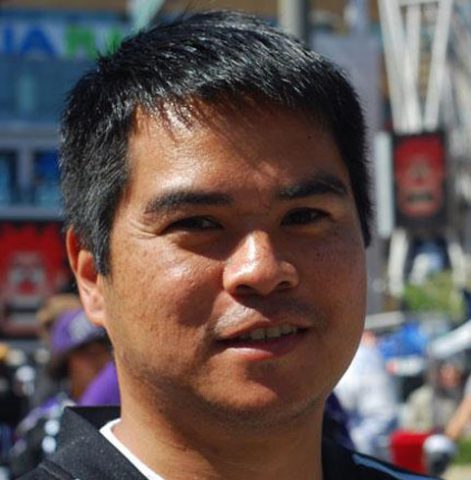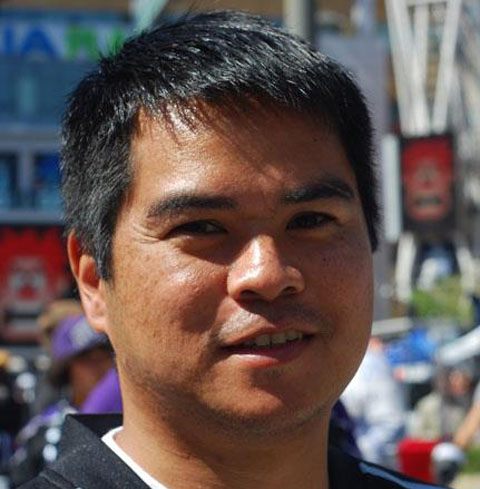 Edward de la Fuente | Itinerant Fan
I live for sports, and I love to travel. My biggest thrill is combining the two. I've been blogging about sports travel for more than a decade, and traveling for sports for twice as long.
About me | FAQ | Buy me a beer 🍺
Affiliate Disclosure
Please note that some of the links above are affiliate links, and at no additional cost to you, we earn a commission if you make a purchase. These recommendations are only for companies that we've used and have proven to enhance our sports travel experiences. To find out more about our affiliate partnerships, please read our Affiliate Disclaimer.