Acrisure Stadium
Our guide to Acrisure Stadium in Pittsburgh includes information on events, tickets, parking, public transportation, nearby hotels and restaurants, seating and more. Read on to find out how to get the most out of your gameday experience.
* * *
Pittsburgh is one of those towns that simply loves its sports — and its sports teams. There's just no denying that.
And while there's plenty of adoration for the Pirates and Penguins, the best evidence of the Steel City's sports worship is usually found on fall weekends, especially when the Steelers are home at Acrisure Stadium. Just try looking down a busy street or entering a restaurant and bar without seeing a trace of Steelers black and gold — it's close to impossible.
The center of Steelers Nation sits on a prime piece of land almost directly in front of where the Monongahela and Allegheny river meet to form the Ohio River. Acrisure Stadium doesn't have the flashiness of some of the NFL's newer stadiums, nor is it old enough to have the history of, say, a Lambeau Field, but it serves its fan base just fine and, architecturally and aesthetically, fits in neatly with the surrounding area.
Considering how ingrained the Steelers are in Pittsburgh culture, attending a game at Acrisure Stadium might be the perfect way to experience the city in its purest form.
And there's more going on at the stadium than just the Steelers — the city's preeminent college football program, the Pitt Panthers, also call Acrisure Stadium home, and the venue has hosted two NHL outdoor games.
There is one negative to point out. The stadium was recently renamed after more than 20 years as Heinz Field — a move that saddened and even angered many Pittsburgh sports fans. The stadium won't change much, but it'll certainly take fans some time to get used to the Acrisure Stadium name.
Looking for Acrisure Stadium event tickets? Search events on Ticketmaster.
Getting to the stadium
Though Acrisure Stadium is, geographically speaking, across the river from downtown, it still is centrally located in what is known as the North Shore, a pleasant stroll away from PNC Park (and next door to the footprint of the former home of the Steelers and Pirates, Three Rivers Stadium).
That makes the stadium easy to spot — look to your left after you emerge from the Fort Pitt Tunnel, if you're heading into central Pittsburgh that way — and getting there is pretty simple, despite the large watery obstacle in front of it.
Or, you can choose to go on foot. Depending on the weather, the walk from downtown to Acrisure Stadium can be a rather nice one, and it's definitely something to consider if you're staying in a downtown hotel. And you can see things like Fort Pitt State Park, the Fort Duquesne Bridge (or Roberto Clemente Bridge, if you prefer) and the North Shore waterfront up close and personal along the way.
Light rail is also a viable option for getting to the game from south/west of the downtown area. The system has two lines that converge downtown, and both lines terminate at the Allegheny station just north of Acrisure Stadium. The downtown area is considered a free fare zone, and that goes for football game days as well.
If you'd like to try a uniquely Pittsburgh way of getting to the game, how about boating to Acrisure Stadium? A ferry called the Gateway Clipper Shuttle offers service from Station Square, on the south shore of the Monongahela River across from downtown, to the stadium. As of the 2023 season, fare for the ferry was $15 round-trip.
Parking at Acrisure Stadium
If you're driving in for the game and don't hold a permit for one of the parking lots close to Acrisure Stadium, you're encouraged to park downtown to beat the traffic that builds up along the highways and streets on the North Shore.
There are a number of structures in the downtown area that are designated for stadium parking, and if you park in one, you are also entitled to ride the T, Pittsburgh's light-rail system, back and forth for free.
Looking for parking at Acrisure Stadium? Buy parking on SpotHero.
Pittsburgh hotels near Acrisure Stadium
• Hyatt Place Pittsburgh North Shore – 0.4 miles away
• Residence Inn Pittsburgh North Shore – 0.5 miles away
• SpringHill Suites by Marriott Pittsburgh North Shore – 1.6 miles away
Search for more Pittsburgh hotels on Booking.com.
Map of the surrounding area
Things to do around the stadium
Not long after Acrisure Stadium and neighboring PNC Park were built, other businesses sprung up along the North Shore and now there are quite a few hotels, restaurants and bars along the riverfront and neighboring streets that cater to sports fans.
The area between the two venues is particularly ripe with pregame restaurant and people-meeting options, ranging from chains (McFadden's) to local favorites (Burgatory) to Steelers-centric (Jerome Bettis' Grille 36). Since a number of hotels have also opened on the North Shore since the openings of Acrisure Stadium and PNC Park, the concentration of fans in this area can be great and makes for a fun atmosphere.
It's also in this area where you'll see some of the most elaborate tailgate setups Steelers fans have to offer, as the permit-only lots surrounding the stadium are the home to most of the die-hard fans. For an Acrisure Stadium tailgating guide, click here.
There's some culture to be found on the North Shore, if you'd rather spend your pregame time that way. The Carnegie Science Center and the Andy Warhol Museum are both within walking distance of the stadium. Also nearby is the Rivers Casino Pittsburgh, about two blocks west.
For more on visiting Pittsburgh, check out our Pittsburgh sports travel guide.
Pittsburgh restaurants near Acrisure Stadium
• Little Red Corvette – pub, 0.2 miles away
• Burgatory – American, 0.3 miles away
• Jerome Bettis' Grille 36 – gastropub, 0.3 miles away
Search for more Pittsburgh restaurants on Tripadvisor.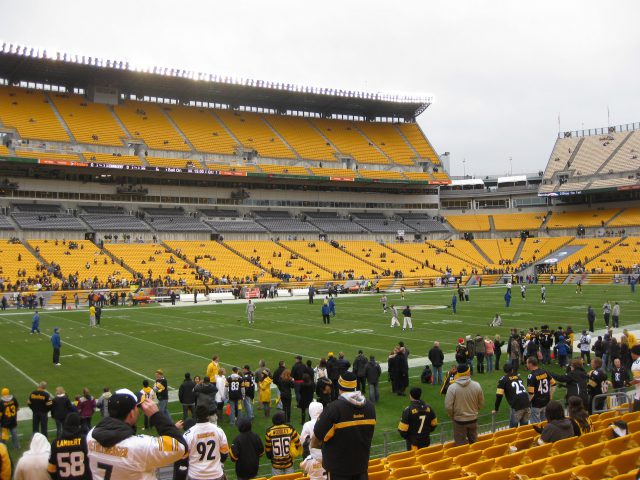 Watching a game at Acrisure Stadium
Acrisure Stadium is one of the more interesting stadiums in the NFL from an architectural standpoint, so if it's your first visit, take a few moments to stroll around, both outside and in.
At the very least, check out the stadium's south side, facing the river, where a set of steps lead up to the Gate A entrance underneath the main scoreboard. This is a prime picture-taking spot, and the arrival dock for the Gateway Clipper Shuttle is nearby.
Also on the south side of Acrisure Stadium, on each side of the scoreboard, are two circular ramps that jut out slightly over the lower seating bowl. Parts of the ramp offer views of the field and, in fact, the Steelers sell standing-room only tickets for fans who can then watch the game from these vantage points.
While Acrisure Stadium, opened in 2001, isn't very old as stadiums go, it still evokes a feeling of tradition. That's probably less a function of the venue itself as it is of the team that plays there. After all, a franchise that has six Super Bowl victories to its credit must have quite a glorious history.
Inside Acrisure Stadium, they play this up in the Great Hall, located in the lower concourse underneath the east side of the seating bowl. It's full of Steelers (and Pitt Panthers) artifacts and displays, as well as interactive exhibits, the Steelers Hall of Fame and food and drink stands. Note that the area tends to get crowded as kickoff approaches.
Acrisure Stadium sight lines are excellent from pretty much every seating vantage point, even high up. The upper level behind the north end zone (sections 518-527) are basically Acrisure Stadium's version of the bleacher seats and offer bench seating instead of the usual individual seats found everywhere else in the venue.
But they do come with a terrific view of the river beyond the stadium and the downtown Pittsburgh skyline.
Interested in a suite at Acrisure Stadium? Buy suite tickets on SuiteHop.
Food and drink at Acrisure Stadium
Pittsburgh's unique cuisine is well-represented in the concession stands at Acrisure Stadium. Primanti Brothers sells their famous sandwiches (stuffed with french fries and cole slaw) from two different stands, including one in the Great Hall.
Local chain Quaker Steak 'n' Lube also sells its wings here, and you can find two other local favorites, pierogies and gyros. Steelers legend Franco Harris' name is all over the stadium food and drink scene — you'll find both a Franco's Italian Army Sausages and a Franco's Pizzeria.
Acrisure Stadium's wide beer selection can be found throughout the stadium. The usual stadium beers are in wide supply, but you can also find regional breweries such as Southern Tier, which has a taproom just blocks away along North Shore Drive.
Original publish date: February 4, 2016
Most recent update: September 1, 2023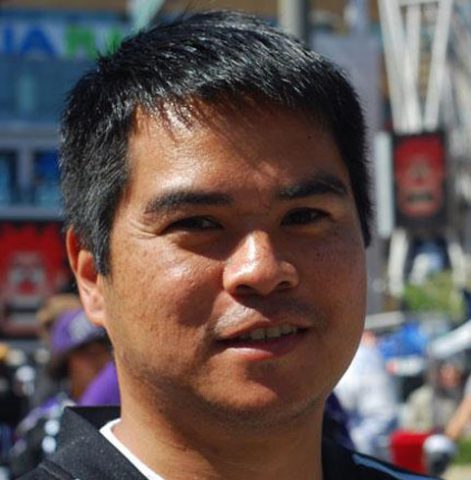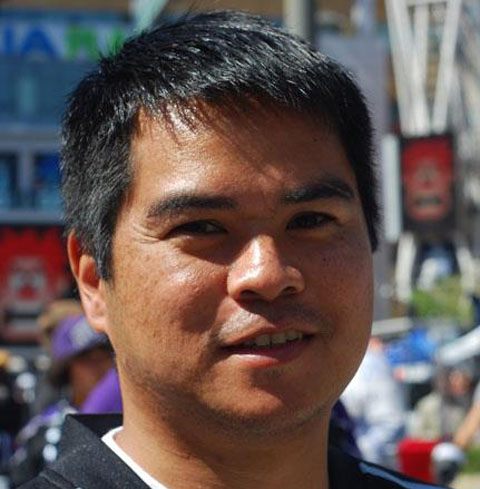 Edward de la Fuente | Itinerant Fan
I live for sports, and I love to travel. My biggest thrill is combining the two. I've been blogging about sports travel for more than a decade, and traveling for sports for twice as long.
About me | FAQ | Buy me a beer 🍺
Affiliate Disclosure
Please note that some of the links above are affiliate links, and at no additional cost to you, we earn a commission if you make a purchase. These recommendations are only for companies that we've used and have proven to enhance our sports travel experiences. To find out more about our affiliate partnerships, please read our Affiliate Disclaimer.
The Particulars
Home Teams
Pittsburgh Steelers
Pittsburgh Panthers
Address
100 Art Rooney Ave.
Pittsburgh, PA 15212
Year Opened
2001
Capacity
68,400
Upcoming Events
All times local
Pittsburgh Steelers vs. Arizona Cardinals
Sunday, December 3, 2023
1:00 pm
Get tickets at Ticketmaster »

En Casa Con Los Steelers
Wednesday, December 6, 2023
6:00 pm
Get tickets at Ticketmaster »

Pittsburgh Steelers vs. New England Patriots
Thursday, December 7, 2023
8:15 pm
Get tickets at Ticketmaster »

Pittsburgh Steelers vs. Cincinnati Bengals
Saturday, December 23, 2023
4:30 pm
Get tickets at Ticketmaster »

Kenny Chesney: Sun Goes Down Tour with Zac Brown Band
Saturday, June 1, 2024
5:00 pm
Get tickets at Ticketmaster »