Petco Park
Our guide to Petco Park in San Diego includes information on events, tickets, parking, public transportation, nearby hotels and restaurants, seating, food and more. Read on to find out how to get the most out of your gameday experience at the Padres' home stadium.
* * *
Take in a game at Petco Park and you'll quickly find that the experience — from the atmosphere to the seating to the food — is a little bit different than many other ballparks in Major League Baseball.
In San Diego, known as "America's Finest City" and with good reason, watching live sports in general has a bit different vibe than in most other cities. Visitors are quick to notice that residents of San Diego are a little more laid-back, and why wouldn't they be? With nearly perfect weather most of the year and fine food, picturesque beaches and so much more at their disposal, you can forgive them if sports fandom isn't on their mind all the time.
When they have reason to be, though, San Diegans can be just as spirited as any other sports fans. The hometown Padres don't often give them reasons to flock to the stadium, with no championships and just two World Series appearances to their name.
But they do have a spectacular ballpark in the heart of downtown San Diego, and Petco Park often gets mentioned as one of the finest in all of MLB. It has enjoyed a few turns in the spotlight over the years, such as when it hosted the 2016 All-Star Game.
Petco Park is really worth visiting as much for what's inside it as what surrounds it, as it boasts several features unique among major-league ballparks — the Western Metal Supply Building in left field being foremost among them.
And now that the Padres are developing into a consistent contender, perhaps its home stadium will get more of the national recognition that it deserves.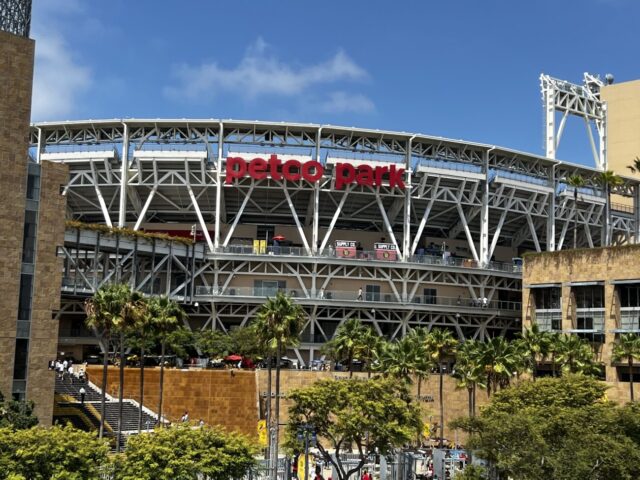 Getting to the ballpark
Downtown San Diego is a beautiful spot and going through constant improvements, full of things to do for adults and children, residents and tourists alike.
Petco Park is right in the middle of all that action, alongside the city's famous Gaslamp Quarter, near the Convention Center (which each summer hosts the uber-popular ComicCon), and within walking distance of many hotels, high-end lofts and more.
If you're visiting the city, a downtown hotel offers the perfect convenience (one, the Omni San Diego across the street, is attached to the park via pedestrian bridge). But know that downtown hotels can be pricey, especially when big events such as ComicCon are happening.
If that's the case, staying outside downtown and coming in via public transit is certainly viable. The San Diego Trolley, the city's light rail system, runs to many points outside downtown worth visiting, such as Old Town and Mission Valley, and can be used to reach Petco Park via the 12th and Imperial Station, a major transfer point that serves all three lines. Consider buying a one-day pass for $6 to avoid the rush of fans trying to buy fares after the game.
Drivers can access downtown San Diego via State Route 163 aka the Cabrillo Freeway, which turns into Tenth Avenue and leads directly to the ballpark's doorstep. You can find more detailed driving directions here.
Parking at Petco Park
Near the ballpark, you'll find a number of nearby lots — some of them are permit-only but others are open to the general public. The two large surface lots across Park Boulevard, east of the park, as well as the Padres Parkade on 10th and J streets, are considered "preferred" lots and available on a per-game basis only to prepaid permits.
The closest cash lots to Petco Park are located across Harbor Drive at the San Diego Convention Center and the adjacent Bayfront Hilton hotel. Rates begin in the $20-25 range depending on the event and day, and fans can use a pedestrian bridge to cross over the rail tracks in between.
Cheaper parking options can be found at independent lots north of the park, deeper into downtown San Diego.
Or, if you want to save even more, consider doing park-and-ride at a San Diego Trolley station. Old Town is one of a handful of stations where you can park for free, meaning you'll only need to worry about paying for trolley fare.
San Diego hotels near Petco Park
• Omni San Diego Hotel – 0.1 miles away
• San Diego Marriott Gaslamp Quarter – 0.1 miles away
• Hilton San Diego Gaslamp Quarter – 0.2 miles away
Search for more San Diego hotels on Booking.com.
Map of the surrounding area
Things to do around the ballpark
The options for pregame merriment around Petco Park are nearly endless, with blocks upon blocks of restaurants, bars and shops nearby, suited for nearly every age group, taste and budget.
With development ongoing in the area, new options pop up all the time, so if you have some time before first pitch, do take a little stroll around the area and check out everything there is to offer.
Fifth Street in the Gaslamp Quarter is generally regarded as the center of nightlife in downtown San Diego, but there are a number of options closer to the ballpark. Try walking along J Street just north of Petco Park for a good selection of food spots and bars, which on more well-attended gamedays can be teeming with fans and partiers alike.
If you're coming in via the Trolley, J Street is right at the doorstep of the Convention Center station, so you can walk along it before entering the ballpark at the Park In The Park/Gallagher Square gate (more on that below).
Or, check out one of the nearby hotels for bar action, some of which are on the rooftops. In the case of the nearby Marriott Gaslamp Quarter, the rooftop bar offers a partial glimpse of the Petco Park field. (For more info, check out this post we wrote in October 2020 about watching a game from the hotel's rooftop lounge.)
Restaurants catering to Padres fans are scattered throughout the area as well, particularly between the stadium and the convention center as well as the blocks stretching northward toward Horton Plaza.
If you're hungry, try to find some San Diego-specific eats, such as fish tacos, carne asada fries and California burritos. Or, just wait to head inside Petco Park, where you'll be able to find all those food items and more.
San Diego restaurants near Petco Park
• Stone Brewing Tap Room – pub, 0.1 miles away
• Half Door – gastropub, 0.2 miles away
• Lolita's – Mexican, 0.1 miles away
Search for more San Diego restaurants on Tripadvisor.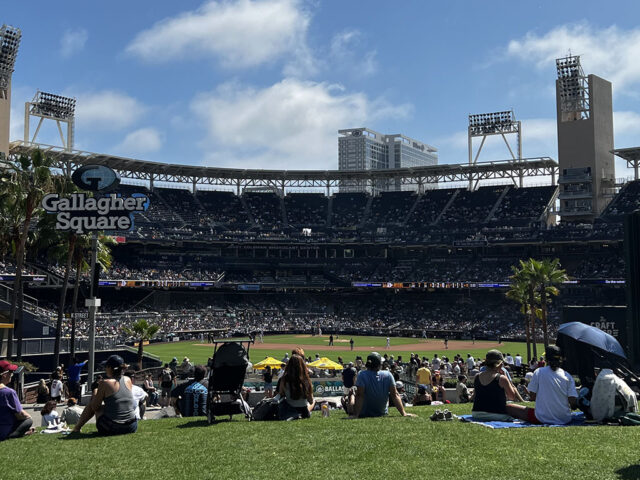 Watching a game at Petco Park
Petco Park tries very hard — perhaps a little too hard — to be architecturally interesting, and thus walking around, finding your seating area and all that at the Padres' stadium can actually be more of a challenge than the average baseball fan bargains for.
Getting to the main concourse requires a walk up steps from some gates but not from others; random columns, stairs and ramps make for windy walks through some sections; you have to find pedestrian bridges to get to some areas in the upper concourse; and there are random breaks in the seating bowl in various spots on both main tiers.
Put aside logistics for a second, though, and Petco Park is really a beautiful facility — and its quirks actually lend to that beauty. The most obvious feature is the Western Metal Supply Building in left field — an actual old office building that, instead of being torn down to make way for the park, was left standing and incorporated into the venue's design.
The building houses the Padres team store and includes party suites, including one on the rooftop, and one of its corners serves as the foul pole in left field. You can walk through it on the main concourse, and it feels a little bit like walking through a Disneyland prop. But how many other ballparks can you do that at?
Then there's the giant patch of green space behind the batter's eye in center field that, yes, is an actual park. Formerly known as Park in the Park, it was rebranded as Gallagher Square in 2019.
Fans buy cheap tickets to picnic at the park during games (albeit with an obstructed and very distant view of Petco Park's field), but at least there's a big screen displaying the game, lots of space for seating and a number of food and merchandise booths at your disposal. You'll also find the statue of the team's most beloved former player, Tony Gwynn, here, and another statue of Hall of Fame closer Trevor Hoffman nearby.
The park is an extremely kid-friendly spot, with an active mini-ball field, a sandpit and a playground. And yes, when there are no Padres games at the stadium, the park is open to the public.
Though Petco Park's seating bowl can feel huge, views are terrific — both of the field and of the downtown skyline beyond the outfield. One thing to note, though: During the mid-afternoon, the sun can beat down hard on the upper-deck seats along the first-base side, so consider avoiding those seats unless you're OK with sunbathing while watching some ball.
Food and drink at Petco Park
By the time you reach your seating area, you might be too full from all the food options available to you at Petco Park, as the Padres have done a great job offering much more than basic stadium food.
In addition to the usual hot dogs and nachos, check out items such as the tri-tip sandwich from Seaside Market, based in nearby Cardiff; burgers from local surf-themed outlet Hodad's; and pizza and beer from popular area brewpub chain Pizza Port.
Sushi, baos (from worldwide chain Din Tai Fung), cheesesteaks and bacon-wrapped hot dogs are also plentiful from stands scattered around Petco Park. Cruise the "Mercado," a small food court located on the first-base side of the main concourse, or the left-field concourse next to and inside the Western Metal Supply Company building, to survey your food options.
San Diego's expansive craft brewing scene is well represented at Petco Park. There are several stands labeled "Craft Beers of San Diego," from which you can see the widest selection. Local favorite Ballast Point is particularly plentiful, as is the "San Diego Pale Ale .394," a Tony Gwynn tribute beer made by AleSmith Brewing.
The Michelada, a Mexican beer-and-tomato-juice combo, is widely available from beer stands around the park as well.
Original publish date: February 4, 2016
Most recent update: March 22, 2023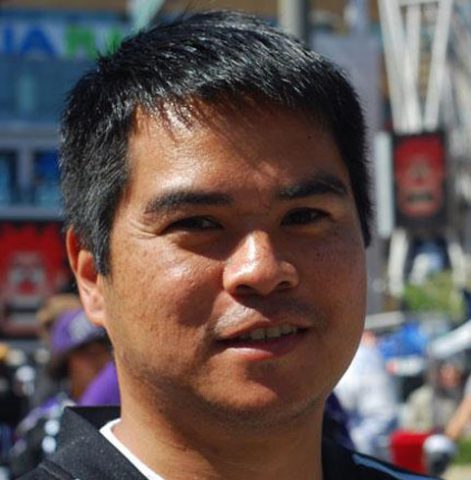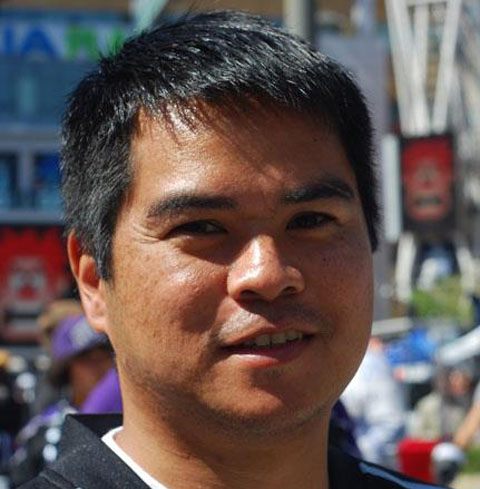 Edward de la Fuente | Itinerant Fan
I live for sports, and I love to travel. My biggest thrill is combining the two. I've been blogging about sports travel for more than a decade, and traveling for sports for twice as long.
About me | FAQ | Buy me a beer 🍺
Affiliate Disclosure
Please note that some of the links above are affiliate links, and at no additional cost to you, we earn a commission if you make a purchase. These recommendations are only for companies that we've used and have proven to enhance our sports travel experiences. To find out more about our affiliate partnerships, please read our Affiliate Disclaimer.
The Particulars
Home Teams
San Diego Padres
Address
100 Park Blvd.
San Diego, CA 92101
Year Opened
2004
Capacity
42,445
Upcoming Events
All times local
Petco Park Tours
Wednesday, December 6, 2023
12:00 am
Get tickets at Ticketmaster »

Petco Park Tours
Thursday, December 7, 2023
12:00 am
Get tickets at Ticketmaster »

Petco Park Tours
Friday, December 8, 2023
12:00 am
Get tickets at Ticketmaster »

Petco Park Tours
Saturday, December 9, 2023
12:00 am
Get tickets at Ticketmaster »

Petco Park Tours
Sunday, December 10, 2023
12:00 am
Get tickets at Ticketmaster »