Footprint Center
Our guide to Footprint Center in Phoenix includes information on events, tickets, parking, public transportation, nearby hotels and restaurants, seating and more. Read on to find out how to get the most out of your gameday experience.
* * *
Footprint Center is the blueprint of the arena that provides the optimal viewing experience for basketball events — and for basketball only.
The multipurpose arena that anchors the entertainment scene in so many large American markets, while by and large a more than suitable venue for any sort of event you can think of holding indoors, can sometimes give the basketball fan a bit of a short shrift.
The larger dimensions needed to accommodate an ice surface for hockey translates to a smaller percentage of right-alongside-the-court seats for basketball — nothing tragic by any means, but when the arena is set up for basketball, you'll notice a fair amount of dead space up close.
But when the arena was designed primarily with basketball in mind, you'll see the difference right away — more intimate seating, better sight lines and even the farthest seats seem pretty close to the court.
Even as a fan, you'll notice that the footprint of Footprint Center (pardon the wordplay) is smaller than the typical multipurpose facility, and a full lap around the concourse can be done in a jiffy. (It's not so great if a hockey team decides later on to move in, as the poor Coyotes found out in the late 1990s before moving to what is now Gila River Arena.)
The arena has served the Phoenix Suns quite well over nearly 30 years of existence, during which it was known by its original name, America West Arena, as well as US Airways Center, Talking Stick Resort Arena and Phoenix Suns Arena. The current name was installed in the midst of the Suns' 2021 run to the NBA Finals, ensuring it would stick in the minds of fans looking back on that euphoric time.
The building also helped breathe life into the downtown Phoenix neighborhood where it sits, aided by the construction of Chase Field for MLB's Diamondbacks a few years later.
The experience should improve in the coming years, as Footprint Center has undergone a significant renovation that brought improvements to the seating bowl, concourses and plazas.
As the Suns' recent playoff runs have showed, when the team is doing well, excitement over Phoenix's original pro sports franchise can climb as high as ever.
And don't forget the WNBA's Phoenix Mercury, which draws fans to Footprint Center during the summer months and whose games have also become big events, especially with three titles in their history.
For more on visiting Phoenix, check out our Phoenix sports travel guide.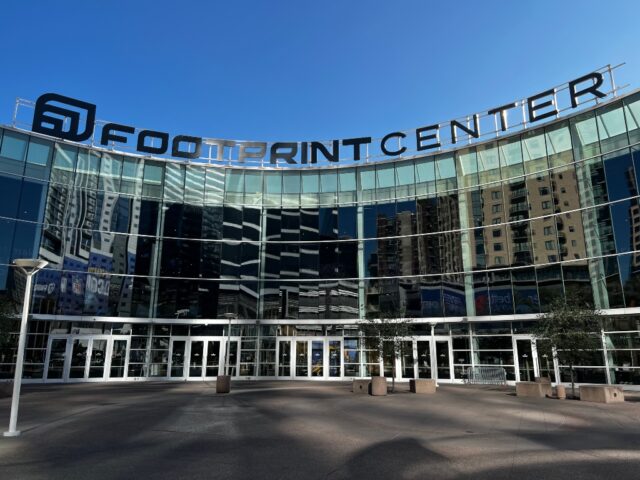 Getting to the arena
Footprint Center occupies a prime spot in downtown Phoenix, a block away from Chase Field in what is called the Legends Entertainment District, full of restaurants, nightlife and hotels.
Phoenix's downtown isn't difficult to find (just look for the tall buildings) nor difficult to navigate, with an impressive devotion to the rectangular street grid observed throughout the region.
Although the area is accessible from both Interstates 10 and 17, which criss-cross each other to form a rectangle around downtown, exiting Interstate 10 at 7th Avenue (or 7th Street, which is a completely different exit and street another mile to the east) and then proceeding south to Jefferson Street, then heading east a few blocks to the arena.
If you use 7th Street instead, head west on Washington Street, one block north of Jefferson, to get yourself to the arena. Both 7th Avenue and 7th Street have exits off Interstate 17 as well.
Light rail is also a viable option if you're coming from the suburbs — Valley Metro operates a line that passes right by the arena. Get off at 3rd/Jefferson or 3rd/Washington, depending on which direction you're coming from. Either way, you're walking no more than a block.
Valley Metro is a viable option for getting to Footprint Center if you're coming from an East Valley suburb such as Tempe or Mesa, or from the western part of Phoenix proper, and would rather not bother with driving and finding parking.
In fact, there's a financial incentive for going the park-and-ride route at a Valley Metro station: Anyone who boards the light rail while holding a ticket for an event at Footprint Center that day is entitled to ride for free, beginning six hours before the event start time.
Parking at Footprint Center
Parking near Footprint Center isn't difficult to find, and there are plenty of options. The arena has its own parking structure, attached to the building's west side. There's also a sizable structure across the street to the east, called the Jefferson Street Garage, occupying the block between the arena and Chase Field.
Drive along Jefferson and Washington streets and you'll see plenty of private parking lots within walking distance of Footprint Center being advertised, with prices ranging from $8 to $15 depending on how close you are.
Phoenix hotels near Footprint Center
Most hotels in the downtown Phoenix core are within reasonable walking distance of Footprint Center. Despite the desert climate, temperatures are typically manageable during the months of basketball season, and you might find a stroll from your hotel to Footprint Center to be downright pleasant at sunset.
• Kimpton Hotel Palomar Phoenix Cityscape – 0.1 miles away
• Courtyard by Marriott Phoenix Downtown – 0.1 miles away
• Residence Inn by Marriott Phoenix Downtown – 0.1 miles away
Search for more Phoenix hotels on Booking.com.
Map of the surrounding area
Things to do around the arena
Downtown Phoenix is usually a lively place, especially after dark when the locals who have spent all day seeking relief from the 100-degree temps come out to enjoy the fact that it has cooled down.
To that end, there are plenty of good spots to take in a bite or a sip before tipoff, all within a radius of a couple blocks. The area is usually pretty lively for Suns games and even more lively for Diamondbacks games, likely because there are just more people going to baseball games.
One restaurant of note for the first-time visitor to check out is Majerle's Sports Grill, a block to the north on Washington and 2nd streets. Owned by beloved former Suns player Dan Majerle, it definitely caters to the sports fan and is a popular hangout. Majerle's, of course, is far from the only options in the general vicinity, which is full of restaurants and bars.
One other well-known pregame eatery — Alice Cooper'stown, operated by the shock rocker who is a very visible member of the Phoenix community — closed in 2017.
Phoenix restaurants near Footprint Center
• The Arrogant Butcher – American, 0.1 miles away
• Willie's Taco Joint – Mexican, 0.1 miles away
• The Strand Urban Italian – Italian, 0.1 miles away
Search for more Phoenix restaurants on Tripadvisor.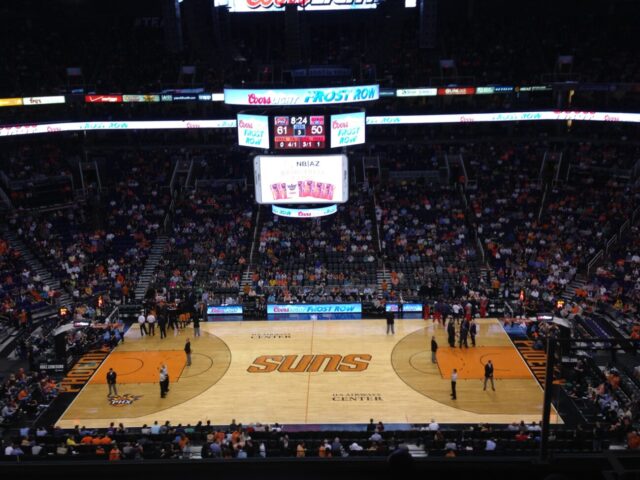 Watching a game at Footprint Center
Since we talked up the enhanced ability to walk the concourse and explore, you might as well do so. There's a lot to see and sample — perhaps surprisingly so — and a more intimate space doesn't mean there isn't enough room to maneuver around.
Most people make their way in through the pavilion on the northwest side of the arena, on the inside of a large plaza that faces Jefferson Street. There's also a big entrance on the east side, near an outdoor bar/patio and the set where the local Suns broadcasters do their pregame show.
As part of Footprint Center's recent renovation, the main concourse was expanded, bringing in such modern arena comforts as a large bar overlooking the court and a sportsbook, branded as the FanDuel Sportsbook, facing Jefferson Street. Various screens throughout the concourses display flames and/or orange hues in keeping with the Suns theme.
In the seating bowl, the intimacy of Footprint Center shines through. The sight lines are optimal for basketball — even in the corner seats, with angles positioned so fans are facing the center of the court.
The spectator experience at Footprint Center events is enhanced by two large video screens, and the center-hung videoboard got a revamp with the latest round of renovations.
The Suns do a pretty good job with the in-game experience as well, anchored by the unique Gorilla mascot (don't go anywhere in the break between the third and fourth quarters lest you miss the trampoline slam dunk routine the Gorilla and a few of his helpers perform every game).
Interested in a suite at Footprint Center? Buy suite tickets on SuiteHop.
Food and drink at Footprint Center
It's easy to see your food and drink options on the main concourse, and the upcoming renovations promise to improve this, as food court areas are set to be created, and a bar will be added to the main entrance pavilion.
Brand names that can be found around the arena include Carl's Jr., Wetzel's Pretzels and Benihana, with the latter serving teriyaki bowls and sushi.
Brews from locally based Four Peaks Brewing Company, including the popular Kilt Lifter ale, headline the craft beer selections at Footprint Center.
Original publish date: February 4, 2016
Most recent update: March 9, 2023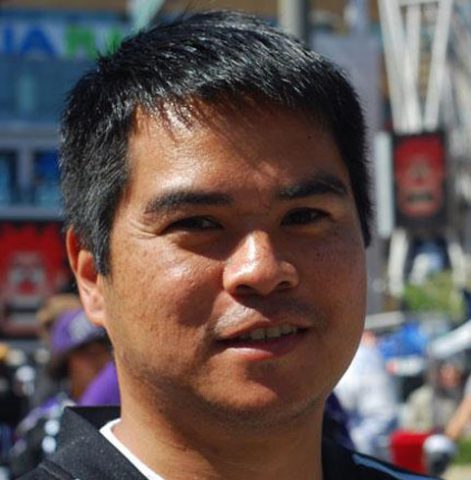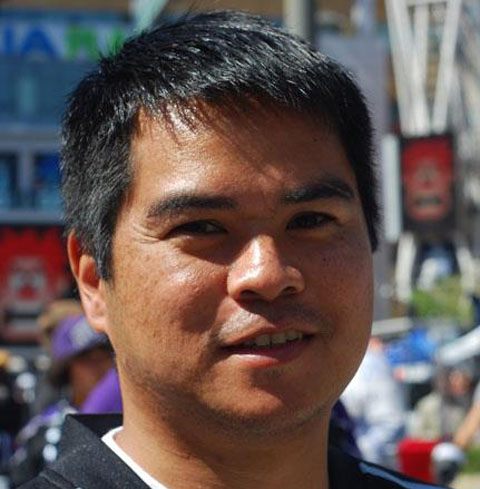 Edward de la Fuente | Itinerant Fan
I live for sports, and I love to travel. My biggest thrill is combining the two. I've been blogging about sports travel for more than a decade, and traveling for sports for twice as long.
About me | FAQ | Buy me a beer 🍺
Affiliate Disclosure
Please note that some of the links above are affiliate links, and at no additional cost to you, we earn a commission if you make a purchase. These recommendations are only for companies that we've used and have proven to enhance our sports travel experiences. To find out more about our affiliate partnerships, please read our Affiliate Disclaimer.
The Particulars
Home Teams
Phoenix Suns
Phoenix Mercury
Address
201 E. Jefferson St.
Phoenix, AZ 85004
Year Opened
1992
Capacity
18,422
Upcoming Events
All times local
Arizona Rattlers vs. Bay Area Panthers
Sunday, June 11, 2023
3:05 pm
Get tickets at Ticketmaster »

Phoenix Mercury vs. Seattle Storm
Tuesday, June 13, 2023
7:00 pm
Get tickets at Ticketmaster »

blink-182 Tour 2023
Wednesday, June 14, 2023
7:30 pm
Get tickets at Ticketmaster »

Phoenix Mercury vs. Las Vegas Aces
Wednesday, June 21, 2023
12:30 pm
Get tickets at Ticketmaster »

Arizona Rattlers vs. San Diego Strike Force
Saturday, June 24, 2023
6:05 pm
Get tickets at Ticketmaster »