Bridgestone Arena
Our guide to Bridgestone Arena in Nashville includes information on events, tickets, parking, public transportation, nearby hotels and restaurants, seating and more. Read on to find out how to get the most out of your gameday experience.
* * *
Of all the cities across the United States and Canada that can be considered hockey hotbeds, Nashville might be the most unlikely. In fact, in NHL circles Nashville sometimes gets lumped in with other markets such as South Florida and Phoenix in the "cities that don't deserve a hockey team because the climate is too warm" discussion.
All it takes, though, is one hockey-themed visit to Music City to catch the Predators at Bridgestone Arena to realize how unfair that is.
Make no mistake, Nashville loves its Predators, and the franchise reciprocates by lovingly calling its home city "Smashville." The home fans have had a strong, contending team to watch in recent years — one that came tantalizingly close to a championship in 2017 — and though the Stanley Cup hasn't yet been grasped by the Preds, the potential of the team helps keep the fans coming.
It certainly helps that Bridgestone Arena ranks up there as one of the NHL's nicest venues, functional both for its main tenant and many other events that come to Nashville. And it's got a prime location on Broadway in downtown Nashville, just steps from the famed Ryman Auditorium and other sights worth seeing in the city.
It's definitely worth making a visit to Smashville, er, Nashville to see the Predators and to check out just how well honky tonk and hockey can coexist.
Looking for Bridgestone Arena event tickets? Search events on Ticketmaster.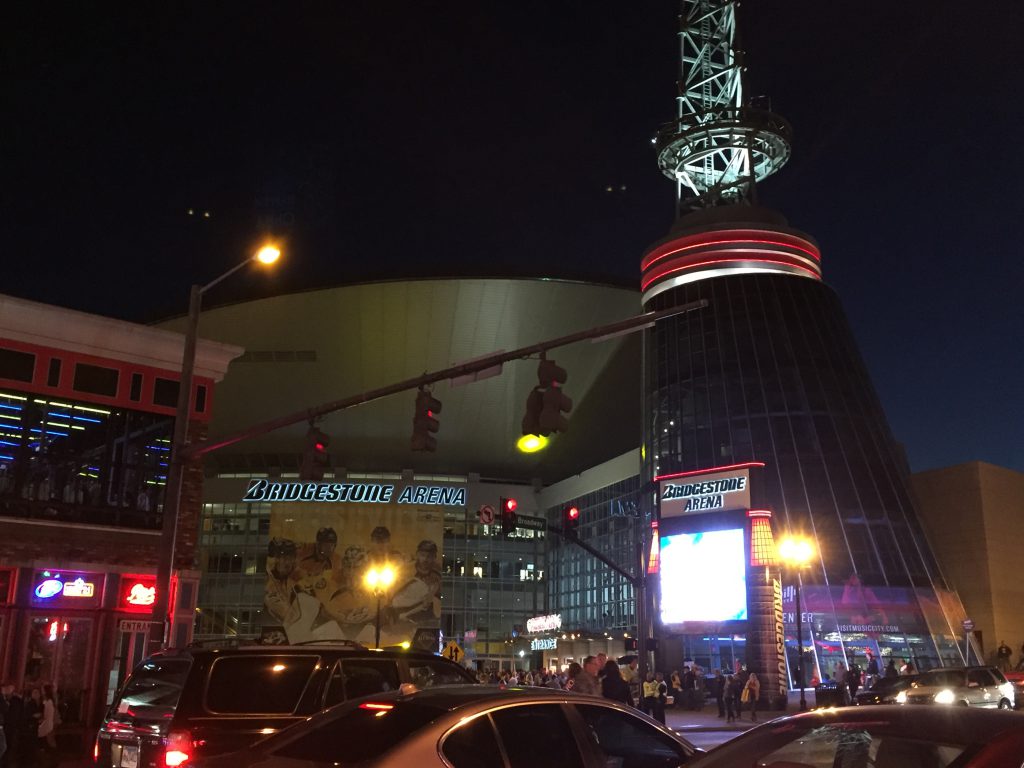 Getting to the arena
If you've never been to Nashville, you might be surprised to find it's got a thriving, bustling downtown that isn't just filled with country music clubs.
There are office buildings, restaurants and hotels all around, all within walking distance of Bridgestone Arena, which is centrally located. Oh, and there's the Tennessee state capitol and other state government buildings just a few blocks away.
Public transportation is largely an afterthought in Nashville so if you're not already staying in the downtown area, you're likely driving. Downtown is pretty easy to access via Interstates 40, 24 and 65, all of which lead into Nashville, and from there the key is to get as close as possible to Fifth Avenue and Broadway, where the arena is located.
Parking at Bridgestone Arena
Like most venues, parking is more expensive the closer you get to Bridgestone Arena on event nights. And because of the arena's location, a number of nearby structures are utilized to accommodate the crowds coming into the downtown area.
Bridgestone Arena has its own attached parking structure, located at the corner of Sixth Avenue and Demonbreun Street. Though limited event parking is available, it's largely reserved for season-ticket permits.
If you're a first-time visitor, you'll have better luck at one of a number of nearby points of interest, which all have their own parking available. These locations include the Music City Center (the city's convention center), the First Baptist Church of Nashville and the Pinnacle at Symphony Place, all within two blocks. Rates for these spots start at $15 and up; advance-purchase permits are available for all.
A budget parking option can be found at the Fifth Avenue of the Arts garage, located two blocks away between Church and Commerce streets, where parking for Bridgestone Arena events costs $10. Note that this structure is located up a hill from the arena, so the walk back, while short, is uphill.
Want something even cheaper? Park at Nissan Stadium, the home of the NFL's Tennessee Titans, located across the Cumberland River. The stadium's Lot R is open for free parking on Bridgestone Arena event nights. A round-trip shuttle operates for $3, or fans can choose to walk about half a mile, across a pedestrian bridge over the river and along the Symphony Place pedestrian way to the arena.
Nashville hotels near Bridgestone Arena
• Cambria Hotel Nashville Downtown – 0.2 miles away
• Hyatt Place Nashville Downtown – 0.3 miles away
• Drury Plaza Hotel Nashville Downtown – 0.3 miles away
Search for more Nashville hotels on Booking.com.
Map of the surrounding area
Things to do around the arena
Downtown Nashville is a vibrant area with lots to see and do, and that only becomes more true on Predators game nights. Bars and restaurants are everywhere in the surrounding area.
But if it's your first time visiting Nashville, you could do a lot worse than taking a stroll down Broadway just east of the arena, which in the evenings is lit up with neon from all the honky-tonk bars that line the streets.
Whether you're a country music fan or not, it's a cool experience to hear the live music coming from so many establishments, and what's even cooler is to see so many people dressed up in cowboy hats and boots out to have a good time, intermingling with hockey fans in jerseys on their way to the game.
Again, even if you don't care much for country music, you might as well at least stop for a second and take a picture of some of the more iconic sites in country music lore. The Ryman Auditorium, original home of the Grand Ole Opry, and the Johnny Cash Museum are both just a block or two from the arena.
There are also opportunities to try some of Nashville's cuisine within steps of the arena. Check out Puckett's for down-home Southern cooking, and the legendary hot chicken shop Prince's has a location at 6th and Peabody, two blocks south.
Or, hang out at the arena waiting for the gates to open. Pete & Terry's Tavern, named after Predators broadcasters Pete Weber and Terry Crisp, is open for business beginning at 11 a.m. each day (including on Sundays if there is an event at Bridgestone Arena), and has a happy hour from 3 to 6 p.m. every day.
For more on visiting Nashville, check out our Nashville sports travel guide.
Nashville restaurants near Bridgestone Arena
• Legends Corner – pub, 0.1 miles away
• Pancho & Lefty's Cantina – Mexican, 0.1 miles away
• Robert's Western World – pub, 0.1 miles away
Search for more Nashville restaurants on Tripadvisor.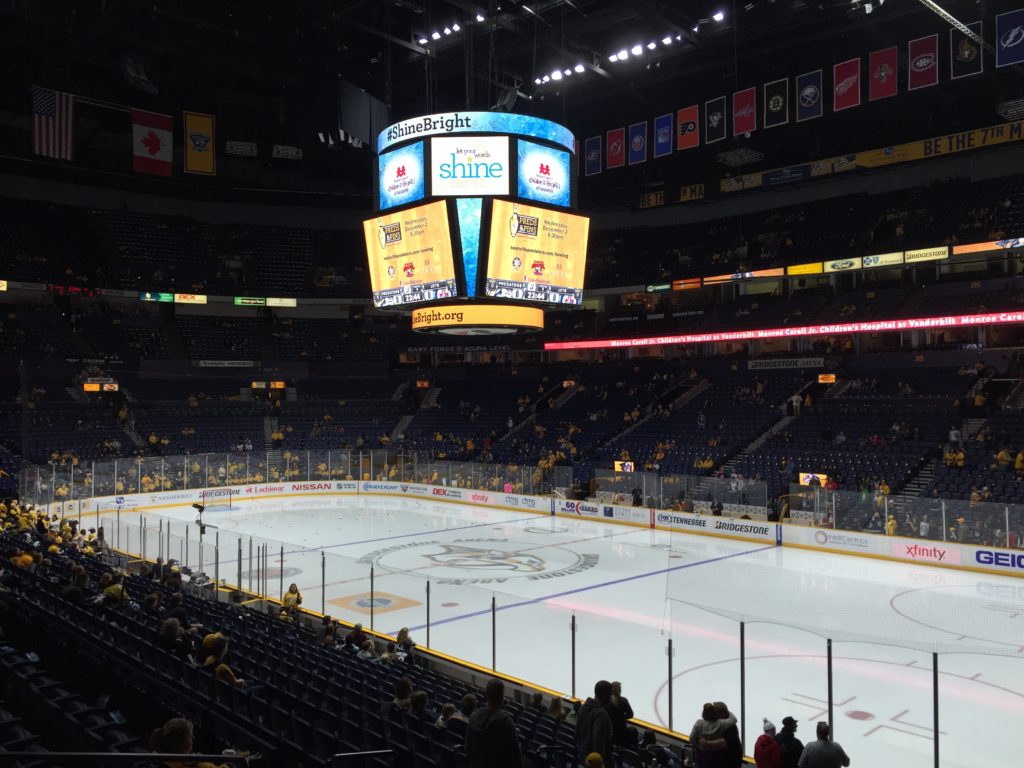 Watching a game at Bridgestone Arena
Once inside, you'll see that Bridgestone Arena is like most of the NHL's venues — modern, clean and spacious.
The entrance at the corner of Fifth and Broadway is one of two primary entrances into the arena. When you pass through the turnstiles, you're already on the main concourse (aka 100 seating level) and can begin exploring Bridgestone Arena.
One of the most distinctive architectural features of Bridgestone Arena is the presence of two large support columns that jut out from the lower seating bowl, creating dividers in the upper deck. It seems like a curious setup for a hockey venue, but as it turns out, it serves another purpose.
Bridgestone Arena is used a lot for concerts (as are most major arenas, but particularly one in the heart of Nashville), and the columns, combined with an increasing number of rows in the upper deck at the other end of the arena, give the seating bowl more of an amphitheater feel. Pretty clever, though it doesn't really lend much to the hockey-watching experience.
What does, though, is a group of knowledgeable fans who support the Predators with a sort of high school-like charm.
This is evidenced by the many chants that echo through Bridgestone Arena's seating bowl at important points in the game, such as after home-team goals — a rousing chant that includes serenading the opposing goalie with "It's all your fault!"
This atmosphere gained prominence during the Preds' 2017 run to the Stanley Cup Final, as their fans received wider attention around the hockey world.
Interested in a suite at Bridgestone Arena? Buy suite tickets at SuiteHop.
Food and drink at Bridgestone Arena
The main concourse a good starting point for checking out the food options. The aforementioned Puckett's operates a barbecue stand, and there's a Hot Chicken stand where you can try the spicy bird in the form of sandwiches, tenders, and mac and cheese.
Or, how about hot chicken and waffle grilled cheese sandwiches? You can get those at the Grilled Cheese stands, along with several other varieties of the melty sandwich.
Beer and liquor stands dot the concourses, but visit the Craft Beer and Pretzels, or the Music City Taps stands for the best selection of local and regional beers. Turtle Anarchy Brewing and Yee-Haw Brewing, both based in Nashville, sell their beers at the arena.
Original publish date: February 4, 2016
Most recent update: November 3, 2023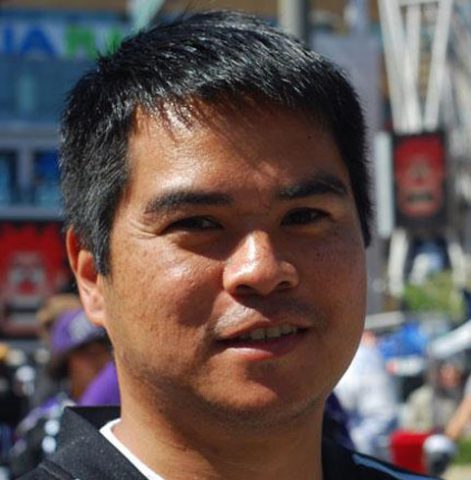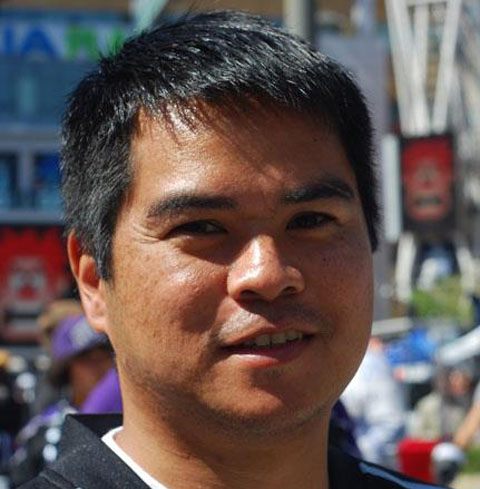 Edward de la Fuente | Itinerant Fan
I live for sports, and I love to travel. My biggest thrill is combining the two. I've been blogging about sports travel for more than a decade, and traveling for sports for twice as long.
About me | FAQ | Buy me a beer 🍺
Affiliate Disclosure
Please note that some of the links above are affiliate links, and at no additional cost to you, we earn a commission if you make a purchase. These recommendations are only for companies that we've used and have proven to enhance our sports travel experiences. To find out more about our affiliate partnerships, please read our Affiliate Disclaimer.
The Particulars
Home Teams
Nashville Predators
Address
501 Broadway
Nashville, TN 37203
Year Opened
1996
Capacity
17,113
Upcoming Events
All times local
Nashville Predators vs. Tampa Bay Lightning
Thursday, December 7, 2023
7:00 pm
Get tickets at Ticketmaster »

Nashville Predators vs. Philadelphia Flyers
Tuesday, December 12, 2023
7:00 pm
Get tickets at Ticketmaster »

Nashville Predators vs. Washington Capitals
Saturday, December 16, 2023
7:00 pm
Get tickets at Ticketmaster »

Nashville Predators vs. Vancouver Canucks
Tuesday, December 19, 2023
7:00 pm
Get tickets at Ticketmaster »

Nashville Predators vs. Dallas Stars
Saturday, December 23, 2023
1:00 pm
Get tickets at Ticketmaster »