Nissan Stadium
Our guide to Nissan Stadium in Nashville includes information on events, tickets, parking, public transportation, nearby hotels and restaurants, seating and more. Read on to find out how to get the most out of your gameday experience.
* * *
They do love their football in Tennessee, as they do throughout the South, so when the NFL came to the Volunteer State in the form of the now-Tennessee Titans in the mid-1990s, it seemed like a natural fit. The former Houston Oilers franchise wound up settling in Nashville and taking up residence in what is now known as Nissan Stadium.
After rebranding to become the Titans, the franchise has become a big part of a city that has raised its profile among sports fans significantly over the last 20 years. It helped that the team reached the Super Bowl not long after the relocation, though it has yet to deliver a championship to Nashville despite of handful of playoff appearances over the years.
But Tennessee's run to the 2019 AFC championship game has helped rekindle interest in the team among casual fans, and there's plenty of promise for good times ahead at Nissan Stadium.
The Titans' home stadium has changed its name a few times over the years — from Adelphia Coliseum to LP Field to Nissan Stadium — but the venue remains a solid if unspectacular place to watch football. In other words, not many frills but it serves its primary purpose quite well. And its location can't be beat in a vibrant center of a growing metropolis.
Nissan Stadium also is no stranger to soccer events. For two seasons, the Titans welcomed a new co-tenant in Nashville SC of Major League Soccer, which played its first two seasons at Nissan Stadium before they moved into a new facility at the Nashville Fairgrounds south of downtown.
Alas, plans are afoot for a new, domed stadium to replace Nissan Stadium, to be built just to the east. The target date for its opening is the 2026 NFL season, so there are likely only a few years left to take in the Titans' current home.
Looking for Nissan Stadium event tickets? Search events on Ticketmaster.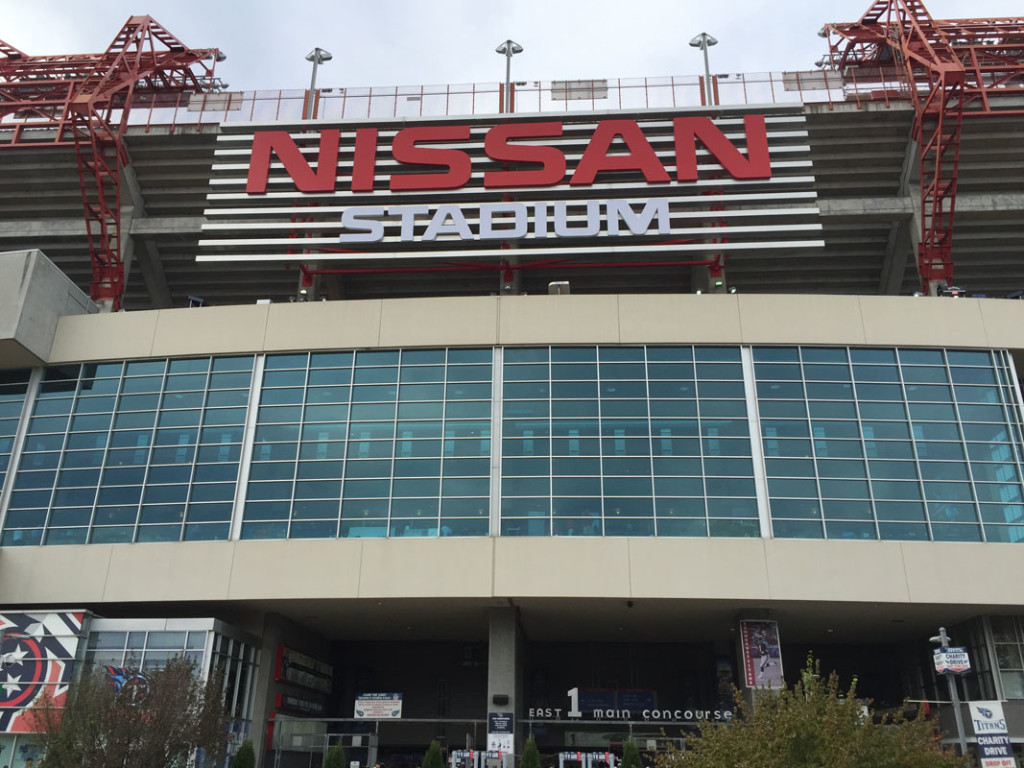 Getting to the stadium
Nissan Stadium is located in what can be considered downtown Nashville, but it's separated from all the tall buildings by the Cumberland River. That site works to the advantage of a football stadium in that it has the proximity to downtown but a fair amount of land all to itself for parking lots, space for tailgating and so on.
Interstate 24 runs right by the stadium, though the two closest exits, Shelby Avenue and James Robertson Parkway, get clogged up as game time approaches (not surprisingly).
Both exits lead to the numerous parking lots immediately surrounding Nissan Stadium, but all of them are permit-only for Titans games.
Parking at Nissan Stadium
If you don't have a permit, aren't planning to tailgate and you don't mind a little walking, an alternate approach to avoid the traffic is to head into the downtown core, in essence driving away from Nissan Stadium, and find parking in one of the many structures downtown.
In fact, the Metro Courthouse Garage advertises a $5 parking rate for Nissan Stadium events, including Titans games, and from there it's just a short walk across the river.
Wherever you park downtown, try to get as close to First Avenue as possible — that means you're closer to the river, and thus closer to Nissan Stadium. There are two main river-crossing points, at Woodland Avenue and, further south, along the John Siegenthaler Pedestrian Bridge.
Looking for parking at Nissan Stadium? Buy parking on SpotHero.
Nashville hotels near Nissan Stadium
• Quality Inn Nashville Downtown – Stadium – 0.2 miles away
• Hotel Indigo Nashville – 0.5 miles away
• Clarion Hotel Downtown Nashville – Stadium – 0.5 miles away
Search for more Nashville hotels on Booking.com.
Map of the surrounding area
Things to do around the stadium
If you've chosen to park downtown and walk, you're in luck. There are plenty of places to eat and drink along the way to the stadium — downtown Nashville is full of bars and restaurants that cater to the football fan.
A good starting point is along Broadway, where numerous honky-tonk bars set up shop between the river and Bridgestone Arena, where the NHL's Nashville Predators play.
Also check out First and Second avenues north of Broadway, with bars and restaurants both familiar and independent filling up most of the blocks.
The tailgating scene in front of the stadium is typical of any NFL stadium around the country, but for a unique perspective, check out the bluff on the west side of the Cumberland River opposite the stadium, where some enterprising fans will set up tailgate camps with small grills, lawn chairs and a view of the venue that can't be beat.
The Titans also stage their own tailgate party, called the Titan Up Tailgate, at the south end of the stadium by Gates 8 and 9. The gatherings typically open three hours before kickoff and feature live music, food stands and games.
For more on visiting Nashville, check out our Nashville sports travel guide.
Nashville restaurants near Nissan Stadium
• Rodizio Grill – Brazilian, 0.3 miles away
• B.B. King's Blues Club – Cajun & Creole, 0.3 miles away
• The Stillery – American, 0.4 miles away
Search for more Nashville restaurants on Tripadvisor.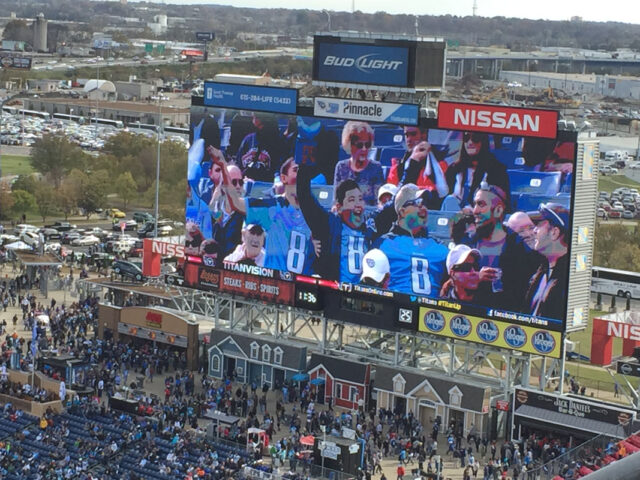 Watching a game at Nissan Stadium
After their arrival in Tennessee, the Titans enjoyed a few heady seasons in the late 1990s and early 2000s, a period that included a trip to the Super Bowl and the aforementioned Music City Miracle.
Since then, the Titans been mostly up-and-down, so depending on the way the season is going, tickets may or may not be easy to come by. But the promise of several seasons worth of contention has manifested itself in the form of capacity seating at Nissan Stadium for at least a couple seasons to come.
Once inside, Nissan Stadium is a fairly unremarkable event venue, symmetrical with only one level of seating behind each end zone. The design ensures that the majority of the "cheap seats" in the upper decks are along the sidelines.
Meanwhile, Nashville SC's debut, in which 59,069 fans attended, appears to be an indication that soccer will be a popular draw for the stadium as well.
During our visit to Nissan Stadium, there were plenty of open seating areas in the upper deck, which made for a laid-back atmosphere. The view was good, if not a bit high.
Generally, if you avoid the top five rows in the upper deck, your view should be just fine, and if you like good views when there are breaks in the action on the field, get your seats in the eastern part of the stadium to see the downtown skyline.
Interested in a suite at Nissan Stadium? Buy suite tickets on SuiteHop.
Food and drink at Nissan Stadium
The plazas behind each end zone is where you can survey your food options — most of the major concessionaires are represented there, in booths that look a little bit they got plucked from Frontierland at Disneyland, or at least your local county fair.
You'll find vendors such as Logan's Roadhouse and Papa John's, which also operate stands throughout the stadium. Like many other venues, Nissan Stadium has also worked to make their food options more adventurous, and to their credit they've brought in a few local institutions as well.
So if you walk around the stadium, you can see plenty of BBQ (Southern Smoke and Bent Buckle BBQ), while Nashville's cuisine is represented by Puckett's, and by hot chicken sandwiches sold at the Three Star Chicken stands.
Also, items (both food and drink) incorporating that Tennessee favorite, Jack Daniel's whiskey, can be found just about everywhere.
Original publish date: February 4, 2016
Most recent update: September 1, 2023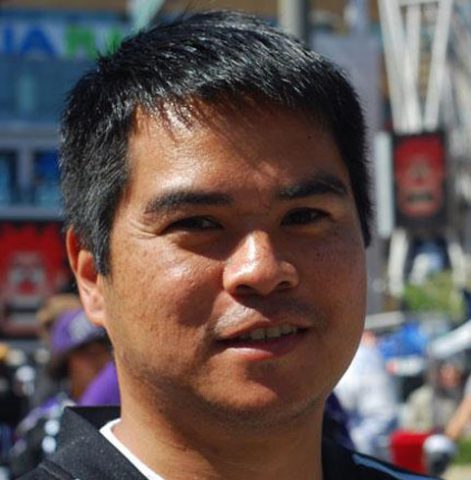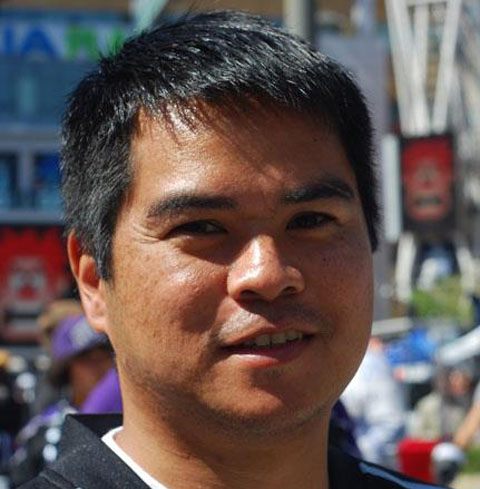 Edward de la Fuente | Itinerant Fan
I live for sports, and I love to travel. My biggest thrill is combining the two. I've been blogging about sports travel for more than a decade, and traveling for sports for twice as long.
About me | FAQ | Buy me a beer 🍺
Affiliate Disclosure
Please note that some of the links above are affiliate links, and at no additional cost to you, we earn a commission if you make a purchase. These recommendations are only for companies that we've used and have proven to enhance our sports travel experiences. To find out more about our affiliate partnerships, please read our Affiliate Disclaimer.
The Particulars
Home Teams
Tennessee Titans
Address
1 Titans Way
Nashville, TN 37213
Year Opened
1999
Capacity
69,143
Upcoming Events
All times local
Tennessee Titans vs. Houston Texans
Sunday, December 17, 2023
12:00 pm
Get tickets at Ticketmaster »

Tennessee Titans vs. Seattle Seahawks
Sunday, December 24, 2023
12:00 pm
Get tickets at Ticketmaster »

TransPerfect Music City Bowl
Saturday, December 30, 2023
1:00 pm
Get tickets at Ticketmaster »

Monster Energy AMA Supercross Championship
Saturday, April 20, 2024
5:30 pm
Get tickets at Ticketmaster »

Morgan Wallen: One Night At A Time 2024
Thursday, May 2, 2024
4:30 pm
Get tickets at Ticketmaster »