Little Caesars Arena
Our guide to Little Caesars Arena in Detroit includes information on events, tickets, parking, public transportation, nearby hotels and restaurants, seating and more. Read on to find out how to get the most out of your gameday experience.
* * *
In the new arena game, it can be difficult to come up with a building concept that combines architectural trends and technology to deliver a live sports experience that impresses the increasingly savvy fan.
In the case of Detroit's Little Caesars Arena, the challenge was twofold: Build a state-of-the-art venue that also honored the history of a storied franchise, the Red Wings, and its previous homes, Joe Louis Arena and the Olympia.
Take in a game at the new building, and you'll see that they largely succeeded on both counts. The game presentation is second to none, driven largely by the technology incorporated into the arena.
Yet you can also spend a lot of time walking around and taking in all the arena has to offer, including mementos and displays dedicated to the Red Wings and the arena's other tenant, the Pistons. Little Caesars Arena has also taken its place as one of the top events venues in Detroit, with major concerts and shows coming to the facility.
Our opportunity to check out Little Caesars Arena came on a December weekend, and we came away just as impressed by the things we saw around the building as on the event floor itself.
For more on visiting Detroit, check out our Detroit sports travel guide.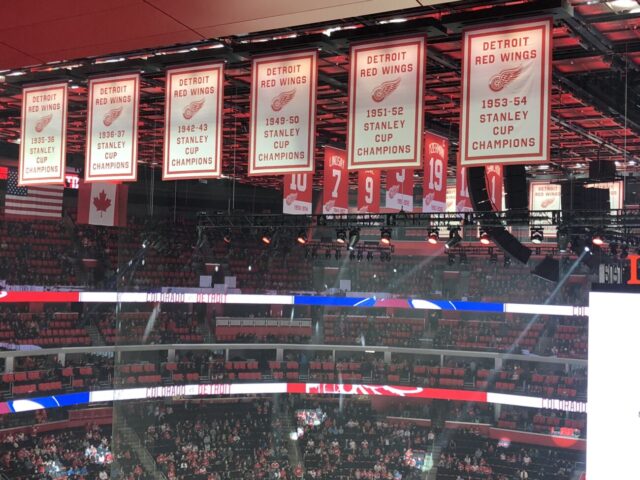 Getting to the arena
Little Caesars Arena sits on the edge of downtown, within shouting distance of Detroit's other pro sports venues, Comerica Park and Ford Field. But don't call the arena's home area downtown — it's actually Midtown, a lively neighborhood in its own right. (More precisely, the area is part of the Cass Corridor, considered a haven for students and artists.)
But for visitors staying downtown for an event, Little Caesars Arena is easy to reach. The most direct approach is via Woodward Avenue, a main thoroughfare in the city — the venue is just on the other side of the Fisher Freeway (Interstate 75).
Most of the major downtown hotels are within a mile's walk of Little Caesars Arena via Woodward, just past Comerica Park and other landmarks such as the Fox Theatre.
The downtown/Midtown area is also served by a streetcar line known as the QLine, which runs along Woodward Avenue from Congress Street downtown to Grand Boulevard. Get off at Sproat Street or Adelaide Street, depending on your direction of travel, to access Little Caesars Arena; a single-ride fare costs $1.50.
Parking at Little Caesars Arena
Little Caesars Arena has its own parking garage, located just west of the venue. But numerous lots and structures are also available in the surrounding area. Most of the Midtown parking options are located in the blocks just west, including along and just beyond Cass Avenue.
For budget-hunters, try parking in a structure just south of the Fisher Freeway and making the short walk across the Woodward Avenue bridge to Little Caesars Arena.
Click here for a map of arena-accessible parking options and to purchase parking for Little Caesars Arena in advance.
Detroit hotels near Little Caesars Arena
• Inn at 97 Winder – 0.2 miles away
• Aloft Detroit at The David Whitney – 0.4 miles away
• The Siren Hotel – 0.5 miles away
Search for more Detroit hotels on Booking.com.
Map of the surrounding area
Things to do around the arena
The venue is meant to be the centerpiece of an area branded as District Detroit, a shopping and entertainment destination. Construction in the blocks surrounding the arena as part of this development was still ongoing as of the fall of 2018, but the arena is already playing its part.
Its outward-facing restaurants, Mike's Pizza Bar, District Market and Sports & Social Detroit, maintain regular business hours even when there is no event at the arena, and Google has moved into office space attached to the venue.
If it's your first time visiting Little Caesars Arena, you can certainly spend all your time in and around the venue and have a grand old time. But downtown and its numerous dining and bar choices are also viable options.
For Red Wings fans looking to stick with a hockey theme, check out the Hockeytown Cafe, on Woodward Avenue just on the other side of the freeway.
Detroit restaurants near Little Caesars Arena
• Grey Ghost Detroit – American, 0.2 miles away
• Bakersfield – Mexican, 0.2 miles away
• Harry's Bar and Grill – pub, 0.2 miles away
Search for more Detroit restaurants on Tripadvisor.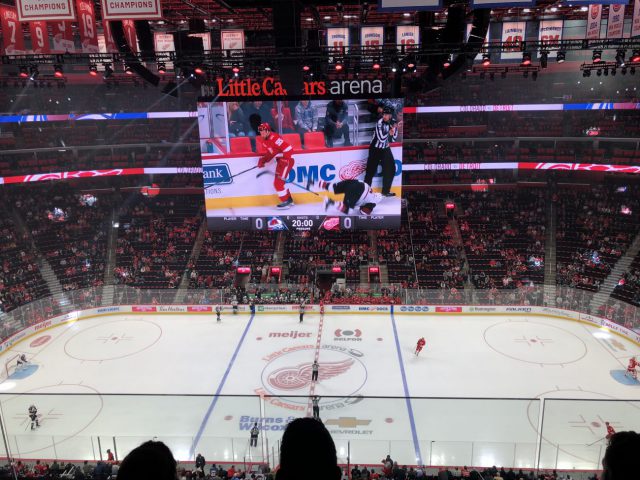 Watching a game at Little Caesars Arena
If you approach the arena from the south, by crossing the freeway via Woodward, you'll enter through a plaza that looks more like the entrance to a shopping mall than a sports venue, with the restaurants and the Google office visible. The arena has four entrances, one at each corner and each with a sponsor, but judging by our visit it seemed the southeast entrance (sponsored by Chevrolet) is the most well-trafficked.
Once inside, do plan to spend some time walking around the main concourse. Little Caesars Arena's concourse is quite impressive and full of cool features — from the continuous projection display above to the Red Wings and Pistons exhibits scattered throughout (there are statues of Red Wings greats, Gordie Howe, Ted Lindsay and Alex Delvecchio at different spots) to the manhole covers commemorating Red Wings players past to the original signage from the team's long-ago home, the Olympia.
The concourse is also very wide, with plenty of room to move about — certainly a relief to the Wings fans who remember the cramped corridors of Joe Louis Arena.
If you're a basketball fan, there are a few Pistons features to check out, but otherwise you'd be right to feel like the Pistons are an afterthought — considering the team decided late in the arena construction process to move in, it doesn't quite feel like they've made the building their own quite yet.
Little Caesars Arena's snazzy technological features really come into play once you're in your seating area. The center-hung videoboard is considered the world's largest seamless scoreboard system.
And if you attend a Red Wings game and arrive early, you might notice the conspicuous lack of banners hanging from the rafters — only an LED-lit, tiled ceiling. Well, just wait for the pregame presentation, when the on-ice projection will show the Wings' 11 Stanley Cup banners … and then the real banners will emerge from the ceiling, along with the team's retired numbers. Trust us, the intro show at Little Caesars Arena is worth getting to your seating area early for.
The sight lines are terrific from most spots, particularly the upper deck, where it almost feels like you're on top of the action. A definite drawback, though, is that the aisles feel cramped and the seats seem to not be very wide, as though they crammed nearly 20,000 seats into a smaller than usual space.
As it turns out, the all-red seats were deemed a detriment, and Little Caesars Arena decided to change out every seat in the seating bowl during the 2018-19 season.
Interested in a suite at Little Caesars Arena? Buy suite tickets on SuiteHop.
Food and drink at Little Caesars Arena
Besides the standard pizza, burgers and chicken tenders — all of which are in ample supply — Little Caesars Arena also features Detroit-favorite food items such as coneys (from National Coney Island), shawarma, fried McClure's pickles and pastries from Zingerman's.
Also, owing to its Detroit's location across the river from Canada, you can get Tim Hortons coffee and even poutine, and Canadian currency is accepted at the food stands.
Not surprisingly, the arena's title sponsor has a few concession stands as well — and judging by the lines we saw during our visit, Detroiters love their Little Caesars.
Original publish date: August 20, 2017
Most recent update: May 24, 2022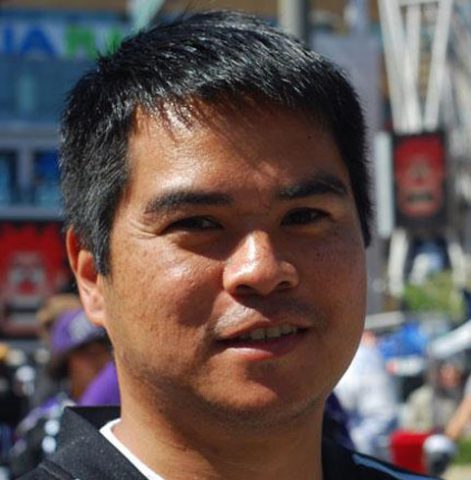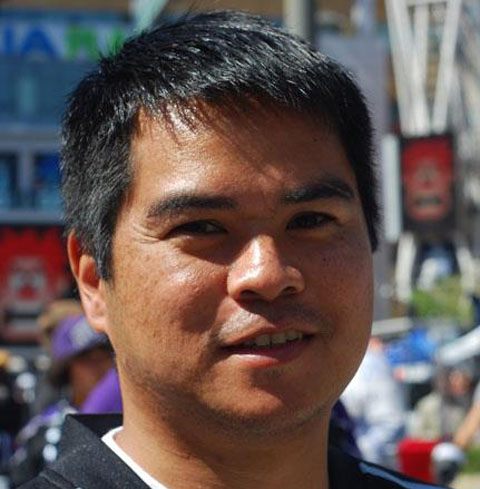 About Edward de la Fuente | Itinerant Fan
I live for sports, and I love to travel. My biggest thrill is combining the two. I've been blogging about sports travel for more than a decade, and traveling for sports for twice as long. To find out more, check out our About page.
Affiliate Disclosure
Please note that some of the links above are affiliate links, and at no additional cost to you, we earn a commission if you make a purchase. These recommendations are only for companies that we've used and have proven to enhance our sports travel experiences. To find out more about our affiliate partnerships, please read our Affiliate Disclaimer.
The Particulars
Home Teams
Detroit Pistons
Detroit Red Wings
Address
2645 Woodward Ave.
Detroit, MI 48201
Year Opened
2017
Capacity
19,515 (hockey)
20,491 (basketball)
Upcoming Events
All times local
Detroit Pistons vs. Charlotte Hornets
Friday, February 3, 2023
7:00 pm
Get tickets at Ticketmaster »

Detroit Pistons vs. Phoenix Suns
Saturday, February 4, 2023
7:00 pm
Get tickets at Ticketmaster »

Detroit Pistons vs. Boston Celtics
Monday, February 6, 2023
7:00 pm
Get tickets at Ticketmaster »

Detroit Red Wings vs. Edmonton Oilers
Tuesday, February 7, 2023
7:30 pm
Get tickets at Ticketmaster »

Detroit Red Wings vs. Calgary Flames
Thursday, February 9, 2023
7:00 pm
Get tickets at Ticketmaster »