Dignity Health Sports Park
Our guide to Dignity Health Sports Park in Carson, California, includes information on events, tickets, parking, public transportation, nearby hotels and restaurants, seating and more. Read on to find out how to get the most out of your gameday experience.
* * *
It took Major League Soccer a little while after its formation in the mid-1990s to gain a foothold in the American sports landscape, but it did after hitting upon a winning formula: Rather than have their franchises play in cavernous, half-empty stadiums built for the NFL or college football, they constructed their own soccer-only facilities with smaller capacities, most of them in suburban areas.
One of the best examples of this philosophy in action is Dignity Health Sports Park (formerly StubHub Center), home of the LA Galaxy and many other events.
The stadium, once known as StubHub Center and Home Depot Center, is not in L.A. proper but in Carson, about 15 miles south of downtown. Its listed capacity is 27,000, the second-largest soccer-specific venue in the league but nowhere near the capacity of the typical football-specific megastadium.
Attend a game at Dignity Health Sports Park and you'll likely find an intimate environment with boisterous fans, even if the stadium isn't completely full. The Galaxy's success over the years — it currently is the only MLS club with five league championships — has helped it build a passionate base of supporters as well.
You'll find that the soccer atmosphere doesn't stop with the Galaxy, as U.S. Soccer holds numerous events at the facility — including occasional matches by the men's and women's national teams.
The LA Galaxy had a co-tenant for three years in the Los Angeles Chargers, who after relocating from San Diego chose to occupy a venue decidedly tiny by NFL standards. The Chargers moved into SoFi Stadium in nearby Inglewood in 2020, but for those years the team bore the brunt of jokes about lack of fans and watched as their high-priced tickets were snapped up by supporters of the visiting team.
College football also took up residence at Dignity Health Sports Park, as the San Diego State Aztecs moved in for two years while a new stadium was constructed in San Diego. They're gone now, but high school football playoff games, concerts and other events are held at Dignity Health Sports Park annually.
For more on visiting the Los Angeles area, check out our Los Angeles sports travel guide.
Getting to the stadium
Dignity Health Sports Park is located on the campus of California State University, Dominguez Hills, close to three major freeways, so getting there for events isn't difficult, barring the time of day and the always-iffy traffic situation in Southern California. Once in the vicinity, you'll want to make your way to Avalon Boulevard, the major north-south drag that runs by the stadium.
From there, there's plenty of parking options, but it helps to pay attention and not automatically follow the signs. For example, for our visit we followed lighted signs for "general parking," but they took us all the way to the opposite side of campus from where the stadium is — we wound up in Lot No. 2 on the linked map when there were many closer options. Despite its distance, the lot still cost $15 to enter.
So in general, stay on Avalon and enter via 184th Street, or if you're made to turn onto Victoria Street, which runs north of the stadium, turn in the first chance you have that isn't restricted to permits only. Don't proceed all the way to Central Avenue, even if the signs tell you to, lest you want a long walk from your car and back.
As for public transportation? Good luck with that. Buses do run by the CSUDH campus, but it's not a desirable option, especially for night games.
Carson hotels near Dignity Health Sports Park
• Hampton Inn Los Angeles/Carson – 0.6 miles away
• Extended Stay America – Los Angeles – Carson – 0.7 miles away
• DoubleTree by Hilton Carson – 2.2 miles away
Search for more Carson hotels on Booking.com.
Map of the surrounding area
Things to do around the stadium
It's the middle of suburbia, so your pregame food and drink options are very suburban: Fast-food joints and convenience stores. Head about a mile south on Avalon and you'll find a mall, the SouthBay Pavilion, full of restaurants — most of the chain variety.
The hardcore fans do tailgate in front of the stadium and in nearby parking lots, so if it's your first visit, it's worth it to stroll around and check out the scene.
The college campus setting makes for an interesting atmosphere, especially if you wind up walking fairly far away — you'll find yourself walking through tree-lined plazas and classroom buildings with fliers on the walls.
Carson/Gardena restaurants near Dignity Health Sports Park
• Chinollo – Asian, 0.1 miles away
• The Big Burger – fast food, 0.3 miles away
• Giuliano's Delicatessen – Italian, 2.1 miles away
Search for more Carson restaurants on Tripadvisor.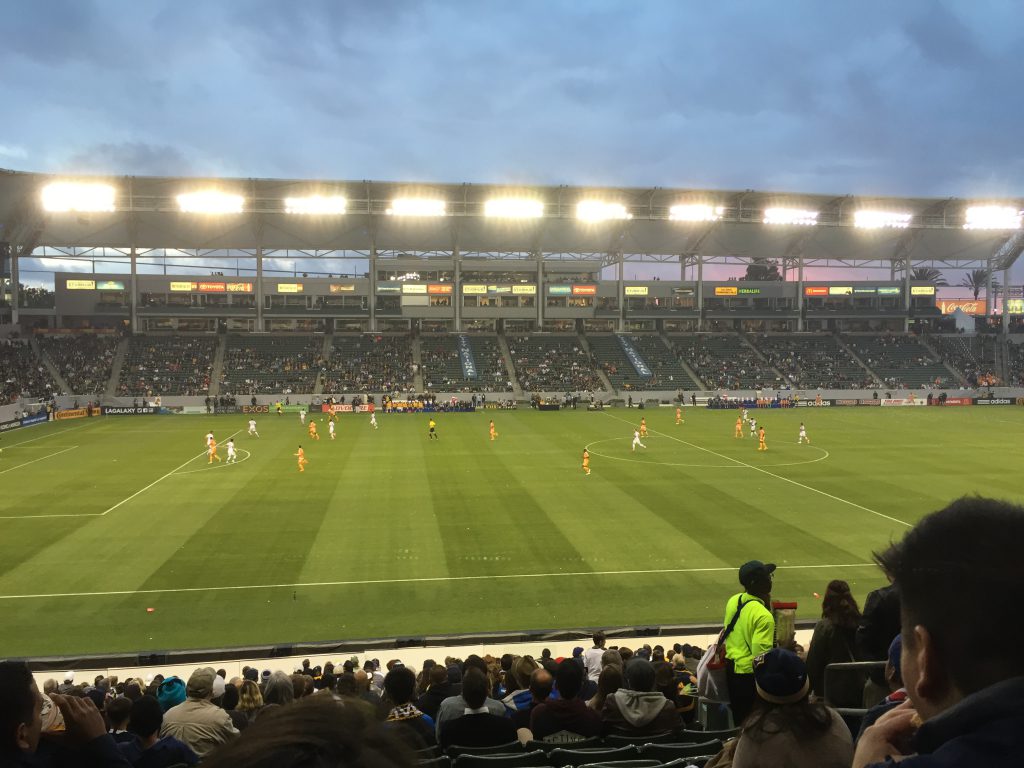 Watching a game at Dignity Health Sports Park
MLS teams have worked hard to build fan bases and atmospheres similar to the ones soccer clubs in Europe enjoy.
So that means supporter groups with catchy names, and at Dignity Health Sports Park, the LA Galaxy have two that stand out (the Angel City Brigade and LA Riot Squad) and special seating areas for them behind one of the goals. The groups will chant and sing throughout the game — even from a distance, they're fun to watch.
If you're just dropping in, you'll most likely wind up with a seat along the sideline, which is where we were for this game. As long as you're at least 10 rows up, you're pretty much guaranteed a good view of the action and also quick access to the concourse, and there's concession areas, bathrooms and patio seating along the sidelines on both sides.
Really, wherever you sit, the experience will be similar — that's the advantage of a smaller venue. However, the proportion of ardent supporters to casual fans means that for many games, the seating areas at the end are packed while the sidelines are sparse, which was the case on the night we dropped in to watch an LA Galaxy game. It's not a bad thing, it just may seem strange considering it's counter-intuitive to the behaviors of fans at most other sporting events.
There's also berm seating on the stadium's north end, above the bleachers, but those aren't usually filled — though on this night, people began to hang out there near the end of the game in anticipation of the postgame fireworks show.
Original publish date: February 4, 2016
Most recent update: March 1, 2023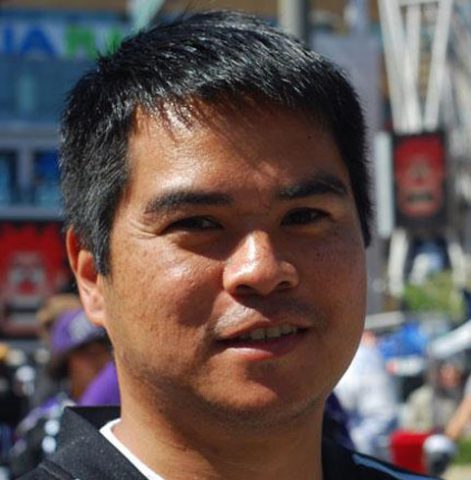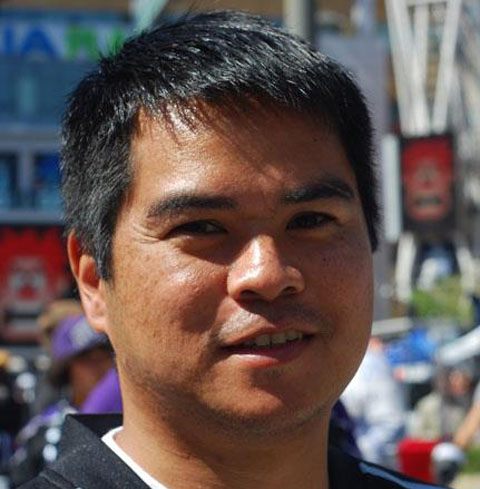 Edward de la Fuente | Itinerant Fan
I live for sports, and I love to travel. My biggest thrill is combining the two. I've been blogging about sports travel for more than a decade, and traveling for sports for twice as long.
About me | FAQ | Buy me a beer 🍺
Affiliate Disclosure
Please note that some of the links above are affiliate links, and at no additional cost to you, we earn a commission if you make a purchase. These recommendations are only for companies that we've used and have proven to enhance our sports travel experiences. To find out more about our affiliate partnerships, please read our Affiliate Disclaimer.
The Particulars
Home Teams
LA Galaxy
Address
18400 Avalon Blvd.
Carson, CA 90746
Year Opened
2003
Capacity
27,000
Upcoming Events
All times local