Citizens Bank Park
Our guide to Citizens Bank Park in Philadelphia includes information on events, tickets, parking, public transportation, nearby hotels and restaurants, seating, food and more. Read on to find out how to get the most out of your gameday experience.
* * *
Citizens Bank Park is part of the famed cluster of venues known as the Sports Complex in South Philadelphia, and also the newest of the three stadiums that stand there.
Opened in 2004 to house the Phillies, it's across the street from Lincoln Financial Field (home of the Eagles) and the Wells Fargo Center (home of the Flyers and 76ers), near the intersection of Broad and Pattison streets that carries so much significance for so many Philly sports fans.
It wouldn't have taken much for Citizens Bank Park to be an upgrade over the Phillies' previous home, the often-derided Veterans Stadium, but in its 15-some years of existence, the new place has settled in nicely among the destination ballparks of the major leagues. From the lively Ashburn Alley to the Liberty Bell home run/victory display, the venue boasts its fair share of unique features.
And the home team has done its part in making memories for its fans. First and foremost was the 2008 World Series title, part of a run of dominance that included five straight division titles and two trips to the Fall Classic.
After some down seasons, the Phillies are becoming part of MLB's elite once again — as their run to the 2022 World Series demonstrated. And they're also promising to make Citizens Bank Park one of the most happening spots in the majors as well.
Looking for Citizens Bank Park event tickets? Search events on Ticketmaster.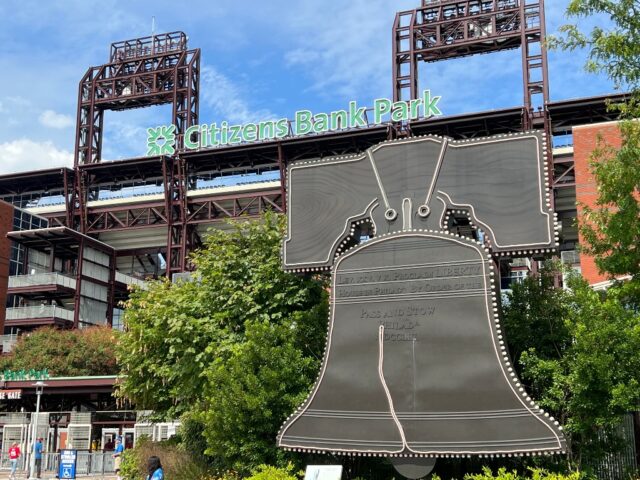 Getting to the ballpark
As mentioned above, the intersection of Broad and Pattison streets is a familiar spot to any Philly sports fan, since three professional sports venues are nearby. Citizens Bank Park, specifically, is a block to the east along Pattison, and easily recognizable among the venues and surrounding parking lots.
The entire Sports Complex is easily accessible by car via the adjacent Interstate 95, which runs just past Lincoln Financial Field as it snakes by on its route between Center City and Philadelphia International Airport. Look for signs directing drivers to the Sports Complex; Broad Street has its own exit and is well-traveled — and, of course, busy on game days.
Alternatively, I-76, also known as the Schuylkill (pronounced SKOO-kill) Expressway, runs north of the ballpark and is a more convenient route for fans coming from the northwest. Look for signs directing you to Broad Street, Packer Avenue or the Sports Complex. Follow the link for more detailed driving directions.
If it's your first time visiting Philadelphia, you'll quickly find that South Philadelphia isn't exactly a place tourists would care to visit if not for the Sports Complex. It's mostly residential and industrial, with little in the way of hotels and entertainment near Citizens Bank Park (though that has changed a little bit in recent years — see below).
Fans staying in Philadelphia's Center City and looking to take public transportation can use the Broad Street Line of SEPTA, the city's subway system. The line's southbound terminus is at Broad and Pattison, though the station in recent years has carried a corporate sponsor name (currently, it's NRG Station).
Parking at Citizens Bank Park
Once you're in the area of Citizens Bank Park, you have numerous parking options, with very large lots surrounding all three venues.
The lots surrounding Wells Fargo Center and Lincoln Financial Field are popular options, as long as there isn't an event at either of those facilities going on concurrently (which is rare). Parking rates begin at $22 for these lots, and cash is not accepted. Check this parking map to further plot your trip.
Philadelphia hotels near Citizens Bank Park
• Courtyard by Marriott Philadelphia South at The Navy Yard – 0.4 miles away
• Penrose Hotel Philadelphia – 1.2 miles away
• Hawthorn Suites by Wyndham Philadelphia Airport – 3.5 miles away
Search for more Philadelphia hotels on Booking.com.
Map of the surrounding area
Things to do around the ballpark
Amid the sea of sports venues and surface parking, there is an oasis of pregame entertainment in the Sports Complex.
Xfinity Live, built on the site of the old Spectrum arena and catty-corner from Citizens Bank Park (at the corner of Pattison and 11th streets), is the primary option for fans looking for a convenient pregame hangout. It contains a number of establishments, including some familiar names to Philly sports fans (and options you'll also find within the ballpark).
Several other unique-to-Philly options are within a short driving distance and are worth checking out if you can swing it logistically. A few worth mentioning within about a mile of the park: Chickie's and Pete's (known for its "crab fries"), Tony and Nick's Steaks (a popular option in the city's cheesesteak wars), and John's Roast Pork (purveyor of Philly's other beloved sandwich, the roast pork).
Meanwhile, the recently opened Live! Casino and Hotel complex has provided an additional entertainment option before (and after) Citizens Bank Park events. It's located just beyond the outfield gates and is visible from inside the ballpark.
A little farther away but definitely worth visiting if it's your first time in Philadelphia: The Italian Market neighborhood, and perhaps the two most famous cheesesteak joints, Pat's King of Steaks and Geno's Steaks.
Also, Philadelphians love their tailgating, and it's not uncommon to see a few folks hanging out next to their cars with beer and/or a grill in the hours before first pitch.
If none of those options appeal to you, then you might as well enter Citizens Bank Park, because the food inside is worth exploring and sampling — more on that in the section below.
For more on visiting Philadelphia, check out our Philadelphia sports travel guide.
Philadelphia restaurants near Citizens Bank Park
• 1100 Social – pub, 0.1 miles away
• Broad Street Bullies Pub – pub, 0.1 miles away
• PBR Philly – pub, 0.1 miles away
Search for more Philadelphia restaurants on Tripadvisor.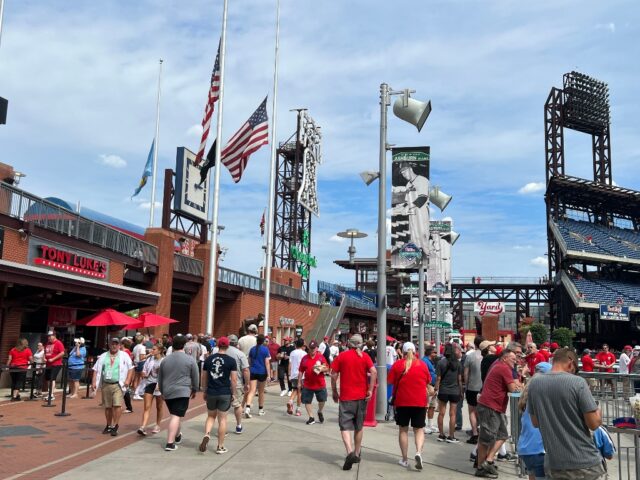 Watching a game at Citizens Bank Park
The most intriguing feature of Citizens Bank Park is in the outfield. The concourse that runs from foul pole to foul pole is named Ashburn Alley after Richie Ashburn, the beloved former Phillies player and broadcaster.
It's full of features including the team's Wall of Fame (behind the center-field batter's eye), food stands and restaurants, a large team store and a famously up-close-and-personal view of the visitor's bullpen, and it's a good starting point for any exploration of Citizens Bank Park.
It's not unusual to see Ashburn Alley in the middle innings swelling with fans, many of which have taken up prime standing-room positions to watch the game — or to heckle the pitchers in the visitor's bullpen just below — while Citizens Bank Park's seating bowl looks strangely devoid of people.
Wherever you go in the ballpark, you're sure to see images of the Phillie Phanatic, the beloved green mascot whose presence sometimes contrasts with the gruff image of the Philly sports fan. The Phanatic himself is often found on the field between innings, performing such antics as shooting hot dogs from an air cannon.
Citizens Bank Park's seating bowl consists of four levels, and while the uppermost rows in the 400-level can feel a little high, at least you will have a nice view of the Philadelphia skyline in the distance while you watch the game. You'll also be able to see the lighted bell in the outfield that "rings" whenever the Phillies hit home runs, or after victories.
Speaking of bells, the team refurbished the old replica Liberty Bell that hung at Veterans Stadium, and as of the 2019 season put it on display near the Third Base Gate for fans to see and take pictures with.
And near the lighted bell display is the cheapest seating area at Citizens Bank Park, the rooftop bleachers that sit atop the Ashburn Alley concessions stands. They're the cheapest seats in the house and offer a relaxed, if not slightly far away, view of the game.
Food and drink at Citizens Bank Park
Citizens Bank Park is also well-known for its wide selection of food options, much of which reflects the unique cuisine of the city. Several of the establishments mentioned in the section above run stands in the stadium, including Tony Luke's and Chickie's and Pete's, both of which can be found in Ashburn Alley.
The cheesesteak can be found in numerous spots around the ballpark, including Tony Luke's (which also serves roast pork sandwiches), Campo's Steaks and Cobblestone Grill. The Philadelphia-born artist Questlove also has a cheesesteak stand serving sandwiches with Impossible Meat.
Other spots worth checking out include Shake Shack and Federal Donuts, as well as the Bull's BBQ stand on the main concourse in left field, named after former Phillies slugger Greg "The Bull" Luzinski.
Also in left field, just below the main scoreboard, sits Harry the K's, a fan-favorite hangout named after legendary team broadcaster Harry Kalas. A statue of Kalas, who died in 2009, greets fans walking up to the left-field plaza.
Original publish date: February 4, 2016
Most recent update: August 25, 2023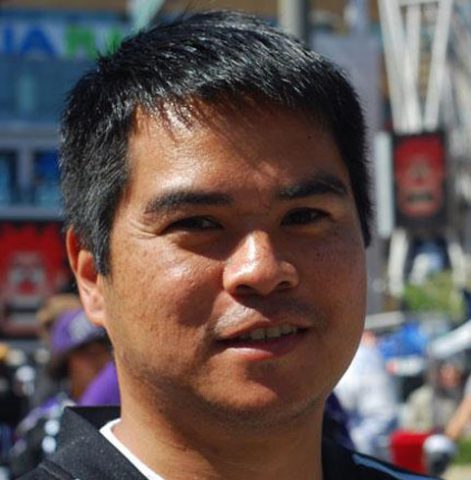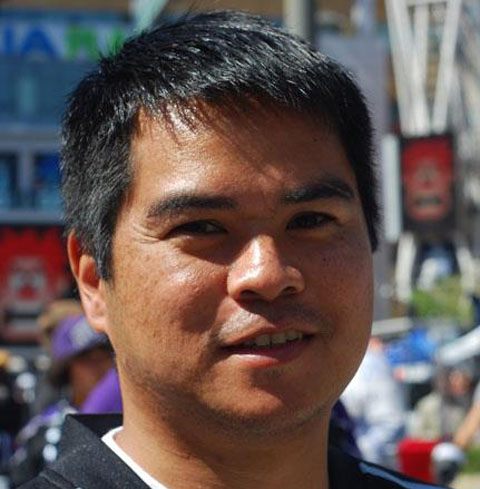 Edward de la Fuente | Itinerant Fan
I live for sports, and I love to travel. My biggest thrill is combining the two. I've been blogging about sports travel for more than a decade, and traveling for sports for twice as long.
About me | FAQ | Buy me a beer 🍺
Affiliate Disclosure
Please note that some of the links above are affiliate links, and at no additional cost to you, we earn a commission if you make a purchase. These recommendations are only for companies that we've used and have proven to enhance our sports travel experiences. To find out more about our affiliate partnerships, please read our Affiliate Disclaimer.
The Particulars
Home Teams
Philadelphia Phillies
Address
1 Citizens Bank Way
Philadelphia, PA 19148
Year Opened
2004
Capacity
43,647
Upcoming Events
All times local
Philadelphia Phillies vs. Atlanta Braves
Thursday, March 28, 2024
12:00 am
Get tickets at Ticketmaster »

Philadelphia Phillies vs. Atlanta Braves
Saturday, March 30, 2024
12:00 am
Get tickets at Ticketmaster »

Philadelphia Phillies vs. Atlanta Braves
Sunday, March 31, 2024
12:00 am
Get tickets at Ticketmaster »

Philadelphia Phillies vs. Cincinnati Reds
Monday, April 1, 2024
12:00 am
Get tickets at Ticketmaster »

Philadelphia Phillies vs. Cincinnati Reds
Tuesday, April 2, 2024
12:00 am
Get tickets at Ticketmaster »