Tropicana Field
Our guide to Tropicana Field includes information on events, tickets, parking, public transportation, nearby hotels and restaurants, seating and more. Read on to find out how to get the most out of your gameday experience.
* * *
At first glance, there's not much to love about Tropicana Field, the longtime home of the Tampa Bay Rays.
It's the majors' only remaining fixed-dome stadium. It was built before the wave of retro ballparks, and the owners of the Rays have been looking for ways to replace it for years — causing the specter of relocation to hang over the team for a decade-plus. In fact, there was talk about the Rays splitting their home games between Tampa Bay and Montreal as recently as the fall of 2021.
Inside, Tropicana Field is one of those venues that has too large a seating area for its market's demand, thus necessitating the use of tarps to cover a significant portion of its seats. And we mentioned the dome thing, right?
Despite the shortcomings, the Rays have gone to great lengths to dress up the place and make it a more vibrant and interesting experience for the baseball fan. And much of it might amount to putting lipstick on a pig, but there's still plenty of things worth checking out.
It helps that the Rays have quite often fielded a competitive team despite their small-market status and stadium issues — the team is a frequent contender, having reached the World Series in 2020. So at the very least you're likely to have a good game in store when you visit.
For more on visiting St. Petersburg, check out our Tampa Bay sports travel guide.
Top photo credit: Christopher Lopez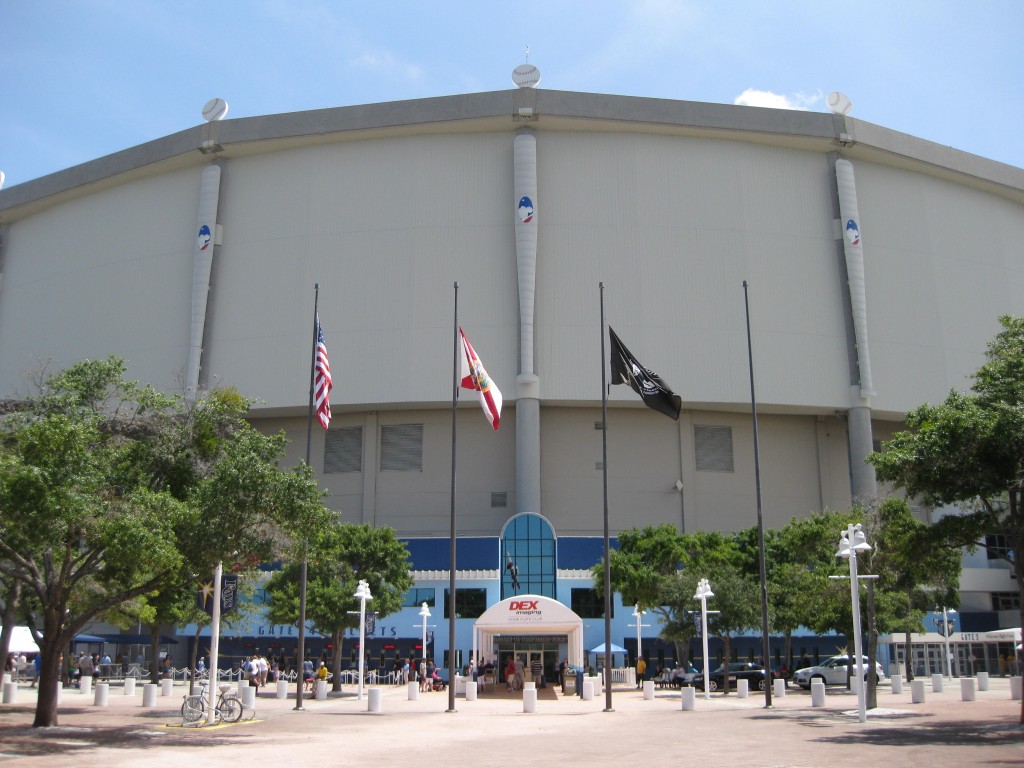 Getting to the ballpark
Tropicana Field is not in Tampa, but in St. Petersburg. Those who have never visited the Tampa Bay region before may not see much of a difference, but for locals it's a significant one.
The two cities are separated by Old Tampa Bay (the actual body of water, not the region), and even once you make the 6-7-mile drive across it on I-275, you've still got another 10 miles or so before you get to the ballpark, just outside downtown St. Petersburg.
Talk to a few locals and you'll find that for many of them (ie. those who live on the Tampa side of the bay), this drive is a major hindrance to their ability and/or desire to regularly attend Rays games.
For the visitor, it can be difficult as well. The region's main airport is in Tampa, and there is no public transit between Tampa and St. Petersburg. If you want to travel between the two cities without a car, you'll need to hail a cab or ridesharing service.
Even if you're starting out on the St. Petersburg side of the bay, Tropicana Field can be tough to reach thanks to traffic and the lack of connecting highways.
If you're staying in a hotel in downtown St. Petersburg, one public transit option to Tropicana Field is available: A free shuttle called the Baseball Looper Trolley, which leaves from the intersection of 2nd Street and Central Avenue — look for the Tropicana Field shuttle sign on the east side of 2nd Street, underneath a pedestrian bridge.
You're encouraged to tip the driver, but otherwise it's a free service and it beats trying to find parking around Tropicana Field.
Walking to Tropicana Field from a hotel or restaurant in downtown St. Pete is an option, but you're looking at a walk of about a mile — a less-than-desirable option in the heat and humidity of a typical summer in the Tampa Bay region.
Parking at Tropicana Field
If you do decide to drive to the game, parking at Tropicana Field is pretty simple. There are no less than nine official parking lots surrounding Tropicana Field, with three reserved for general parking and the rest for patrons holding permits, disabled parking and other uses.
Advance-purchase parking is available but otherwise, expect rates of $15 and up at the official lots. Note that cash is not accepted if you plan on paying upon drive-up. Meanwhile surrounding private parking lots can offer discounts but also give you a farther walk to get to Tropicana Field.
St. Petersburg hotels near Tropicana Field
• Staybridge Suites St. Petersburg – 0.4 miles away
• Palm Grove Inn – 0.6 miles away
• Hollander Hotel – Downtown St. Petersburg – 1.1 miles away
Search for more St. Petersburg hotels near Tropicana Field on Booking.com.
Map of the surrounding area
Things to do around the ballpark
St. Petersburg has more than its fair share of cool eateries and bars, many of which cater to the baseball crowd and offer up plenty of specials for them.
You can find most of them downtown, though more and more establishments are appearing closer to the ballpark, which in the past had pretty much been a dead area for businesses.
Just north of Tropicana Field, along 1st Street South, Central Avenue and 1st Street North, you can find rows of restaurants, bars and other establishments catering to the baseball fan, from breweries to pizzerias and, of course, sports bars.
But if you're from out of town and have devoted the day to baseball, it's also an appealing option to park your car downtown and then take advantage of the free shuttle. You get the whole beach resort vibe of hanging out leisurely somewhere, like an open-air bar near the water or a hotel pool, and then get to head to Tropicana Field to watch baseball afterward.
And since going to the game here means spending time indoors, why not spend your pregame time at a picnic table or on a bar stool, beverage in hand?
St. Petersburg restaurants near Tropicana Field
• Ferg's Sports Bar & Grill – pub, 0.2 miles away
• The Burg Bar and Grill – pub, 0.3 miles away
• Red Mesa Mercado – Mexican, 0.3 miles away
Search for more St. Petersburg restaurants on Tripadvisor.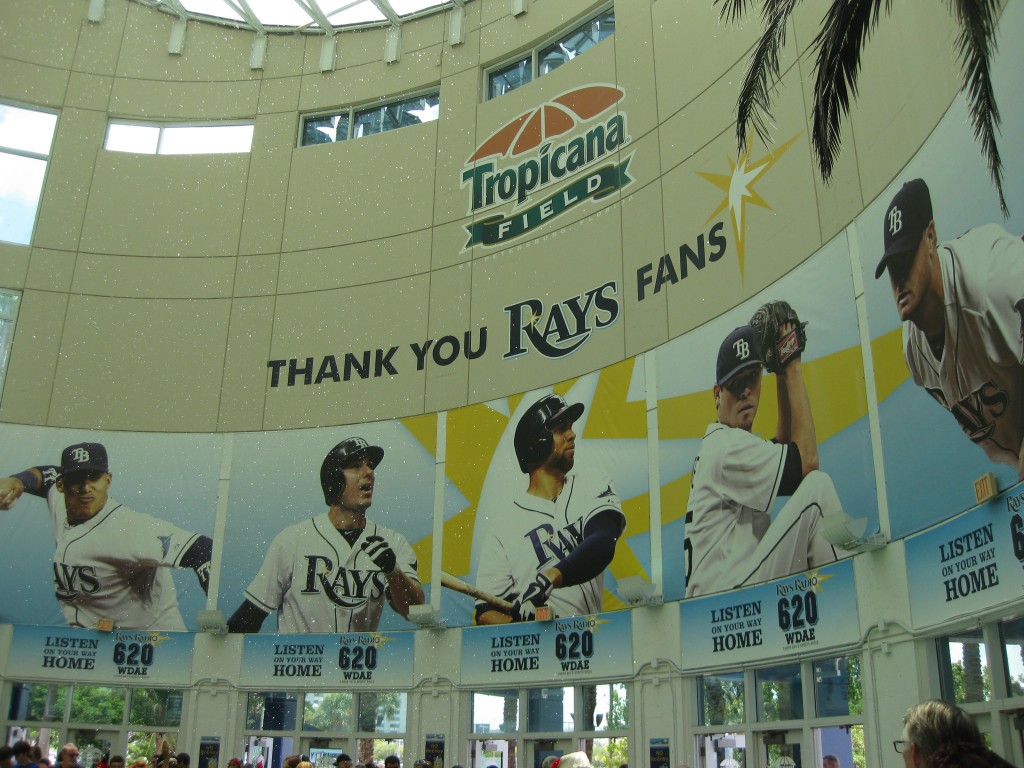 Watching a game at Tropicana Field
Tropicana Field doesn't offer the ideal baseball environment by any means, but as long as your expectations aren't too high it shouldn't be a problem. In other words, focus not on what it doesn't offer, but what it does.
For example, what other major-league park has a live fish tank where you can go right up and touch and feed the fish? Tropicana Field has that, a tank full of live rays that sits beyond the right-center field fence. And home run balls have splashed into the tank, though the addition of an overhead net a few years back now prevents that from happening.
Only 50 people at a time are allowed into the area where the tank is, so long lines can sometimes form to go in, but if you're into marine life it's worth it. It might also be worth it to you to pay the $5 for food to feed the fish, and from our observation the rays are happy when you do — you might even get an appreciative splash from them. (Update: As of 2022, guests are not allowed to feed the rays.)
Other than that, Tropicana Field is still a dome, with mostly drab corridors and a convention-center feel in the seating bowl. Give the Rays props for maintaining a full dirt infield even with an artificial turf field, but the atmosphere still feels … well, plasticky.
Since 2019, the Rays have taken to tarping off the entire upper deck, reducing Tropicana Field's seating capacity to 25,000 and making it MLB's smallest ballpark.
If you're looking for a more boisterous scene, held for the outfield, where you can find party porches, picnic tables and, depending on the day, plenty of fans for whom the ballgame is secondary to having a good time and drinking a lovely beverage.
You'll find many of Tropicana Field's specialty seating areas out here as well. Club seats exist in the form of the Left Field Ledge, the Grill Deck and the 162 Landing. The latter, of course, is named for Evan Longoria's winning home run in Game 162 of the 2011 season that clinched a playoff spot for the Rays, which landed in this area.
Also in left field, the Rays have introduced "Randy Land" in sections 141 and 143. Named after star left fielder Randy Arozarena, the special section is created for Friday night home games. Ticket-buyers receive a giveaway shirt and get a free beverage if Arozarena homers during the game.
Food and drink at Tropicana Field
Tropicana Field's food scene, meanwhile, is surprisingly diverse. The outfield concourse is a fan alley of sorts, with sit-down restaurants, arcade games and the like, but you can survey just about all your food options in this area.
The Tampa Bay region lays claim to the Cuban sandwich as a favorite dish, and an appreciable rendition of it is for sale at the Cubanos stands on the main concourse.
Also look out for items like the popular short rib grilled cheese sandwich (sold at the Melted stands), "firecracker" shrimp, lobster rolls, poke and sushi bowls and fried catfish. As you can tell, they're very proud of their seafood in Tampa/St. Pete as well.
For a sampling of local beers, head to the TB Brews stand in right field for selections from 3 Daughters Brewing, Big Storm Brewing Co., Cigar City Brewing and Green Bench Brewing Company.
Original publish date: February 4, 2016
Most recent update: July 7, 2023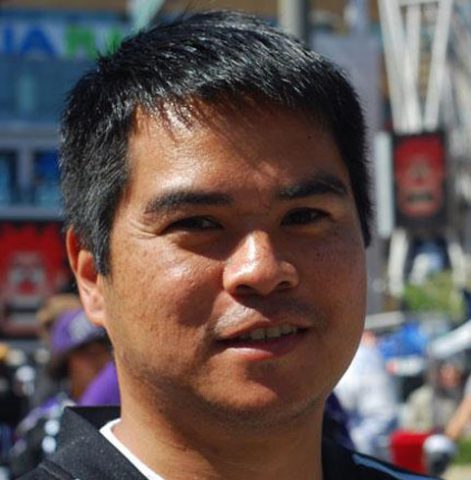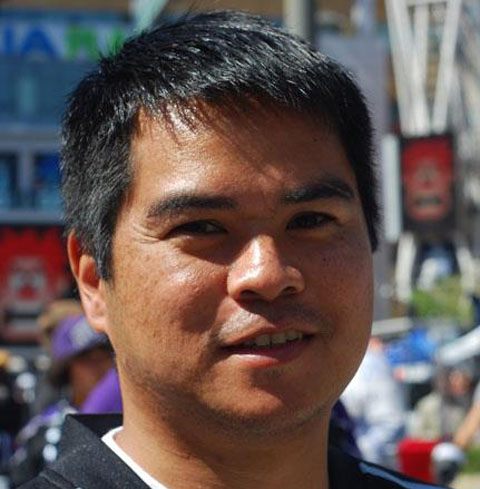 Edward de la Fuente | Itinerant Fan
I live for sports, and I love to travel. My biggest thrill is combining the two. I've been blogging about sports travel for more than a decade, and traveling for sports for twice as long.
About me | FAQ | Buy me a beer 🍺
Affiliate Disclosure
Please note that some of the links above are affiliate links, and at no additional cost to you, we earn a commission if you make a purchase. These recommendations are only for companies that we've used and have proven to enhance our sports travel experiences. To find out more about our affiliate partnerships, please read our Affiliate Disclaimer.
The Particulars
Home Teams
Tampa Bay Rays
Address
1 Tropicana Drive
St. Petersburg, FL 33705
Year Opened
1990
Capacity
40,473
Upcoming Events
All times local
AL Wild Card: TBD at Tampa Bay Rays Home Game 1
Tuesday, October 3, 2023
12:00 am
Get tickets at Ticketmaster »

AL Wild Card: TBD at Tampa Bay Rays Home Game 2
Wednesday, October 4, 2023
12:00 am
Get tickets at Ticketmaster »

AL Wild Card: TBD at Tampa Bay Rays Home Game 3 (If Necessary)
Thursday, October 5, 2023
12:00 am
Get tickets at Ticketmaster »

Nuclear Circus
Thursday, November 2, 2023
4:30 pm
Get tickets at Ticketmaster »

Nuclear Circus
Thursday, November 2, 2023
7:30 pm
Get tickets at Ticketmaster »