FedEx Field
Our guide to FedEx Field in Landover, Maryland, includes information on events, tickets, parking, public transportation, nearby hotels and restaurants, seating and more. Read on to find out how to get the most out of your gameday experience.
* * *
In football more than any other sport, space is considered a key factor in what makes a good place to put a stadium. The venues are meant to hold upwards of 60,000 or more, and lots of room for parking is important so that people can bring their tricked-out vehicles and tailgate.
Usually such space for football stadiums are more likely to be found out in the suburbs, or at least away from the city center, and so that's where you can find many of the NFL's stadiums, such as FedEx Field.
Washington's football stadium is just outside the District's boundaries in Landover, Md.; it's a huge stadium, one of the largest capacity-wise in the NFL; and its parking lot is pretty big. But talk to a few Commanders fans and you'll quickly get the sense that they don't really love their stadium — it's just, you know, there, and since that's where their team plays, they live with it.
There's probably a good reason for it — though it was crumbling even before the club left and it was the smallest by capacity in the NFL by that time, the old RFK Stadium is beloved by most fans. In fact, despite FedEx Field having only been around since the late '90s, there's already talk of the team moving on, perhaps back to the District, maybe even to the RFK site.
FedEx Field, as we discovered, is a perfectly serviceable venue in which to watch football, and it is a regular host to a number of large-scale events as well. But there are a few things that we noticed that, if we were die-hards going to 10 games a year here, we might see as big problems, too.
Looking for FedEx Field event tickets? Search events on Ticketmaster.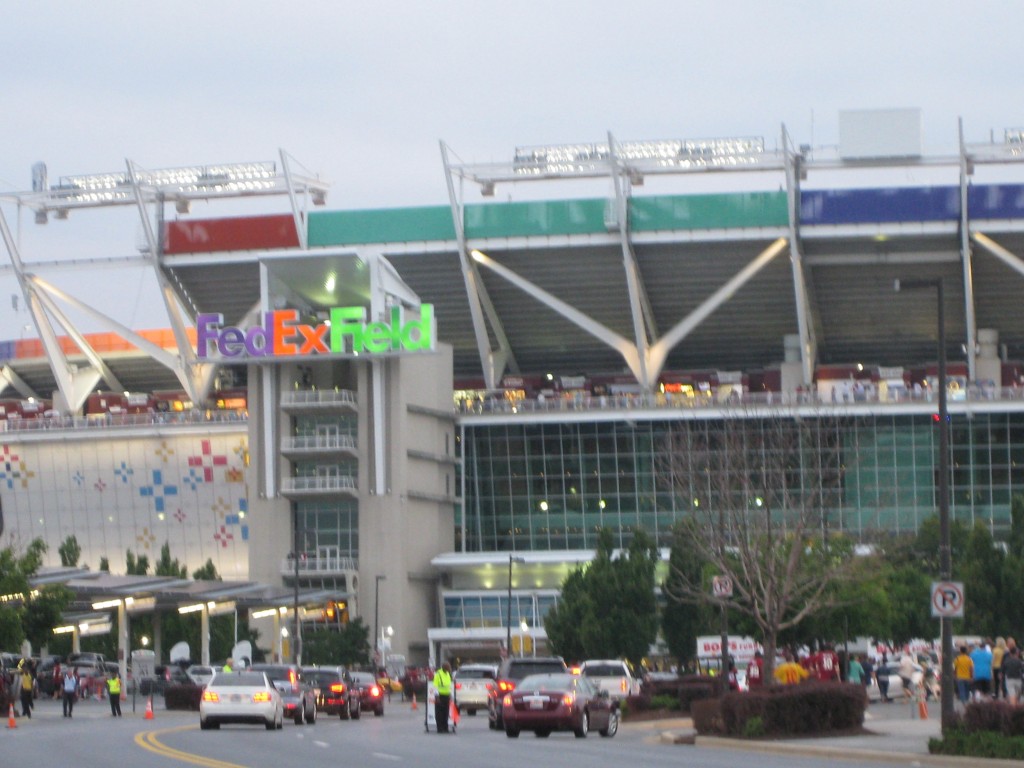 Getting to the stadium
Maybe it's because we're big transportation nerds, but the effort in getting to FedEx Field for an event is the biggest problem with it in our minds. The pregame and postgame traffic situation looked like an absolute nightmare when we visited for an early-season game.
Even though the stadium sits about a mile from the Capital Beltway, the loop highway that connects the D.C. suburbs in Maryland and Virginia, the roads leading into the stadium grounds are windy and not really wide enough to handle that volume of cars. We saw a lot of cars at a standstill both during our entrance and our exit.
You certainly have an alternative in the Washington Metro, and the region's subway system is an appealing option to get to FedEx Field if you're visiting, without a car, and staying within D.C. boundaries.
But using it to get to a game or any other FedEx Field event isn't necessarily as easy as it sounds. From central D.C., you have to take the Blue or Silver line to the Morgan Boulevard station, then walk a mile north along a rather hilly Morgan Boulevard, past a bunch of rowhouses and apartments. The good news is, the road leads directly into the FedEx Field parking lot.
Parking at FedEx Field
There are three roads into the FedEx Field grounds, and if you have a color-coded permit or have purchased parking in advance, you'll be using one of these roads into the stadium.
Those looking to pay on site will need to navigate onto Brightseat Road (going toward FedEx Field from the north, make a left before entering the stadium parking lot) and then head to the single-game entry lot a quarter-mile away.
Single-game parking permits can be purchased in advance via Ticketmaster; follow this link for a FedEx Field parking map.
Landover hotels near FedEx Field
• WoodSpring Suites Washington DC East Arena Drive – 0.6 miles away
• Residence Inn Largo Capital Beltway – 0.8 miles away
• Staybridge Suites – Washington DC East – Largo – 1.1 miles away
Search for more Landover-area hotels on Booking.com.
Map of the surrounding area
Things to do around the stadium
If you've come to FedEx Field looking to tailgate, it serves two purposes: 1) You get to party before the game and 2) you have an excuse to come early and beat traffic, and if you prefer, to wait out postgame traffic. So it's no surprise that fans in the know do that in droves, and it's worth a walk through the FedEx Field parking lot to check out the scene.
Those wanting to get an early start on tailgating are encouraged to use the "Redzone" parking lot off Sheriff Road (head west before entering the stadium grounds). The Redzone lot opens five hours before kickoff, as opposed to four hours prior for all other lots.
Beyond that, you'd be hard-pressed to find alternate activities considering FedEx Field is surrounded mostly by office parks and residences.
A small strip mall can be found at the interchange between Landover Road (Route 202) and Brightseat Road, north of the stadium. Head back to the Capital Beltway and you'll find more restaurants, including at the Woodmore Town Centre off Landover Road.
Most of the hotels close to FedEx Field are in this area as well, which is convenient if you're visiting from out of town for an event, but you'll find that in general, the businesses nearby are more there to serve the community than to welcome an influx of sports fans.
For more on visiting the Washington metro area, check out our Washington sports travel guide.
Landover restaurants near FedEx Field
• Carolina Kitchen – Southern, 1.0 miles away
• Copper Canyon Grill – American, 1.3 miles away
• Jasper's American Grill – American, 1.3 miles away
Search for more Landover-area restaurants on Tripadvisor.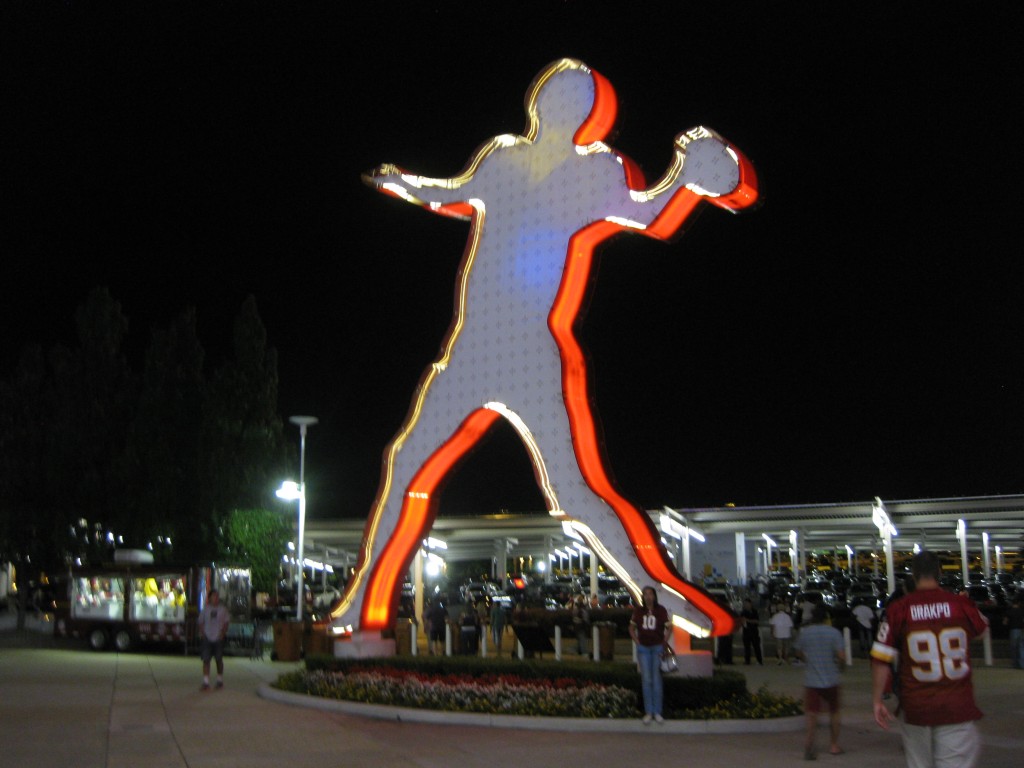 Watching a game at FedEx Field
FedEx Field is big — it's currently configured to fit 82,000 into the seating bowl — and it's got pretty much everything you'd expect a sports venue to have these days.
What it lacks, though, is character, and that's what most Washington fans don't like about the place — especially if they're old enough to remember when the team played at RFK Stadium. It really is your typical behemoth concrete structure without much in the way of charm.
Fans have also been vocal about typically cold customer service, and we experienced this ourselves during our visit to FedEx Field — no one was downright rude to us, but we got the sense that the ushers and crowd control staff are just too eager to tell you what you're not allowed to do, such as step into a seating section you don't hold a ticket for.
That said, FedEx Field's sight lines throughout the seating bowl don't seem to be too bad — we had seats halfway up the upper deck, right on the 50-yard line. We felt we could see everything but it was bordering on being too high, so we can only imagine what the folks in the extreme nosebleeds were seeing.
This isn't as big of a problem these days, as part of FedEx Field's renovations over the last decade involved the removal of rows worth of seating from the upper deck.
Standing room tickets are also available on the 400 (upper deck) level behind the end zones, and if you get there early enough to stake out a spot, you get a decent view of the game and a rail/shelf to lean on and place your beer down on.
If you enter FedEx Field well before kickoff, you can head over to the Bud Light Party Pavilion between gates F and G on the stadium's south side. This serves as the team's official pregame party, where fans can listen to live music as well as the team's radio pregame show, play games, eat and drink, and so on.
Interested in a suite at FedEx Field? Buy suite tickets on SuiteHop.
Food and drink at FedEx Field
Like many stadiums around the country, FedEx Field has worked to improve its concessions offerings in recent years. There are a few standards worth mentioning — for example, Ben's Chili Bowl, a D.C. institution, serves its "Half-Smokes" (basically a hot dog that's split, grilled, and topped with chili).
Several other brand names operate out of FedEx Field, such as Johnny Rockets (burgers) and Firehouse Subs (sandwiches). Celebrity chef Guy Fieri is lending his name to a chicken tenders stand called Chicken Guy, on the main concourse as well.
And though it's associated more with northern neighbor Baltimore, pit beef sandwiches can also be found here.
Original publish date: February 4, 2016
Most recent update: September 1, 2023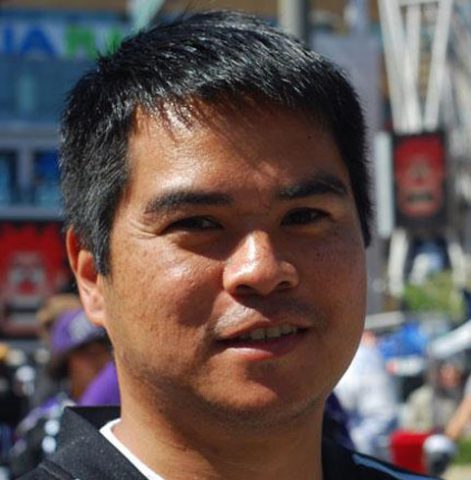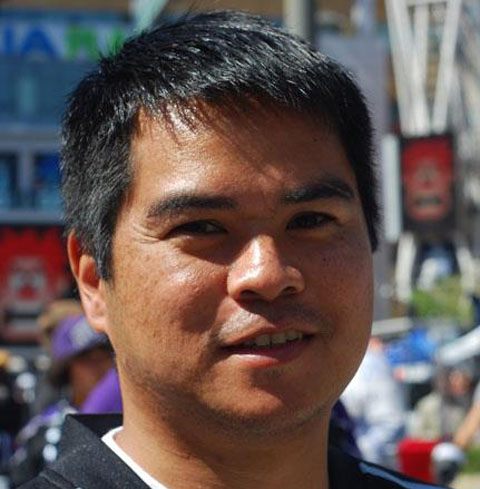 Edward de la Fuente | Itinerant Fan
I live for sports, and I love to travel. My biggest thrill is combining the two. I've been blogging about sports travel for more than a decade, and traveling for sports for twice as long.
About me | FAQ | Buy me a beer 🍺
Affiliate Disclosure
Please note that some of the links above are affiliate links, and at no additional cost to you, we earn a commission if you make a purchase. These recommendations are only for companies that we've used and have proven to enhance our sports travel experiences. To find out more about our affiliate partnerships, please read our Affiliate Disclaimer.
The Particulars
Home Teams
Washington Commanders
Address
1600 FedEx Way
Landover, MD 20785
Year Opened
1997
Capacity
82,000
Upcoming Events
All times local
Washington Commanders v Miami Dolphins
Sunday, December 3, 2023
1:00 pm
Get tickets at Ticketmaster »

Washington Commanders v San Francisco 49ers
Sunday, December 31, 2023
1:00 pm
Get tickets at Ticketmaster »

Kenny Chesney w/ Zac Brown Band
Saturday, May 25, 2024
5:00 pm
Get tickets at Ticketmaster »

Luke Combs
Friday, July 26, 2024
12:00 am
Get tickets at Ticketmaster »

Luke Combs
Friday, July 26, 2024
5:45 pm
Get tickets at Ticketmaster »