MetLife Stadium
Our guide to MetLife Stadium in East Rutherford, N.J., includes information on events, tickets, parking, public transportation, nearby hotels and restaurants, seating and more. Read on to find out how to get the most out of your gameday experience.
* * *
Even if you've never been there, if you're so much as a casual football fan you probably know a little bit about MetLife Stadium, the home of the New York Giants and Jets.
It's one of only two venues in the NFL to serve as home for two teams, a distinction it now shares with SoFi Stadium. It's well known that it houses teams that represent New York but is located in New Jersey (a fact that seems weird to some out-of-towners but is nothing special to locals).
And even if you don't know the name MetLife Stadium, you probably have heard the oft-referenced moniker for the area surrounding it, the Meadowlands, which has carried a sports significance since the 1970s.
Whatever you know about MetLife Stadium, know that it's an impressive facility worth visiting if you're into football or any other event that it hosts. The NFL thought highly enough of it that it held Super Bowl XLVIII there, the first time the league chose an outdoor stadium in a cold-weather city to host the big game.
So MetLife Stadium has enjoyed a lively past full of big-time events, and has a bright future ahead of it. But even for regular-season Giants or Jets games, the venue provides a spectacular atmosphere to watch football.
Looking for MetLife Stadium event tickets? Search events on Ticketmaster.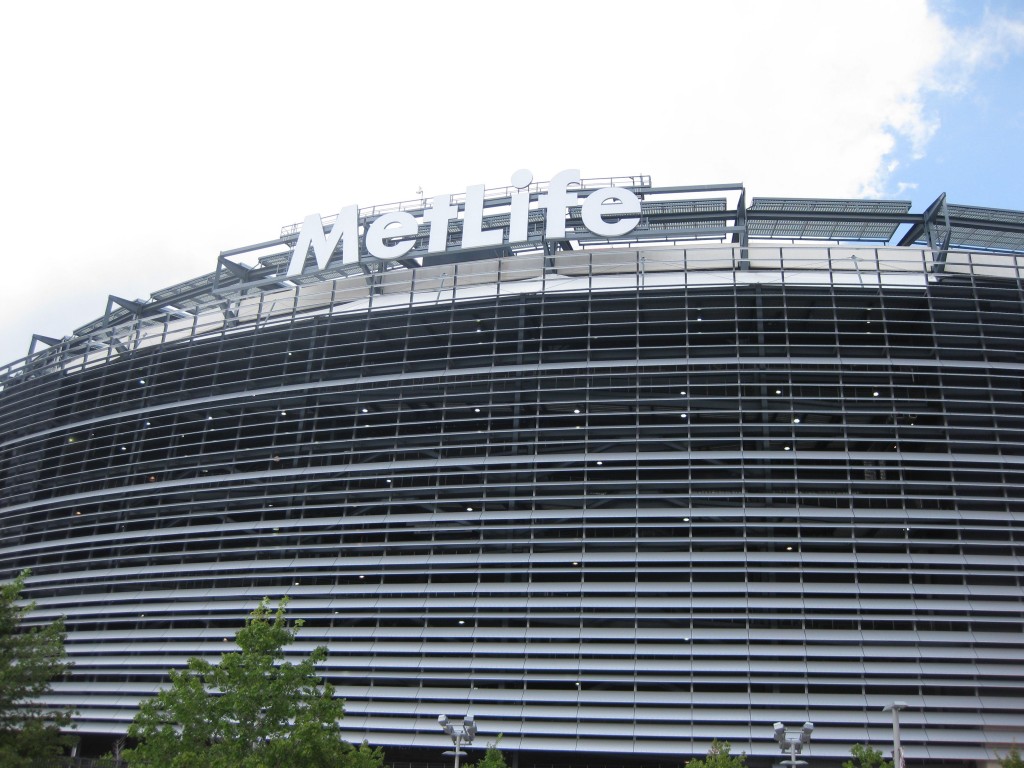 Getting to the stadium
MetLife Stadium is just six miles from Manhattan — that familiar skyline is clearly visible on most days from the uppermost seating areas — but it can feel a world away. Especially when you're trying to get there.
New York City traffic can be a slog on the best days, particularly when crossing the Hudson River that separates New York and New Jersey, but on game days the journey can be downright brutal by car.
But this is football and tailgating is a ritual, so of course many people do drive and park at MetLife Stadium. Most routes into the Meadowlands involve taking the New Jersey Turnpike (I-95), which runs alongside the stadium grounds, exiting at Route 3 and traveling west from there. Click here for more detailed driving directions.
If you're a visitor to New York that's staying in a hotel in Manhattan, public transportation to MetLife Stadium is readily available, but it helps to know the network a little bit. To get the most common misconception out of the way: The New York subway does NOT run to the Meadowlands — or to anywhere in New Jersey, for that matter.
For train travel, you'll have to rely on NJ Transit, which runs event service starting at New York's Penn Station (underneath Madison Square Garden). Take it to Secaucus Junction, then transfer to a special platform for direct service to the Meadowlands.
Know that this service is very popular, and stations and trains can experience extreme crowding on game days (NJ Transit, famously, was overwhelmed with football fans on the day of Super Bowl XLVIII).
You can also travel to MetLife Stadium by bus, as service is offered from the Port Authority Bus Terminal in Manhattan. Fare starts at $7 each way, but buses take the same routes — and by and large encounter the same traffic — as most drivers to the game. Especially if you're from out of town, though, you may find these inconveniences to be worth the tradeoff of not having to drive and find parking at MetLife Stadium.
Visitors whose trip revolves around an event at MetLife Stadium might find it easier — and cheaper — to stay in nearby Newark, which has a number of downtown hotels and easy access to nearby Newark Liberty International Airport. NJ Transit runs through downtown and leads to Secaucus, where fans can transfer to take the rail spur to the Meadowlands.
Parking at MetLife Stadium
Rates begin at $40 for entry into MetLife Stadium's expansive parking lot, and purchasing a permit in advance is strongly suggested. There is an off-site option for cash parking located north of the stadium, at 20 Murray Hill Road.
The Meadowlands grounds are huge and if your main objective is convenience, there isn't much reason to find alternative parking options. That said, they do exist thanks to the numerous industrial parks in the vicinity, particularly just to the north on the other side of the race track.
For more information on parking at MetLife Stadium, click here.
East Rutherford/Carlstadt hotels near MetLife Stadium
There are a handful of hotels surrounding the MetLife Stadium grounds, but keep in mind that the venue is surrounded by heavily trafficked highways. If you're headed to the stadium on foot, be sure to cross streets at controlled intersections and pathways.
• Hilton Meadowlands – 0.5 miles away
• Extended Stay America – Meadowlands – East Rutherford – 0.5 miles away
• Hampton Inn Carlstadt at the Meadowlands – 0.6 miles away
Search for more East Rutherford hotels on Booking.com.
Map of the surrounding area
Things to do around the stadium
MetLife Stadium is part of the Meadowlands Sports Complex, which includes the Meadowlands Race Track (horse racing, that is) and the Meadowlands Arena, which used to be the home of the New Jersey Devils and Nets but now sits mostly unused.
Also nearby is a shopping and entertainment complex called American Dream, which sat partially constructed for years but finally opened in 2019.
Touted as the third-largest shopping center in North America, it promises to offer the same amenities seen in entertainment districts outside many major sports venues, such as those in Foxborough, Mass., Los Angeles or Philadelphia. Indeed, it has a number of restaurants and attractions for football fans to spend their time on game days.
Besides American Dream, there aren't that many options for pregame entertainment outside the stadium. For their games, though, the Giants and Jets each hold parties on the west side of the stadium (opposite where the NJ Transit train station is located), which includes live music and family activities.
Other than checking out the tailgating taking place in the surrounding parking lots, if it's your first time attending an event at MetLife Stadium you might want to head in. The good news is, there's quit a bit to see.
For more on visiting East Rutherford, check out our New York City sports travel guide.
East Rutherford/Carlstadt restaurants near MetLife Stadium
• Redds Restaurant – pub, 0.5 miles away
• Bergen Social – American, 0.6 miles away
• Segovia Meson – steakhouse, 1.6 miles away
Search for more East Rutherford restaurants on Tripadvisor.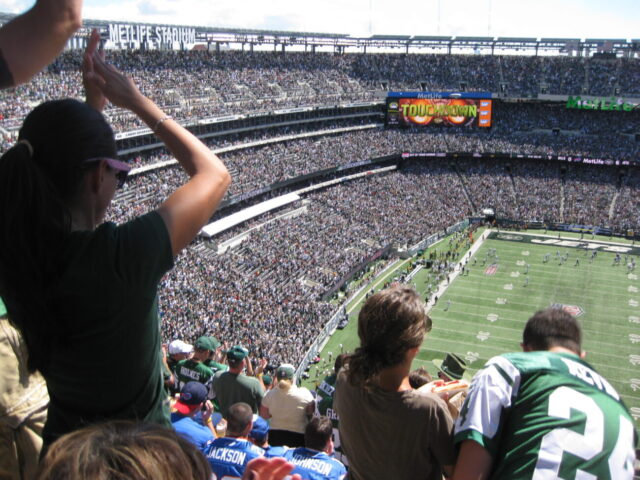 Watching a game at MetLife Stadium
Not that you'd have any reason to be confused upon arriving, but in the unlikely event you didn't know whether the Giants or Jets were the home team on a football gameday, the stadium has a way of letting you know.
Spotlights, in-stadium signage — including the lighted MetLife logos that overlook the lower seating bowl — and even the rings of honor that line the facade of the upper deck are interchangeable and flip green or blue depending on the home team.
That's just one of the subtle but cool features of the facility. Be sure to wander MetLife Stadium's concourse just beyond the entry gates a little bit, even if you're headed to 300-level seating, as you'll be able to spot features such as a mini football field for kids.
You would expect a stadium that holds more than 80,000 to feel huge, and you'd be right — especially if you're sitting way up top in the highest rows. But don't let that deter you from sitting in the cheap seats for a MetLife Stadium event. Yeah, you're pretty high up, but what you can't see you can at least catch replays of on one of the four large videoboards set up in each corner of the stadium.
If you're attending a game late in the NFL season, be sure to bundle up. The Meadowlands has always had a reputation for getting windy late in the year, as fans who remember the old Giants Stadium can attest, and gusts can wreak havoc on game play as well as fan comfort in the seating areas at MetLife Stadium.
Interested in a suite at MetLife Stadium? Buy suite tickets on SuiteHop.
Food and drink at MetLife Stadium
Befitting such a large stadium, the various concession stands exhibit quite a bit of variety. This is the New York area, so deli sandwiches and pizza are prominent.
But you can also find some unique (for a stadium, anyway) fare such as fried clams, Asian noodles and dumplings, meat pies, gyros, cauliflower tots and cookies and brownies from Mrs. Fields. Follow the link for a glimpse of the full selection.
Taps are plentiful, too. Look out for the Beers of the World and Craft Beer Zone stands on both the 100 and 300 levels for a wide beer selection, and there are two full-service pubs, the Blue Point Pub and Bow Street Irish Whiskey Bar, on the 100 level.
Original publish date: February 4, 2016
Most recent update: September 1, 2023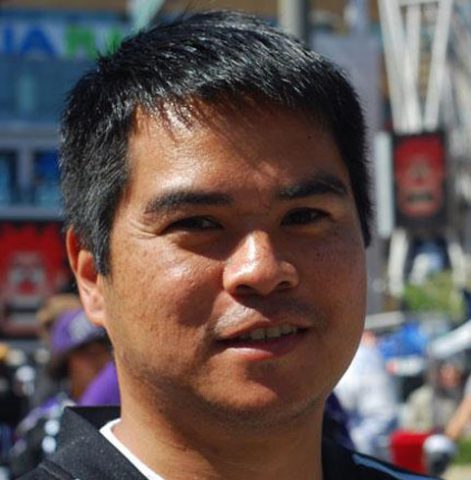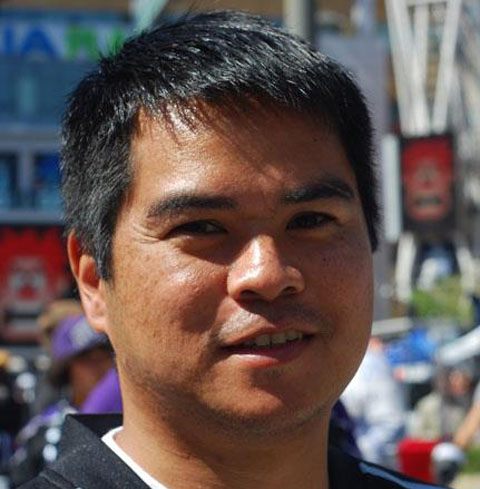 Edward de la Fuente | Itinerant Fan
I live for sports, and I love to travel. My biggest thrill is combining the two. I've been blogging about sports travel for more than a decade, and traveling for sports for twice as long.
About me | FAQ | Buy me a beer 🍺
Affiliate Disclosure
Please note that some of the links above are affiliate links, and at no additional cost to you, we earn a commission if you make a purchase. These recommendations are only for companies that we've used and have proven to enhance our sports travel experiences. To find out more about our affiliate partnerships, please read our Affiliate Disclaimer.
The Particulars
Home Teams
New York Giants
New York Jets
Address
1 MetLife Stadium Drive
East Rutherford, NJ 07073
Year Opened
2010
Capacity
82,566
Upcoming Events
All times local
New York Jets vs. Atlanta Falcons
Sunday, December 3, 2023
1:00 pm
Get tickets at Ticketmaster »

MetLife Stadium VIP Tours
Saturday, December 9, 2023
12:00 am
Get tickets at Ticketmaster »

New York Jets vs. Houston Texans
Sunday, December 10, 2023
1:00 pm
Get tickets at Ticketmaster »

Parking Only - Giants v. Packers
Monday, December 11, 2023
8:15 pm
Get tickets at Ticketmaster »

New York Giants vs. Green Bay Packers
Monday, December 11, 2023
8:15 pm
Get tickets at Ticketmaster »