Mercedes-Benz Stadium
Our guide to Mercedes-Benz Stadium in Atlanta includes information on events, tickets, parking, public transportation, nearby hotels and restaurants, seating and more. Read on to find out how to get the most out of your gameday experience.
* * *
In the ever-evolving world of stadiums and arenas, Atlanta's Mercedes-Benz Stadium — home of the Atlanta Falcons and Atlanta United FC — is definitely a trendsetter.
That much is apparent from the moment you lay eyes on it from afar, as the first thing you likely will notice is its unique design — like a giant metal flower getting ready to bloom.
From there, there's plenty to check out in the new palace. It really is an impressive structure inside and out, and it better be — after all, a lot of time and expense went into building Mercedes-Benz Stadium, and a perfectly functional (though admittedly bland) stadium, the Georgia Dome, was sacrificed in the name of progress.
The new venue has already helped keep Atlanta in line for many of sports' biggest events. It hosted the College Football Playoff championship game within its first year of experience, and then was home to Super Bowl LIII after the 2018 season.
Whether it's a title tilt or a regular-season Falcons game or Atlanta United match, Mercedes-Benz Stadium has quite a lot to offer the spectator.
Looking for Mercedes-Benz Stadium event tickets? Search events on Ticketmaster.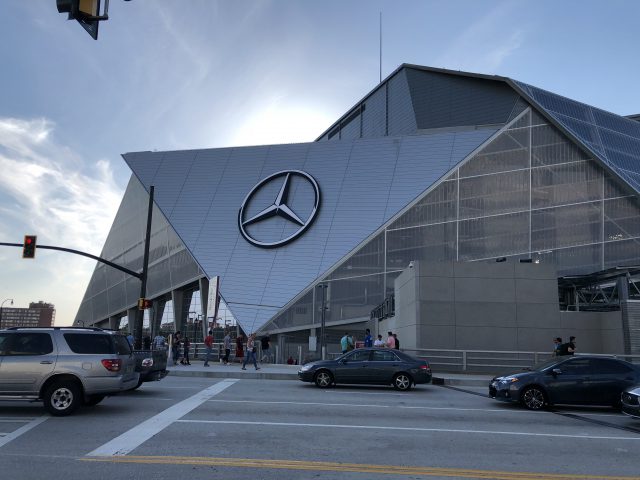 Getting to the stadium
If you had ever gone to the Georgia Dome during its history, or if you've visited the neighboring State Farm Arena, then nothing much has changed; you're mostly going to Mercedes-Benz Stadium the same way. For the uninitiated, though, getting to the stadium, on the western edge of downtown Atlanta, is relatively uncomplicated.
Atlanta's MARTA rail system has a station that services the stadium area, and though it has a very cumbersome name — Dome/GWCC/Philips Arena/CNN Center — it at least tells you every major attraction around the stop (at least, if you imagine Mercedes-Benz Stadium as the thing "Dome" is describing) and makes it clear where you have to go.
If you're commuting from points north or south, you will have to transfer at the Five Points station to get on the correct line. But truth be told, the Five Points stop is less than a mile from Mercedes-Benz Stadium, a pleasant walk on most event days and one many local fans will prefer to take.
Drivers will have a few routes to the stadium via Interstates 85 and 20, but expect to find the usual congestion befitting a downtown venue, more so if it's a weekday.
Parking at Mercedes-Benz Stadium
Parking around Mercedes-Benz Stadium is fairly limited in the immediate vicinity, with many of the more expansive options a half-mile or farther away.
For most Mercedes-Benz Stadium events, the closest parking lots (most of which are denoted by letters) are permit-only. You can view this map for parking options near Mercedes-Benz Stadium.
For the one-time visitor, a more viable and economical option may be to park downtown. Mercedes-Benz Stadium partners with ParkMobile to offer advance-purchase parking. Many lots are structures downtown are within a reasonable walk of the stadium, ie. not much farther than a walk from the Five Points station.
And besides, the closer you park to downtown, the more options you have for entertainment prior to the game (see the "Things to do" section below).
Looking for parking at Mercedes-Benz Stadium? Buy parking on SpotHero.
Atlanta hotels near Mercedes-Benz Stadium
• Reverb by Hard Rock Atlanta Downtown – 0.2 miles away
• Clarion Inn & Suites Atlanta Downtown – 0.4 miles away
• Omni Atlanta Hotel at CNN Center – 0.5 miles away
Search for more Atlanta hotels on Booking.com.
Map of the surrounding area
Things to do around the stadium
After the Georgia Dome was imploded in November 2017, nearly a year was spent cleaning up the space. But for the 2018 NFL season, the "Home Depot Backyard" was introduced, offering a giant greenspace that will be used for premium tailgating on gamedays and will serve as a community park the rest of the time. It tends to be a hub of activity before games begin and is worth at least a walk-through to check out the scene.
For other activities, the vast majority of options exist to the east of the stadium, toward the heart of downtown. It's in this area that you'll also find most of the hotels within a short distance from Mercedes-Benz Stadium, and most fans (whether local or from out of town) will be walking to the venue from this direction.
On the other side of State Farm Arena, the CNN Center offers a food court and restaurants, and from there, pretty much all of downtown is within your reach via foot or short train ride. You can visit this guide for eating options in the downtown area.
Also plan on taking time during your visit, whether it's pregame or not, on seeing some of the nearby sights. The CNN Center, Georgia Aquarium, World of Coca-Cola, Center for Civil and Human Rights and Centennial Olympic Park, just to name a few attractions, are all within a short walking distance of Mercedes-Benz Stadium, and if you're staying in a downtown hotel, these attractions are easily accessible.
For sports fans, don't forget to check out the College Football Hall of Fame, across the street from Centennial Olympic Park. If there's a college football event such as the SEC championship game or the Peach Bowl, happening at Mercedes-Benz Stadium, the Hall of Fame will often offer admissions discounts or special promotions.
For more on visiting Atlanta, check out our Atlanta sports travel guide.
Atlanta restaurants near Mercedes-Benz Stadium
• Elliott Street Deli & Pub – pub, 0.2 miles away
• Smoke Ring – barbecue, 0.3 miles away
• No Mas! Cantina – Mexican, 0.3 miles away
Search for more Atlanta restaurants on Tripadvisor.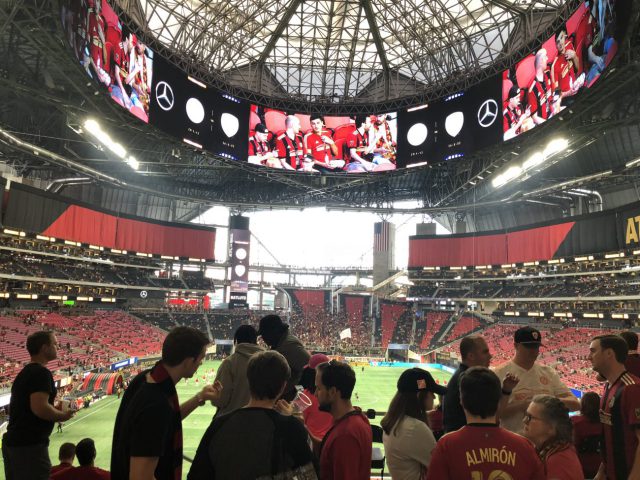 Watching a game at Mercedes-Benz Stadium
Whether you're there to see the Falcons, Atlanta United or another event, the Mercedes-Benz Stadium experience begins before you even walk inside the building. That's because the entry turnstiles are located a short distance away, creating an outside concourse that fans can use to walk around the perimeter, get drinks at one of the handful of outdoor bars, or pose next to one of the many displays — such as a large Atlanta United logo or, most impressively, the head-turning falcon statue at the northeast corner of the stadium.
Once you enter through the doors, though, you'll begin to see why this stadium stands apart from its fellow stadiums. The most obvious one is the giant ringed videoboard that hangs over the playing field, the first of its kind in an American venue and a presentation that other stadiums are beginning to emulate.
Don't let the "halo" board distract you from taking a good look at the other highly visible technological marvel, the video board that wraps around a support column at one end of the stadium.
Walk around the wide and vast concourse for other unique displays, such as one that displays the helmets of every high school football team in the state of Georgia. But do budget some time and money for food and drink before heading to your seating area, because Mercedes-Benz Stadium is actually one place where you probably won't mind springing for stadium concessions.
Mercedes-Benz Stadium's seating bowl is appropriately vast, with three tiers of general seating and the usual array of club and suite levels — including sideline suites.
There are several spots from which fans can stand and watch the game from the concourse, most prominently from the bridges on the stadium's northeast side. Just look for the giant window that looks out onto the downtown Atlanta skyline. And there's a bar in that spot to encourage fans to mingle.
While Falcons games usually fill Mercedes-Benz Stadium, for Atlanta United games the upper seating bowl is typically closed. But soccer has proven to be popular enough in Atlanta that the upper deck (aka 300 level) will be opened on occasion — often to impressive results.
Interested in a suite at Mercedes-Benz Stadium? Buy suite tickets on SuiteHop.
Food and drink at Mercedes-Benz Stadium
The Falcons made it a point to sell deeply discounted food and drink (at least, compared to standards set by other venues) and stuck to their word, offering items like hot dogs, popcorn and sodas for $2 and beer for $5.
If your visit is a one-time experience, though, you might feel the urge to splurge, and local favorites such as Fox Bros. Bar-B-Q, Delia's Chicken Sausage and even the venerable chain Chick-fil-A make it easy to do that. There's also a full-service restaurant inside the stadium, called Molly B's.
Familiar brands of alcohol can be found throughout Mercedes-Benz Stadium's concourse, from Miller Lite to Corona to Shock Top, and from Bacardi to Absolut. Many of the stadium's stands will serve a rotating list of craft beer specials, so it's worth walking around a bit to find your favorite pour.
Original publish date: April 10, 2017
Most recent update: September 1, 2023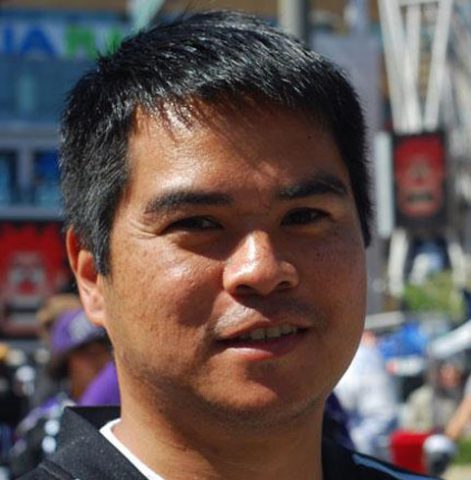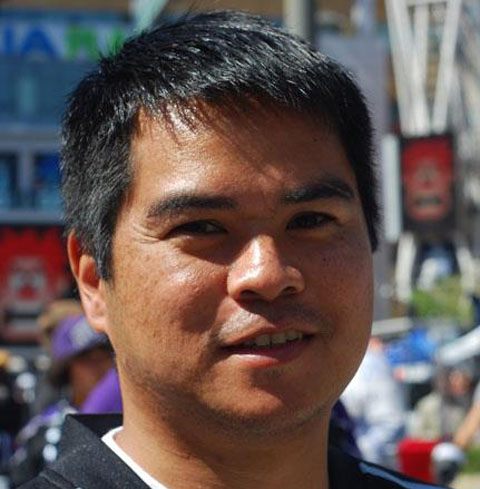 Edward de la Fuente | Itinerant Fan
I live for sports, and I love to travel. My biggest thrill is combining the two. I've been blogging about sports travel for more than a decade, and traveling for sports for twice as long.
About me | FAQ | Buy me a beer 🍺
Affiliate Disclosure
Please note that some of the links above are affiliate links, and at no additional cost to you, we earn a commission if you make a purchase. These recommendations are only for companies that we've used and have proven to enhance our sports travel experiences. To find out more about our affiliate partnerships, please read our Affiliate Disclaimer.
The Particulars
Home Teams
Atlanta Falcons
Atlanta United FC
Address
1414 Andrew Young International Blvd. NW
Atlanta, GA 30313
Year Opened
2017
Capacity
71,000
Upcoming Events
All times local
2023 SEC Championship Game
Saturday, December 2, 2023
4:00 pm
Get tickets at Ticketmaster »

Atlanta Falcons vs. Tampa Bay Buccaneers
Sunday, December 10, 2023
1:00 pm
Get tickets at Ticketmaster »

ESPN Band Of The Year National Championship
Friday, December 15, 2023
6:00 pm
Get tickets at Ticketmaster »

Celebration Bowl MEAC vs SWAC
Saturday, December 16, 2023
12:00 pm
Get tickets at Ticketmaster »

Atlanta Falcons vs. Indianapolis Colts
Sunday, December 24, 2023
1:00 pm
Get tickets at Ticketmaster »