Gillette Stadium
Our guide to Gillette Stadium in Foxborough, Massachusetts, includes information on events, tickets, parking, public transportation, nearby hotels and restaurants, seating and more. Read on to find out how to get the most out of your gameday experience.
* * *
The town of Foxborough, Massachusetts, has been the epicenter of pro football in New England for five decades, starting with the Patriots' move from Boston to a brand-new Schaefer Stadium in 1971 and a name change to the now-familiar "New England Patriots."
In the early 2000s, the team modernized, moving into the sparkling Gillette Stadium. And that just happened to coincide with the Patriots' rise to become the NFL's pre-eminent franchise, with six Super Bowl championships since 2001.
Nowadays, Gillette Stadium is often front-and-center on many football fans' must-visit lists, despite the fact that it's not the easiest place to get to (as it's located some 25 miles southwest of central Boston) or the easiest place to get into (the Patriots have sold out every game they've played there since the stadium opened).
But the prominence of the Pats make Foxborough one of the NFL's most happening spots on every game day, with hotels near Gillette Stadium filling up and the atmosphere rivaling any seen around the league.
Go to a Patriots game and you'll be treated to one of the NFL's more unique experiences, as you'll hang out with a fan base that has come to take success for granted and in a stadium nestled within a suburban community.
And don't forget that there are more reasons to visit than just Patriots games — the New England Revolution of MLS also calls Gillette Stadium home, and most big concert tours and large-scale events tend to make stops there as well.
Looking for Gillette Stadium event tickets? Search events on Ticketmaster.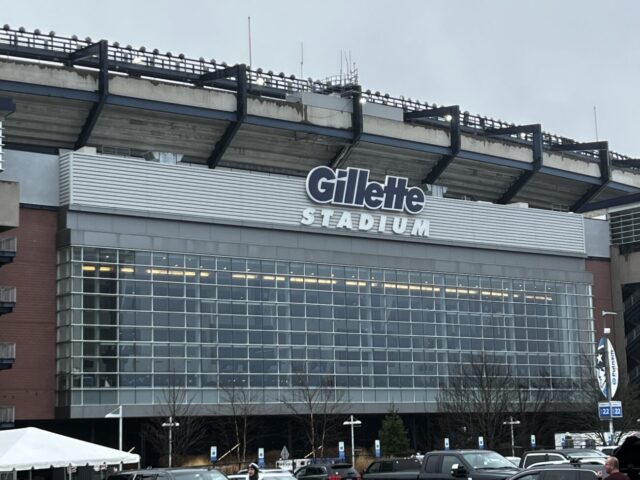 Getting to the stadium
The first order of business when planning a trip to Gillette Stadium is figuring out where Foxborough is, at least in relation to where you are coming from. While visitors may have a difficult time with the location, it winds up being an advantage for Patriots fans in neighboring Rhode Island and Connecticut, who find themselves with a shorter travel time to the stadium than if it were in Boston proper.
The easiest route to the stadium involves Interstate 95, which goes north-south between Boston and Providence, Rhode Island. From there, find your way to Route 1, along which the stadium is located; traveling south from Boston, Exit 9 leads directly to Route 1, after which you can travel four miles south to the stadium.
There is an alternative if you don't want to drive to the game: the Massachusetts Bay Transit Authority (MBTA) operates special trains to Foxborough for Patriots games and select other large-scale events. Trains to Gillette Stadium run from Boston's South Station, close to many of the major hotels in the city, and tickets can be purchased for $20 round-trip. The stadium station is just on the other end of Parking Lot 4, northeast of the stadium.
By the way, if you are flying into town specifically to see a Patriots game or another Gillette Stadium event, you may want to consider skipping Boston's Logan Airport and instead flying into Providence.
T.F. Green Airport is just a little farther to Foxborough (about 34 miles) than Logan is (30 miles), but you at least avoid the traffic and hassle of trying to get out of Boston on your way to Gillette Stadium, plus your selection of hotel options will almost certainly be cheaper. Oh, and the MBTA train to Gillette Stadium mentioned above also runs from Providence Station, for the same fare.
A few tips if you do take the train:
For each game there is only ONE departure time in each direction, usually about 2½ hours before kickoff. The train will arrive in Foxborough 90 minutes prior to the game, give you plenty of time to explore beforehand.
While you're enjoying your event at Gillette Stadium, the two trains will be sitting next to each other on the same track. When you return to the station, pay close attention to which train you board, because it is easy to accidentally board the wrong one and, say, wind up in Providence instead of Boston. When in doubt, ask an MBTA employee.
The trains leave Foxborough 30 minutes after the game ends, no exceptions. If you're watching an exciting game from upper-deck seating, unfortunately this means you'll have to consider leaving Gillette Stadium early to avoid the rush of exiting fans and ensure you make your train.
Parking at Gillette Stadium
Once near Gillette Stadium, there's ample parking nearby. The venue is on the east side of Route 1; the majority of general parking lots are on the west side. Ample signage for drivers approaching the stadium grounds will direct you to where you need to go, but you can also view a parking map here.
Note that which side of Route 1 you choose to park on makes a huge difference in how much it will cost you. Starting in 2019, Gillette Stadium changed its parking price structure so that general-access lots on the stadium side of the road cost $60, while lots on the other side charged only $30. All parking permits are for lots on the stadium side. There are also a handful of "non-official" parking areas along Route 1 that offer cheaper rates.
If you really want to save, you can park for free in a designated "Delayed Exit Lot" on the west (non-stadium) side of Route 1. You must enroll for the program for the game you plan to attend, then arrive no later than 30 minutes after kickoff. No cars will be allowed to leave the lot until 75 minutes after the game's conclusion.
The Delayed Exit lot is just one attempt to mitigate the traffic around the stadium, which can be more even horrendous than the typical large venue because of the relative lack of access roads. Be prepared to wait up to an hour getting into a parking lot near Gillette Stadium and up to two hours leaving it.
Foxborough hotels near Gillette Stadium
• Hilton Garden Inn Foxborough Patriot Place – 0.2 miles away
• Renaissance Boston Patriot Place Hotel – 0.2 miles away
• America's Best Value Inn Foxboro – 1.0 miles away
Search for more Foxborough hotels on Booking.com.
Map of the surrounding area
Things to do around the stadium
Foxborough is a typical quaint Northeast suburban town of winding single-lane roads, leafy neighborhoods, chain restaurants and gas stations. There are a few eateries and bars along Route 1, but because of crowds and traffic you might want to secure yourself a parking space before venturing out to find a pregame spot — weather permitting, at least.
Next to Gillette Stadium is a shopping center called Patriot Place that hosts a variety of eateries from casual to sit-down, with a few independent restaurants and bars sprinkled in. The CBS Sporting Club restaurant is one of the more popular pregame sports-bar type establishments (and also a good place to watch the game if you happen to have shown up without a ticket).
Also contained within the Patriot Place complex and Gillette Stadium grounds are two hotels, a pharmacy and a Trader Joe's for the community.
If the primary purpose of your visit to the region is to see a Patriots game at Gillette Stadium, you might want to consider staying in one of these hotels (the Hilton Garden Inn or the Renaissance Patriot Place), but they are of course in high demand on Patriots weekends and room rates are hiked accordingly.
Note that parking is free for those who just want to visit Patriot Place on game days, but the Patriots and Gillette Stadium go to some lengths to ensure that fans going to the game don't attempt to take advantage of this under the guise of just visiting to shop.
But because traffic can be such a nightmare, longtime Patriots fans know that the way to beat it is to arrive as early as possible and tailgate. Tailgating is allowed in every Gillette Stadium parking lot beginning four hours prior to games, and many fans will also wait out postgame traffic by firing up their grills once more (though be aware that lots officially close two hours after the conclusion of every event).
For more on visiting Foxborough, check out our Boston sports travel guide.
Foxborough restaurants near Gillette Stadium
• CBS Sporting Club – gastropub, 0.1 miles away
• Howl at the Moon Splitsville Foxborough – pub, 0.1 miles away
• Red Robin Gourmet Burgers – American, 0.1 miles away
Search for more Foxborough restaurants on Tripadvisor.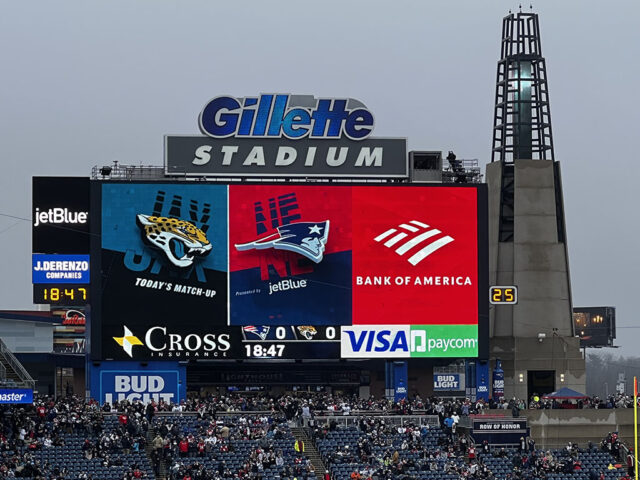 Watching a game at Gillette Stadium
Compared to the old Foxboro Stadium, which was widely considered one of the worst stadiums in the NFL, Gillette Stadium is a palace. And you'd think it would take a while for the new building to establish a tradition similar to the old one — after all, the final game played at Foxboro Stadium was the "Tuck Rule Game" (known by local fans more by the name "Snow Bowl") — the Patriots' success over the ensuing two decades has ensured that their fans think of the new place just as fondly.
The most distinguishing feature of Gillette Stadium is its lighthouse behind the north end zone seating area, the most visible aspect of the coastal theme the stadium's designers were looking to achieve. The lighthouse, on the end of the stadium facing Patriot Place and Route 1, is part of what essentially serves as the main entrance, with the ticket office located next to it.
Also in this area are the sizable Patriots Pro Shop, big enough to accommodate the crush of fans who look to buy something on game days, and the Patriots Hall of Fame, which typically closes at kickoff for late-afternoon or evening games.
Fans who enter next to the lighthouse or via the adjacent gate on the north side can ascend one of a set of staircases to reach the mezzanine level, essentially a large plaza. You can view Gillette Stadium's playing field from underneath one of the videoboards, and this area is a good alternative for keeping track of the game from a standing-room spot if you feel like getting out of your seating area for a bit.
More standing-room spots can be found along the elevated walkways behind the south end zone, near where the Patriots' six Super Bowl championship banners and one of the largest videoboards in the NFL are stationed. A large bar in this area also makes for a good hangout spot.
Like many newer stadiums, Gillette Stadium was designed to have the vast majority of its seating areas to be along the sidelines. With a lower bowl, a club level and two tiers of luxury suites, the seating in the upper deck looks and feels high up and steep compared to many NFL venues. The good news is, the 300-level upper deck seating sections don't have endless rows at Gillette Stadium the way some comparable stadiums do — up to 26 rows in most cases.
The capacity of the lower-bowl seating behind Gillette Stadium's south end zone was reduced before the 2015 season with the introduction of the Field Lounge, a bar space right at field level. Access to the lounge is a paid benefit for season ticket members.
Say what you will about Patriots fans who have been spoiled by the team's sustained excellence, but they can turn Gillette Stadium into a rollicking place — as evidenced by when the 1980s rock standard "Your Love" begins playing and the seating bowl turns into a giant sing-along. (The song typically is played during a break in the fourth quarter when the Pats appear on the verge of winning.)
Interested in a suite at Gillette Stadium? Buy suite tickets on SuiteHop.
Food and drink at Gillette Stadium
Concessions at Gillette Stadium don't veer too much away from regular sports-venue fare. Standards such as hot dogs, burgers, chicken tenders and sausages are the norm, and stands tend to have generic stadium-themed names with little promotion of brand names, which isn't necessarily a bad thing.
However, there are a handful of regional favorites, such as Papa Gino's pizza and Kayem hot dogs, while the craft beer selection includes local breweries Harpoon and Shipyard.
If you really want to sample something local, get yourself a cup of clam chowder, an Italian sausage or a whoopie pie, all available at different stands around the stadium. The JetBlue Landings on the upper concourses are good spots to survey your options.
Original publish date: February 4, 2016
Most recent update: September 1, 2023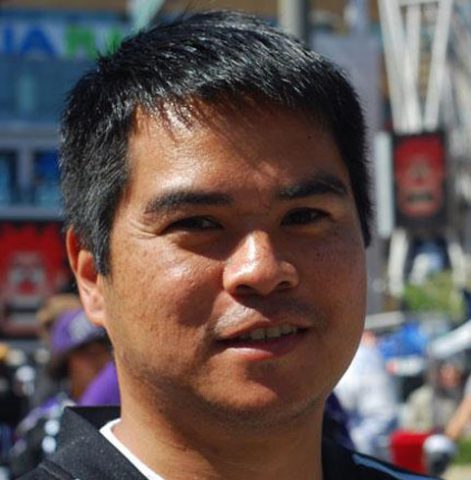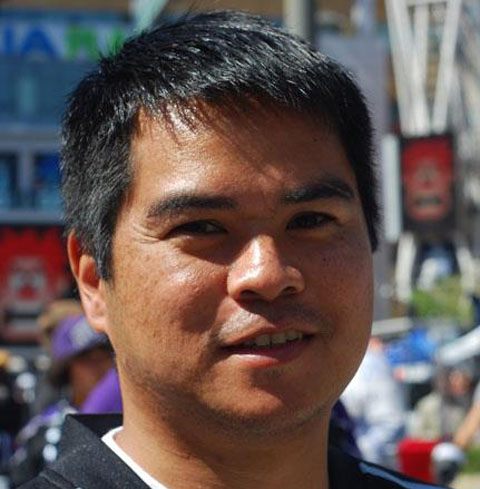 Edward de la Fuente | Itinerant Fan
I live for sports, and I love to travel. My biggest thrill is combining the two. I've been blogging about sports travel for more than a decade, and traveling for sports for twice as long.
About me | FAQ | Buy me a beer 🍺
Affiliate Disclosure
Please note that some of the links above are affiliate links, and at no additional cost to you, we earn a commission if you make a purchase. These recommendations are only for companies that we've used and have proven to enhance our sports travel experiences. To find out more about our affiliate partnerships, please read our Affiliate Disclaimer.
The Particulars
Home Teams
New England Patriots
New England Revolution
Address
1 Patriot Place
Foxborough, MA 02035
Year Opened
2002
Capacity
68,756
Upcoming Events
All times local
MIAA High School Football
Friday, December 1, 2023
3:00 pm
Get tickets at Ticketmaster »

New England Patriots vs. Los Angeles Chargers
Sunday, December 3, 2023
1:00 pm
Get tickets at Ticketmaster »

Army-Navy Game presented by USAA
Saturday, December 9, 2023
3:00 pm
Get tickets at Ticketmaster »

New England Patriots vs. Kansas City Chiefs
Sunday, December 17, 2023
1:00 pm
Get tickets at Ticketmaster »

Monster Energy AMA Supercross Championship
Saturday, April 13, 2024
6:30 pm
Get tickets at Ticketmaster »