T-Mobile Arena
Our guide to T-Mobile Arena in Las Vegas includes information on events, tickets, parking, public transportation, nearby hotels and restaurants, seating and more. Read on to find out how to get the most out of your gameday experience.
* * *
Despite its worldwide reputation as a premier gambling, entertainment and events destination, Las Vegas filled a big void in 2017 when the NHL expansion Vegas Golden Knights began play at T-Mobile Arena.
The Golden Knights were Vegas' first major professional sports team, but in some ways it felt like Sin City had been ready for a team to call its own for a long time.
As it turned out, Las Vegas residents needed something other than the Strip and casino gambling to show pride in their city. That certainly played out beyond the city's wildest dreams in 2017-18, when the Golden Knights kicked off their existence by winning again and again. They took fans on a wild and exhilarating ride through their inaugural season — one that led all the way to the Stanley Cup Final.
It should also not be understated the role the Golden Knights played in helping the city heal after the Route 91 concert shooting on October 1, 2017 — just days before the team's inaugural game. A tribute to the shooting victims continues to display at the arena.
Once you check out the arena the Golden Knights call home, you can see just part of the reason why the locals are so excited. In T-Mobile Arena, just off the Strip and near one of the city's busiest intersections, Vegas has a first-rate facility that measures up with some of the best buildings in the NHL.
When there's no hockey going on, T-Mobile Arena gets plenty of use as the home of big-time boxing and mixed martial arts events, college basketball (the Pac-12 men's basketball tournament is held there every March) and many more events.
And now that the NFL's Raiders have relocated to Vegas — they moved into the new Allegiant Stadium, across the freeway, in 2020 — T-Mobile Arena may be looked upon a few decades down the line as the building that brought Vegas into the big-time as far as pro sports is concerned.
For more on visiting Las Vegas, check out our Las Vegas sports travel guide.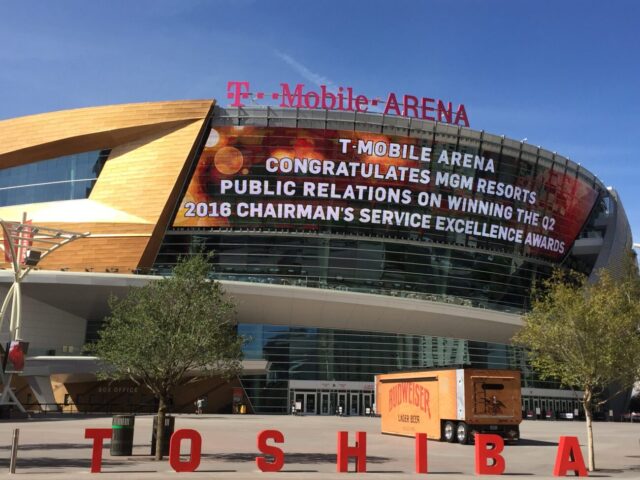 Getting to the arena
While directions are certainly useful in Las Vegas, when it comes to attractions on the Strip it's more helpful to mention where they are in relation to nearby casinos. So with that in mind, T-Mobile Arena is behind New York New York and near the Park MGM.
But if you've never been to Vegas, you might not have a sense of where either of those two are, so make your way to the intersection of Las Vegas Boulevard (aka the Strip) and Tropicana Avenue, where four of the most prominent casino/hotels reside: the MGM Grand, New York New York, the Tropicana and the Excalibur.
Then, head west on Tropicana to find the arena, nestled between New York New York and Interstate 15. In fact, if you're heading to the arena on I-15, it won't be difficult to spot. Keep in mind, though, that traffic for arena events will back up near the Tropicana Avenue exits in both directions.
Parking at T-Mobile Arena
Las Vegas casino patrons are used to free parking, but the three closest structures (at New York, New York, Park MGM and Aria) are each charging $20 for arena events.
You can purchase parking in advance and save $10, but if you'd rather not pay, consider parking at a farther-away casino for free and walking. Really, walking along the Strip or through casinos isn't exactly an undesirable alternative. It's difficult to get lost, anyway, since there are numerous signs pointing you where you need to go.
T-Mobile Arena directional signs become more frequent the closer you get, but in general, follow the signs to either New York New York or Park MGM to stay on the right track.
Las Vegas hotels near T-Mobile Arena
• Park MGM Las Vegas – 0.2 miles away
• New York New York Hotel & Casino – 0.3 miles away
• Excalibur Hotel & Casino – 0.3 miles away
Search for more Las Vegas hotels on Booking.com.
Map of the surrounding area
Things to do around the arena
Along the Vegas Strip, they make it really, really easy for you to find something to do, no matter what your tastes may be. Casino gambling, of course, is prominent among your options, and you have three major casinos at your disposal without having to cross a major street.
Spoiler alert: Though you can find slot machines at some really random spots in this city, including at the airport and in some restaurants and drugstores, there aren't any inside T-Mobile Arena.
But you'll find plenty of traditional pregame entertainment as well. Along with T-Mobile Arena, a small district alongside New York New York called "The Park" was built that includes a very large brewpub with outdoor seating called Beerhaus and several eateries, including a Shake Shack. If you're walking toward the arena from the Strip, you'll likely have to pass through it, making it very popular for sports fans.
And the number of restaurants and bars within a half-mile radius are, quite frankly, endless considering the number of high-profile casinos around, and many are crowded whether there's an event going on at T-Mobile Arena or not.
Vegas can be notoriously difficult on the wallet, but most nearby casinos have mall-style food courts if you're looking for budget options. New York New York's happens to be close to the exit leading to The Park, and thus to the arena itself.
Las Vegas restaurants near T-Mobile Arena
• Bruxie – cafe, 0.1 miles away
• Broadway Burger Bar and Grill – American, 0.1 miles away
• Eataly – Italian, 0.1 miles away
Search for more Las Vegas restaurants on Tripadvisor.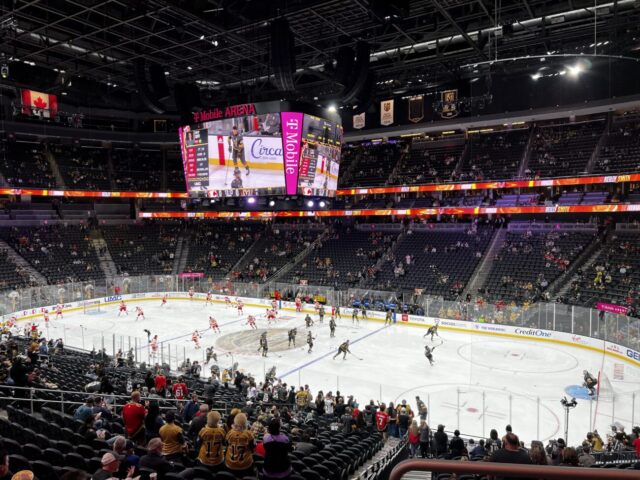 Watching a game at T-Mobile Arena
When you arrive for a T-Mobile Arena event, start by going through the Toshiba Plaza on the arena's east side, facing the casinos and the Strip. In fact, unless you have VIP tickets that allow you to access a pair of exclusive side entrances, you'll have to go through the Toshiba Plaza, because that's where the only public entrance to the arena is. Luckily, it's fairly wide and has a large enough number of turnstiles where you won't be waiting too long to get in.
Once inside T-Mobile Arena you're on the event level and have to ascend an escalator or stairs to get to the main concourse, which is decorated almost exactly the way you would expect of an arena in Las Vegas: Neon hues, bars at practically every corner, gaudy displays and, in some spots, large windows looking out onto the city.
There are two lounges on the main concourse and another one above the upper seating level, with the latter, called the Hyde Lounge, helping constitute the most striking and unique feature of the arena: Two balconies jutting out above the seating bowl, fashioned to look like glaciers.
Beyond that, T-Mobile Arena's seating bowl is pretty standard stuff as arenas go, with two levels of seats and a suite level in between. In fact, the 200 (aka upper) level is shaped like a horseshoe rather than an oval, which makes the building better suited for concerts.
In the place of that missing chunk of upper-level seating sections is a giant mural of the Strip, which is a nice thing to look at when you're not watching the game.
Just below that mural is a stage with a castle backdrop and a sign reading "Welcome to the Fortress." This is where the Golden Knights' in-arena hosts do promos, where the team's drumline performs and more.
You'll definitely want to get to your seat early and pay attention before the start of Golden Knights games, as the team has gained a reputation among hockey fans for their gaudy, eventful pregame presentations. They also allude to their location often, from the bass-heavy, club-like music and spotlights during virtually every stoppage in play to the slot-machine sound effect when the PA announces a Knights goal.
With good sight lines throughout the seating bowl and a state-of-the-art scoreboard in the middle, T-Mobile Arena offers an event spectating experience that measures up well with most of the newer buildings around the NHL.
Two things to note if you're sitting in T-Mobile Arena's 200 level: 1) The concourse is above the seating bowl, so you'll be walking down to your seats, and 2) the aisles are decidedly steeper than most arenas, so be sure to hold on to the handrails!
Interested in a suite at T-Mobile Arena? Buy suite tickets on SuiteHop.
Food and drink at T-Mobile Arena
You won't find anything too adventurous among T-Mobile Arena's food selections, though you'll see quite a few brand names.
Shake Shack and Pink's Hot Dogs, the latter being a Los Angeles-based institution, are among the purveyors operating stands there. In addition, you'll find deli sandwiches, pizza and barbecue among the many options.
Of course in Vegas, the alcohol flows freely, so it's no surprise the beer and cocktail selection at T-Mobile Arena is wide and varied. In fact, the arena has its own signature cocktail, the Atomic Fizz.
Original publish date: August 24, 2017
Most recent update: March 10, 2023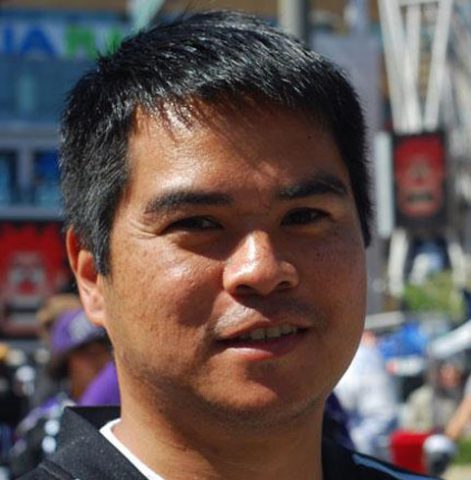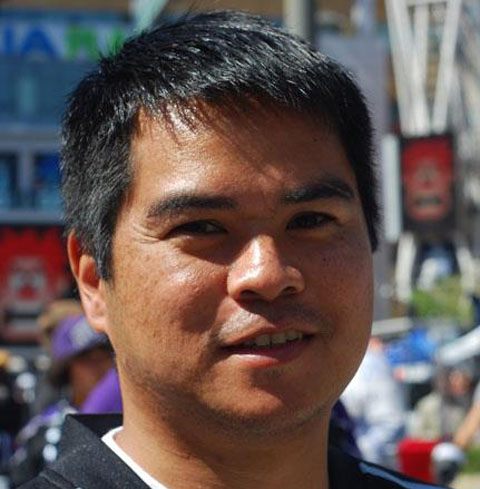 Edward de la Fuente | Itinerant Fan
I live for sports, and I love to travel. My biggest thrill is combining the two. I've been blogging about sports travel for more than a decade, and traveling for sports for twice as long.
About me | FAQ | Buy me a beer 🍺
Affiliate Disclosure
Please note that some of the links above are affiliate links, and at no additional cost to you, we earn a commission if you make a purchase. These recommendations are only for companies that we've used and have proven to enhance our sports travel experiences. To find out more about our affiliate partnerships, please read our Affiliate Disclaimer.
The Particulars
Home Teams
Vegas Golden Knights
Address
3780 S. Las Vegas Blvd.
Las Vegas, NV 89119
Year Opened
2016
Capacity
17,500
Upcoming Events
All times local
Vegas Golden Knights vs. Los Angeles Kings
Wednesday, September 27, 2023
7:00 pm
Get tickets at Ticketmaster »

Vegas Golden Knights vs. Arizona Coyotes
Friday, September 29, 2023
7:00 pm
Get tickets at Ticketmaster »

Saul Canelo Alvarez vs. Jermall Charlo
Saturday, September 30, 2023
5:00 pm
Get tickets at Ticketmaster »

Vegas Golden Knights vs. San Jose Sharks
Tuesday, October 3, 2023
7:00 pm
Get tickets at Ticketmaster »

Vegas Golden Knights vs. Colorado Avalanche
Thursday, October 5, 2023
7:00 pm
Get tickets at Ticketmaster »