Highmark Stadium
Our guide to Highmark Stadium in Orchard Park, N.Y., includes information on events, tickets, parking, public transportation, nearby hotels and restaurants, seating and more. Read on to find out how to get the most out of your gameday experience.
* * *
Over its long history, the stadium the Buffalo Bills call home has been through quite a bit.
From the team's heyday of the early 1990s, when it reached four straight Super Bowls, to the lean years of the late 2000s and early 2010s, the stadium and Buffalo's loyal fans have stood as a constant.
Now known as Highmark Stadium, the venue is also the answer to a trivia question involving a different sport: it hosted the first NHL Winter Classic, back in 2008, when the Sabres hosted the Pittsburgh Penguins.
In recent years, a number of renovations have gone a long way toward enhancing the spectator experience in what was already one of the more fun environments in the NFL. The "Bills Mafia" has gained a reputation for being some of the most boisterous fans in the league, and it's really on display during game days at Highmark Stadium.
Highmark Stadium is the latest name for a venue that recently went from New Era Field to Bills Stadium in quick succession. The facility has previously been known as Rich Stadium and Ralph Wilson Stadium in its long history.
Its days are now numbered, with a new stadium to be built just across the street. It will be ready for the 2026 season, so in the meantime enjoy Highmark Stadium for what it is: One of the quirkiest, most unique stadiums in the NFL.
Looking for Highmark Stadium event tickets? Search events on Ticketmaster.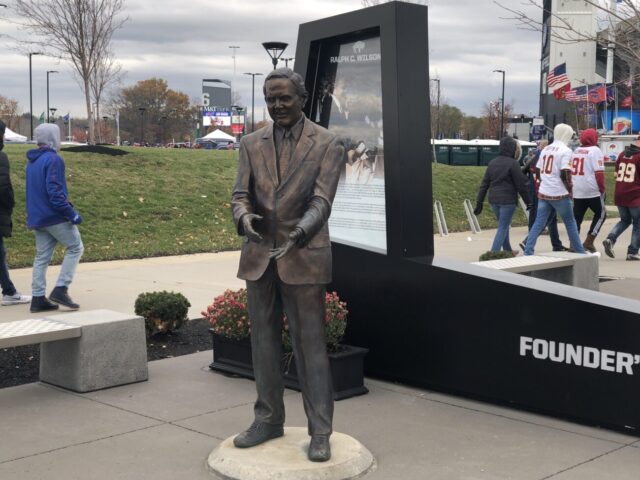 Getting to the stadium
Orchard Park, where Highmark Stadium is located, is a suburb about 12 miles south of downtown Buffalo. But the stadium is not far from Interstate 90, which cuts through the city, as well as Route 219 aka the Pittsburgh-Buffalo Highway. From Route 219, exit at either Milestrip Road (Route 179) if you're heading south on I-90 or Big Tree Road (Route 20A) if traveling north, then go east toward the stadium.
You can find more detailed driving directions here, but from our experience, traveling from the Buffalo airport, exiting Route 219 on Milestrip Road and heading east (against the gameday traffic flow), then turning right on Mid County Drive and right again onto Southwestern Boulevard, was a viable shortcut.
If you don't have a car, you can consider taking a taxi or rideshare, but from downtown Buffalo you're looking at a rather hefty one-way cab fare. However, there is a shuttle service that runs to the stadium from various points around the region, including in neighboring Canada.
Yes, plenty of fans come from across the border to see Bills games, and it's not uncommon to see many cars with Ontario license plates in the Highmark Stadium parking lots.
Parking at Highmark Stadium
Highmark Stadium is surrounded by large parking lots on both sides on Abbott Road, the main drag on the stadium's west side. Most of the outer lots are open to the public; general parking currently costs $40. Be forewarned that traffic between the stadium and I-90 can get gnarly as kickoff approaches and after games.
Note that the west side of Abbott Road is where the new stadium is set to be built, so expect parking capacity to decrease significantly there in the coming years.
There are also plenty of businesses near Highmark Stadium willing to offer up spaces in their parking lots for fans, with the usual discount getting steeper the farther away the lot is from the stadium. The westbound approach on Southwestern Boulevard has quite a few options, ranging from medical offices and restaurants to a tire store and a guitar store.
Looking for parking at Highmark Stadium? Buy parking on SpotHero.
Orchard Park/Buffalo hotels near Highmark Stadium
For visitors, there's very little in the way of hotel and lodging selections near Highmark Stadium. You might find yourself better off choosing from one of the many hotels in and around downtown Buffalo, about 12 miles northwest of the stadium, or near Buffalo Niagara International Airport about 15 miles to the north, and then driving to Highmark Stadium on game day.
• Red Carpet Inn Orchard Park – 0.4 miles away
• Stadium View Inn – 1.9 miles away
• Econo Lodge Buffalo South – 1.9 miles away
Search for more Orchard Park/Buffalo hotels on Booking.com.
Map of the surrounding area
Things to do around the stadium
Befitting its suburban locale, there isn't that much to do in the immediate vicinity of the stadium other than a few mom-and-pop establishments — though they all have strong reputations as gameday hangouts.
In particular, check out Big Tree Inn and Danny's Buffalo Cuisine (both at the intersection of Abbott and Big Tree roads), and O'Neill's Stadium Inn at Abbott and Southwestern Boulevard.
The lack of hotels and restaurants in the area also largely means a lack of foot traffic around Highmark Stadium, save for folks walking from their car to the stadium. That's OK, because that's a big reason why the tailgating scene is so strong before Bills games.
Especially if you're a one-time-only visitor, you owe it to yourself to walk around and check out a little bit of the tailgating, which has been known to get elaborate and sometimes a little rowdy. If you'd like to set up your own tailgate party, the Bills have published a guide which can be found here.
The Bills also host a kid-friendly pregame party in their practice facility, the Adpro Sports Training Facility, on the south side of the stadium. And a portion of Abbott Road is closed to traffic pregame — it's in this area where you can find the "Billevard," with sponsor booths and food trucks.
For more on visiting Buffalo, check out our Buffalo sports travel guide.
Orchard Park restaurants near Highmark Stadium
• Big Tree Inn – American, 0.3 miles away
• Danny's Buffalo Cuisine – American, 0.3 miles away
• O'Neill's Stadium Inn – pub, 0.4 miles away
Search for more Orchard Park/Buffalo restaurants on Tripadvisor.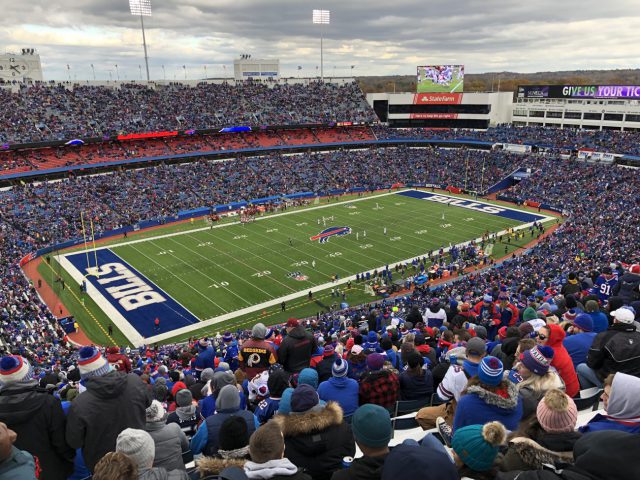 Watching a game at Highmark Stadium
Buffalo's location at the eastern end of Lake Erie contributes to its reputation for having chilly, windswept days starting in the fall.
It goes without saying that fans need to bundle up for cold afternoons in their seats, particularly as it gets late in the football season, but die-hard Bills fans never use the weather as an excuse for not having a good time at Highmark Stadium. So bring a nice, heavy coat, a scarf and a hat, and revel in what can often be a party atmosphere.
Entry gates can be found throughout the stadium's perimeter but are most prominent on the west side, where the Bills Team Store is as well as a statue of Ralph Wilson, his right arm outstretched so that fans can walk up and shake his hand.
The statue and team store are part of an enlarged entry plaza that was a big component of the stadium's most recent renovation, which also included two new videoboards on the east end.
While the perimeter of the venue serves as the main concourse, most of the concession stands, bathrooms, etc. can be found within the stadium structure, with upper and lower levels. On cold, windswept days, you can find at least a little bit of shelter in these areas if you're looking for a break from the weather conditions.
Highmark Stadium's seating bowl itself has a similar feel to a college stadium, with aluminum bleacher seating in all but the lower bowl sideline sections. The benches at least have divided backs so that individual seats are more clearly delineated.
The upper part of the seating bowl is often where you can find Highmark Stadium's most spirited fans, who are at their loudest when the Bills score and the stadium PA fires up the team's own rendition of the song "Shout," allowing them to scream out, "Let's go Buffalo!"
Note that in the upper deck seating areas on both sides of Highmark Stadium, there is a concourse at the very top that have two sets of bathrooms each. There's also limited standing-room viewing areas if you're looking for a different vantage point or to stretch your legs a little.
But be forewarned that not every aisle leads to this top concourse; a few lead to dead ends at the top, forcing you to walk across rows to get to the next aisle and the concourse.
Interested in a suite at Highmark Stadium? Buy suite tickets on SuiteHop.
Food and drink at Highmark Stadium
Highmark Stadium's concessions options were also revamped as part of the renovation. Among the purveyors that can be found there are Tim Hortons (donuts and coffee) and Dinosaur Bar-B-Que. And it wouldn't be a Buffalo venue if Buffalo wings weren't available — Duff's Famous Wings and La Nova operate stands around the stadium.
If you want to stretch your legs and get out of your seating area, you can head behind Highmark Stadium's east end zone bleachers to the Miller Lite Brew Pub, which offers a sports bar atmosphere where you can watch the game for a bit.
Original publish date: February 4, 2016
Most recent update: September 1, 2023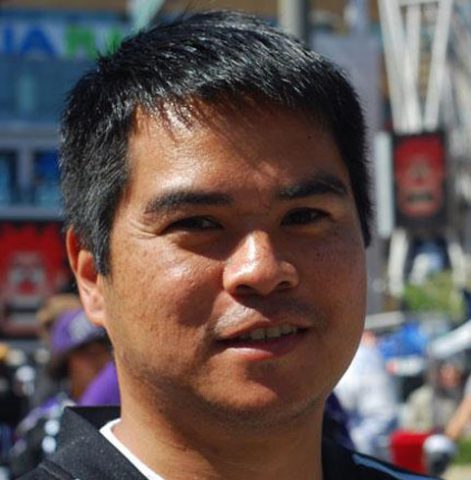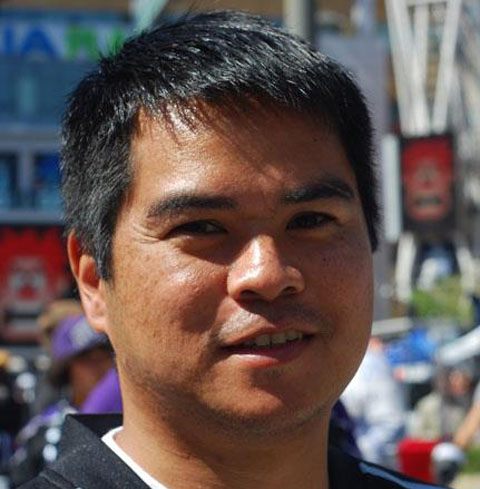 Edward de la Fuente | Itinerant Fan
I live for sports, and I love to travel. My biggest thrill is combining the two. I've been blogging about sports travel for more than a decade, and traveling for sports for twice as long.
About me | FAQ | Buy me a beer 🍺
Affiliate Disclosure
Please note that some of the links above are affiliate links, and at no additional cost to you, we earn a commission if you make a purchase. These recommendations are only for companies that we've used and have proven to enhance our sports travel experiences. To find out more about our affiliate partnerships, please read our Affiliate Disclaimer.
The Particulars
Home Teams
Buffalo Bills
Address
1 Bills Drive
Orchard Park, NY 14127
Year Opened
1973
Capacity
71,857
Upcoming Events
All times local
Buffalo Bills vs. Miami Dolphins
Sunday, October 1, 2023
1:00 pm
Get tickets at Ticketmaster »

Buffalo Bills vs. New York Giants
Sunday, October 15, 2023
8:20 pm
Get tickets at Ticketmaster »

Buffalo Bills vs. Tampa Bay Buccaneers
Thursday, October 26, 2023
8:15 pm
Get tickets at Ticketmaster »

Buffalo Bills vs. Denver Broncos
Monday, November 13, 2023
8:15 pm
Get tickets at Ticketmaster »

Buffalo Bills vs. New York Jets
Sunday, November 19, 2023
4:25 pm
Get tickets at Ticketmaster »