Kauffman Stadium
Our guide to Kauffman Stadium in Kansas City includes information on events, tickets, parking, public transportation, nearby hotels and restaurants, seating and more. Read on to find out how to get the most out of your gameday experience.
* * *
Kauffman Stadium, home of the Kansas City Royals, is something of an anomaly in Major League Baseball ballpark circles — and something of an underappreciated gem.
"The K," as Royals fans call it, is an older ballpark that looks modern, a large venue that feels intimate, a stadium built during the "cookie-cutter" era that manages to be unique. Indeed, it's one of baseball's more beautiful ballparks, but in an understated way, as it tends to get overlook amid its newer, flashier peers.
A renovation completed over a decade ago, one made in preparation for the Royals to host the 2012 MLB All-Star Game, helped transform Kauffman Stadium and give it a fresh look in both obvious and subtle ways. All of it went a long way toward enhancing the fan experience, which we'll explore in the sections below.
The Royals' longstanding doldrums and the stadium's age likely kept it from ascending to the upper echelon of major-league parks in the minds of many, but the home team changed all that with a resurgence that culminated in a World Series title in 2015 — the franchise's first in 30 years.
So Kauffman Stadium has a higher profile these days thanks to that success, but whether or not the Royals are thriving, the K has plenty to offer fans who give it a visit.
For more on visiting Kansas City, check out our Kansas City sports travel guide.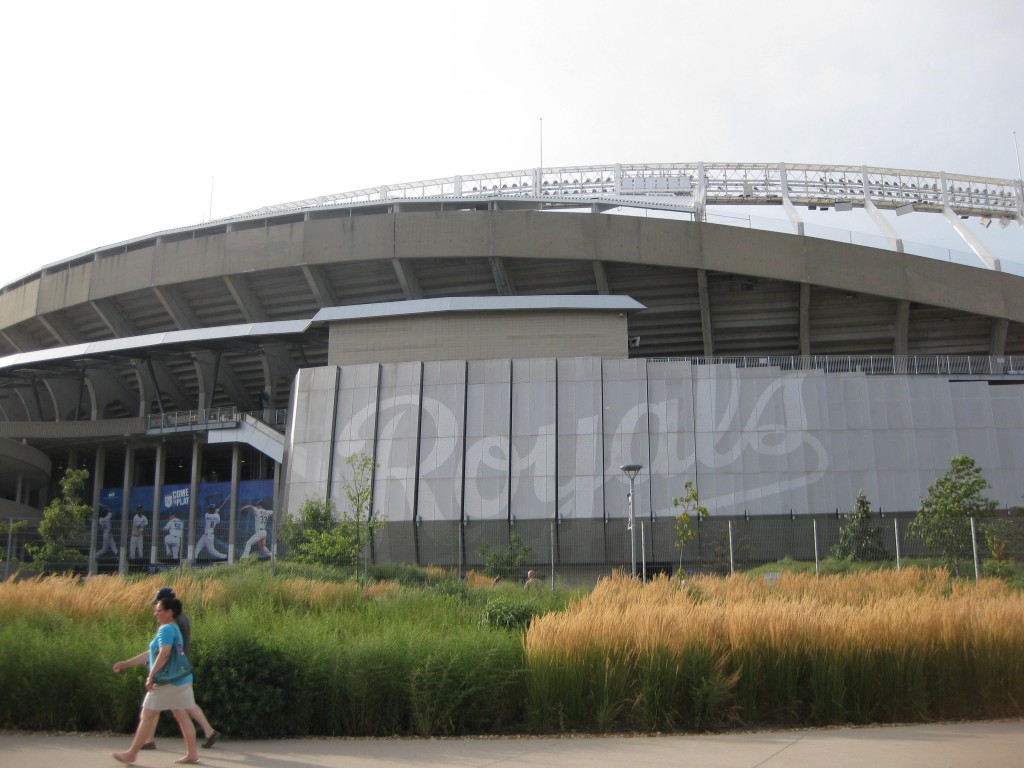 Getting to the ballpark
In planning a trip to Kauffman Stadium, you'll see right away that a few challenges await as far as getting there. The ballpark is not near anything of relevance except Arrowhead Stadium, right next door in what makes up the Truman Sports Complex. Downtown Kansas City is a good 7-8 miles away, and so is Country Club Plaza, a popular spot for hotels; what's worse, no public transportation runs to Kauffman Stadium, not even special-event buses.
If you have a car at your disposal, getting there is easy enough. The Truman Sports Complex is located near the interchange between Interstate 70, which leads from downtown Kansas City, and I-435.
When approaching from the west, take I-70 eastbound to the Blue Ridge Cut-Off. As you're exiting you'll already see Kauffman Stadium to your right (and Arrowhead Stadium right behind it), and from there you can proceed to one of two entry gates on the right. There are other routes in via I-435 and Stadium Drive, but the first set of directions are the simplest for those unfamiliar with K.C.
Beyond driving, there aren't many other reliable methods to get to the game. Taxis and rideshares have a dedicated lane on the stadium's first-base side and do a brisk business. On a visit several years back, we took advantage of a hotel shuttle to Kauffman Stadium (in fact, it was the reason we chose to stay at this hotel) but the hotel has since rebranded and no longer offers the service.
Parking at Kauffman Stadium
Kauffman Stadium is virtually surrounded by parking lots, divided and assigned a letter. More significantly, for Royals games the lots are designated as either West or East, and cars aren't allowed to cross from one to the other.
So if you're particular about which parking lot you choose at Kauffman Stadium in relation to where in the stadium you're sitting (ie. if your ticket is for a seating area on a specific side), you'll want to pay attention to these distinctions and plan your route into the stadium accordingly. If you don't mind a little extra walking, the rules don't matter as much.
General parking rates at Kauffman Stadium are currently $15, and most general lots are closer to Arrowhead Stadium, with the handful of spaces closest to the ballpark reserved for premium permits. Follow the link for parking information at the Truman Sports Complex, including a parking map and a portal to purchase advance permits.
Kansas City hotels near Kauffman Stadium
• Drury Inn & Suites Kansas City Stadium – 0.1 miles away
• Best Western Premier Kansas City Sports Complex Hotel – 0.2 miles away
• WoodSpring Suites Kansas City Stadium – 0.4 miles away
Search for more Kansas City hotels on Booking.com.
Map of the surrounding area
Things to do around the ballpark
The other disadvantage of the ballpark's location is that there's precious little to do in the immediate vicinity. There are a handful of hotels and quick-bite restaurants across the Blue Ridge Cut-Off and on the other side of Interstate 70, but they're not really attractions that fall into the can't-miss category when visiting Kauffman Stadium.
However, if you have come to Kansas City specifically to see a Royals game, you could stay at one of the nearby hotels and simply walk to Kauffman Stadium, saving yourself the hassle of renting a car.
Royals fans can, and do, tailgate before games. In the land of fine barbecue, it's an appealing option — especially if you're part of a fairly large party — to pick up some food from one of K.C.'s many terrific barbecue joints as well as a few beers, drive to Kauffman Stadium early and hang out beforehand in the parking lot.
Other than that, though, there's not much else to do but head inside.
Kansas City restaurants near Kauffman Stadium
• Denny's – diner, 0.3 miles away
• Taco Bell – fast food, 0.4 miles away
• Casey's Bar – pub, 0.5 miles away
Search for more Kansas City restaurants on Tripadvisor.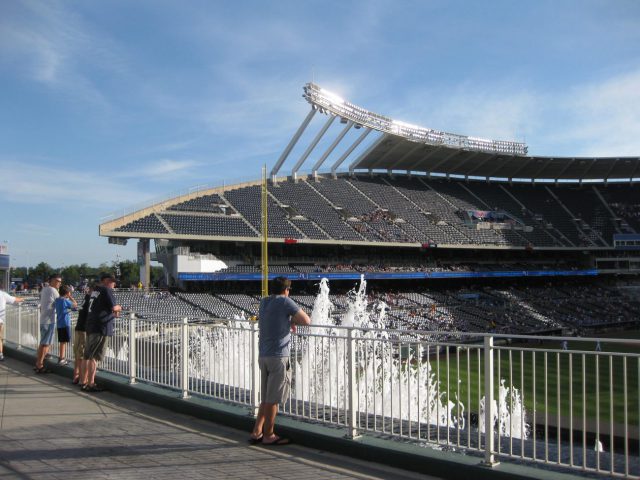 Watching a game at Kauffman Stadium
What The K lacks in surroundings, it makes up for in features — most prominently, the fountains and waterfalls beyond the fence in left-center and right-center fields.
These fountains, a tribute to Kansas City's status as the "City of Fountains" (and if you want to know why it's called that, just drive around town a bit), have always been the feature that sets Kauffman Stadium apart, but before its renovation, they were just something to gawk at from your faraway seating area when nothing was happening on the field. Not anymore.
Since 2009, when a new concourse, added seating and party porches were built amongst them, the fountains have been an integral part of the experience of attending a game at Kauffman Stadium, and they truly make the difference between Just Another Ballpark To See Major League Baseball and Must-See Ballpark For Any Traveling Baseball Fan.
Regardless of where your seating area is, it's worth it to spend some time pregame (or even during the game) walking around the outfield to get the full Kauffman Stadium experience. The Royals Hall of Fame is located in left field, and in center field you can see statues of franchise legends George Brett and Frank White, manager Dick Howser, and former owner Ewing Kauffman (for whom the stadium is named) and his wife Muriel.
You can get up close to the fountains in meaningful ways, too. No, you can't wade in them, but you can lean up against the railing and watch the game while the fountains are bubbling in front of you — what other major-league ballpark offers that?
Also, if it's a hot and humid summer day, head down to the right-field party porch and stand close to the fountains behind you when they shoot off (usually between innings). The resulting mist will be the best feeling you'll have all day.
You can also get a close look at the giant vertical scoreboard in center field, shaped like the Royals' logo — another distinctive feature of the stadium — as well as survey some of the concessions options (more on that below).
Kauffman Stadium's seating bowl itself is pretty distinctive, starting from the upper level that tapers as it reaches the outfield. Despite being built in the era of concrete cookie-cutter stadiums, the K doesn't have that sort of feeling — perhaps the most obvious sign that it's from that era are the ramps that you use to go from level to level, including the two circular ones on either side of home plate.
Food and drink at Kauffman Stadium
The food offerings at Kauffman Stadium aren't quite as adventurous as we expected, but most of Kansas City's greatest hits are represented, from brisket and pulled pork sandwiches (and tacos!) to fried chicken sandwiches to kielbasas.
The stadium also offers a "budget buys" menu that includes hot dogs for $4 and popcorn and pretzels for $3.
On the outfield concourse, in right field, you can also find the Rivals restaurant that serves gastropub-type fare, and the Blue Moon Taproom, where you can sit and enjoy an adult beverage while watching the game from patio-style seating.
Beer selection around the park includes pours from locally based Boulevard Brewing Company; you can also get a Royals-blue colored frozen margarita.
Original publish date: February 4, 2016
Most recent update: March 18, 2023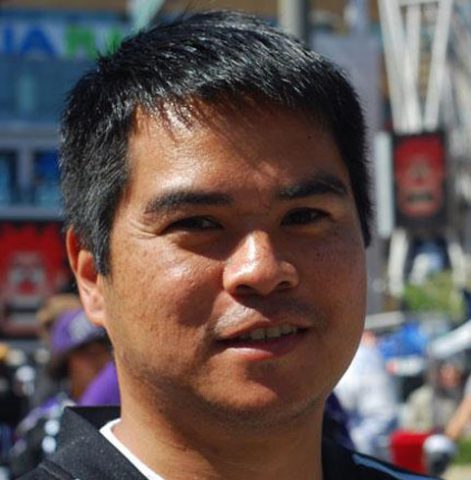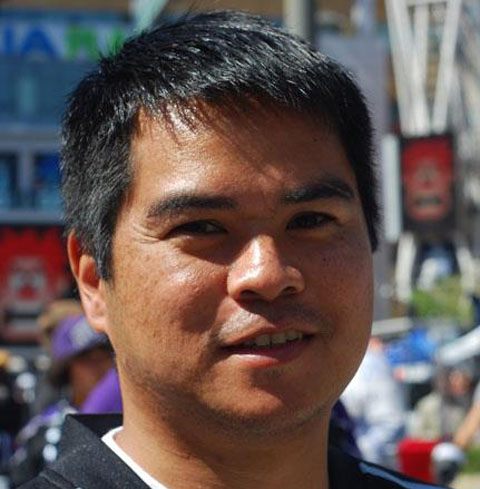 Edward de la Fuente | Itinerant Fan
I live for sports, and I love to travel. My biggest thrill is combining the two. I've been blogging about sports travel for more than a decade, and traveling for sports for twice as long.
About me | FAQ | Buy me a beer 🍺
Affiliate Disclosure
Please note that some of the links above are affiliate links, and at no additional cost to you, we earn a commission if you make a purchase. These recommendations are only for companies that we've used and have proven to enhance our sports travel experiences. To find out more about our affiliate partnerships, please read our Affiliate Disclaimer.
The Particulars
Home Teams
Kansas City Royals
Address
1 Royal Way
Kansas City, MO 64141
Year Opened
1973
Capacity
37,903
Upcoming Events
All times local
Kansas City Royals vs. New York Yankees
Friday, September 29, 2023
7:10 pm
Get tickets at Ticketmaster »

Kansas City Royals vs. New York Yankees
Saturday, September 30, 2023
6:10 pm
Get tickets at Ticketmaster »

Kansas City Royals vs. New York Yankees
Sunday, October 1, 2023
2:10 pm
Get tickets at Ticketmaster »