U.S. Bank Stadium
Our guide to U.S. Bank Stadium in Minneapolis includes information on events, tickets, parking, public transportation, nearby hotels and restaurants, seating and more. Read on to find out how to get the most out of your gameday experience.
* * *
U.S. Bank Stadium, home of the Minnesota Vikings, offers just about everything you'd want in an NFL event experience, from ample seating and a great food and drink selection to an ideal location close to the hotels, restaurants and nightlife of downtown Minneapolis.
The stadium opened to much fanfare in 2016 after its predecessor, the Metrodome, was razed and the Vikings relocated for two seasons to the University of Minnesota's football stadium, now known as Huntington Bank Stadium.
Built on the Metrodome's footprint on the eastern edge of downtown, U.S. Bank Stadium set new standards for NFL stadiums in a few ways. It's certainly a unique-looking building — some would say it resembles a giant ship of glass and steel — that manages to incorporate some of the best features of modern football venues while introducing some new creature comforts as well.
It's not surprising that Vikings fans warmed to the new joint pretty quickly, and it already has played host to one iconic franchise moment. Certainly the powers that be in the sports world recognize the stadium's place on the venue chain, as a Super Bowl and a Final Four have already been staged within its walls.
But whether you want to visit for a major event or a regular-season Vikings tilt, U.S. Bank Stadium is a worthy addition to any traveling fan's stadium list.
Looking for U.S. Bank Stadium event tickets? Search events on Ticketmaster.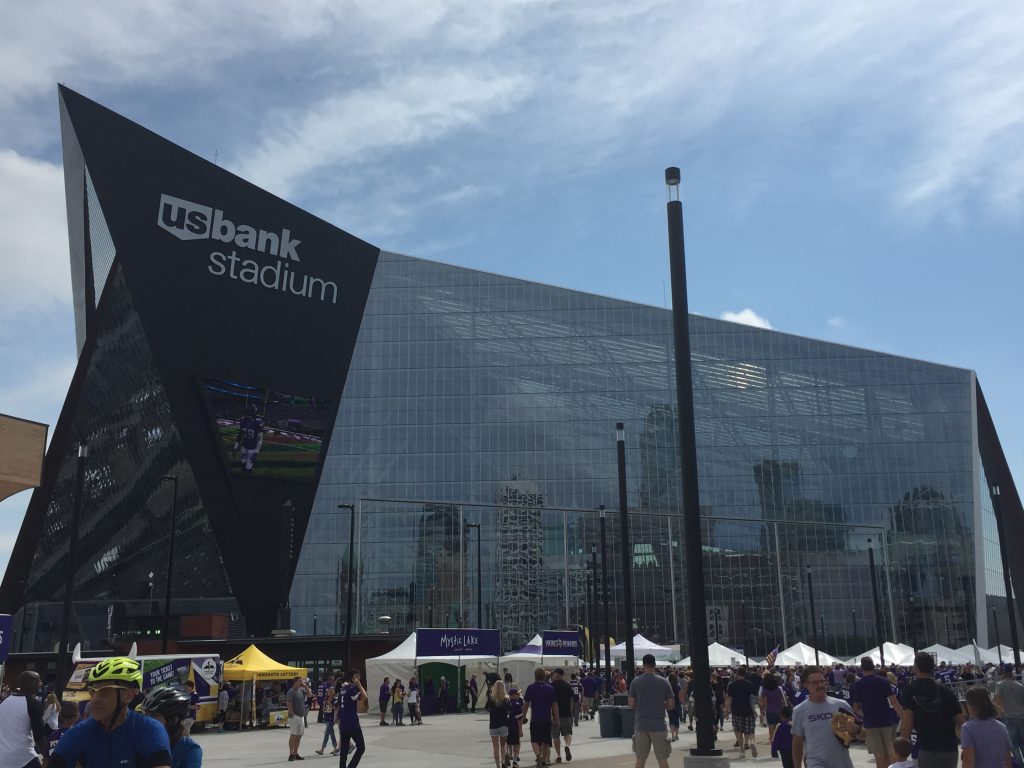 Getting to the stadium
If you've ever visited the old Metrodome, you need no directions to U.S. Bank Stadium — it's in the same spot, along Chicago Avenue between 4th and 6th streets. But even for the uninitiated, it's not difficult to find the place, as it sits on the east side of downtown not far from Interstate 35W as it runs toward the Mississippi River.
For drivers on I-35W, 4th Street is the closest exit to the stadium, though it most likely will also be the most congested as kickoff approaches.
Fans who would prefer not to drive can take advantage of the Twin Cities' Metro Transit light rail system, which has a U.S. Bank Stadium stop right next door to the facility (along with the new venue, a large platform capable of handling large event crowds was constructed, with a pedestrian bridge from the westbound platform to the stadium's main plaza).
You can use the Blue Line to get there from Bloomington and the Mall of America, Minneapolis/St. Paul International Airport and southern Minneapolis; take the Green Line to get there from downtown St. Paul and the Midway District, as well as the University of Minnesota.
A word to travelers arriving at MSP on gamedays: Be mindful of how close to kickoff it is when you board the train, as Vikings fans boarding at the Mall of America can clog downtown-bound Blue Line trains.
Many Vikings fans (and we do mean many, judging by the amount of pedestrians wearing some sort of purple clothing around downtown on gamedays) avoid the traffic mess around the stadium by parking somewhere within the downtown core and walking. Between the parking structures used by locals, the hotels at which fans are staying and the restaurants and bars in the area, most of downtown can be teeming with fans before U.S. Bank Stadium events.
Indeed, if you're staying at a downtown hotel you can likely walk to U.S. Bank Stadium, or if it's late in the football season, take advantage of Minneapolis' Skyway system of sheltered walkways to get to the game while staying inside as much as possible.
Parking at U.S. Bank Stadium
Downtown Minneapolis has a seemingly endless supply of parking spaces thanks to the many office and retail structures, and most independent lots can be utilized for Vikings games and other U.S. Bank Stadium events.
U.S. Bank Stadium operates few lots itself, so if you're in need of single-game parking, the independent route will almost certainly be your only option.
Looking for parking at U.S. Bank Stadium? Buy parking on SpotHero.
Minneapolis hotels near U.S. Bank Stadium
• Radisson Red Minneapolis Downtown – 0.2 miles away
• Moxy Minneapolis Downtown – 0.2 miles away
• Aloft Minneapolis – 0.2 miles away
Search for more Minneapolis hotels on Booking.com.
Map of the surrounding area
Things to do around the stadium
U.S. Bank Stadium's central location means you'll need to walk only a block or two to find restaurants and/or bars. And beyond that, downtown Minneapolis is your oyster.
You can find quite a few options along South Washington Avenue, two blocks to the north, including brewpubs, trendy Thai restaurants, chains and more. Check out one restaurant in particular, the Crooked Pint Ale House, if you'd like to try a Twin Cities specialty, the Juicy Lucy.
Fanning farther out into downtown is certainly an option as well, as downtown Minneapolis is highly walkable. Look for restaurants and bars at Nicollet Mall or along Hennepin Avenue near the Target Center — many of downtown's hotels are located in these areas as well.
From there, you're looking at about a 15-20 minute walk to U.S. Bank Stadium. But if you're near 5th Street, you can also try to catch a Metro Transit train and ride it a few stops to the stadium.
If you'd rather not make that trek, the Vikings have you covered. Look for the "Vikings Village" on the west side of the stadium, adjacent to the light rail platform, for a bar and a team store (located in what has been branded the "Vikings Longhouse"), games, sponsor booths and more. It's a difficult spot to miss for anyone walking to the stadium from the downtown core.
For more on visiting Minneapolis, check out our Minneapolis/St. Paul sports travel guide.
Minneapolis restaurants near U.S. Bank Stadium
• Erik the Red Bar – pub, 0.1 miles away
• Hubert's Bar & Restaurant – bar, 0.1 miles away
• Day Block Brewing Company – barbecue, 0.3 miles away
Search for more Minneapolis restaurants on Tripadvisor.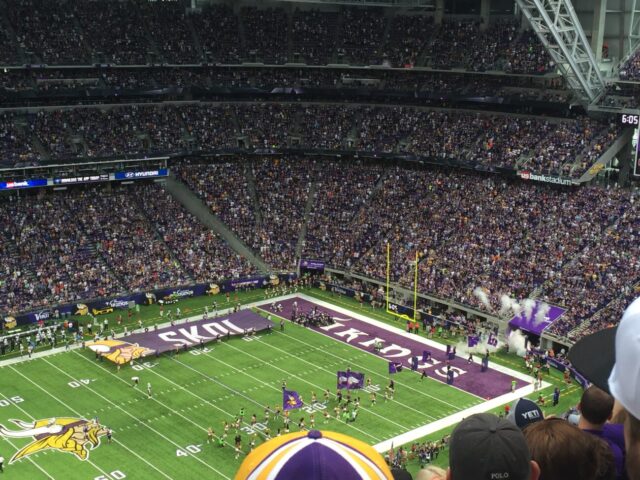 Watching a game at U.S. Bank Stadium
It almost goes without saying at newer, snazzy venues, but U.S. Bank Stadium is definitely worth arriving early and walking around to see everything the place has to offer, because there really is a lot.
Start by entering through the Legacy Gate on the west side (the stadium's designers clearly planned for this to be the main gate, as they've set up dozens of turnstiles in one long row). This brings you inside through the large glass atrium that looks out over the downtown skyline, and into the main concourse where you can gaze at the vastness of the seating bowl, the field and the roof.
Really, the roof, and the stadium's unique architecture in general, is what sets U.S. Bank apart. A majority of it is covered by a transparent material known as ETFE, which allows sunlight to enter the stadium without needing a retractable roof. And indeed, the roof combined with the window panels on the stadium's west side create an outdoor feel.
For a noon Central time start, most of U.S. Bank Stadium's field and the west seating area will be in the sunlight, yet you're in a climate-controlled environment — something fans are no doubt grateful for once wintertime arrives in Minnesota.
U.S. Bank Stadium's seating bowl is vast but not so big that you feel too far away from the field if you're sitting up in the nosebleeds. You can still see just about everything you need to, and thanks to the large videoscreens at each end (one hangs over the concourse on the west side), you can easily catch up to whatever you missed.
If you're in the upper seating level, you'll also get a good look at the Gjallarhorn, the giant Viking horn that juts out from a room on U.S. Bank Stadium suite level and emits a very loud noise whenever the home team does something positive, like score a touchdown.
Interested in a suite at U.S. Bank Stadium? Buy suite tickets on SuiteHop.
Food and drink at U.S. Bank Stadium
The Vikings went to great lengths to bring a wide variety of concessions options to the stadium — another good reason to take a walk around, especially if you're hungry.
There's twists on the familiar, like tater tot poutine with cheese curds and gravy. There's  interesting stadium fare — for example, one booth called The Whisk serves "breakfast anytime" items. And some items are downright strange, such as bratwurst and cheese curd fried rice. Whatever your taste, the food menu at U.S. Bank is as eclectic as you'll find at any sports venue.
Most items are about as pricey as you'd expect from a stadium food stand, but many of them are definitely worth trying.
Original publish date: February 4, 2016
Most recent update: August 24, 2023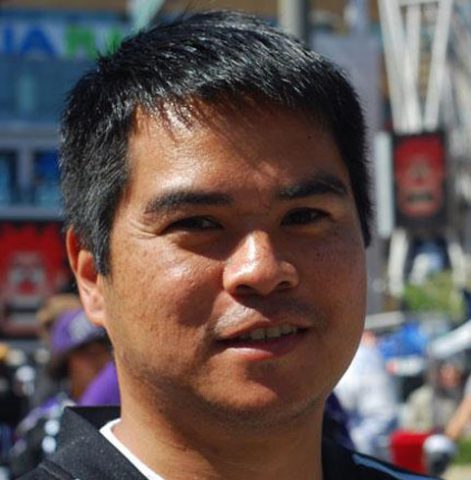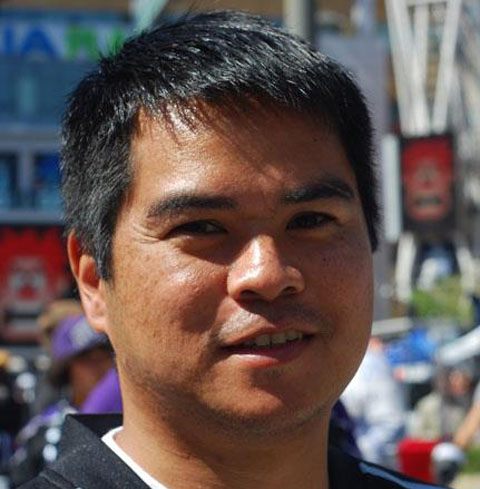 Edward de la Fuente | Itinerant Fan
I live for sports, and I love to travel. My biggest thrill is combining the two. I've been blogging about sports travel for more than a decade, and traveling for sports for twice as long.
About me | FAQ | Buy me a beer 🍺
Affiliate Disclosure
Please note that some of the links above are affiliate links, and at no additional cost to you, we earn a commission if you make a purchase. These recommendations are only for companies that we've used and have proven to enhance our sports travel experiences. To find out more about our affiliate partnerships, please read our Affiliate Disclaimer.
The Particulars
Home Teams
Minnesota Vikings
Address
900 S. 5th Street
Minneapolis, MN 55415
Year Opened
2016
Capacity
66,200
Upcoming Events
All times local
Winter Warm-Up
Thursday, December 7, 2023
5:00 pm
Get tickets at Ticketmaster »

Winter Warm-Up
Tuesday, December 12, 2023
5:00 pm
Get tickets at Ticketmaster »

Winter Warm-Up
Thursday, December 14, 2023
5:00 pm
Get tickets at Ticketmaster »

Winter Warm-Up
Tuesday, December 19, 2023
5:00 pm
Get tickets at Ticketmaster »

Winter Warm-Up
Thursday, December 21, 2023
5:00 pm
Get tickets at Ticketmaster »