Levi's Stadium
Our guide to Levi's Stadium in Santa Clara, California, includes information on events, tickets, parking, public transportation, nearby hotels and restaurants, seating and more. Read on to find out how to get the most out of your gameday experience.
* * *
Befitting its location in the heart of Silicon Valley, Levi's Stadium in Santa Clara — home of the San Francisco 49ers and host to some big-time events in its short history — is something of a technological wonder.
More than just a football stadium, the venue tries its best to offer an interactive fan experience, with more to serve patrons than just the ability to watch the game on the field. And its access to top technology firms nearby means that the venue promises to continually be on the cutting edge in innovative improvements to the live sports experience.
More than that, though, Levi's Stadium has become a go-to spot for some of the sports world's biggest events. It has already hosted a Super Bowl, an outdoor NHL game and a College Football Playoff championship game, and it enjoyed a lengthy run as the home of the Pac-12 championship game (before it moved to Las Vegas).
It's not the perfect football venue — Levi's Stadium's location and seating arrangements have been cited as drawbacks. And 49ers fans who were sentimental toward the team's old home, Candlestick Park, have complained in the past that the new place doesn't measure up in some areas.
The team's mediocrity over the first few years in the new stadium didn't help matters. But that changed at the end of the 2019 season when the 49ers played — and won handily — two playoff games on their way to an appearance in Super Bowl LIV. They've been a consistent contender ever since.
While the 49ers look to continue the momentum from their recent success, the lineup of events that are played within its confines means that Levi's Stadium will be high on the must-visit list for many fans.
Looking for Levi's Stadium event tickets? Search events on Ticketmaster.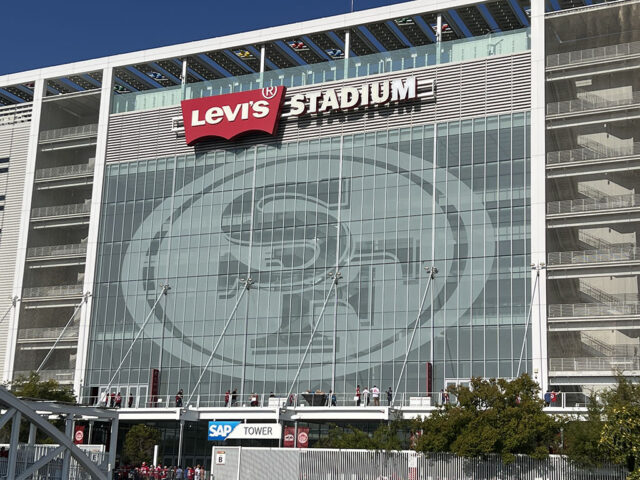 Getting to the stadium
Despite the fact that Levi's Stadium's primary occupant continues to carry the San Francisco name, its location is quite far from San Francisco itself. That's an important distinction that many fans unfamiliar with the Bay Area should understand before visiting.
Santa Clara, where Levi's Stadium is located, is actually adjacent to San Jose, some 45 minutes by car from San Francisco. U.S. 101, aka the Bayshore Freeway, which connects San Jose and San Francisco, runs near the stadium, as does Interstate 880, aka the Nimitz Freeway, which runs between Oakland and San Jose. Follow the link for more detailed driving directions to Levi's Stadium.
The South Bay's light rail transit system, VTA, serves San Jose, Santa Clara and surrounding cities. It has a stop at Levi's Stadium (actually, it's named "Great America" after the nearby amusement park). Visitors to the Bay Area might find it easier to stay in a hotel in downtown San Jose and use light rail to get to Levi's Stadium.
For 49ers games and other Levi's Stadium events, VTA trains headed north from San Jose will flash "Levi's Stadium/Great America" as its destination.
Service is typically increased for large-scale events at the stadium, including 49ers games. Though there have been difficulties with delays and overcrowding for past events, the efficiency of getting to and from the area via light rail has improved over the years.
If you use VTA to get to a Levi's Stadium event, the Great America station is in the middle of Tasman Drive, right next to the venue's north end. Note that you'll want to exit at Gate A, at the northwest end, to get back to the station, and queues are set up directing riders to the proper platform.
Parking at Levi's Stadium
Levi's Stadium shares much of its parking allotment with Great America and also utilizes a number of private lots in the vicinity. The vast majority of parking spaces are directly west of the venue.
Great America Parkway is the main north-south route leading from Route 101 to the stadium, and most parking options are close to this avenue. Click here for more on parking at Levi's Stadium; advance parking passes can be purchased via Ticketmaster.
Santa Clara hotels near Levi's Stadium
• Hyatt Regency Santa Clara – 0.4 miles away
• Hilton Santa Clara – 0.4 miles away
• Santa Clara Marriott – 0.9 miles away
Search for more Santa Clara hotels on Booking.com.
Map of the surrounding area
Things to do around the stadium
Aside from Great America, which stays closed on 49ers game days (and is slated for eventual closure and redevelopment in the next decade), there isn't much in the way of entertainment options in Santa Clara near Levi's Stadium.
The immediate surrounding area is largely residential, with a youth soccer complex just to the east of the stadium. Great America Parkway between 101 and the stadium is lined mostly with office parks — remember that you're in the heart of Silicon Valley, and you'll likely recognize many of the company names on the sides of buildings nearby.
There are a handful of hotels near Levi's Stadium (see the hotel list above), and a few chain restaurants (IHOP, In-N-Out Burger) as well. These businesses are there mainly to cater to the neighborhood and office-worker crowd, though they've undoubtedly benefited from the presence of the stadium as well.
Fans walking to Levi's Stadium from a nearby hotel will come across most of these chains, plus a few smaller eateries located inside strip malls.
If you're looking for a more sports-themed atmosphere, or simply desire a greater variety of places to eat, drink or otherwise spend the time before heading to the game, a better bet is likely to spend time in downtown San Jose before hopping on the light rail to the game.
For more on visiting Santa Clara, check out our San Francisco Bay Area sports travel guide.
Santa Clara restaurants near Levi's Stadium
• David's Restaurant – American, 0.2 miles away
• La Fontana – American, 0.4 miles away
• Pho Khang – Vietnamese, 0.6 miles away
Search for more Santa Clara restaurants on Tripadvisor.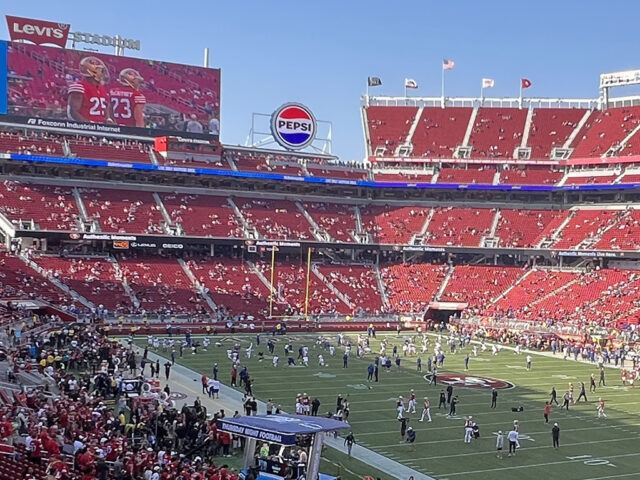 Watching a game at Levi's Stadium
Other than the two gates at the northwest and northeast corners facing Tasman Drive, you'll most likely be entering Levi's Stadium along the west side — nearly the entire length of which is lined with an impressive number of entry turnstiles.
This area can still get crowded as kickoff approaches, but if you find long lines at one bank of turnstiles, just walk a couple hundred feet and it's likely you'll find more manageable lines.
Inside, Levi's Stadium does its best to straddle the line between humongous and cozy, doing so mainly by employing a design in which the majority of the stadium's luxury suites are located in a tower on the venue's west side.
Therefore, much of the stadium's general seating is on the first two levels of the seating bowl. However, the highest rows on the upper deck on the east side, which extend about 25 rows up in most sections, can feel really high.
One issue that emerged after Levi's Stadium's opening is the fact that, for afternoon football games, the seating sections on the east side were completely exposed to the sun, causing fans to stay out of their seats for large portions of games.
The 49ers have balked at the idea of building an overhang to shade at least some of the stands, citing FAA regulations considering San Jose International Airport is nearby and planes routinely travel directly over the stadium as they take off.
Meanwhile, many longtime 49ers fans had expressed an unfavorable view of Levi's Stadium when compared with its predecessor, Candlestick Park, citing problems such as a corporate atmosphere and ticketing and tailgating restrictions. However, with the stadium reaching its 10-year mark, most of these concerns seem to have died down.
There are plenty of good reasons to stay out of your seating area during games at Levi's Stadium besides the sun. In the upper deck, the concourses on both the north and south ends (under the large videoboards) serve as party plazas, with bars and concession stands and ample room to hang out. Don't count on being able to see the game, though, unless you're up against the railing behind the seating sections.
Space is utilized quite well on the main concourse, too. Most of the concessions stands at Levi's face the field, but go behind them to find the "Stadium Terrace," filled with picnic tables and lounge chairs for you to go enjoy your food and drink in a somewhat more relaxed setting.
The openings in the seating bowl at Levi's Stadium's northwest and southwest corners are prime standing-room areas — though they get very crowded once the game begins. The southwest corner is home to a stage where band and other in-game entertainment perform, while the northwest corner houses the very loud foghorn that blows whenever the 49ers score.
Interested in a suite at Levi's Stadium? Buy suite tickets on SuiteHop.
Food and drink at Levi's Stadium
Levi's Stadium's early embrace of technology makes it one of the better venues in the NFL from which to get food and drink. After all, this was one of the first venues to allow fans to order food through a stadium app, and to offer cashless and touchless pay options.
Like most of the sports venues in the Bay Area, Levi's Stadium's concessions options are varied and plentiful, especially on the main concourse level, with stands just about everywhere you turn.
That Bay Area arena food staple, garlic fries, is readily available, as are decidedly California/West Coast items such as clam chowder, poke nachos, vegan hot dogs, Hawaiian rice bowls and crab sandwiches. Recent additions to the menu include bulgogi cheesesteaks, Chinese bao buns and Filipino lumpia.
Check out the Touchdown Terrace on the main concourse level for the widest array of selections. It stretches from 50-yard-line to end zone on Levi's Stadium's east side.
Original publish date: February 4, 2016
Most recent update: September 22, 2023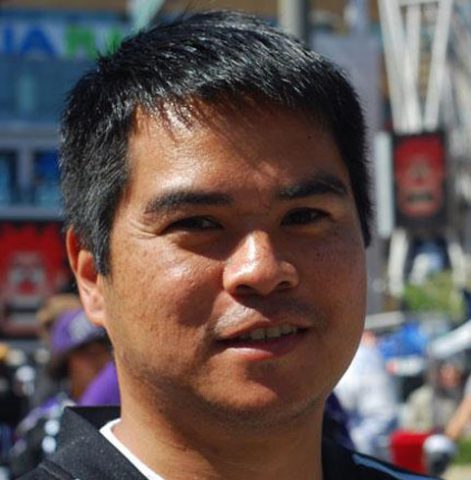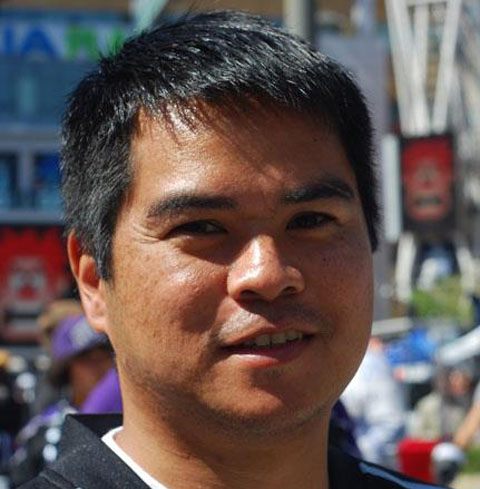 Edward de la Fuente | Itinerant Fan
I live for sports, and I love to travel. My biggest thrill is combining the two. I've been blogging about sports travel for more than a decade, and traveling for sports for twice as long.
About me | FAQ | Buy me a beer 🍺
Affiliate Disclosure
Please note that some of the links above are affiliate links, and at no additional cost to you, we earn a commission if you make a purchase. These recommendations are only for companies that we've used and have proven to enhance our sports travel experiences. To find out more about our affiliate partnerships, please read our Affiliate Disclaimer.
The Particulars
Home Teams
San Francisco 49ers
Address
4900 Marie P. DeBartolo Way
Santa Clara, CA 95054
Year Opened
2014
Capacity
68,500
Upcoming Events
All times local
San Francisco 49ers vs. Seattle Seahawks
Sunday, December 10, 2023
1:05 pm
Get tickets at Ticketmaster »

San Francisco 49ers vs. Baltimore Ravens
Monday, December 25, 2023
5:15 pm
Get tickets at Ticketmaster »

Luke Combs - Growin' Up and Gettin' Old Tour - 2 Day Ticket
Friday, May 17, 2024
12:00 am
Get tickets at Ticketmaster »

Luke Combs - Growin' Up And Gettin' Old Tour
Friday, May 17, 2024
5:45 pm
Get tickets at Ticketmaster »

Luke Combs - Growin' Up And Gettin' Old Tour
Saturday, May 18, 2024
5:45 pm
Get tickets at Ticketmaster »