Soldier Field
Our guide to Soldier Field in Chicago includes information on events, tickets, parking, public transportation, nearby hotels and restaurants, seating and more. Read on to find out how to get the most out of your gameday experience.
* * *
As far as stadium architecture goes, Soldier Field, home of the Chicago Bears, might be the most interesting venue in the NFL.
Most fans know about the renovation it underwent in the early 2000s that transformed it from a stately-but-outdated stadium into a strange cross between past and future, with sleek steel decks hanging over ancient-looking gothic columns.
Inside you'll find plenty of remnants of the old structure, and undoubtedly you'll notice the weird twists and turns inside the concourses necessitated by the new stadium being built basically on top of the old facade.
Once you get over all of that, Soldier Field is a fine place to watch football or any other event that happens to be going on inside. And it has seen a lot over its history, from international soccer (including the World Cup) to NHL outdoor games and major concerts. Starting in 2020, Chicago Fire FC of Major League Soccer began calling Soldier Field home.
However, Soldier Field is also one of the smallest stadiums capacity-wise in the NFL, so obtaining tickets to see the Bears can be a difficult and expensive proposition.
Nowadays, the question is: How long will the Bears be playing along the lake? The wheels are in motion for the team to build a new stadium out in the suburbs, specifically on the site of the former Arlington Park racetrack. They'd be following in the footsteps of several other NFL teams who have found room to spread out and build new palaces outside the city center.
So Soldier Field's days as an NFL venue might be numbered, but until then you can still enjoy it for all the windswept quirkiness that it offers.
Looking for Soldier Field event tickets? Search events on Ticketmaster.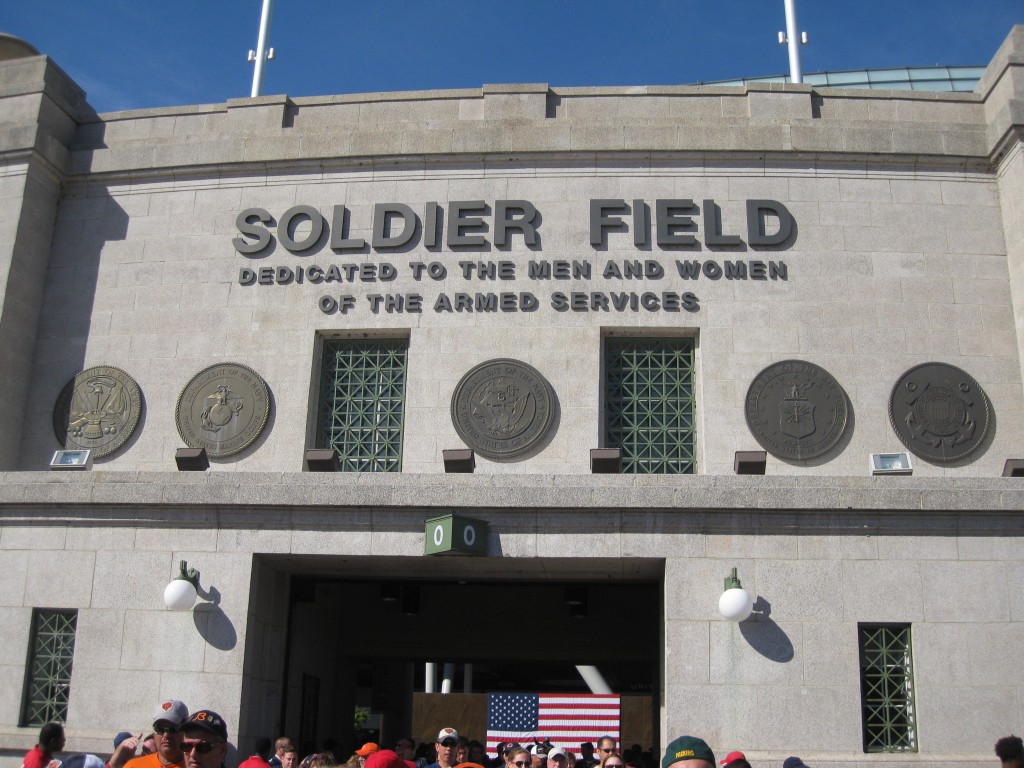 Getting to the stadium
The area in which Soldier Field sits is staid and stately — the Museum Campus, home of the famed Field Museum, Shedd Aquarium and Adler Planetarium. The also-famed Chicago Loop is very close by, as is Lake Shore Drive and, for that matter, Lake Michigan itself. So there's lots around it, and yet the stadium seems a little hard to get to because of all the parkland around it.
If you don't have a car as we did, there are a few public transportation options. Our approach was to take the CTA subway (aka "The L") to the closest stop, Roosevelt on the Red, Green or Orange lines.
But the Roosevelt station is still several blocks away — almost a mile, really. So you'll still be hoofing it quite a ways down Roosevelt Road and then through the Museum Campus even once you get off the train, though at least you'll be doing it with a few thousand other football fans.
If you're coming from the suburbs, Chicago's Metra service operates trains that stop a little closer, at the 18th Street station. (If it feels Soldier Field is strangely separated from the city despite its proximity, it's because Lake Shore Drive and a wide swath of train tracks create that distance.)
And the CTA also operates a "Soldier Field Express" bus between the stadium and Union Station, just west of the Loop.
Parking at Soldier Field
Parking is largely available in garages and lots north and south of the stadium, and if you don't arrive at least four hours before game time (a tough task considering the common noon start times), you'll have to look away from the Museum Campus and toward the surrounding blocks.
You can purchase parking for official Soldier Field lots in advance via Ticketmaster or through Soldier Field's own parking website.
Looking for parking near Soldier Field? Buy parking on SpotHero.
Chicago hotels near Soldier Field
• Best Western Grant Park Hotel – 0.6 miles away
• Marriott Marquis Chicago – 0.7 miles away
• Hyatt Regency McCormick Place – 0.7 miles away
Search for more Chicago hotels near Soldier Field on Booking.com.
Map of the surrounding area
Things to do around the stadium
It's a good tailgate scene at Soldier Field, but if you're taking one of the public transportation options outlined above, you're largely missing the lots where hard-core tailgating takes place. The walking paths from the north meander around the museums and through the parkland in between, where no tailgating is allowed.
The museums typically remain open during Sunday afternoon Bears games (and apparently do their best to capitalize on the influx of people by advertising admission specials), so if you're into educating yourself, visiting the museums pre- or postgame is certainly a viable option.
The size of the parkland around Soldier Field means that most of the options that its urban location would offer — hotels, restaurants, bars and the like — are a good half-mile away at least.
So if it's eating or drinking you'd like to do, you're better off hanging out in the Loop or Near North areas and choosing an establishment there before taking off for the game. There'll be plenty of fans around doing the same thing.
This might be a good option if you're visiting in Chicago and staying in a hotel near Soldier Field, as many of them have restaurants and bars inside or nearby that cater to sports fans before events.
For more on visiting Chicago, check out our Chicago sports travel guide.
Chicago restaurants near Soldier Field
• Giordano's – pizza, 0.4 miles away
• Kim and Carlo's – hot dog stand, 0.5 miles away
• Burger Bar Chicago South Loop – American, 0.5 miles away
Search for more Chicago restaurants on Tripadvisor.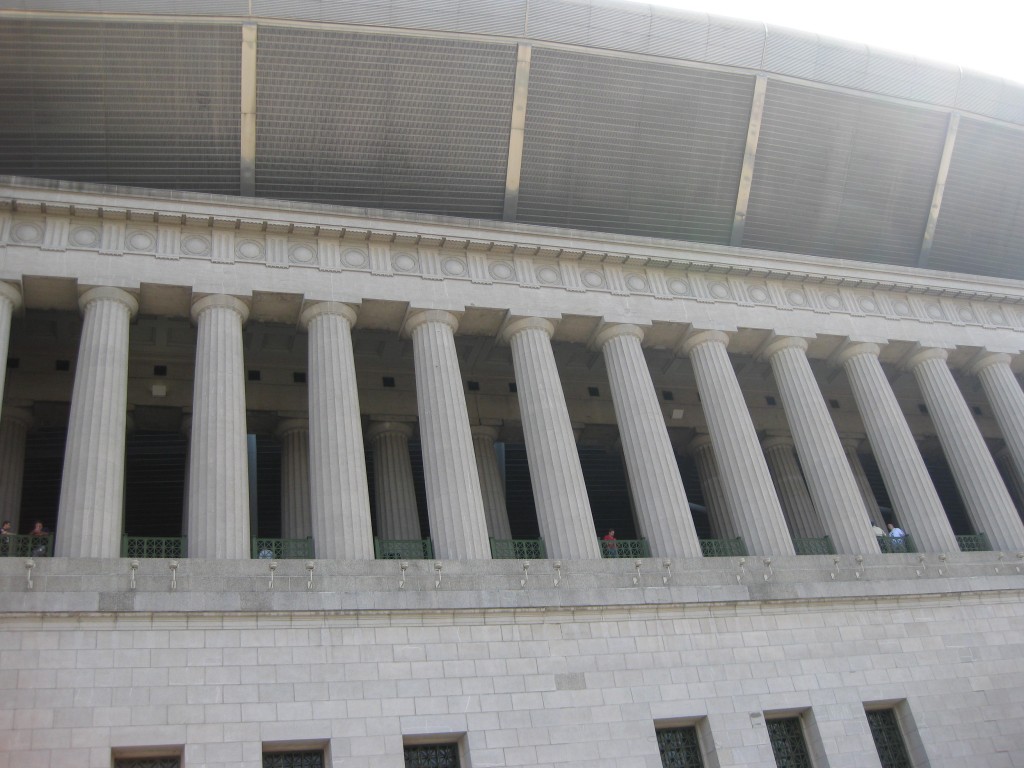 Watching a game at Soldier Field
Your first indication of Soldier Field's strange configuration should become apparent when you try to get in. While there are entrance gates all around the stadium's perimeter, some appear to lead into strange places, have tiny passageways and/or are placed in awkward spots. That can lead to long, cramped queues to enter, especially in the last half-hour or so before kickoff approaches
At the gate we chose on our visit, right after the turnstiles, fans climbed a set of stairs into Soldier Field's famous columns, where the upper seating levels could be accessed.
Walking the concourses, you can see what's left of the old structure in many spots. The space around the columns make for a sort of lobby where fans can hang out before going into the seating bowl.
At the south end of Soldier Field, part of the old seating area remains (it's apparent that it extended twice as far back but rose only half as far up as the current configuration). Mazes of catwalks and ramps are an indication of what it took to essentially plop the new stadium down onto the old façade and still allow visitors to navigate from level to level.
The limited space does have its advantages, though, in the fact you feel a little closer to the action. That, at least, was our take from our seats in the south end zone. There's really only one seating area of Soldier Field that appears high and far away — the 400-level seats that make up the upper deck on the west side (there is no comparable level on the stadium's east side).
As long as you're not scrambling to get to your seating area before the start of your event, do check out the history around the stadium — after all, it is named Soldier Field for a reason. It was originally meant as a tribute to World War I veterans, so statues and monuments can be found throughout the stadium grounds, and many of them are quite moving.
Interested in a suite at Soldier Field? Buy suite tickets on SuiteHop.
Food and drink at Soldier Field
Despite the long lines to get in, we made it to our seats about two minutes into the game, and that was even after stopping at the nearest concession stand for Italian beef sandwiches from Buona's.
As far as food, you can also find other Chicago staples such as Polish sausages, local eateries in DMK Burger Bar and Robinson's No. 1 Ribs, as well as Philly cheesesteaks (go figure). For the sweet tooth, you can get gourmet donuts and churros.
Soldier Field's beer selection can be pricey even compared to its stadium peers, and while Miller Lite seems to be most prevalent, craft beer choices are available. Head to the Heartland Hops stands for good beer selection in the 300 and 400 levels.
Also, check out the Monster Mary, Soldier Field's version of the Bloody Mary, anywhere cocktails are sold.
Original publish date: February 4, 2016
Most recent update: August 24, 2023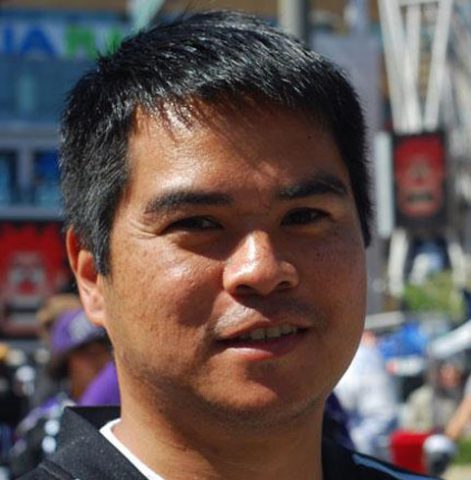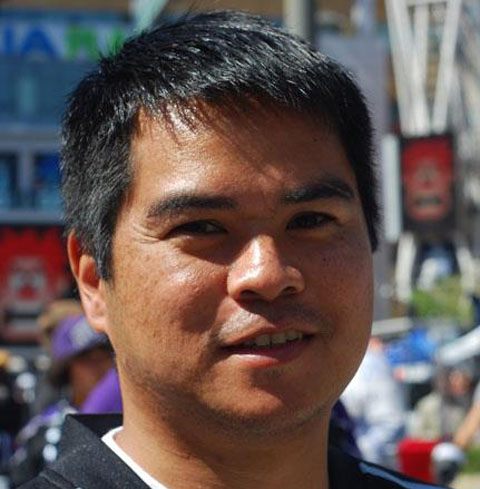 Edward de la Fuente | Itinerant Fan
I live for sports, and I love to travel. My biggest thrill is combining the two. I've been blogging about sports travel for more than a decade, and traveling for sports for twice as long.
About me | FAQ | Buy me a beer 🍺
Affiliate Disclosure
Please note that some of the links above are affiliate links, and at no additional cost to you, we earn a commission if you make a purchase. These recommendations are only for companies that we've used and have proven to enhance our sports travel experiences. To find out more about our affiliate partnerships, please read our Affiliate Disclaimer.
The Particulars
Home Teams
Chicago Bears
Chicago Fire FC
Address
1410 Museum Campus Drive
Chicago, IL 60605
Year Opened
1924
Capacity
63,000
Upcoming Events
All times local
Vip Stadium Tour
Saturday, December 2, 2023
11:00 am
Get tickets at Ticketmaster »

Vip Stadium Tour
Saturday, December 2, 2023
1:00 pm
Get tickets at Ticketmaster »

Classic Stadium Tour
Friday, December 8, 2023
11:00 am
Get tickets at Ticketmaster »

Classic Stadium Tour
Friday, December 8, 2023
1:00 pm
Get tickets at Ticketmaster »

Chicago Bears vs. Detroit Lions
Sunday, December 10, 2023
12:00 pm
Get tickets at Ticketmaster »