Truist Park
Our guide to Truist Park in Atlanta includes information on events, tickets, parking, public transportation, nearby hotels and restaurants, seating and more. Read on to find out how to get the most out of your gameday experience.
* * *
Truist Park, the Atlanta Braves' home ballpark, is in many ways a continuation of the advancements made in stadium experiences over the last two-plus decades of the venue building boom. Inside and out, it's equipped with all of the modern creature comforts fans have come to expect in their live sports experience, and also contains a few little surprises.
But in some ways, it also bucks convention. Instead of the downtown/central city location most franchises crave for their new venues, the Braves chose to build their new ballpark in what is decidedly the 'burbs — its Atlanta mailing address notwithstanding.
In the process, they ditched Turner Field, their home for more than 20 years, claiming that they were moving closer to their fan base's geographic center while giving themselves more control over development in the surrounding area.
Credit to the Braves for creating that baseball-friendly environment and giving people a reason to stick around before and after ballgames, stay for a number of days and, yes, even live nearby.
For the visiting fan, it does create some challenges in checking Truist Park off your list — namely, in terms of getting to and from the ballpark, which we'll explore below. Know, though, that going to a game is definitely worth the trouble.
Despite being only a few years old, the ballpark is already on its second name, having opened in 2017 as SunTrust Park before a corporate merger led to the stadium getting a new moniker.
The publicity surely paid off over the last few years, as the Braves have become a perennial contender and captured their second World Series title since moving to Atlanta in 2021.
For more on visiting Atlanta, check out our Atlanta sports travel guide.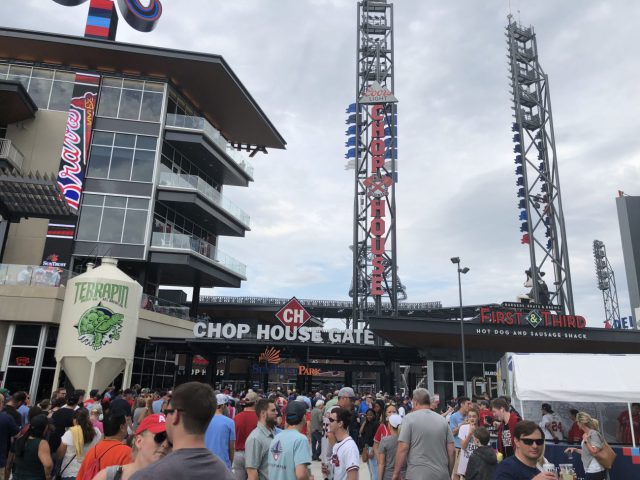 Getting to the ballpark
Truist Park is not only some 10 miles from downtown Atlanta, it also doesn't even share the same county as downtown. If you're heading north from downtown via Interstate 75, you'll cross over from Fulton County to Cobb County and into an unincorporated area known as Cumberland. There, near the interchange with I-285, you'll find a major mall, shopping centers, car dealerships, restaurants, hotels — and Truist Park.
Whether you're a regular at Braves games or visiting for the first time, one thing is pretty clear: Driving is the most convenient way to go. And that really appears to be by design, from the location of the ballpark to the fact that not a whole lot of effort seemed to be made by the team or the relevant municipalities to introduce more streamlined public transit routes or special-event service.
If you'd prefer to take public transit, know that you will have to make one if not two transfers unless your starting point is within a few miles of the ballpark. MARTA, Atlanta's rail system, doesn't reach as far north as Cobb County (apparently because the county decided many years back that it didn't want MARTA service).
However, you can take either a MARTA bus or a CobbLinc bus to the Cumberland Mall, from which you can pick up a free Cumberland Circular Shuttle to the ballpark. Follow the link for more details on public transportation.
The other way to go is via rideshare, and based on our experience it's a pretty popular option among baseball fans.
However, know that despite there being two designated pickup/dropoff points, along Windy Ridge Road and near the intersection of Heritage Court and Battery Avenue, many rideshare drivers don't necessarily know the protocol put in place — which leads to confusion about pickup points, drivers stopping in places that back up traffic and frustrated fans wandering into areas outside the designated spots.
On our visit to Truist Park, we chose to get there from downtown Atlanta via Uber, and though our ride there was smooth, our departure was a perfect disaster of all the issues mentioned above, and led to us not getting out of the ballpark area until nearly two hours after the final out. So fair warning about using a rideshare service to get to Truist Park: Prepare for long waits and a lot of frustration upon leaving.
Parking at Truist Park
Luckily for drivers, Truist Park is surrounded by parking, both close by (for the permit-holders) and far away (for the budget-hunters). Follow the link for a map of ballpark parking lots.
As of the 2022 season, parking rates start at $20 for single-game visitors at Braves-operated lots near Truist Park. However, there is a distant lot, lot E47, that is typically cheaper because it's so far away.
The general rule of thumb is this: If you've got a permit or are willing to pay up the nose, you can venture into the perimeter of the park bordered by Circle 75 Parkway, Cobb Parkway and Windy Ridge Road. If you'd rather not pay that much, look toward the other side of I-75 or I-285 and be prepared to hoof it.
Atlanta hotels near Truist Park
If your visit to Atlanta centers around a Braves game, there are several hotel options near Truist Park (which carries the added incentive of avoiding the gameday hassle of getting to and from the park).
The closest hotel is the Omni Hotel at the Battery, just beyond right-center field, which has several balconies that overlook Truist Park from which hotel guests can watch the game.
• Omni Hotel at the Battery Atlanta – 0.1 miles away
• Aloft Atlanta at The Battery – 0.3 miles away
• DoubleTree Suites by Hilton Atlanta-Galleria – 0.3 miles away
Search for more Atlanta hotels on Booking.com.
Map of the surrounding area
Things to do around the ballpark
So if you find getting to Truist Park to be a major hassle, then try to budget some time either before or after the game (or both) to check out the scene outside, because it is worth it.
One popular trend among new venues is to build out shopping, entertainment and dining centers nearby, and that certainly was taken into account here.
At Truist Park, the nearby entertainment center is called The Battery Atlanta, and it not only includes a number of restaurants and bars, but also a movie theater, an outdoor stage, a hotel, office buildings and residence towers.
All of it leads into the right field gate, known as the Chop House Gate, and on a game night it sure feels like the perfect atmosphere to get yourself hyped up to watch some baseball (and even if it's not a game night, the Battery seems like a cool place to visit).
Atlanta restaurants near Truist Park
• Wahlburgers – American, 0.1 miles away
• CRU Food & Wine Bar – The Battery – steakhouse, 0.1 miles away
• Gio's Chicken Siciliana – Italian, 0.1 miles away
Search for more Atlanta restaurants on Tripadvisor.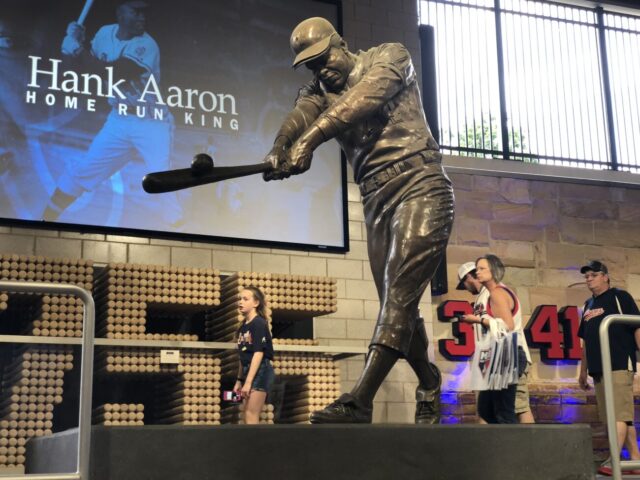 Watching a game at Truist Park
Inside the ballpark, you'll find its designers have struck the ideal mix between cramming it with all sorts of things to do without making it feel too crowded. Our visit to Truist Park on a Saturday night was pretty lively (though not a sellout, mind you), but it never felt like the entry gates, concourses, entrances to the seating areas or concessions lines were out-of-control cramped.
Though the right field aka Chop House gate appears to be one of the most popular entry gates due to its proximity to the Battery, it's a good starting point for exploring everything Truist Park has to offer, as it enters into the concourse behind the outfield seating area. Here you'll find a kids section that includes, in addition to the usual pitch speed machines and batting tees, carnival games and even a zip line.
If you're a baseball purist, head to the main concourse behind home plate, where you can find the Braves Wall of Fame, displays of the franchise's retired numbers and a statue of Hank Aaron (and nearby, a TV playing footage of his record-breaking 715th home run on a continuous loop).
Speaking of statues, don't miss the ones of Hall of Fame manager Bobby Cox, outside the first base gate, and pitcher Phil Niekro, outside the third-base gate — catch them on your way out if you've already entered the park in right field.
Truist Park offers four levels of seating between the foul poles — as has become customary at newer ballparks, the upper deck is divided into two levels, with the concourse in the middle so that fans walking along can still see the field. But even the uppermost seating areas don't feel too high up (for perspective, check out the panoramic photo atop this page), and most of the food options at Truist Park have stands in the upper concourse, as well.
We spent a few innings of our visit to Truist Field out of our seating area and in the porch in the upper concourse overlooking right field and had a blast, though by then the game we were attending was a blowout anyway.
Food and drink at Truist Park
The park's concessions options have a nice mix of Southern favorites and ballpark staples.
There's the well-regarded Fox Bros. BBQ (the pulled pork sandwich is a must-try in our eyes), there's Chick-fil-A (which is to Georgia what In-N-Out is to California — though, famously, their stands aren't open during Sunday games), and there's Waffle House (which you won't find at any other MLB park), where you can get your hash browns smothered and covered.
The increasingly popular beer garden is everywhere at Truist Park as well, and each of them offer nice views of the field, seating at bar tables and zero obligation to pay attention to the game.
Original publish date: May 25, 2017
Most recent update: March 10, 2023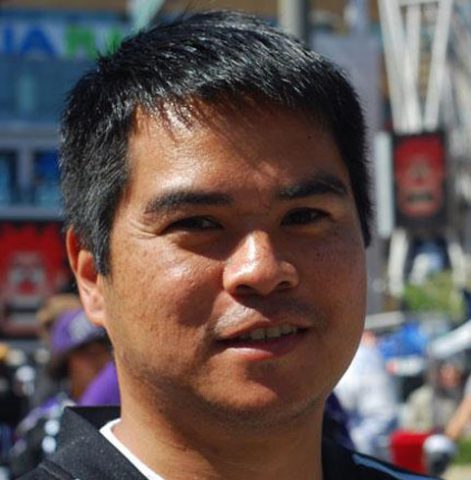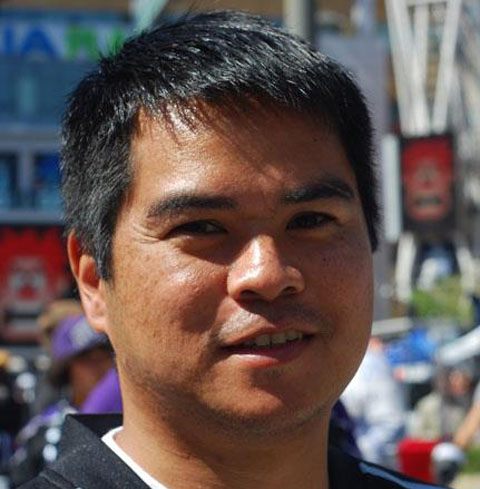 Edward de la Fuente | Itinerant Fan
I live for sports, and I love to travel. My biggest thrill is combining the two. I've been blogging about sports travel for more than a decade, and traveling for sports for twice as long.
About me | FAQ | Buy me a beer 🍺
Affiliate Disclosure
Please note that some of the links above are affiliate links, and at no additional cost to you, we earn a commission if you make a purchase. These recommendations are only for companies that we've used and have proven to enhance our sports travel experiences. To find out more about our affiliate partnerships, please read our Affiliate Disclaimer.
The Particulars
Home Teams
Atlanta Braves
Address
755 Battery Ave. SE
Atlanta, GA 30339
Year Opened
2017
Capacity
41,084
Upcoming Events
All times local
Tours: Truist Park
Wednesday, December 6, 2023
12:00 am
Get tickets at Ticketmaster »

Tours: Truist Park
Thursday, December 7, 2023
12:00 am
Get tickets at Ticketmaster »

Tours: Truist Park
Friday, December 8, 2023
12:00 am
Get tickets at Ticketmaster »

Tours: Truist Park
Saturday, December 9, 2023
12:00 am
Get tickets at Ticketmaster »

Tours: Truist Park
Monday, December 11, 2023
12:00 am
Get tickets at Ticketmaster »