Oriole Park at Camden Yards
Our guide to Oriole Park at Camden Yards in Baltimore includes information on events, tickets, parking, public transportation, nearby hotels and restaurants, seating and more. Read on to find out how to get the most out of your gameday experience.
* * *
Even 30 years after its opening, Oriole Park at Camden Yards — the charming, retro home of the Baltimore Orioles — is considered by many to be the gold standard among major-league ballparks.
And that comes with good reason — just look at all of the features that were copied by later ballpark designs. The brick-and-steel structure, the purposely asymmetrical field dimensions, the split-level bullpens, the incorporation of an existing building, the feature-filled outfield concourse — they're all prevalent design features that began with the opening of Camden Yards in 1992.
Besides the fact it holds an esteemed place among ballparks, Camden Yards also hosts an ever-popular team and is located in a vibrant, historical downtown area.
Meanwhile, the home team has enjoyed periodic success since moving in. Since the Orioles opened Camden Yards in place of the multi-purpose Memorial Stadium, the park has hosted historic moments such as Cal Ripken's iron man record-breaking game in 1995.
So whether you're embarking on that romantic ballpark tour or just looking to take in a game somewhere new, Baltimore should always be high on your list, if for no other reason than to see the park that started so many trends.
Looking for Camden Yards event tickets? Search events on Ticketmaster.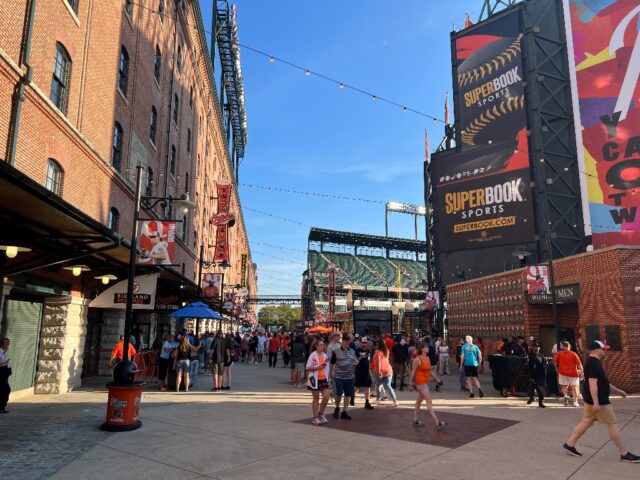 Getting to the ballpark
Camden Yards' downtown location makes it easy for fans to reach it. It's just off Interstate 95 and only a few blocks from the Inner Harbor, one of the city's most popular attractions.
It's also right at the end of a spur highway, I-395 (which, appropriately, is also known as Cal Ripken Way), and across the street from M&T Bank Stadium, home of the NFL's Ravens. The highway ends and becomes Howard Street just a block east of the ballpark, and baseball-fan motorists will no doubt recognize the B&O Warehouse to their left at that point.
Public transportation is a viable and popular option to reach Camden Yards as well. Baltimore has both a subway and a light rail system; which service is more convenient to you depends on where your journey begins.
The MTA light rail system's Camden stop is right at the ballpark's doorstep, just on the other side of the B&O Warehouse building. The closest subway stop is Lexington Market, after which getting to Camden Yards requires a walk of 6-7 blocks south on Eutaw Street.
Parking at Camden Yards
The official stadium parking lots can be found south of Camden Yards, as it shares spaces with M&T Bank Stadium. Parking lots A, B and C are closest to Camden Yards but typically are used by permit holders; lots D, F, G and H surround M&T Bank Stadium but are available on a game-day basis for baseball fans.
Expect to pay $15 and up at one of these lots depending on the day and the opponent. Follow the link for a map of parking lots near Camden Yards.
You can also find parking in numerous commercial facilities on the north side of the stadium, near the Inner Harbor and proper downtown area, typically for cheaper rates the farther they are from Camden Yards. For reference, the intersection of Pratt and Light streets at the foot of the Inner Harbor is about a five-block walk from the ballpark.
Baltimore hotels near Camden Yards
If you're visiting Baltimore, staying in just about any hotel labeled "Downtown Baltimore" or "Inner Harbor" puts you within easy walking distance of Camden Yards. The most conspicuous one is the Hilton Baltimore Inner Harbor hotel, which stands behind Camden Yards' left-field bleachers and offers a handful of rooms overlooking the field.
• Hampton Inn Baltimore-Downtown-Convention Center – 0.2 miles away
• Hilton Baltimore Inner Harbor – 0.2 miles away
• Holiday Inn Baltimore-Inner Harbor – 0.3 miles away
Search for more Baltimore hotels on Booking.com.
Map of the surrounding area
Things to do around the ballpark
The adjacent blocks around Camden Yards are full of bars and restaurants that cater to the sports fan. Look in the area just north of the park and in the blocks leading to the Inner Harbor to the east (the closer you get to the Inner Harbor, the more chain establishments you'll find — Hooters, Bubba Gump and the like).
You'll also find that many downtown hotels serve as meeting points for fans headed for Camden Yards, particularly out-of-town fans and fans of the visiting team, and their on-site restaurants and bars offer pregame food options as well.
For slightly more off-the-beaten-path (read: less touristy) areas, head a few blocks east to the Federal Hill district, or east of the Inner Harbor, where popular neighborhoods such as Canton and Fells Point await. There are quite a few restaurants, bars and hotels worth visiting in these districts, but plan ahead as you're looking at a walk of a mile or more to Camden Yards afterward.
If you're looking for something to do that doesn't involve eating or drinking, the Babe Ruth Museum is just a couple blocks away at the corner of Emory and Dover streets. Ruth's childhood home stood where center field at Camden Yards is now.
There's also a lot of non-sports culture to be had at the Inner Harbor between the Maryland Science Center, National Aquarium and USS Constellation.
For more on visiting Baltimore, check out our Baltimore sports travel guide.
Baltimore restaurants near Camden Yards
• Frank & Nic's West End Grille – American, 0.1 miles away
• Diamond Tavern – American, 0.1 miles away
• Pratt Street Ale House – pub, 0.1 miles away
Search for more Baltimore restaurants on Tripadvisor.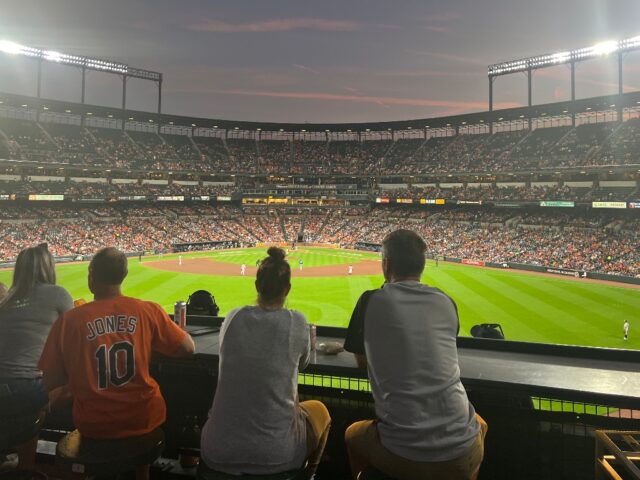 Watching a game at Camden Yards
Where to begin? Start by entering via Eutaw Street and Camden Street, behind center field. You'll see the statue "Babe's Dream," depicting a young Ruth.
Eutaw Street extends into the ballpark grounds via a pedestrian promenade — the ground floor of the B&O Warehouse contains a restaurant, the Orioles' team store and the team's Wall of Fame. The street is open to the public when nothing is going on at the ballpark, so most of the businesses housed within the warehouse have regular operating hours as well.
Even though the B&O Warehouse looks enticingly close to the playing field on TV, and an easy target for left-handed power hitters, the warehouse has actually never been struck by an in-game home run ball. About 100 or so homers, however, have landed on Eutaw Street; each is commemorated with a small, round marker in its respective landing spot on the sidewalk.
Camden Yards' layout consists of two levels of general seating with a club level in between, with bleacher seating and a patio area behind the right-field wall (in the shadow of the warehouse), just above the out-of-town scoreboard. The outfield concourse also serves as a standing-room area for fans to watch the game.
The outfield seating area at Camden Yards in particular got a revamp before the 2022 season, with several rows removed in left field. The change was made largely to help pitchers in a notoriously home run-friendly park. More renovations are expected in the coming years.
It's also in left field, next to the bullpens, that you'll find one of Camden Yards' newest attractions, the "Bird Bath" seating area. It's like any other outfield bleacher section — except a guy wearing an Orioles jersey with the name "Mr. Splash" holds a hose and sprays the patrons of the section with water whenever the home team does something notable, like hit a home run. There are plenty of signs around about the Bird Bath, so don't say you weren't warned about getting wet!
Other than center and right fields, Camden Yards' three-tier seating bowl wraps around the park. Left field has an upper deck, and while those seats are pretty far removed from the action, they're also typically some of the cheapest in the house.
Camden Yards' 200-seating level in left field (sections 282-288) are designated as family seating, and tickets sold in these sections come with all-you-can-eat food and drink (but alcohol is prohibited).
Food and drink at Camden Yards
Eutaw Street is where you'll find Boog's BBQ, the ever-popular stand operated by former Oriole Boog Powell (the first in another ballpark trend, BBQ stands named after former players). A large picnic area is stationed behind Camden Yards' center-field batter's eye and bullpens for fans who'd like seating while they eat, and part of the plaza has a view of the field.
Baltimore's cuisine is well represented at Camden Yards, with food stands selling items ranging from crab cakes (look for the "Old Bay Seafood" stand behind Section 43 on the main concourse) to pit beef sandwiches (available at Boog's BBQ). A newer purveyor, Harris Creek Oyster & Seafood, offers oysters on the half-shell from nearby Chesapeake Bay.
The beer selection at Camden Yards includes locally produced craft beers from Jailbreak Brewing, Manor Hill Brewing and Union Craft Brewing, among others.
The longtime Baltimore favorite National Bohemian (known more by the nickname Natty Boh) was taken off the beer menus at Camden Yards in 2017, to the consternation of some locals.
Original publish date: February 4, 2016
Most recent update: August 25, 2023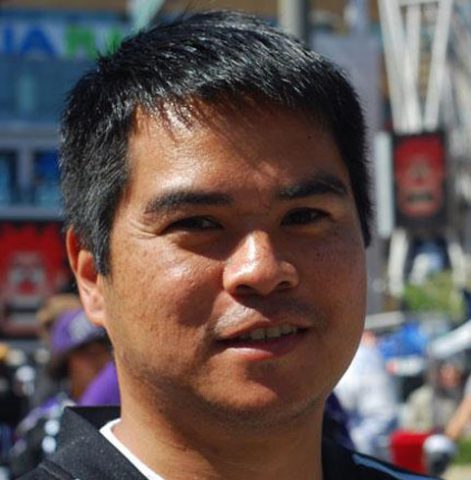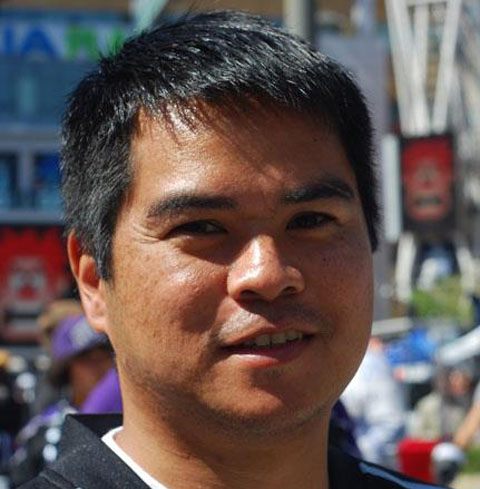 Edward de la Fuente | Itinerant Fan
I live for sports, and I love to travel. My biggest thrill is combining the two. I've been blogging about sports travel for more than a decade, and traveling for sports for twice as long.
About me | FAQ | Buy me a beer 🍺
Affiliate Disclosure
Please note that some of the links above are affiliate links, and at no additional cost to you, we earn a commission if you make a purchase. These recommendations are only for companies that we've used and have proven to enhance our sports travel experiences. To find out more about our affiliate partnerships, please read our Affiliate Disclaimer.
The Particulars
Home Teams
Baltimore Orioles
Address
333 W. Camden St.
Baltimore, MD 21201
Year Opened
1992
Capacity
45,971
Upcoming Events
All times local
Baltimore Orioles vs. Washington Nationals
Tuesday, September 26, 2023
6:35 pm
Get tickets at Ticketmaster »

Baltimore Orioles vs. Washington Nationals
Wednesday, September 27, 2023
6:35 pm
Get tickets at Ticketmaster »

Baltimore Orioles vs. Boston Red Sox
Thursday, September 28, 2023
6:35 pm
Get tickets at Ticketmaster »

Baltimore Orioles vs. Boston Red Sox
Friday, September 29, 2023
7:05 pm
Get tickets at Ticketmaster »

Baltimore Orioles vs. Boston Red Sox
Saturday, September 30, 2023
7:05 pm
Get tickets at Ticketmaster »