Spotify Camp Nou
Our guide to the Spotify Camp Nou stadium in Barcelona, Spain, includes information on events, tickets, parking, public transportation, nearby hotels and restaurants, seating and more. Read on to find out how to get the most out of your gameday experience.
* * *
For many sports fans, Camp Nou is a good an example of "destination stadium" as there is in the world.
It's home to one of the most popular clubs anywhere, FC Barcelona. It's been around long enough to have seen memorable matches and players. And it's located in one of the world's great tourist cities.
While the reasons to visit Camp Nou (Catalan for "new field") haven't changed over the years, the experience will change markedly very soon. The old stadium is set to undergo a major renovation that will, among other things, increase its capacity by about 5,000 and add a canopy over the seating bowl and an oculus scoreboard.
Work commenced during the 2022-23 season and is forcing the club to play its 2023-24 season at the Barcelona Olympic Stadium.
One major change is already evident: The ground is going by a new, corporate-sponsored name: Spotify Camp Nou.
Despite all of that, the things that make Camp Nou such a prime destination should stay intact. And whatever form it takes in the future, it'll remain well worth a visit as a prime sports experience.
Buy tickets for Camp Nou events on LiveFootballTickets.com.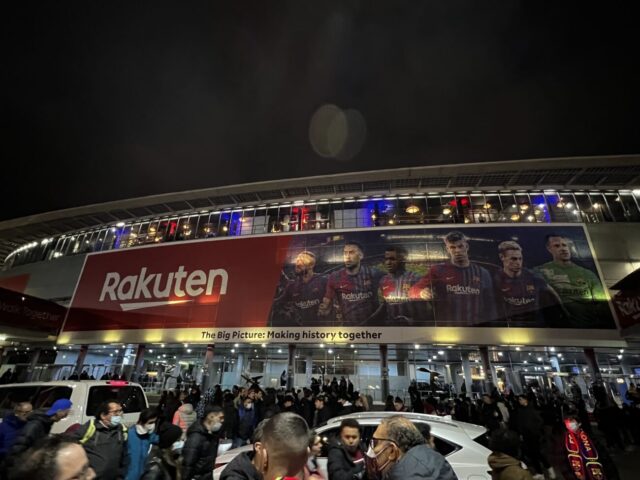 Getting to the stadium
Visitors to Barcelona often focus their attention on the old city, where La Rambla and several other major attractions are located. But there are many other points of interest scattered in other parts of the city, and Camp Nou falls into that category.
The stadium is in the Les Corts neighborhood about four miles west of La Rambla. It's an area you might not be visiting if it weren't for Camp Nou, but thanks to Barcelona's robust transportation network, the location doesn't matter that much.
The most convenient way to get to Camp Nou is by using the efficient Barcelona Metro subway system, which has two lines and four stations within close proximity of the stadium. None of the stops, though, are closer than a quarter-mile away, so which one you use depends on which line you use, as well as which side of the stadium your seat is on.
If you're on the L5 line, get off at Badal station, just to the south, or Collblanc, on the southeast. You can also use the L3 line and disembark at Les Corts, east of the stadium, or Palau Reial, just north.
Whichever stop you use, you'll find a pleasant walk through the surrounding neighborhood, which includes dense residential buildings and small restaurants and bars (more on that below).
If you're coming from outside Barcelona, such as from other major Spanish cities such as Valencia, Zaragoza and Madrid, you're likely pulling into the Barcelona-Sants train station. It's about two miles east of Camp Nou, and travelers can connect to either the L3 or L5 subway lines using the adjacent Sants Estacío stop.
Parking at Spotify Camp Nou
The Camp Nou grounds have limited parking that isn't typically available on matchdays. Instead, fans who drive to Barça matches rely on a patchwork network of small, independent lots near the stadium.
Wherever you park, know that the streets near Camp Nou can get terribly clogged as kickoff approaches, so it's best to plan early if you intend to drive and park. Otherwise, you might just want to use the subway.
Barcelona hotels near Spotify Camp Nou
• NH Barcelona Stadium – 0.2 miles away
• Hotel SOFIA Barcelona – 0.4 miles away
• AC Hotel Victoria Suites by Marriott – 0.6 miles away
Search for more Barcelona hotels on Booking.com.
Map of the surrounding area
Things to do around the stadium
Camp Nou's grounds are surrounded by a dense neighborhood that includes a university and various retail and food/drink establishments, serving both the community and the influx of fans that descend on the area for Barça matches.
No matter the direction you arrive from — or which Metro station you're coming from — you'll pass by small eateries and bars on the approach. Not surprisingly, many of them can get crowded in the hours before a match, so plan accordingly.
You'll also find numerous walk-up and takeaway eateries for fast food, as well as food stands selling things like hot dogs, fries and churros on the sidewalks outside the Camp Nou grounds.
If you'd rather be close to the stadium before sitting down for a bite to eat or a drink, enter the grounds on either the northwest side (along Avenida de Joan XXIII) or west side (along Carrer d'Aristides Maillol). At these points you can access "La Rambla del Barça," a walkway that includes several restaurants, including the club-branded Barça Cafe.
Even if you're not there to eat, it's worth checking out pre-match to survey the fan scene, which includes food stands, sponsor booths and games. The very large Barça team store is located here, too, as well as the Palau Blaugrana, the 7,500-seat venue for FC Barcelona's basketball, futsal and roller hockey teams.
Barcelona restaurants near Spotify Camp Nou
• Corte & Brasa – steakhouse, 0.2 miles away
• That's Amore – Italian, 0.2 miles away
• Futballarium Barcelona – pub, 0.3 miles away
Search for more Barcelona restaurants on Tripadvisor.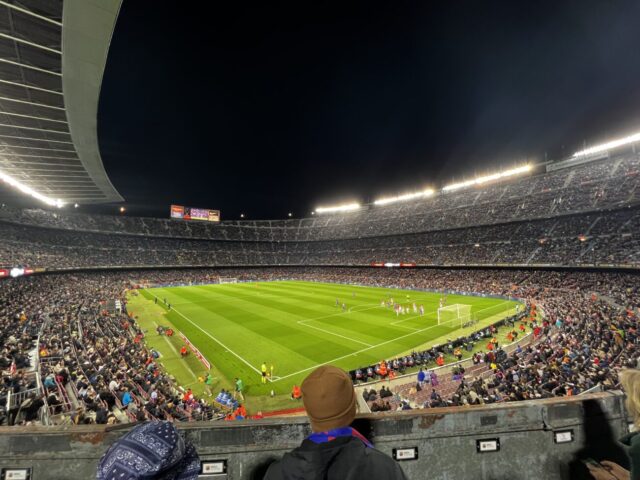 Watching a game at Spotify Camp Nou
Camp Nou is Europe's largest stadium — and when renovations are complete, it's going to be even larger — so you'd be right to think it's a big place to get around.
However, the structure of the venue makes it difficult to explore, and crowd control measures restrict you to staying in the area where your seat is. So if you're looking for a specific experience, you might want to keep all that in mind.
Every ticket to an event at Camp Nou comes with an assigned access area and gate. You can't get into the perimeter of the ground unless you're at the correct access area — there are 21 of them, so it's a good idea to look at a map and figure out which side of the stadium you need to be on. We can speak from experience in saying it's a bummer to arrive, only to realize you need to walk halfway around to get in.
That's just the first layer of getting into Camp Nou. Once past the access gate, you'll then need to find your entrance — and there are more than 100 of them. Of course, from your access gate, your entrance number should be close by. It's at this point that your ticket is scanned and you actually enter the stadium.
If you are not on the first level of seating, you'll be faced with climbing a series of ramps and stairs resembling a historic castle. Concourses are narrow and not meant for people to walk around, as each block of seating essentially has its own small lobby-like area and small bathrooms.
At this point, Camp Nou might not seem like a very interesting stadium. But that changes once you emerge from the tunnel and get your first glimpse of the seating bowl. It's just as large as you'd expect a 100,000-seat venue to be, and it's worth arriving early to get a look with the stadium largely empty.
The section of seats that display FC Barcelona's famous slogan, "Mes Que Un Club" (Catalan for "more than a club"), are on the second level of the venue's east side. You'll also see that motto displayed in many other places around the ground, in Catalan, Spanish and English.
Watching a match at Camp Nou is largely a no-frills experience, unless you've splurged for VIP seating. There are two videoboards above the seating bowl at each end, with screens that are tiny and decidedly low-definition by modern stadium standards. Along the second-deck façade, there are small digital boards to display time and score.
In its current configuration, the vast majority of seats are open-air, though the planned renovations call for a canopy to cover most of the seating bowl.
If you've come ready to cheer on the home side, or at least blend in with the die-hard Culers, take some time to learn the club's official anthem, the "Cant del Barça." It's sung when the club takes the pitch at the start of each half, and watching a full stadium singing along is a quintessential part of the Camp Nou experience.
Food and drink at Spotify Camp Nou
Unless you're in the premium areas, where you can find a cafe and eatery, food or drink availability is rather scarce inside the Camp Nou stadium. Several small bars operate in various parts of the stadium, where you can buy sandwiches, popcorn and other snacks.
However, there are no restrictions on bringing outside food and drink into the stadium (unless the drinks are alcoholic). So if you wish to eat during the match, you might want to consider stopping at an eatery outside and bringing your food inside with you.
Original publish date: November 10, 2022
Most recent update: August 15, 2023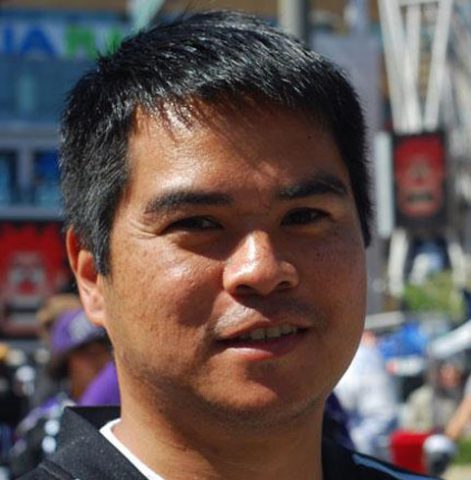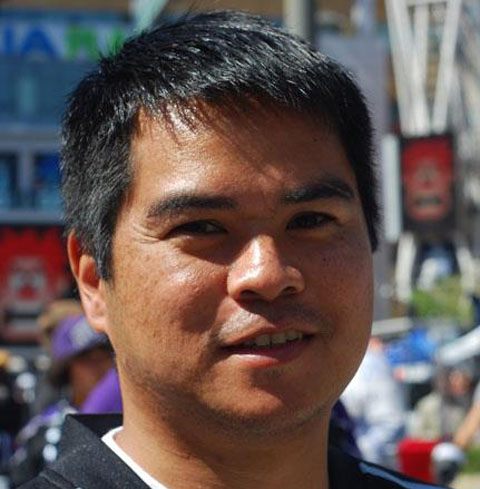 Edward de la Fuente | Itinerant Fan
I live for sports, and I love to travel. My biggest thrill is combining the two. I've been blogging about sports travel for more than a decade, and traveling for sports for twice as long.
About me | FAQ | Buy me a beer 🍺
Affiliate Disclosure
Please note that some of the links above are affiliate links, and at no additional cost to you, we earn a commission if you make a purchase. These recommendations are only for companies that we've used and have proven to enhance our sports travel experiences. To find out more about our affiliate partnerships, please read our Affiliate Disclaimer.
The Particulars
Home Teams
FC Barcelona
Address
C. d'Arístides Maillol, 12, 08028
Barcelona, Spain
Year Opened
1957
Capacity
99,354