Great American Ball Park
Our guide to Great American Ball Park in Cincinnati includes information on events, tickets, parking, public transportation, nearby hotels and restaurants, seating and more. Read on to find out how to get the most out of your gameday experience.
* * *
The focus of Cincinnati's sports scene is its riverfront, as its teams have taken up residence alongside the Ohio River for more than 40 years now. For the Reds, Major League Baseball's oldest franchise, that has meant playing for nearly 20 years at Great American Ball Park — a modern facility that's designed to give off an old-timey charm as well.
The Reds' significance in MLB history means they're always home to begin each season, and Opening Day is one of the days in which Great American Ball Park shines. And Cincinnati's fans can be one of the most boisterous in baseball, especially when the home team is enjoying a strong season.
In addition to the action on the field, Great American Ball Park has a few features off the field well worth checking out and making a stop in the Queen City worthy of a spot on any MLB road trip list.
Opened in 2003 to replace the former Riverfront Stadium, Great American Ball Park doesn't necessarily stand out architecturally among its peers during the new ballpark craze of the period, but look hard enough and you'll see plenty of things worth checking out.
For more on visiting Cincinnati, check out our Cincinnati sports travel guide.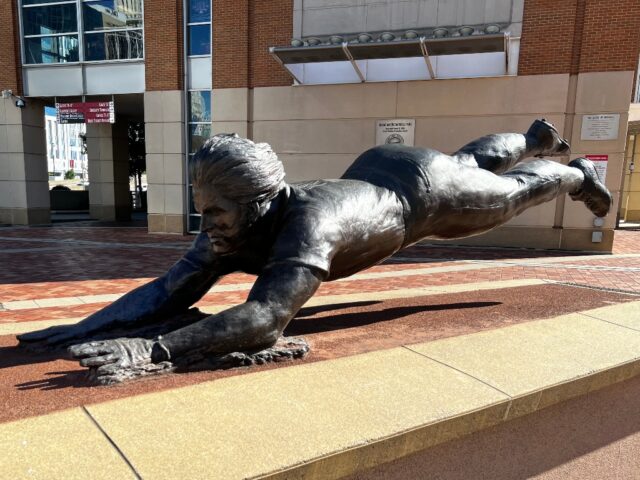 Getting to the ballpark
Downtown Cincinnati is, in essence, the center of what's known as the Tri-State area — to the uninitiated, the metro region encompasses parts of Kentucky (right across the Ohio River, and the area's airport is actually in Kentucky, not Ohio) and Indiana.
The downtown area is served by two major highways, Interstates 75 (leading south from Dayton and Toledo) and 71 (southwest from Columbus and Cleveland), which meet at a point just a few miles west of Great American Ball Park before crossing into Kentucky as one.
Depending on your approach, most downtown exits will get you close to the ballpark, and from there it's a matter of navigating your way to one of the many parking structures and lots that dot the downtown area and the area surrounding Great American Ball Park and neighboring Paul Brown Stadium, the home of the Cincinnati Bengals. Follow the link for detailed driving directions.
There are few appreciable public transportation options, but if you do find yourself deep in the downtown area and would rather not hoof it to the ballpark, you can use the Cincinnati Bell Connector, a streetcar that runs a circuit past different downtown points of interest such as Fountain Square, Government Square and more. The closest stop to Great American Ball Park is along Second Street just west of Joe Nuxhall Way.
Or, if you are across the river in Covington, Kentucky, you can use the Southbank Shuttle, which costs $1 to board and runs along a route through downtown Covington, across the historic Roebling Suspension Bridge and as far north as Fifth Street in downtown Cincinnati. If you're staying at a Covington hotel or have chosen to find parking in Covington, it serves as a convenient way to get over to Great American Ball Park.
Speaking of Covington, walking is certainly a viable option to get to the ballpark. Don't let the sight of the mighty Ohio River in between fool you — all it takes is a half-mile stroll across the Roebling Bridge and then a right turn on Freedom Way, and you're at the ballpark's doorstep.
Parking at Great American Ball Park
Once you get in the vicinity of the ballpark, you can choose to park in one of the "official" Great American Ball Park lots — if you have a permit or have chosen to pay in advance, you are probably headed to one of these garages or lots, which can be accessed on either Mehring Way or Joe Nuxhall Way.
Alternative options can be found in the numerous private garages in the downtown Cincinnati area or across the river in Kentucky. You can purchase a Great American Ball Park event parking permit in advance via SpotHero.
Cincinnati hotels near Great American Ball Park
• AC Hotel by Marriott Cincinnati at The Banks – 0.1 miles away
• Renaissance Cincinnati Downtown – 0.3 miles away
• The Westin Cincinnati – 0.4 miles away
Search for more Cincinnati hotels on Booking.com.
Map of the surrounding area
Things to do around the ballpark
Once upon a time, the riverfront area consisted of the old Riverfront Stadium, U.S. Bank Arena (which still stands) and a handful of aging industrial buildings. Since Great American Ball Park and Paul Brown Stadium opened in the early 2000s, the city has done a great job redeveloping the surrounding area so that it is more of a pregame and postgame destination — and, like many districts surrounding sports venues, there are a growing number of residences nearby as well.
The most popular area for pregame fun is just west of the stadium, where Riverfront Stadium once stood. Freedom Way has a number of sports pub-type establishments such as Yard House and Moerlein Lager House as well as smaller, quick-bite restaurants. Also in this area is the National Underground Railroad Freedom Center.
Especially if the Reds game is a big one, Freedom Way fills up with baseball fans who have plenty to do in the hours leading up to the game, before making the short walk over to the ballpark.
There's plenty more to see and do farther into downtown. Fountain Square, at the corner of Fifth and Vine streets, is a common gathering area for sports fans (and for the rest of the city's residents alike) and is surrounded by bars, fine dining and fast food places alike.
And don't discount going across the river for pregame enjoyment. Covington has its own entertainment district and a number of brand-name hotels, most of which are a reasonable walk from Great American Ball Park, as mentioned in the section above.
Cincinnati restaurants near Paul Brown Stadium
• Moerlein Lager House – American, 0.1 miles away
• Condado Tacos – Mexican, 0.1 miles away
• Holy Grail Tavern and Grille – pub, 0.1 miles away
Search for more Cincinnati restaurants on Tripadvisor.
Watching a game at Great American Ball Park
A good starting point for checking out Great American Ball Park is the first-base side along Joe Nuxhall Way, where you'll find the Reds team store and the team Hall of Fame in a standalone building.
A similar building holding the Reds' administrative offices straddles the third-base side, and the opening between the two structures helps create a rather dramatic entrance leading to the home-plate gate.
It's in this area that you'll also find the majority of statues around the park honoring greats of the past, including Ted Kluszewski, Joe Nuxhall and Frank Robinson, as part of a sculpture garden known as Crosley Terrace — a nod to the team's old home, Crosley Field.
Greats from other eras in team history such as Johnny Bench, Joe Morgan and Tony Perez, also have statues nearby. The Reds' most controversial past star, Pete Rose, joined them in 2017.
Inside, the primary view most fans will have from Great American Ball Park's seating bowl is not of downtown Cincinnati but of the Ohio River. As such, a riverboat motif is prevalent in the outfield, complete with smokestacks that shoot off whenever a Reds player hits a home run or the team wins (the smokestacks once caught fire during a 2015 game).
The Riverboat Deck, a party patio area, also stands above the center field batter's eye and is fashioned to look like a riverboat cruising the Ohio.
For those missing the view of the downtown Cincinnati skyline, a distinctive gap in Great American Ball Park's upper seating bowl along the third-base side offers that view for patrons sitting in the outfield.
Otherwise, Great American Ball Park's seating bowl is fairly standard, with two main levels. The ballpark's relatively small footprint means the upper level is fairly steep, and that's also the case in the left- and right-field bleachers.
Food and drink at Great American Ball Park
Walk around the ballpark's concession stands and you'll see a number of Cincinnati-area favorites, the most conspicuous being Skyline Chili, a local chain that serves Cincy-style coneys (small hot dogs loaded with chili and finely grated cheese).
Also check out the Porkopolis stands for a selection of German smoked sausages (known locally as "metts"), Frisch's Big Boy for standards like hot dogs and chicken tenders. Local BBQ purveyor Montgomery Inn also has a presence, serving ribs and brisket.
Mishmashes of savory and sweet can be found in dishes like the Smokehouse Parfait (pulled pork, mac and cheese and cole slaw in a bread cone) and the S'mores Frybox (fries topped with marshmallows and chocolate syrup).
And don't miss the handful of self-serve beer dispensers around the ballpark, introduced in 2015. You can also choose from a wide selection of draft beers at the Reds Brewery District, an 85-foot bar located on the main concourse behind third base.
Original publish date: February 4, 2016
Most recent update: July 7, 2023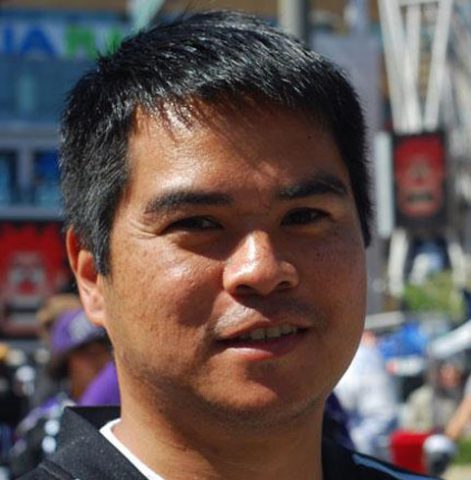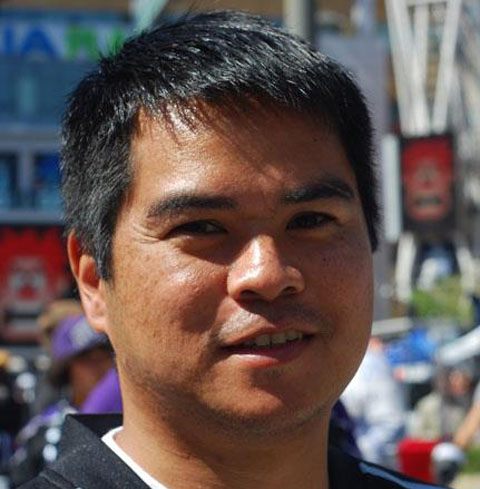 Edward de la Fuente | Itinerant Fan
I live for sports, and I love to travel. My biggest thrill is combining the two. I've been blogging about sports travel for more than a decade, and traveling for sports for twice as long.
About me | FAQ | Buy me a beer 🍺
Affiliate Disclosure
Please note that some of the links above are affiliate links, and at no additional cost to you, we earn a commission if you make a purchase. These recommendations are only for companies that we've used and have proven to enhance our sports travel experiences. To find out more about our affiliate partnerships, please read our Affiliate Disclaimer.
The Particulars
Home Teams
Cincinnati Reds
Address
100 Joe Nuxhall Way
Cincinnati, OH 45202
Year Opened
2003
Capacity
42,319
Upcoming Events
All times local
Cincinnati Reds vs. Washington Nationals
Thursday, March 28, 2024
12:00 am
Get tickets at Ticketmaster »

Cincinnati Reds vs. Washington Nationals
Saturday, March 30, 2024
12:00 am
Get tickets at Ticketmaster »

Cincinnati Reds vs. Washington Nationals
Sunday, March 31, 2024
12:00 am
Get tickets at Ticketmaster »

Cincinnati Reds vs. New York Mets
Friday, April 5, 2024
12:00 am
Get tickets at Ticketmaster »

Cincinnati Reds vs. New York Mets
Saturday, April 6, 2024
12:00 am
Get tickets at Ticketmaster »