Old Trafford
Our guide to Old Trafford in Manchester, England, includes information on events, tickets, parking, public transportation, nearby hotels and restaurants, seating and more. Read on to find out how to get the most out of your gameday experience.
* * *
Whether you are a fervent Manchester United supporter or simply someone who likes international football, it's likely that you have Old Trafford on your sports travel wish list.
And Old Trafford gives the traveling fan so many reasons to visit, too. It really is one of the iconic sporting venues in the world, with an even more iconic nickname: The Theatre of Dreams.
It's known globally not only for its long history and status as one of the largest venues in English football, but also for the reverence of the home club. Manchester United, of course, is one of the most popular teams in the world, beloved by many (and hated by fans of rival clubs, of course).
For fans of the club and of soccer in general, a visit to Old Trafford can feel like a religious experience — and yet at the same time, surprisingly "normal" in relation to similar sports venues.
However you view Man United, it's worth watching a match at Old Trafford at least once to get a sense of what makes supporters of the Red Devils, fans of English football in general and the city of Manchester tick.
Old Trafford isn't just used by Manchester United, either. Occasional rugby matches and concerts are also held at the facility, and talk has persisted for years about major renovations.
Buy tickets for Old Trafford events on LiveFootballTickets.com.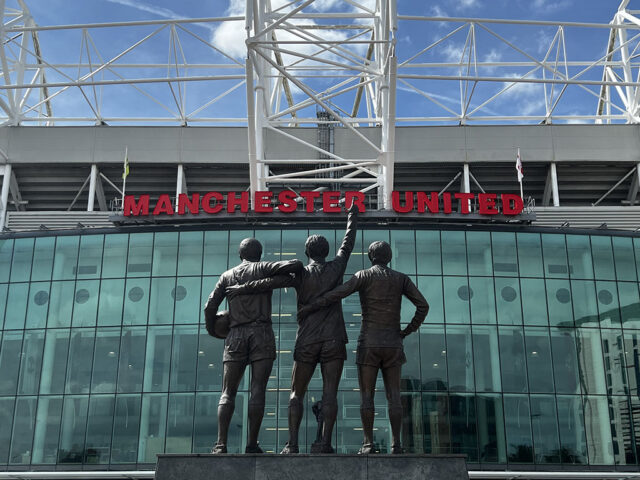 Getting to the stadium
Old Trafford the stadium takes its name from Old Trafford the neighborhood — a municipal area just two miles southwest of Manchester's city center. Several other landmarks, such as the nearby Old Trafford Cricket Ground, have the name, so know that it's not just based on Manchester United's ground.
However, if you tell a local — such as a cab driver — that you're headed to "Old Trafford," the association will usually be made that you're on your way to watch football, especially if you're from out of town and getting picked up at a hotel or train station.
Besides, from central Manchester, the ground is pretty simple to reach. For vehicles, the easiest route will be along the A56 (Chester Road), which cuts through the Old Trafford area and is lined with strip malls and industrial businesses. Note that on matchdays, the road becomes restricted to traffic the closer it gets to Warwick Road, which turns into Sir Matt Busby Way and leads north directly to the stadium.
The primary public transit option to Old Trafford is Manchester's Metrolink light rail service, which has several stops within the city center, including at the Piccadilly and Victoria train stations. The Old Trafford stop is adjacent to the cricket ground, and you'll have to walk about half a mile to get to the football stadium. However, it's a lively one — more on that below.
Old Trafford is located next to railroad tracks for Britain's rail network. There is a "Manchester United Football Ground" station along these tracks but it has not been open for matchday transport for several years.
Parking at Old Trafford
Old Trafford is surrounded by several "official" parking lots (or "car parks" in British nomenclature). The E1 and E2 lots are the most popular, as they are adjacent to the stadium's main entrance on the east side.
Parking permits for Manchester United matches at Old Trafford can be purchased via the club's website and begin at £12. If you're set on driving to the match, buy a parking permit early, as these can be sold out months in advance.
Otherwise, you'll find plenty of nearby businesses selling parking along Chester Road and other nearby streets, just like at most American sports venues.
Manchester hotels near Old Trafford
While there are several hotels, brand-name and otherwise, in the Old Trafford area — and, of course, many more in central Manchester — there's one specifically worth seeking out if you're a football fan: The Hotel Football, Old Trafford.
Owned by several former Man United players, the hotel is not only geared specifically for football fans (obviously) but it's located just across the plaza from Old Trafford's northeast corner. It's also now under the Marriott portfolio. Follow the link to see special matchday packages offered by the hotel.
• Hotel Football, Old Trafford – 0.1 miles away
• Copthorne Hotel Manchester – 0.4 miles away
• Hilton Garden Inn Manchester Emirates Old Trafford – 0.4 miles away
Search for more Manchester hotels on Booking.com.
Map of the surrounding area
Things to do around the stadium
Like many English football grounds, Old Trafford is nestled neatly into the neighborhood in which it's located, co-existing among rows of houses, warehouses, car dealerships, grocery stores and other trappings of city life.
But on matchdays, the area comes alive with mobile vendors, musicians, food trucks and other types of entertainment to take advantage of the influx of people.
If you're walking toward the stadium from the Old Trafford Metrolink station, you'll see plenty of this, particularly after you cross the A56. The final walk on Matt Busby Way might be one of the most iconic for English fans, with the street teeming with people, the sidewalks lined with flags denoting food and souvenir stands, and the stadium visible in the distance.
Beyond this, there are a handful of neighborhood pubs around the Old Trafford area that cater to football fans. The nearest are The Bishop Blaize and The Trafford, both near the intersection of Chester and Warwick roads.
If you're staying in Manchester's center city, you'll find football fans taking advantage of the numerous restaurant and pub options before making the trek to Old Trafford.
Another option for spending your pre-match time is visiting the National Football Museum, Britain's shrine for the sport that's located adjacent to Victoria Station.
But if you're specifically interested in Manchester United's history, you owe it to yourself to head to Old Trafford early to soak in the atmosphere before the match.
Manchester restaurants near Old Trafford
• Cafe Football – cafe, 0.1 miles away
• The Bishop Blaize – pub, 0.3 miles away
• Bella Italia – Italian, 0.5 miles away
Search for more Manchester restaurants on Tripadvisor.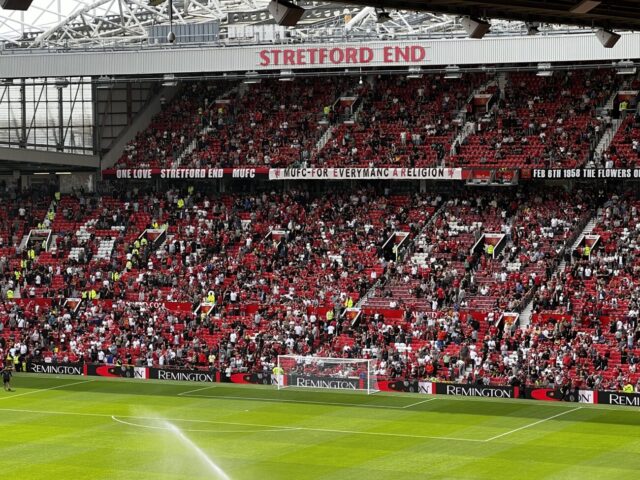 Watching a game at Old Trafford
Whether you're a Manchester United fan or not, you should still spend some time exploring the perimeter of Old Trafford before going inside — partly to check out the vibrant scene, and partly to see the tributes to the club's history.
The two most prominent nods are in the east plaza at the end of Sir Matt Busby Way. On the wall at the stadium's southeast corner is the Munich Memorial, a tribute plaque to the players and club officials who died in the 1958 Munich Air Disaster.
Around the corner from here is the East stand, where you can find the most recognizable exterior view of Old Trafford — a glass façade with red "Manchester United" signage mounted above it. In the same plaza is the entrance to the United team store, as well as the "United Trinity" statue featuring three of the greats in club history, George Best, Denis Law and Bobby Charlton.
Entrance gates are available throughout the perimeter of Old Trafford, though tickets are marked with a specific gate — patrons should make sure to enter at the correct gate to be close to their designated seating area.
Like many English grounds, Old Trafford has four seating stands. The Sir Alex Ferguson stand on the north side, named after the club's longtime manager who retired in 2013 is the largest in terms of capacity — if you're a visitor trying to score a ticket for a single match, you'll likely wind up sitting here.
The East stand is where the visiting club fans sit, confined to a few sections in the southeast corner. On the south end is the Sir Bobby Charlton Stand, the only single-tiered stand.
Meanwhile, the Stretford End on the west side is the designated seating area at Old Trafford for United's most fervent supporters. While it's exceedingly difficult to score a ticket in that stand, it's fun during matches to watch those hardcore fans in action from a distance.
Old Trafford has gone through many changes to its structure, seating bowl and appearance over its more than 100 years of existence, with more seemingly on the way. Expansion from its current 74,000-seat configuration is likely in coming years, particularly via expansion of the Sir Bobby Charlton stand — though it's complicated by the below-street level train tracks just behind it as well as the fact that the club locker rooms and training facilities are located within.
One aspect of Old Trafford that allows it to keep a bit of an old-timey charm: There are no videoboards anywhere within the seating bowl. However, there are several small digital display boards in different spots around the ground to display time, score, player substitutions and so on.
Food and drink at Old Trafford
Unsurprisingly for an older ground, Old Trafford doesn't have concourses to roam, so the food and drink available to you depends somewhat on your seating section. Plus, most in-stadium concession stands tend to have only 2-3 registers, so long queues can build up.
The fare at these stands are somewhat standard, with hot dogs and fries readily available. British fare like fish and chips and meat pies can also be found within.
If you care to eat something more substantial, or wish to have more variety, eat before going inside. The perimeter and surrounding blocks are lined with food stands and mobile trucks on matchdays, serving items ranging from chip stands (fries to Americans, but with a variety of toppings) to kebabs to burgers to pizza.
Manchester United recently earned raves for reducing beer prices at Old Trafford to as low as £3 a pint — the lowest in the Premier League.
Original publish date: October 18, 2022
Most recent update: August 15, 2023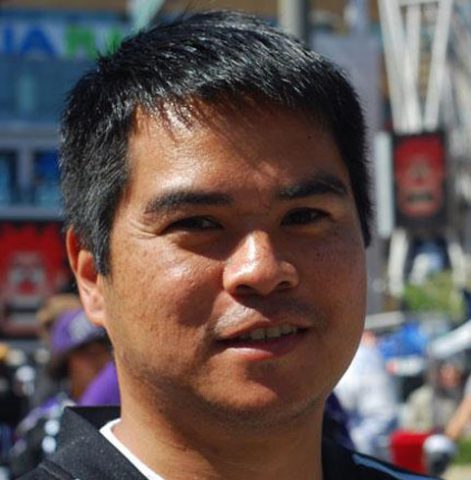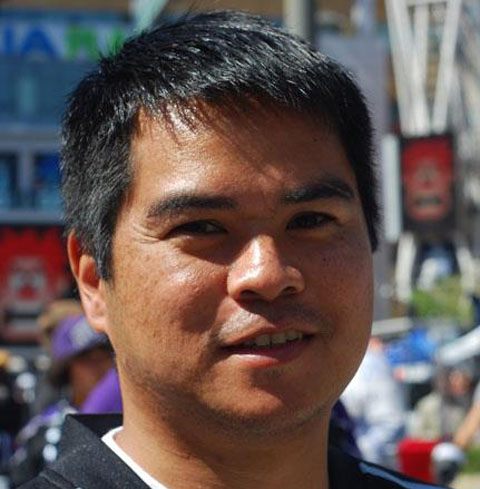 Edward de la Fuente | Itinerant Fan
I live for sports, and I love to travel. My biggest thrill is combining the two. I've been blogging about sports travel for more than a decade, and traveling for sports for twice as long.
About me | FAQ | Buy me a beer 🍺
Affiliate Disclosure
Please note that some of the links above are affiliate links, and at no additional cost to you, we earn a commission if you make a purchase. These recommendations are only for companies that we've used and have proven to enhance our sports travel experiences. To find out more about our affiliate partnerships, please read our Affiliate Disclaimer.
The Particulars
Home Teams
Manchester United
Address
Sir Matt Busby Way
Old Trafford, Stretford
Manchester M16 0RA
United Kingdom
Year Opened
1910
Capacity
74,310