Rose Bowl Stadium
Our guide to the Rose Bowl Stadium in Pasadena, California, includes information on events, tickets, parking, public transportation, nearby hotels and restaurants, seating, the annual Rose Parade and Rose Bowl Game, and more. Read on to find out how to get the most out of your gameday experience.
* * *
Whether you're a college football fan or not, the Rose Bowl is just one of those stadiums you have to see at least once in your life, and it's always at its finest on New Year's Day on the heels of the globally popular Rose Parade.
When the stadium on TV, someone is always waxing poetic about what a beautiful setting it is, and that's usually because the sun is shining down brilliantly upon it and the mountains are visible in the background.
If you've heard it enough times, you might be tempted to believe it can't possibly be that beautiful. But then you actually visit and you realize they were right all along.
The stadium is nestled within a canyon alongside the San Gabriel Mountains, in an affluent, hilly neighborhood of Pasadena, Calif. It's not far from the hustle and bustle of a busy freeway and the city's Old Town district but far enough away to make it feel like you're in its own little world. You know how you can't see any traces of the outside world from inside Disneyland? Well, at the Rose Bowl you can't help but focus only on the sporting event going on within.
While UCLA football makes the Rose Bowl its home and the stadium usually hosts a few big-time soccer matches and concerts every year, there's no better way to experience the Rose Bowl, of course, than by attending the Rose Bowl Game.
Looking for Rose Bowl Stadium event tickets? Search events on Ticketmaster.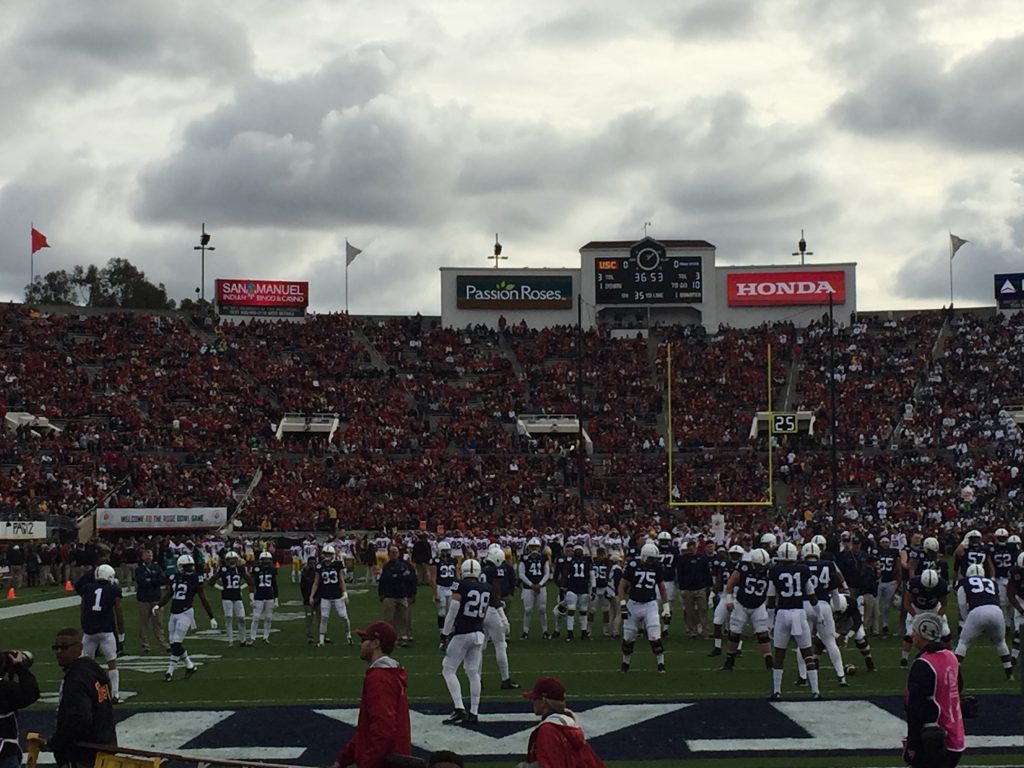 Getting to the stadium
Pasadena is known the world over because of the Rose Bowl Game and the preceding Rose Parade (known officially as the Tournament of Roses Parade), but otherwise it's a suburb of Los Angeles and part of the San Gabriel Valley region (and, fun fact for fans of "Parks and Recreation," as the home of Pawnee city hall). So getting into town isn't much of an issue, except for the usual traffic.
But while the setting of its iconic stadium may be sublime, it presents quite a few logistical problems for the sports fan trying to get to the game. The fact that most general parking is available on an adjoining golf course (not the course's parking lot, but on the *actual course*) should tell you a lot about the challenges.
Interstate 210 (Foothill Freeway) and Route 134 (Ventura Freeway) run close to the stadium, while most major exits in the area are convenient to Old Town. The closest major road to the stadium is Orange Grove Boulevard, about a half-mile away.
From there, you'll have to make your way through windy, narrower roads to get to the stadium parking lots. It's a beautiful neighborhood, and you'll get a sense of it whether you're walking or driving, but be prepared for long waits getting in and out. (For more detailed driving directions and parking information, click here.)
Many fans choose to avoid the traffic by either parking closer to Old Town or using the region's Metro rail system. Both methods are cheaper for sure — parking in and around Old Town can be had for $10-20 on gamedays, and Metro fares are $1.75 per ride as of 2020) but still require quite a bit of effort to get from there to the Rose Bowl.
Metro runs a gameday shuttle from the Memorial Park station, but expect long waits to board afterward. On this day the lines were so long, at least an hour's wait, that we chose to hoof it, a walk of about 35-40 minutes. If it's the day of the Rose Parade and Rose Bowl Game, you'll have to navigate street closures around Old Town.
Be aware, also, that if you're walking to the game from Old Town, you'll be headed downhill as you get closer to the stadium and uphill when you walk back afterward.
Pasadena hotels near the Rose Bowl
• Courtyard by Marriott Pasadena/Old Town – 1.3 miles away
• The Westin Pasadena – 1.7 miles away
• Hyatt Place Pasadena – 1.8 miles away
Search for more Pasadena hotels on Booking.com.
Map of the surrounding area
Things to do around the stadium
The good news is, there's plenty of space for you to get your tailgate on, between the surrounding parking lots and, yes, the golf course. For the Rose Bowl Game and for UCLA football games, there typically is a fanfest-type gathering spot either on the north or the south side of the stadium for folks to eat, drink and/or party before entering.
You'll also sometimes see some of the adjacent houses and public buildings play host to tailgate scenes and parties, as we did for the Rose Bowl Game and parade — one house within a quarter-mile of the stadium parking lot was raging, strobe lights and everything, about two hours after game's end.
If that's not your thing, your best bet is to remain in Old Town Pasadena, a burgeoning district full of restaurants and bars that are lively on most nights, not just when there's a game at the Rose Bowl or on parade day.
If anything, you can fuel up for that walk to the stadium by checking out one of the many establishments, which include chain stalwarts such as Buca di Beppo and The Cheesecake Factory, trendy Asian eateries, upscale burger joints and more. For an Old Town guide, click here.
For more on visiting Pasadena, check out our Los Angeles sports travel guide.
Pasadena restaurants near the Rose Bowl
• Russell's – diner, 1.5 miles away
• Slater's 50/50 – burgers, 1.5 miles away
• Union – Italian, 1.5 miles away
Search for more Pasadena restaurants on Tripadvisor.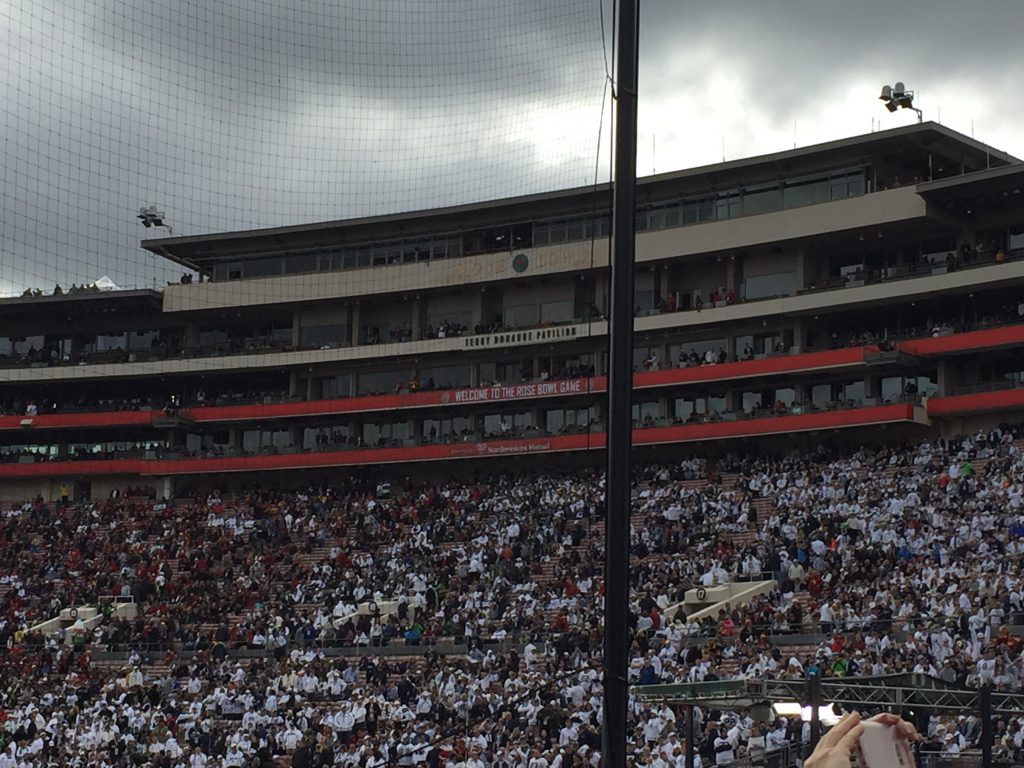 Watching a game at the Rose Bowl
Once you're inside, the Rose Bowl just oozes college football — sort of a college version of Lambeau Field, you can get the feel of an old-timey setting. It's a single-bowl setup, with tunnels leading out to a concourse which isn't really part of the stadium itself, just the perimeter of it.
While that concourse is plenty wide enough for the crush of fans walking around, it does narrow in spots — particularly behind the south end zone, where you have to cross a bridge that spans over a tunnel leading to the field.
Either way, you'll want to either enter the stadium gates at the south end zone or at least circle back to that area to catch a glimpse of the iconic Rose Bowl façade that you see in just about everything related to the stadium (including the top of this post). If you think there's a similar facade on the north side, you'd be sadly mistaken and have to circle back.
The Rose Bowl's seating bowl isn't massive and you might find yourself wondering how they can cram upwards of 95,000 people into it (the fact that most seating is metal benches rather than actual chairs has something to do with it).
The mountains in the distance are visible behind the stadium's east side, which is unmarred except for one fairly small scoreboard. There's also only one videoboard, behind the north end zone.
The display on the south side is a throwback that includes an analog clock counting down the minutes remaining in the quarter — considering a digital display with the actual game time is just below it, it's nothing more than a relic, but a pretty cool one at that. For a place that insists on maintaining its traditions, it's more than appropriate.
Food and drink at the Rose Bowl
Food options are fairly standard-issue as far as stadiums go — hot dogs and chicken fingers are widely available, with the most adventurous items being loaded hot dogs and burritos.
However, recent additions to the Rose Bowl's food lineup include beloved Pasadena diner Pie 'n' Burger and Mexican food standout Border Grill.
Original publish date: February 4, 2016
Most recent update: September 1, 2023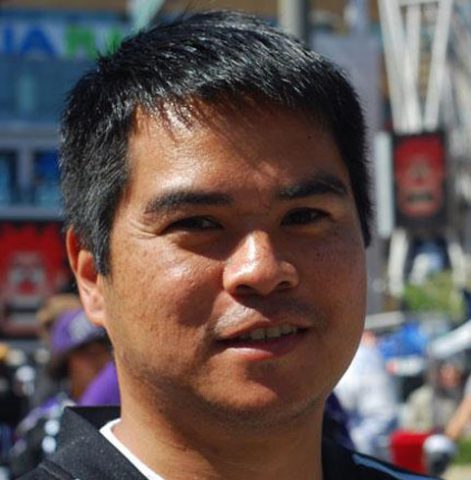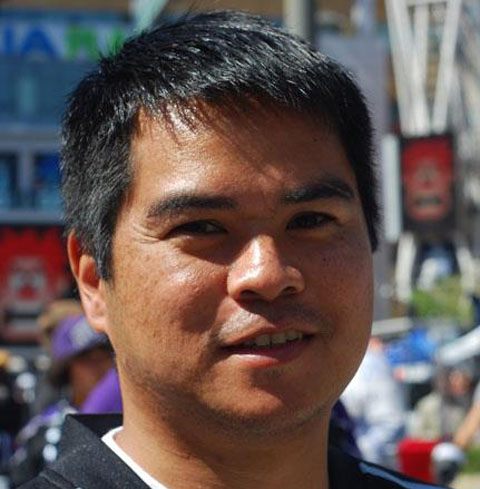 Edward de la Fuente | Itinerant Fan
I live for sports, and I love to travel. My biggest thrill is combining the two. I've been blogging about sports travel for more than a decade, and traveling for sports for twice as long.
About me | FAQ | Buy me a beer 🍺
Affiliate Disclosure
Please note that some of the links above are affiliate links, and at no additional cost to you, we earn a commission if you make a purchase. These recommendations are only for companies that we've used and have proven to enhance our sports travel experiences. To find out more about our affiliate partnerships, please read our Affiliate Disclaimer.
The Particulars
Home Teams
UCLA Bruins
Address
1001 Rose Bowl Drive
Pasadena, CA 91103
Year Opened
1922
Capacity
92,542
Upcoming Events
All times local
2024 Rose Bowl Game presented by Prudential
Monday, January 1, 2024
1:00 pm
Get tickets at Ticketmaster »

2024 Rose Bowl Game Premium Seating
Monday, January 1, 2024
1:00 pm
Get tickets at Ticketmaster »

UCLA Bruins Football vs. Indiana Hoosiers Football
Saturday, September 14, 2024
12:00 am
Get tickets at Ticketmaster »

UCLA Bruins Football vs. Oregon Ducks Football
Saturday, September 28, 2024
12:00 am
Get tickets at Ticketmaster »

UCLA Bruins Football vs. Minnesota Gophers Football
Saturday, October 12, 2024
12:00 am
Get tickets at Ticketmaster »