Ford Field
Our guide to Ford Field in Detroit includes information on events, tickets, parking, public transportation, nearby hotels and restaurants, seating and more. Read on to find out how to get the most out of your gameday experience.
* * *
When the Detroit Lions' new, 65,000-seat Ford Field opened in 2002, joining its ballpark neighbor Comerica Park that debuted two years before, it brought a boon to downtown Detroit in the influx of hotels, restaurants and nightlife that came to the area along with the big-time events the stadium routinely hosts.
Part of the fun of attending a Lions game, or any other event at Ford Field, is seeing how the surrounding district comes to life on a game day. The opening of the two stadiums was meant to give a struggling central district a boost — and nearly two decades later, it seems to have done that quite well.
As for the Lions, they were able to move away from the quickly dilapidating Pontiac Silverdome (which, sadly, continued to dilapidate for years afterward) and into the downtown area. While the franchise has only experienced periodic success since the move, the stadium is thriving — in addition to Lions games, Ford Field hosts events such as the annual Quick Lane Bowl, and it was the home for Super Bowl XL in 2006.
Ford Field has also been the venue of choice for the NFL on two occasions in which other teams needed a new stadium on short notice.
Downtown Detroit's development, particularly as a sports destination, continues to make leaps and bounds. But Ford Field has helped make it worth visiting for quite a while.
Looking for Ford Field event tickets? Search events on Ticketmaster.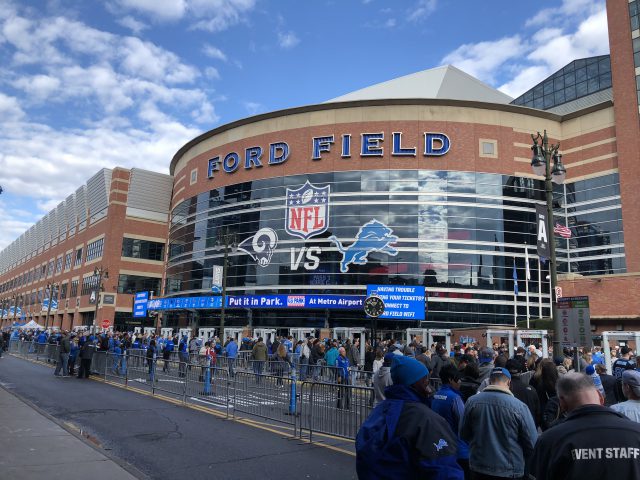 Getting to the stadium
Ford Field's downtown location makes it easily accessible from most parts of the Detroit metro area. Interstate 75 runs right past it before making a hard left turn and heading toward the northern suburbs.
Two major downtown streets, Woodward Avenue and Gratiot Avenue, run very close to the stadium, so if you're driving from a hotel or another spot downtown, you'll likely want to use one of these streets to get close by.
Walking is another alternative if you're staying downtown in a hotel near Ford Field. Weather permitting, it's a fairly simple walk from most major downtown hotels, though the closer you are to the Detroit River, the farther from Ford Field you'll be.
The Detroit People Mover, an automated tram system that loops around downtown, can be used to cut out some of the walking on your way to a Ford Field event. The closest station to the venue is at Grand Circus Park, about five blocks away.
There's also the QLine, a streetcar that runs up and down Woodward Avenue — get off at Grand Circus or Montcalm Street to get to the stadium.
Parking at Ford Field
Around the stadium site, you'll find a number of parking lots close by, including a parking garage across the street on the east side, and more private lots scattered throughout the downtown area.
Note that Ford Field and Comerica Park share a small number of lots, which could create conflicts on the rare days that events are occurring at both venues.
Looking for parking at Ford Field? Buy parking on SpotHero.
Detroit hotels near Ford Field
• Hilton Garden Inn Detroit Downtown – 0.3 miles away
• Aloft Detroit at The David Whitney – 0.3 miles away
• The Siren Hotel – 0.3 miles away
Search for more Detroit hotels on Booking.com.
Map of the surrounding area
Things to do around the stadium
If you've never been to downtown Detroit, you might be surprised by just how much there is to do, see and eat there, and much of it is within walking distance of Ford Field. In terms of restaurants, an endless array of establishments are nearby and happy to cater to the sports-fan crowd.
Among your choices, there's Greektown, home of several of Detroit's most well-known restaurants as well as a casino; there are a number of trendy and well-regarded establishments along Woodward Avenue, and there are the two famous dueling coney restaurants, American Coney Island and Lafayette Coney Island. (The coney is Detroit's idea of a chili dog; the two restaurants, which stand next to each other, are fierce rivals in the battle for the best coney in the city.)
For slightly more off-the-beaten-path fare (in terms of proximity to the stadium, not accessibility), try cruising down Broadway, Woodward Avenue or Washington Avenue south of Grand Circus Park. All three streets are lined with restaurants and bars, many with a sports bar-type atmosphere.
For tailgating, most of the best action is on the surface lots surrounding Ford Field and Comerica Park. But if you don't have a grill or a cooler, you can head to Brush Street (between the two stadiums), which gets closed off and renamed "Pride Plaza" for the Lions' pregame party containing the usual elements — live music, games, food and drink and more.
For more on visiting Detroit, check out our Detroit sports travel guide.
Detroit restaurants near Ford Field
• Elwood Bar & Grill – American, 0.1 miles away
• Vertical Detroit – American, 0.2 miles away
• Detroit Beer Company – American, 0.2 miles away
Search for more Detroit restaurants on Tripadvisor.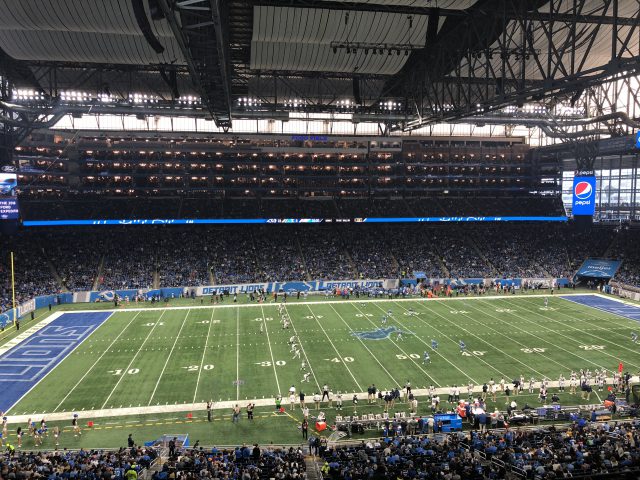 Watching a game at Ford Field
While not entirely obvious from the outside, Ford Field contains a number of interesting architectural features worth checking out.
An existing building known as the Hudson's warehouse (indeed, it was once a warehouse for a department store called Hudson's) was incorporated into the design of the stadium, and it currently houses office space as well as the stadium's luxury suites.
As a result, Ford Field's seating configuration features the suites stacked up on one sideline and the upper seating bowl wrapped around the other three sides. It's not unlike the old warehouse building incorporated into San Diego's Petco Park, only a little more subtle.
Perhaps because of the warehouse, the upper deck doesn't feel too high up at all, and in fact if you look out from one of the pedestrian bridges that extend from the warehouse side, it doesn't seem far down at all to the main concourse. Because of this, Ford Field doesn't have quite the cavernous feel that a lot of other domed stadiums have, and sitting high up in the seating bowl doesn't feel quite so far away.
Speaking of pedestrian bridges, they can be popular standing-room only spots if you'd like to get out of your seating area and stretch your legs — particularly the curved one in the Brush/Adams atrium, which essentially serves as the main entrance to Ford Field. You won't be able to see the entire field, but it still offers a pretty good vantage point if you'd like to stretch your legs for a time.
Contained within the warehouse as well is a large atrium and concourse that contains full-service restaurants, food courts and more in what looks as much like a mall as a stadium.
The atrium, easily recognizable by the circular entryway at the intersection of Brush and Adams streets, is fitted with large glass windows through which patrons can view the downtown Detroit skyline (fans at certain seating areas within Ford Field can see this as well).
Despite the fact that Ford Field is a domed stadium, quite a bit of natural light comes in thanks to frosted windows that line the facility between the seating bowl and the roof.
These windows, combined with the large metal beams that support the roof and hover over the field, contribute to the factory feel that the designers were going for when the stadium was built.
Interested in a suite at Ford Field? Buy suite tickets on SuiteHop.
Food and drink at Ford Field
Ford Field's concessions do a good job giving fans a taste of local cuisine. Favorite Detroit restaurants such as Slows Bar-B-Q, Pegasus Taverna (Greek food) and La Shish (Mediterranean cuisine) have stands on the main concourse, and former Lions great Billy Sims has lent his name to a barbecue stand serving ribs, sandwiches and more.
You can also find a stand dedicated to Michigan craft beer, with breweries like Rochester Mills, Dragonmead and Detroit Beer Company represented.
Original publish date: February 4, 2016
Most recent update: September 1, 2023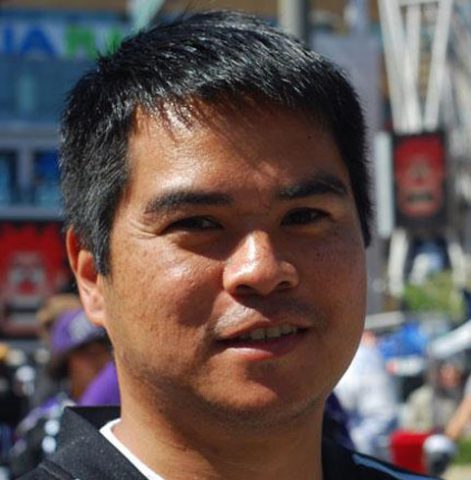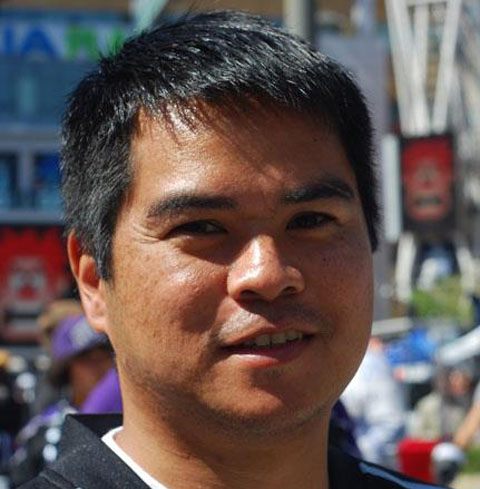 Edward de la Fuente | Itinerant Fan
I live for sports, and I love to travel. My biggest thrill is combining the two. I've been blogging about sports travel for more than a decade, and traveling for sports for twice as long.
About me | FAQ | Buy me a beer 🍺
Affiliate Disclosure
Please note that some of the links above are affiliate links, and at no additional cost to you, we earn a commission if you make a purchase. These recommendations are only for companies that we've used and have proven to enhance our sports travel experiences. To find out more about our affiliate partnerships, please read our Affiliate Disclaimer.
The Particulars
Home Teams
Detroit Lions
Address
2000 Brush St.
Detroit, MI 48226
Year Opened
2002
Capacity
65,000
Upcoming Events
All times local
Detroit Lions VIP Tailgate at Eastern Market presented by Bullseye
Sunday, October 8, 2023
1:00 pm
Get tickets at Ticketmaster »

Detroit Lions vs. Carolina Panthers
Sunday, October 8, 2023
1:00 pm
Get tickets at Ticketmaster »

Detroit Lions VIP Tailgate at Eastern Market presented by Bullseye
Monday, October 30, 2023
8:15 pm
Get tickets at Ticketmaster »

Detroit Lions vs. Las Vegas Raiders
Monday, October 30, 2023
8:15 pm
Get tickets at Ticketmaster »

Metallica: M72 WORLD TOUR - 2 Day Ticket
Friday, November 10, 2023
12:00 am
Get tickets at Ticketmaster »