Tottenham Hotspur Stadium
Our guide to Tottenham Hotspur Stadium in London includes information on events, tickets, parking, public transportation, nearby hotels and restaurants, seating, NFL games and more. Read on to find out how to get the most out of your gameday experience.
* * *
Though it is one of the Premier League's newest grounds, Tottenham Hotspur Stadium has already established itself as one of its most unique.
Rising conspicuously over the north London neighborhood where it's located, the stadium opened in 2019 to much fanfare, replacing the much smaller White Hart Lane (and standing partially in the former ground's footprint).
Though it's home to one of the "Big Six" clubs in English football, Tottenham Hotspur Stadium was designed from the start with other events in mind. Most notably, it is set to host at least two NFL International Series games a year for at least the first 10 years of existence — an agreement that has led to speculation that it could be the future home of a London-based NFL franchise or even host a Super Bowl.
From the start, American football's needs were kept in mind when the stadium was designed and built, and it features an artificial turf surface underneath the retractable natural-grass pitch that's specifically used when the NFL comes to town.
Beyond the London NFL games, Tottenham Hotspur Stadium has already hosted several large concerts, as well as rugby, boxing and more.
Despite all that, the stadium remains at its liveliest when its namesake club is in action. Spurs fans are a boisterous bunch, whether it's a North London Derby with hated rivals Arsenal or a regular Premier League match.
And to get the full vibe of what it's like watching an event at Tottenham Hotspur Stadium, it's best to see Spurs on their home pitch.
Buy tickets for Tottenham Hotspur Stadium events on LiveFootballTickets.com.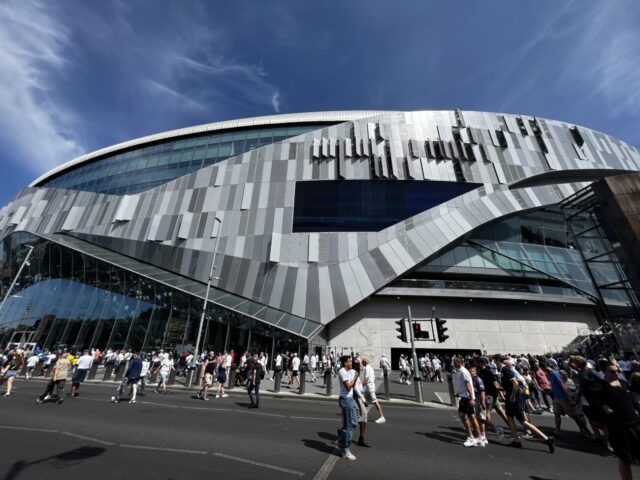 Getting to the stadium
The area that is considered part of "London" is massive, and so while it can be said that Tottenham Hotspur Stadium is located in London, it's not close to areas that most visitors think of when they think of London.
However, saying the stadium is on the "outskirts" of the city would not be accurate either, as the Tottenham neighborhood is less than 10 miles north of central London (where all the major tourist attractions — think Parliament, Westminster Abbey, Buckingham Palace and so on — lie).
Getting there isn't difficult, but instead of using the London Underground network that most visitors are familiar with, it's best to take the Overground system (which, as its name suggests, mostly travels at and above ground level).
From central London, get to Liverpool Street Station, then board an Overground train toward Cheshunt. The White Hart Lane stop is located a block west of Tottenham Hotspur Stadium.
If you fancied using just the Underground to get there, you can. The Seven Sisters stop on the Victoria line is nearly a mile and a half south of the stadium, but it's a straight shot along the High Road that cuts through the neighborhood.
For fans coming to Tottenham Hotspur Stadium from outside London, the Northumberland Park station, less than a mile to the east, serves rail lines branching out to towns around southern England.
Parking at Tottenham Hotspur Stadium
Because of Tottenham Hotspur Stadium's location in a dense neighborhood, the club warns fans that there is no general admission parking at the ground for matches or other events. In addition, event-day road closures, including High Road, make driving close to the ground difficult.
In other words, it's best to stick to public transport, especially if you are visiting London.
London hotels near Tottenham Hotspur Stadium
• Park Avenue Hotel – 2.2 miles away
• Kip Hotel – 3.9 miles away
• One Hundred Shoreditch – 5.5 miles away
Search for more London hotels on Booking.com.
Map of the surrounding area
Things to do around the stadium
Like many football grounds in England, Tottenham Hotspur Stadium is entrenched in its neighborhood. Thus, you won't often find large urban entertainment/retail-type development around most of them, and this stadium is no different.
However, it is worth it to get to the stadium early enough to stroll the High Road, which you'll have to pass by if you're coming via the Overground.
You'll find a number of small takeaway food shops and convenience stories directly across the street from the stadium, and a handful of pubs on the blocks to the south. All of these establishments are popular with fans before and after matches.
The south end of the ground is where you'll find the Tottenham Experience, the club's sizable team store. Also, there are sometimes food trucks and sponsor booths set up in the plaza in front of the south stand. This is the case for London NFL games as well, as the league takes over the club store to sell American football merchandise.
There's one other pre-match activity you can consider doing: The Dare Skywalk (named after Spurs' slogan, "To Dare Is To Do"), where you can walk along the roof of the stadium and around the large golden cockerel statue perched over the south stand. Reservations must be made in advance, and matchday experiences are available.
London restaurants near Tottenham Hotspur Stadium
• Chick-King – fast food, 0.1 miles away
• Koyum Restaurant – Turkish, 0.1 miles away
• Bocca Bocca – pizza, 0.2 miles away
Search for more London restaurants on Tripadvisor.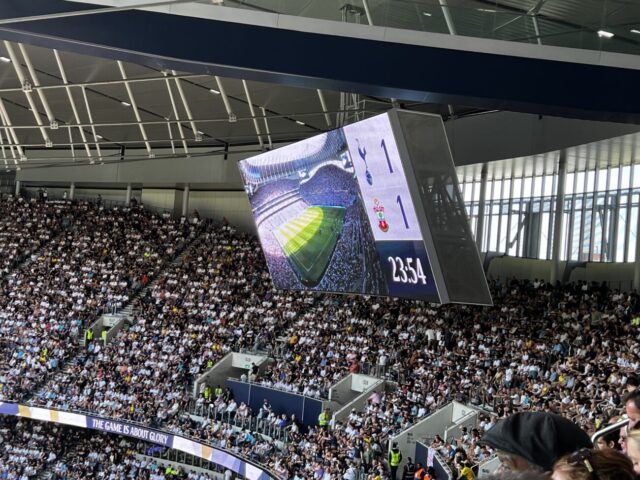 Watching a game at Tottenham Hotspur Stadium
Compared to its predecessor, White Hart Lane, Tottenham Hotspur Stadium is a behemoth, taking up twice the footprint. But with it come all the luxuries of a modern stadium, especially one that is competing for many of the biggest events that come to London.
You can see this immediately on approach from High Road, with its silver facade and high-definition message boards greeting visitors.
From there, you have to find your way to the appropriate entrance gate — like most European stadiums, Tottenham Hotspur Stadium requires you enter via the assigned gate on your ticket, which corresponds to your ticket location in the seating bowl.
Note that if your seat is in the east stand and you've arrived via the Overground, you'll have to walk not just around the stadium itself but also around the buildings just to the north, which will add an extra 5-10 minutes to your journey depending on how fast you walk.
As a modern facility, what Tottenham Hotspur Stadium has over older grounds is a wide set of concourses once you get inside — wide enough that there are large bars set up on each side at which fans can congregate. There are also large club sections on each side that are exclusively for VIP guests.
Once you get into the seating bowl, you can see why Tottenham Hotspur Stadium is a favorite with the NFL for its London games. It has all the modern touches you'd expect at contemporary NFL stadiums, from large videoboards (one in each of the stadium's four corners) to two levels of ribbon boards. A roof canopy covers nearly all of the seating bowl, similar to most large European stadiums.
One quirk in Tottenham Hotspur Stadium's seating bowl is that there are three tiers on three of the stadium's four sides, while the south stand is a single tier.
The south stand, which sits underneath the cockerel statue on the roof, is also where Spurs' most fervent supporters sit for matches, with the visitors' fans allocated seats in the northeast corner of the lower bowl.
Food and drink at Tottenham Hotspur Stadium
There aren't quite as many food and drink stands as you'd expect around the concourses at Tottenham Hotspur Stadium if you're used to American stadiums (this is typical of venues around Europe), but there's good variety among the options.
The menus offer the greatest hits of English street and pub food, with menu items ranging from fish and chips (of course!) to sausage rolls to Indian food served atop naan bread.
More "typical" stadium food options such as hot dogs, hamburgers and pizza are also available.
Food and drink can also be found in the plaza behind the south stand at Tottenham Hotspur Stadium, where London-area mobile vendors and food trucks are stationed for Spurs matches and NFL games. The vendors continue to sell for a period of time after the event ends, allowing fans to continue to mingle.
While beer is plentiful at Tottenham Hotspur Stadium's concourse bars, patrons are prohibited from taking alcoholic drinks into the seating bowl. Food and non-alcoholic drinks can be consumed at your seats, though.
Original publish date: August 27, 2022
Most recent update: August 15, 2023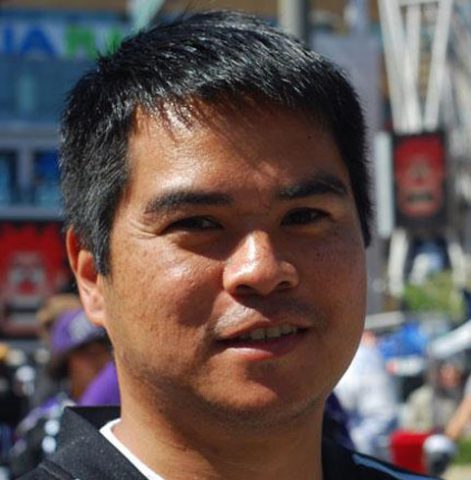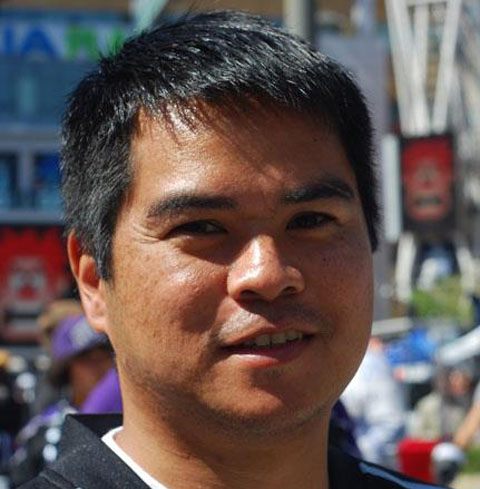 Edward de la Fuente | Itinerant Fan
I live for sports, and I love to travel. My biggest thrill is combining the two. I've been blogging about sports travel for more than a decade, and traveling for sports for twice as long.
About me | FAQ | Buy me a beer 🍺
Affiliate Disclosure
Please note that some of the links above are affiliate links, and at no additional cost to you, we earn a commission if you make a purchase. These recommendations are only for companies that we've used and have proven to enhance our sports travel experiences. To find out more about our affiliate partnerships, please read our Affiliate Disclaimer.
The Particulars
Home Teams
Tottenham Hotspur
NFL International Series
Address
782 High Road
London N17 0BX
United Kingdom
Year Opened
2019
Capacity
62,850