Scotiabank Saddledome
Our guide to the Scotiabank Saddledome in Calgary, home arena of the Flames, includes information on events, tickets, parking, public transportation, nearby hotels and restaurants, seating and more. Read on to find out how to get the most out of your gameday experience.
* * *
Over nearly four decades of existence, the Scotiabank Saddledome has been through quite a bit.
The venerable arena with the potato chip-shaped roof has had three corporate sponsors attached to its name; it hosted hockey and figure skating during the 1988 Winter Olympics; it hosted a Stanley Cup-winning Flames team in the 1988-89 season; and it survived serious flooding in Calgary in 2013.
The Saddledome's future is likely numbered, but exactly when and how it will happen remains up in the air as Flames ownership and the city of Calgary and province of Alberta have battled for years on how to properly replace it.
An agreement to build a new downtown events center was reached a few years back, but in early 2022 was abruptly terminated. However, in 2023 another deal was struck, and while plans haven't been finalized, the current proposal will build a new arena for the Flames just north of the Saddledome on the Calgary Stampede grounds.
Until a new facility is finally built, the Saddledome will get plenty of use as Calgary's primary indoor events center. In addition to hosting the Flames, the arena serves as the home of the Western Hockey League's Calgary Hitmen and the National Lacrosse League's Calgary Roughnecks.
Looking for Scotiabank Saddledome event tickets? Search events on Ticketmaster.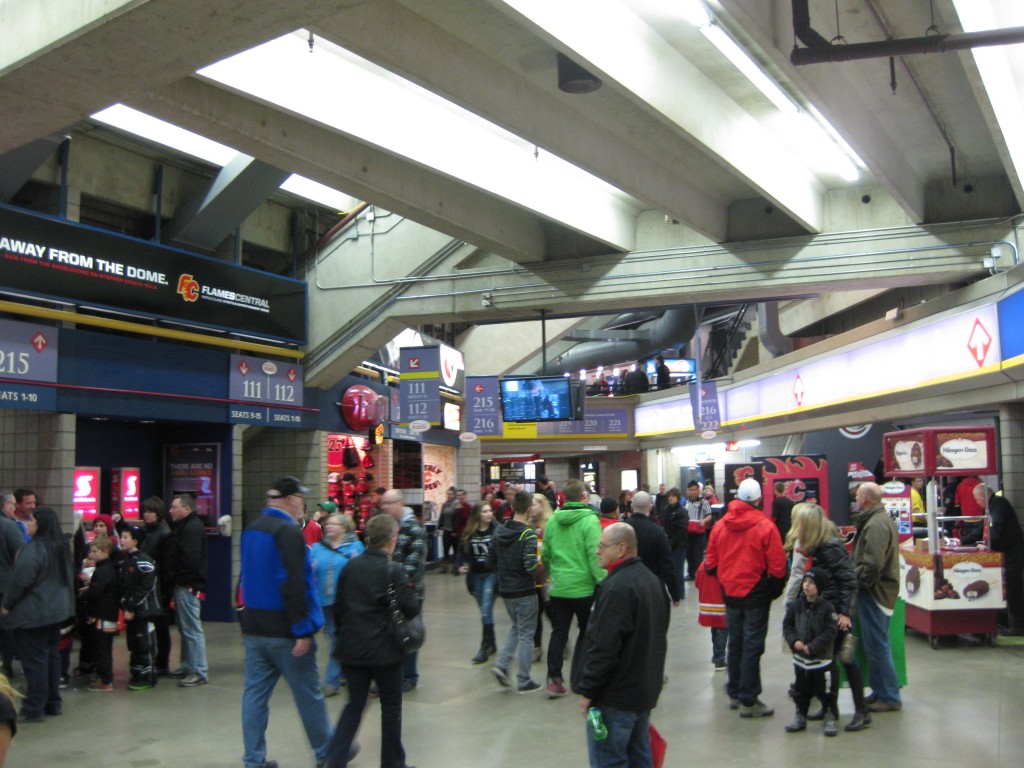 Getting to the arena
The Calgary Stampede, a 100-year-old event held every summer, requires sizable grounds to hold its massive proceedings, which it has just southeast of downtown Calgary. The Saddledome is just one venue in the complex, and it sits on the far end of the grounds respective to downtown.
The upshot: The arena appears deceptively close to the downtown core, but unless you manage to park your car right near the doorstep, you'll likely find yourself doing more walking than you expected.
Many fans take the C-Train, Calgary's light-rail system, to the game. Both lines of the train run through downtown, but only one, the Somerset/Bridlewood-Tuscany line, swings by the Saddledome.
Riders to Saddledome events have to take note that while the downtown area is a designated zero-fare zone, the Victoria Park/Stampede station that services the arena is just outside this zone and valid fare is required. But the C-Train operates on an honor system, so it's hard to tell how rigidly authorities enforce fares during the hockey-game rush.
Light rail is a popular way to get to the game, so expect crowds of folks wearing red going to the game and especially right afterward.
Also be prepared for the aforementioned long walk; from the Victoria Park/Stampede station, you'll need to go through a long indoor tunnel, then an equally long outdoor tunnel, to get to the arena. At least you'll get to see a ton of Calgary Stampede posters and other memorabilia along the way.
Parking at Scotiabank Saddledome
For drivers, there's plenty of parking surrounding the arena and throughout the Stampede grounds, including a parkade right next to the Saddledome. Rates begin at C$15 for all lots.
If you're approaching from downtown and other points north, head to 5th Street SE and head south into the Stampede grounds, where you can access the parkade and the surrounding surface lots.
Calgary hotels near Scotiabank Saddledome
• Hilton Garden Inn Calgary Downtown – 0.6 miles away
• Hotel Arts – 0.6 miles away
• Calgary Marriott Downtown Hotel – 0.7 miles away
Search for more Calgary hotels on Booking.com.
Map of the surrounding area
Things to do around the arena
For pregame imbibing, look just west of the Stampede grounds, where you'll find an array of restaurants and bars frequented by fans. West of the light rail station and Macleod Trail is a cluster of neighborhood establishments, as well as the Cowboys Casino, which has a few restaurants and a sports bar inside.
Options also exist downtown, close to light rail access — in fact, downtown Calgary has an impressive array of brewpubs and restaurants, particularly along 8th Avenue SW (aka Stephen Avenue), which is closed to vehicle traffic.
Even in the cold weather that exists during much of hockey season, during our visit to the Saddledome we found plenty of fans walking around Calgary's downtown area and hanging out in restaurants pre-event.
Unless you know the city well or have friends who can show you around, your best bet as a visitor to the city is to hang out downtown before taking the short rail trip to the Saddledome if you're looking for pregame entertainment.
Calgary restaurants near Scotiabank Saddledome
• Embarcadero Wine & Oyster Bar – seafood, 0.3 miles away
• Cardinale – Italian, 0.3 miles away
• Presto Pizza – pizzeria, 0.3 miles away
Search for more Calgary restaurants on Tripadvisor.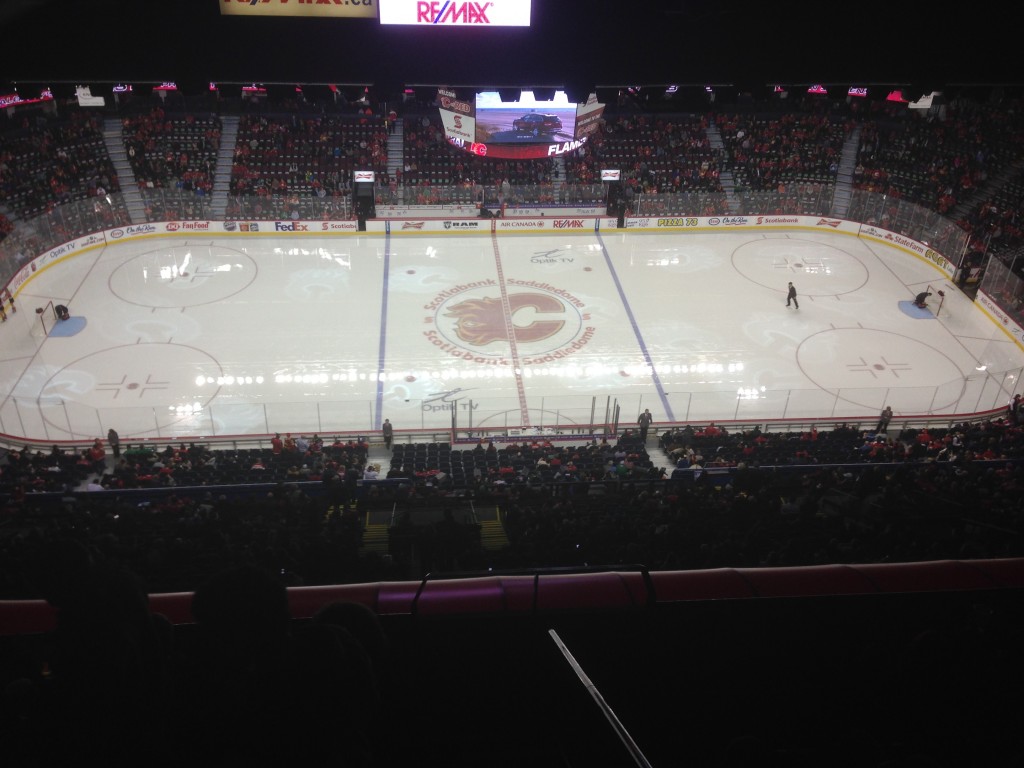 Watching a game at the Saddledome
Once you've gotten inside, pretty much everything the Scotiabank Saddledome has to offer is laid out before you. There's only one main concourse, and while it's mostly wide and spacious along the sides, it'll get a little narrow at each end of the rink.
But there's plenty to see around the arena, including a "Hall of Flames" that highlights the team's history and exhibits highlighting the Saddledome's role as Calgary hosted the 1988 Winter Olympics.
The Saddledome's seating bowl is fairly standard except for the uppermost reaches, where you have to be careful about what you're getting. The top deck is called the Press Level, which is only reachable via a set of staircases — one on each side — that require patrons to walk up the length of the 200 section, then through another series of ramps and staircases. Once at the the Press Level, there will be limited restroom and concessions facilities.
Oh, and God forbid you misread the signage on the concourse and go up the wrong side of the Saddledome seating bowl from your actual section — your only recourse is to go back down from whence you came and repeat the climb on the other side. So pay VERY close attention to your section and where you're headed before you start climbing.
If your seating area is high up, you'll quickly discover the drawback to the Saddledome's cool-looking (from the outside) saddle-shaped roof. It feels like you're staring at the rink through a porthole from up there. You also can barely see the overhead videoboard because of the press gondola that hangs in front of you; at least there are scoreboards and video screens posted on the side of the gondola.
Be careful if you're in Row 5, the first row behind the walkway that cuts through the Press Level — patrons tend to loiter in that walkway even while play is in progress and can block your view. Saddledome ushers are clearly trained in making sure fans in this seating area are as comfortable as possible, and are pretty vigilant about keeping it clear.
Flames fans are a pretty spirited bunch. Pay close attention during the singing of the U.S. national anthem, when they'll scream along when certain words are mentioned ("see," aka C, and "red," namely).
Interested in a suite at the Saddledome? Buy suite tickets on SuiteHop.
Food and drink at Scotiabank Saddledome
If you've heeded all the warnings about the difficulty in accessing the Press Level, you'll know to buy food and drink before heading up there. Everything there is to try is on the Saddledome's main concourse, so if you're looking for something specific, take a few minutes to walk around and peruse the different stands before your event begins and you head to your seating area.
You won't find too many surprises, though — just twists on normal stadium fare, such as Pocket Dawg, which serves hot dogs encased in bread rolls. Canadian chains Tim Hortons and Pizza 73 are prevalent.
For adult beverages, the main concourse has a Craft Beer Market, not to mention two booths dedicated to serving the Caesar, Canada's favorite cocktail. Beer seletion includes Bud and other Anheuser-Busch-owned brands, including Goose Island and Mill Street Brewery. Beers from Calgary-based Banded Peak Brewery are also available.
Original publish date: February 4, 2016
Most recent update: October 20, 2023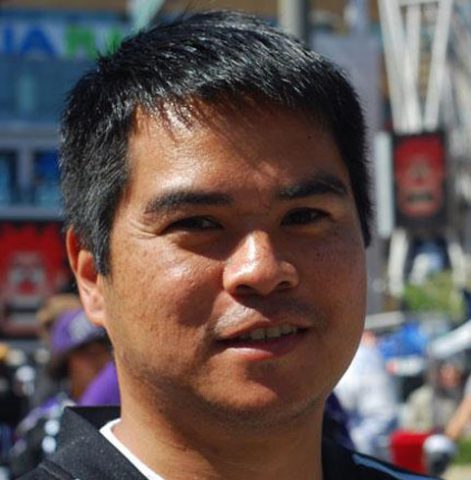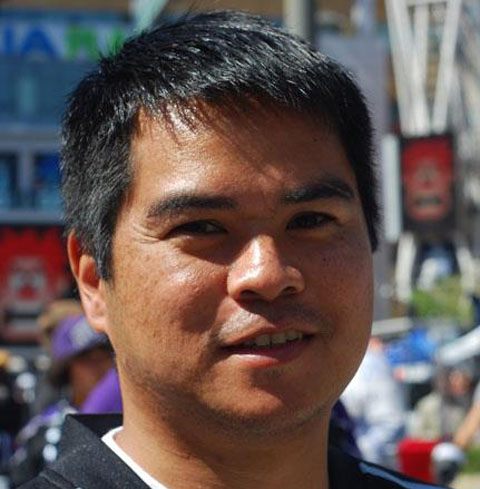 Edward de la Fuente | Itinerant Fan
I live for sports, and I love to travel. My biggest thrill is combining the two. I've been blogging about sports travel for more than a decade, and traveling for sports for twice as long.
About me | FAQ | Buy me a beer 🍺
Affiliate Disclosure
Please note that some of the links above are affiliate links, and at no additional cost to you, we earn a commission if you make a purchase. These recommendations are only for companies that we've used and have proven to enhance our sports travel experiences. To find out more about our affiliate partnerships, please read our Affiliate Disclaimer.
The Particulars
Home Teams
Calgary Flames
Address
555 Saddledome Rise SE
Calgary, AB T2G 2W1
Year Opened
1983
Capacity
19,289
Upcoming Events
All times local
Calgary Hitmen vs. Swift Current Broncos
Wednesday, December 6, 2023
7:00 pm
Get tickets at Ticketmaster »

Calgary Flames vs. Carolina Hurricanes
Thursday, December 7, 2023
7:00 pm
Get tickets at Ticketmaster »

Calgary Wranglers vs. Manitoba Moose
Friday, December 8, 2023
7:00 pm
Get tickets at Ticketmaster »

Calgary Flames vs. New Jersey Devils
Saturday, December 9, 2023
2:00 pm
Get tickets at Ticketmaster »

Calgary Wranglers vs. Manitoba Moose
Sunday, December 10, 2023
1:00 pm
Get tickets at Ticketmaster »