UBS Arena
Our guide to UBS Arena in Elmont, New York, includes information on events, tickets, parking, public transportation, nearby hotels and restaurants, seating, food and more. Read on to find out how to get the most out of your gameday experience.
* * *
For the New York Islanders and their fans, moving into the long-awaited UBS Arena undoubtedly felt like the satisfying end to a long, arduous journey.
The franchise had been in and out of arena limbo for more than a decade, from watching their longtime home, the Nassau Veterans Memorial Coliseum, fall into disrepair, to an ill-fated move to Brooklyn and a venue in Barclays Center that was far from ideal for hockey, to a celebrated move back to the Coliseum for one last hurrah.
And now, they've completed the final move for what should be quite some time. In UBS Arena, the Islanders finally leveled up in terms of venue to what promises to be one of the more technologically advanced arenas in the NHL.
While it also has many of the big-ticket bells and whistles we expect out of modern arenas — for example, suites at or near ice level are part of the fan experience — don't expect the blue-collar character of the Islanders' fan base to change.
With an exterior design heavy on brick and iron, UBS Arena is meant to evoke past sports stadiums and landmarks in New York, including Ebbets Field and Central Park.
Looking for UBS Arena event tickets? Search events on Ticketmaster.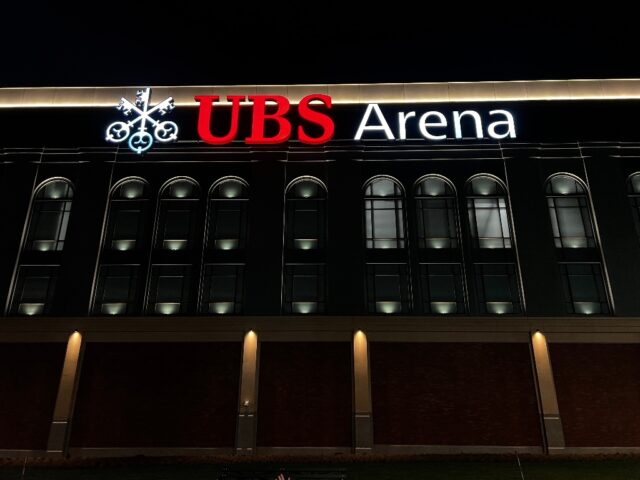 Getting to the arena
UBS Arena is located in Elmont, N.Y., next door to the Belmont Park race track. It is still technically in Nassau County — and just eight miles from Nassau Coliseum via the Hempstead Turnpike — but located much closer to New York City proper and thus closer and easier to access for a visitor to the area.
If you don't have a car, though, it helps to know a little bit about the New York City transportation network when planning a trip to UBS Arena. For example, the NYC subway cannot be used to get to the venue.
Instead, your primary public transportation method is the Long Island Rail Road, mostly used by commuters to go from New York City proper to towns on the island. If you're a visitor staying in Manhattan, you'll want to make your way to Penn Station; from Brooklyn or Queens, get yourself to the Jamaica station, not far from John F. Kennedy International Airport.
From either station, use the Hempstead line heading eastbound (Note: if you're riding from Penn Station, you might have to transfer at Jamaica) and get off at either Queens Village or Elmont. Both stations have free shuttle bus service for UBS Arena events; Elmont is just under a mile away from the arena so walking is an option.
Shuttle buses drop patrons off on the west side of UBS Arena. When leaving, be sure to note signs telling which station each bus is headed — when in doubt, ask the driver of the bus you're about to board.
There is a closer LIRR station, Belmont Park, just past the shuttle drop-off point. This stop is currently only served by special Belmont Park-bound trains from Jamaica; expanded service is expected in future years.
Meanwhile, drivers headed to a UBS Arena event should find the approach fairly straightforward if you know a little bit about roads in the New York City metro area. The primary route is to use the Cross Island Parkway and exit at Hempstead Avenue, which puts you at the arena's doorstep.
Parking at UBS Arena
UBS Arena utilizes most of the same parking lots that are available for Belmont Park. The nearest lots on the north side of Hempstead Avenue, as well as the South Parking lot on the other side, are reserved for premium and advance-purchase permitholders. Note that Exit 26A off the Cross Island Parkway, with signage reading "UBS Arena-Belmont Park," leads directly into the South lot.
The Emerald lots, on the other side of the Belmont Park track, are the only parking lots for UBS Arena available for drive-up permit purchases. Entry begins at $25 depending on the event, and note that getting from the lot to UBS Arena is a good half-mile around the perimeter of Belmont Park.
UBS Arena parking permits for all lots, pending availability, can be purchased for all events via Ticketmaster.
During UBS Arena's first season, event patrons using street parking in surrounding neighborhoods became a huge issue for nearby residents. That led to the town of Hempstead enacting measures to restrict this practice, such as ticketing cars without residential permits.
New York City/Long Island hotels near UBS Arena
The area around UBS Arena and Belmont Park is largely residential, so not many lodging options are nearby. The closest cluster of brand-name hotels can be found near JFK Airport, about 10 miles away.
• Casa Azul Hotel Blu-JFK – 0.9 miles away
• Floral Park Motor Lodge – 1.3 miles away
• Quality Inn Queens – 3.6 miles away
Search for more NYC/Long Island hotels on Booking.com.
Map of the surrounding area
Things to do around the arena
Around UBS Arena itself, there isn't much. Similar to the Islanders' old home, Nassau Coliseum, it's mostly residences nearby.
You'd think that would lend to Isles' fans tradition of tailgating before games carrying over from the old place, but not so — tailgating is forbidden in UBS Arena parking lots, to the chagrin of many longtime fans.
Limited options for pregame merriment exist near the Queens Village LIRR station, as a handful of restaurants and neighborhood bars line nearby Jamaica Avenue.
But besides that and maybe taking a peek at the facilities for Belmont Park, there isn't much to do around UBS Arena but head inside and get ready for your event.
For more on visiting the New York metropolitan area, check out our New York City sports travel guide.
New York City/Long Island restaurants near UBS Arena
• Wendy's – fast food, 0.3 miles away
• Yard Flavors Restaurant – Jamaican, 0.6 miles away
• Triple Crown Diner – American, 1.3 miles away
Search for more NYC/Long Island restaurants on Tripadvisor.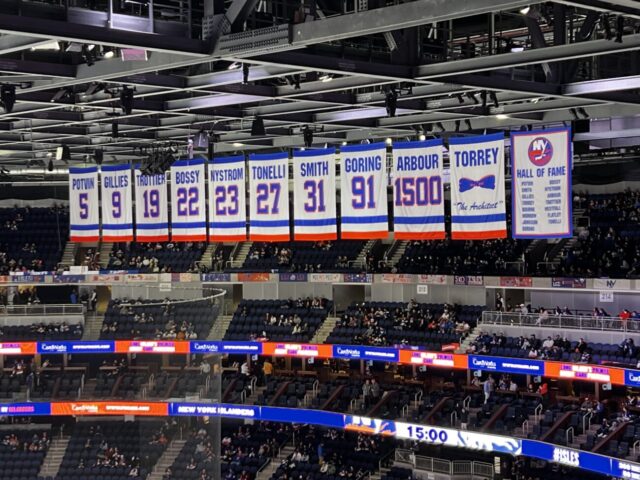 Watching a game at UBS Arena
For Islanders fans or anyone else who remembers the cozy seating bowl at the Coliseum, UBS Arena must feel like a palace to them. It's spacious and modern, with most of the creature comforts most of its contemporaries offer.
In some respects, that represents a departure from the old Isles fan experience. Premium spaces are everywhere at UBS Arena, including the seating areas closest to the benches and glass. As with many arena experiences, that lends itself to fans feeling detached from the game — certainly a contrast to the neighborhood gathering feel that games at the Coliseum carried.
Despite a monthlong delay in moving into the new arena (resulting in the Islanders starting the 2021-22 NHL season on a 13-game road trip), the team has gone to some lengths to make the new place its own quickly.
The rafters look very familiar, with the same banners honoring the team's retired numbers and its glory days of four consecutive Stanley Cups from 1980-83.
The facade of UBS Arena's upper seating bowl is adorned with fan-made banners cheering on the Isles and their players, much like you'd see at a high school rally. And murals touching on the franchise's history adorn the concourse walls. One section is devoted to the various fan meetup groups the team has had over the years.
The northeast corner of the arena serves as the main entry, opening up to a wide lobby with a small set of stairs to climb to reach the lower-level concourse. The Islanders' team store is in this area as well, and a large bar, the Heineken Red Star Bar, opens up to the seating bowl and gives you a first glimpse at the ice at UBS Arena.
If you're sitting in the upper seating bowl, sight lines are still terrific, even from the 300-level seats that comprise the highest rows. You also have the benefit of looking at the state-of-the-art HD videoboard above center ice.
Certain Isles traditions continue to carry over from the old place, such as player-specific chants and songs, as well as the WWE-inspired "Yes!" chants after the Isles score a goal.
Interested in a suite at UBS Arena? Buy suite tickets on SuiteHop.
Food and drink at UBS Arena
All your food options at UBS Arena can be assessed with just a stroll around the lower concourse. Many of the concessions stands on this level are part of what's called corner markets, essentially small food courts with numerous booths as well as grab-and-go options. There are also stands and carts around both the lower and upper concourses.
The usual sports-venue fare can be found at UBS Arena, but also distinctly unique fare like halal food from Shah's Halal, burgers from local restaurant favorite The Harrison and sweets from Milk Bar are available. Shaquille O'Neal's Big Chicken (hot chicken sandwiches) also operates a stand.
Heineken is the "official beer sponsor" at UBS Arena, but you can also find selections from Coney Island Brewery and The Bronx Brewery among the alcohol selections at the various bars.
For a good drink-and-watch spot, head to the Tailgate Bar located above Sections 226-231, below the Islanders' championship banners. It's part of the upper concourse but there are plenty of standing tables in the area, and you have a view of the center-ice videoboard if not the far end of the ice, depending on where you're standing.
Original publish date: February 4, 2016
Most recent update: November 3, 2023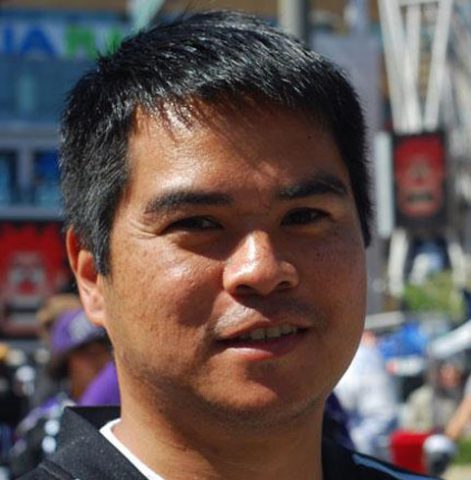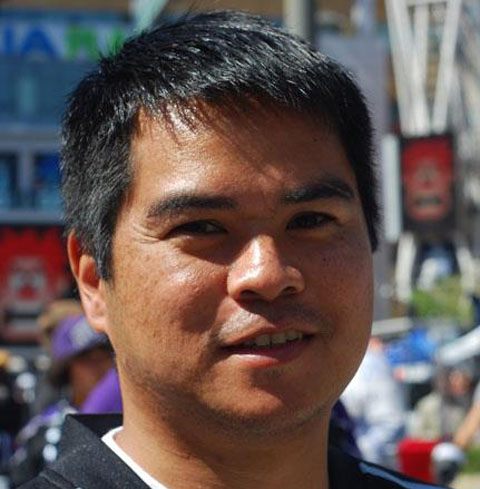 Edward de la Fuente | Itinerant Fan
I live for sports, and I love to travel. My biggest thrill is combining the two. I've been blogging about sports travel for more than a decade, and traveling for sports for twice as long.
About me | FAQ | Buy me a beer 🍺
Affiliate Disclosure
Please note that some of the links above are affiliate links, and at no additional cost to you, we earn a commission if you make a purchase. These recommendations are only for companies that we've used and have proven to enhance our sports travel experiences. To find out more about our affiliate partnerships, please read our Affiliate Disclaimer.
The Particulars
Home Teams
New York Islanders
Address
2150 Hempstead Turnpike
Elmont, NY 11003
Year Opened
2021
Capacity
17,113
Upcoming Events
All times local
New York Islanders vs. Columbus Blue Jackets
Thursday, December 7, 2023
7:30 pm
Get tickets at Ticketmaster »

New York Islanders vs. Los Angeles Kings
Saturday, December 9, 2023
7:30 pm
Get tickets at Ticketmaster »

New York Islanders vs. Toronto Maple Leafs
Monday, December 11, 2023
7:00 pm
Get tickets at Ticketmaster »

New York Islanders vs. Anaheim Ducks
Wednesday, December 13, 2023
7:30 pm
Get tickets at Ticketmaster »

New York Islanders vs. Boston Bruins
Friday, December 15, 2023
7:30 pm
Get tickets at Ticketmaster »