Target Center
Our guide to Target Center in Minneapolis includes information on events, tickets, parking, public transportation, nearby hotels and restaurants, seating and more. Read on to find out how to get the most out of your gameday experience.
* * *
The live sports experience in the Twin Cities has undergone something of a renaissance in recent years, what with the Twins (Target Field), Vikings (U.S. Bank Stadium) and University of Minnesota football (Huntington Bank Stadium) all getting new venues over the past 15 years.
After taking the Wild's Xcel Energy Center in St. Paul into account, that means the oldest current venue among the major Minnesota pro teams is the Target Center, home of the NBA's Timberwolves and WNBA's Lynx.
For some time, Target Center was showing its age — it was built before the current trend of sleek glass facades, and in its original state looked more like a foreboding giant bunker in the middle of downtown Minneapolis.
But steps have been taken to change that as well as keep the building up with the times, namely an extensive renovation that updated its exterior look and gave it new features inside, such as a large overhead videoboard.
Thanks to the Lynx, who have won four WNBA titles in their history, Target Center has been a happening place for hoops events in the Twin Cities for a long time. Now, the Timberwolves are looking to lift themselves back into NBA contention and bring even more fans to the downtown arena.
Target Center is also the event venue of choice for many large-scale concerts that pass through the Twin Cities.
For more on visiting Minneapolis, check out our Minneapolis/St. Paul sports travel guide.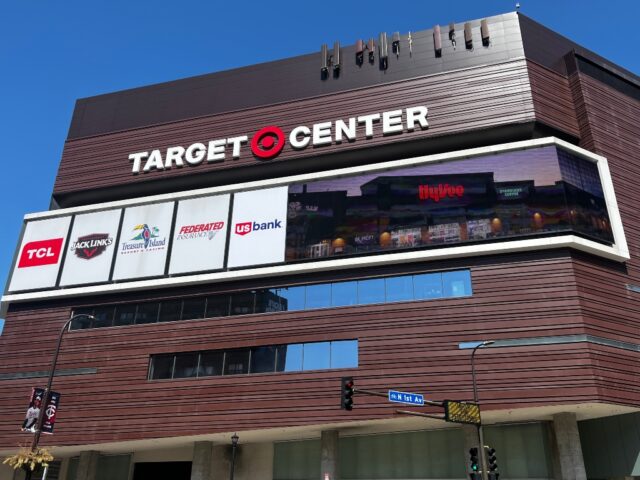 Getting to the arena
Target Center, as well as Target Field (the two venues are separated by Interstate 394, which snakes by as it heads west out of the city center after starting a few blocks away), are located in the busy Downtown West area of Minneapolis, so getting there isn't difficult.
Depending on where you're coming from, you might have to navigate through downtown streets to get there. But from the west, it's a straight shot via I-394, and you can even head straight into Target Center parking from there — more on that in the section below.
The Twin Cities' Metro Transit light rail currently operates two lines which converge just each of downtown Minneapolis, and both service the arena. The Metro Green Line serves as a convenient public transit option if you're coming to a Target Center event from St. Paul.
From either line, get off at the Warehouse District/Hennepin Avenue station and walk a block south on First Avenue.
Chances are, if you're visiting Minneapolis during NBA season, it'll be cold and walking outside for more than a few blocks is less than desirable. If that's the case, take advantage of the downtown Skyway system of indoor walkways. A pedestrian bridge leads directly into Target Center from across First Avenue.
Parking at Target Center
Target Center, as well as Target Field across the highway, is serviced by a series of parking structures — known in local nomenclature as "ramps." Two of these ramps, labeled Ramp A and B, were constructed over Interstate 394 and are directly accessible to motorists traveling eastbound into downtown. Look for the 6th Street North exit and then follow the signs for Ramp A and B.
Parking rates for Target Center events at Ramp A and B typically begin and $10 and go up based on day of the week, popularity of the event and other factors. Advance-purchase parking is available online on both the ParkMobile and ParkWhiz platforms.
Perhaps the most alluring part of parking in these structures is that they offer sheltered walkways leading directly into Target Center.
Numerous independent parking lots and structures can also be found in the blocks east of Target Center. If you're looking for a bargain and don't mind a little walking, you can usually find rates less than $10 if you shop around.
Minneapolis hotels near Target Center
• Loews Minneapolis Hotel – 0.1 miles away
• Hampton Inn & Suites – Minneapolis/Downtown – 0.2 miles away
• Minneapolis Marriott City Center – 0.2 miles away
Search for more Minneapolis hotels on Booking.com.
Map of the surrounding area
Things to do around the arena
In part because of the presence of Target Center and Target Field, there are numerous bars and restaurants in the surrounding blocks, nearly all catering to the sports fan — in fact, it doesn't have to be a game night at one of the two venues for many of these establishments to be busy.
If proximity matters, there are a few bars directly across the street and within a block, such as Kieran's Irish Pub, O'Donovan's Irish Pub and Gluek's.
Otherwise, you'll also find a heavy concentration of establishments along Sixth Avenue between the arena and Nicollet Mall, and on Hennepin Avenue between Sixth and Tenth. But there are several other downtown hotspots if you're willing to look around.
Another notable Minneapolis event institution is located caddy-corner from Target Center. First Avenue is one of the city's most revered live-music stages, having stood for nearly 50 years. It's known best for helping native son Prince launch his storied career.
Farther away but still within a couple miles, there are more establishments to consider in the up-and-coming Warehouse District and Mill District.
Minneapolis restaurants near Target Center
• Gluek's Restaurant & Bar – American, 0.1 miles away
• Kieran's Irish Pub – pub, 0.1 miles away
• O'Donovan's Irish Pub – pub, 0.1 miles away
Search for more Minneapolis restaurants on Tripadvisor.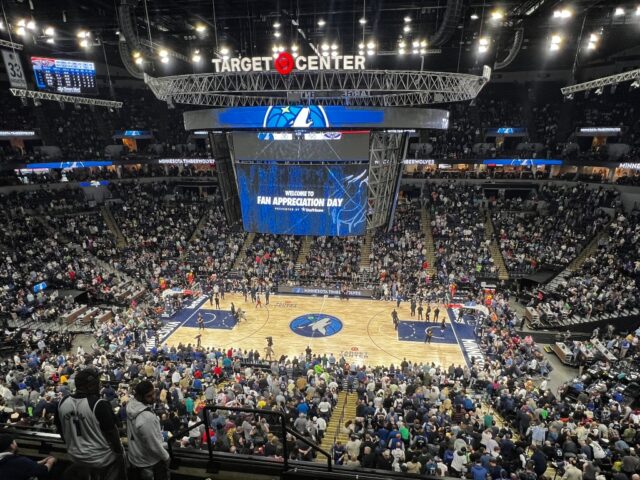 Watching a game at Target Center
With a capacity of nearly 20,000 for basketball, Target Center can feel big, especially if you're sitting near the top of the seating bowl. Upper-deck sections have as many as 24 rows of seats, and pillars are in some of the aisles near the very top (though they don't obstruct the view of the court even from the top row).
If you're high up in the seating bowl and having trouble seeing, though, Target Center has you covered now that it has installed a giant four-sided videoboard over the court, part of the extensive renovations that were completed in 2017.
Now that the arena has reached its 30-year anniversary, it's clear that the refresh was necessary. Before, Target Center had something of a foreboding exterior, a large bunker on the edge of downtown.
Now, between the wood paneling and the glass facades that allow passersby to look inside — and patrons attending a Target Center event to look out onto downtown — the arena has a more inviting feel.
Following the renovations, Target Center now looks more like a Minnesota woods lodge, complete with a glass atrium at the corner of First Avenue and Sixth Street that serves as the arena's new main entrance.
The lodge feel continues throughout the concourse, though a lot of the focus is geared toward the new and reimagined premium spaces around the arena. However, "regular" fans can enjoy the increased number of social gathering spaces on the concourse, including in front of the large window that looks out onto downtown Minneapolis.
Food and drink at Target Center
Where Target Center really shines currently is in its food and drink selection, which is wide and varied and quite representative of its home state. The menu got a makeover along with the renovation, but the arena continues to bring local restaurants into the fold.
For a taste of local cuisine, look out for stands on the 100 level from Parlour (burgers and cocktails), SotaRol (sushi and Asian bowls) and Lord Fletcher's (walleye fish sandwiches) — all local restaurants with wildly popular followings.
You can also find twists on regular stadium fare, from tater tot nachos (aka "totchos") to hot chicken sandwiches.
Target Center's main concourse has both a bar and a beer garden, and there's bar space on the 200 seating level as well. At any of these spots, you can sample some of Target Center craft beer selection, which includes regionally based breweries Surly Brewing, Summit Brewing and Lift Bridge.
Original publish date: February 4, 2016
Most recent update: April 9, 2013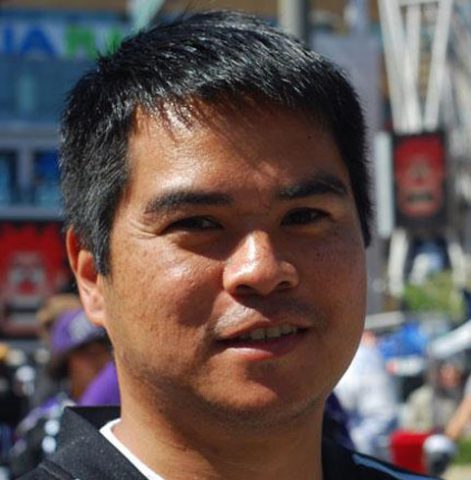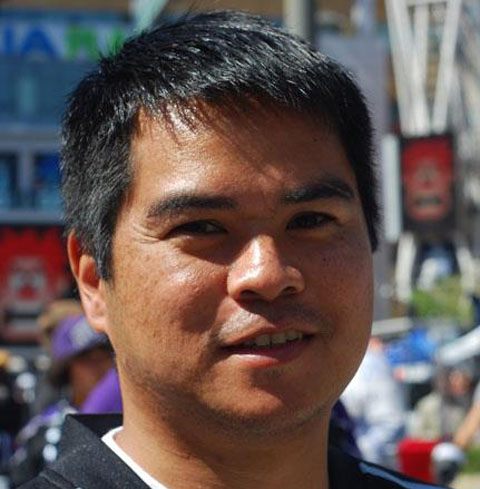 Edward de la Fuente | Itinerant Fan
I live for sports, and I love to travel. My biggest thrill is combining the two. I've been blogging about sports travel for more than a decade, and traveling for sports for twice as long.
About me | FAQ | Buy me a beer 🍺
Affiliate Disclosure
Please note that some of the links above are affiliate links, and at no additional cost to you, we earn a commission if you make a purchase. These recommendations are only for companies that we've used and have proven to enhance our sports travel experiences. To find out more about our affiliate partnerships, please read our Affiliate Disclaimer.
The Particulars
Home Teams
Minnesota Timberwolves
Minnesota Lynx
Address
600 First Ave. North
Minneapolis, MN 55403
Year Opened
1990
Capacity
19,356
Upcoming Events
All times local
Lauren Daigle
Saturday, September 30, 2023
7:00 pm
Get tickets at SeatGeek »

Jo Koy
Friday, October 6, 2023
8:00 pm
Get tickets at SeatGeek »

Wu-Tang Clan and Nas
Saturday, October 7, 2023
8:00 pm
Get tickets at SeatGeek »

Preseason: Maccabi Ra'anana at Minnesota Timberwolves
Tuesday, October 17, 2023
7:00 pm
Get tickets at SeatGeek »

Joji
Saturday, October 21, 2023
8:00 pm
Get tickets at SeatGeek »